Beetroot curry recipe – Beetroot is one of those super foods that can do wonders to our body by boosting immunity, lowering blood pressure, improving digestion and providing us lot of essential minerals and Vitamins. Beetroot can be used to make a variety of dishes like salads, curry, stir fry, kurma, kootu, juice, chutney and can also be added to parathas. I am sharing 2 simple beetroot recipes in this post, one made with grated beetroot called as beetroot poriyal in the south, a simple stir fry recipe. Another a steamed beetroot curry, one of the healthiest ways to prepare beetroot.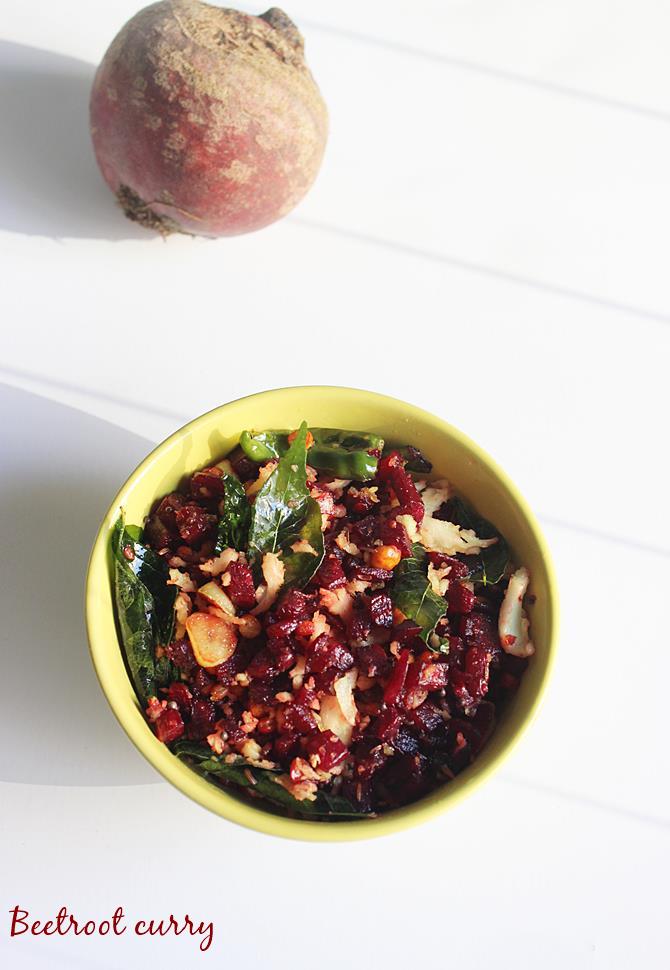 Beetroot is a vegetable which doesn't need to be cooked for long time. Cooking for short time also helps to preserve the nutrients and the sweet flavor. Both the recipes I have shared here are roughly been adapted from Ayurveda books. My parents have a large collection of Ayurveda books in their home library, the recipes were photographed by me long back and happened to try them and loved both the versions.
Both go well with rice and chapathi. Since these are quick to make you can also make this for the kids' or office lunch box.
You may also like these Beetroot recipes
Beetroot stir fry with moong dal
Beetroot thoran
Beetroot pulao
Beetrot chutney
Beetroot halwa
Beetroot salad
Recipe 1 – Beetroot curry recipe
Beetroot curry recipe | How to make beetroot curry | Beetroot recipes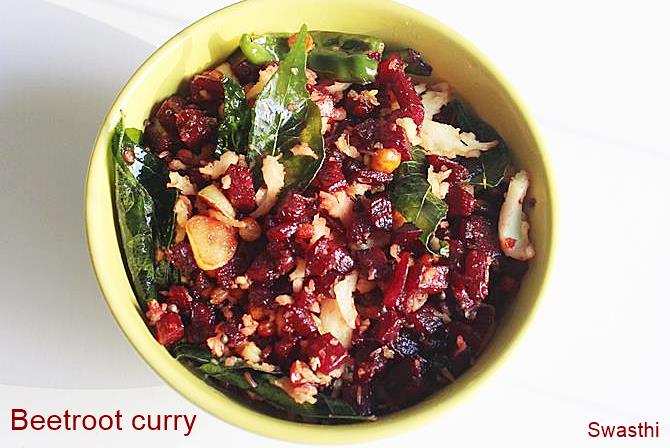 Beetroot curry recipe- steam cooked beets, seasoned in ghee and mild spices
Ingredients (240 ml cup used)
1 large onion chopped finely
2 cups beets cubed small or large any size
3 to 4 tbsp. Grated coconut or chopped thinly
To roast and powder (or 1 tsp sambar powder)
1 tbsp. sesame seeds
1 tbsp. chana dal
1 tbsp. urad dal
salt as needed
Seasoning
1 tbsp. ghee or oil
1 sprig curry leaves
Pinch of hing
1 garlic clove chopped
1 tbsp. urad and chana dal (optional)
½ tsp. cumin
¼ tsp. mustard
2 green chili
How to make the recipe
Preparation
Wash and peel beetroots, cube to tiny pieces and steam cook them in a pressure cooker or steamer until tender for about 5 to 8 minutes.
Dry roast chana dal, urad dal and sesame seeds. Cool and powder them. Alternately you can also use sambar powder.
Making beetroot curry recipe
Add oil to a pan, add cumin, mustard and dals, when the dals turn golden, add garlic, chili, curry leaves and hing.
Add onions and fry till transparent. Add the ground powder from step 2 or sambar powder, turmeric and fry for a minute.
Add the steamed beetroots, salt & coconut.
Fry on medium high for just 2 minutes or till the water evaporates.
Beetroot curry is ready to serve with rice or roti.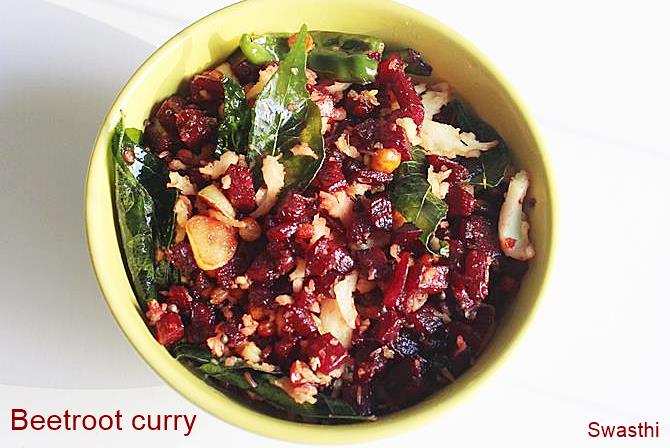 Recipe 2 – Beetroot curry recipe
ingredients
2 cups grated beetroots
4 tbsps. Grated coconut
1 sprig curry leaves
2 chopped green chilies
1 broken red chili optional
¼ tsp. mustard
½ tsp. cumin
1 tsp each of urad dal and channa dal (optional)
1 tsp. freshly grated ginger
1 large garlic clove crushed
Pinch of hing
1/8 tsp. turmeric
Salt as needed
Oil as needed
Preparing beetroots:
If you live in a place where you are accessible to fresh beets with greens or leaves, You can include them as well in these recipes. You will need to pluck the leaves and wash them in ample amount of water. Drain well and chop finely just before cooking. Alternately you can alo use your food processor to chop the greens.
Wash beetroot well and peel them. Cut them to quarters. Grate or chop finely which ever is comfortable. You can also use a food processor.
How to make beetroot curry with step by step photos
1. Heat oil in a pan, add mustard, cumin , allow them to crackle, Add ginger, green chilies and curry leaves , fry till ginger smells good. Add dals, red chili and garlic clove. Fry until the dals are golden fried. Add hing.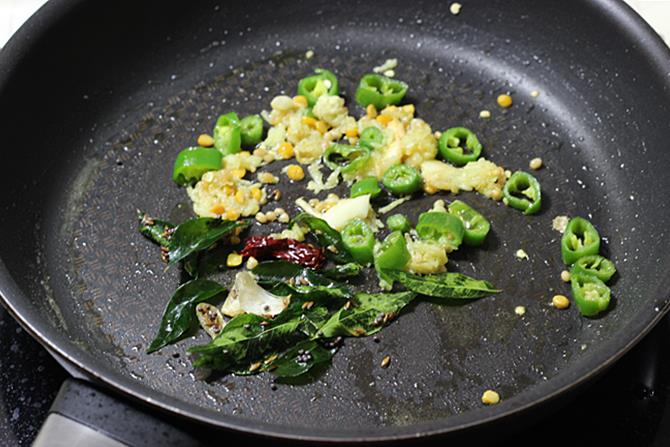 2. Add grated beets, turmeric and fry till they are lightly cooked. The ayurvedic recipe calls for just sauteing it in the oil for 2 to 3 minutes, but I cook for about 5 minutes stirring. If your beets are not juicy and are dry, you can cover and cook.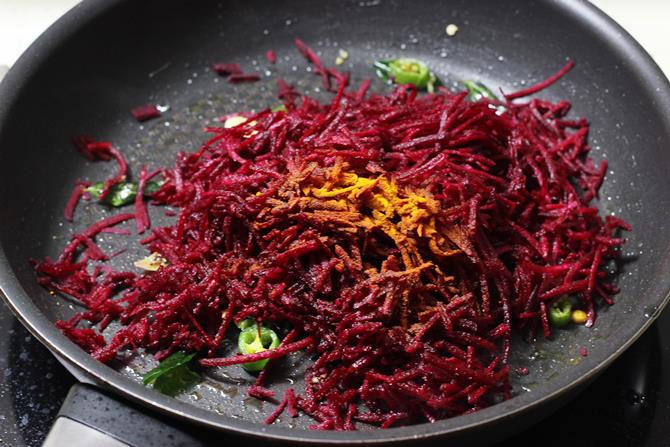 3. Add salt and grated coconut and fry for about 2 to 3 minutes.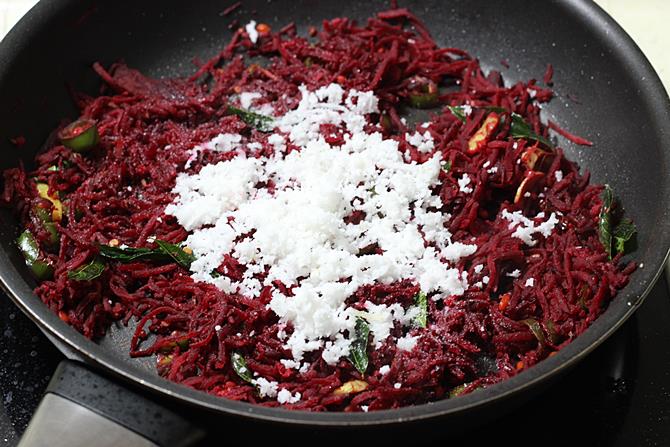 Serve beetroot stir fry with rice or chapathi.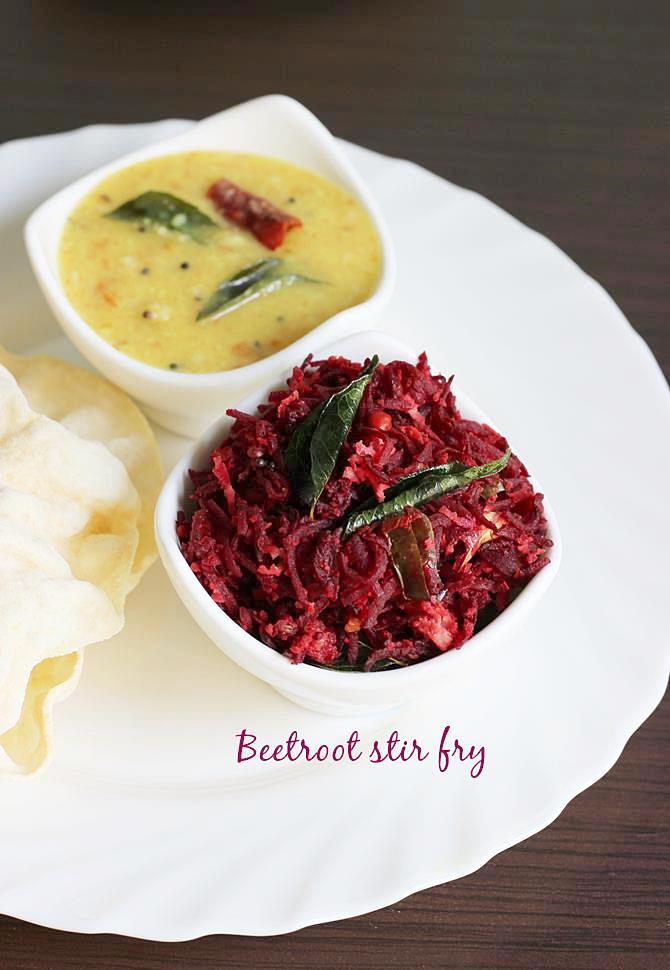 For more easy veg curry recipes,
Mullangi stir fry
Mushroom curry
Beans stir fry
Broccoli curry
Broccoli gravy for chapathi
Cauliflower curry