Besan ladoo recipe – Ladoo are ball shaped sweets from Indian Cuisine and are made for most festivals and celebrations. Besan ladoo are sweet balls made from chickpea flour, sugar, ghee and nuts. It is said that Lord Ganesha loves ladoos too apart from modak / modhakam. So a variety of ladoos like Coconut ladoo, Suji/ Rava laddu, delicious Bondi ladoo and Peanut laddu are also made for Ganesh chaturthi.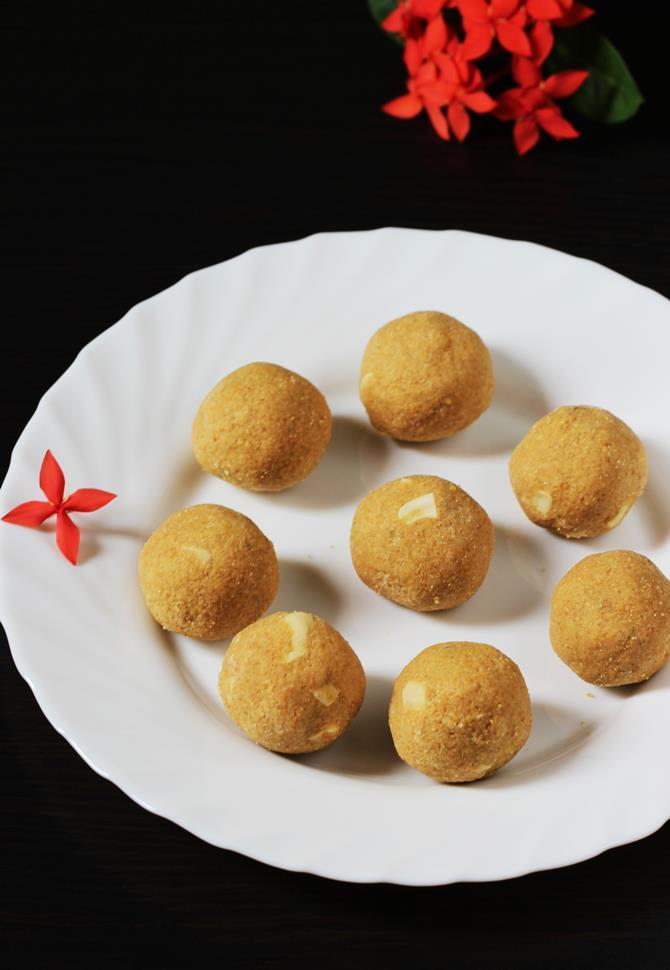 To make these besan laddu, chickpea flour is roasted in ghee until aromatic and turns to a dark golden to light brown color. The flour is then cooled down a bit, powdered sugar and nuts are added, the mixture is then shaped to balls.
Few years ago we used to buy ready besan ladoo packs very frequently, we no more buy them for health reasons. Since then I make these at home few times a year. The recipe I am sharing here is from the pack of ladoo besan I buy. It works out good with any kind of besan – smooth or coarse.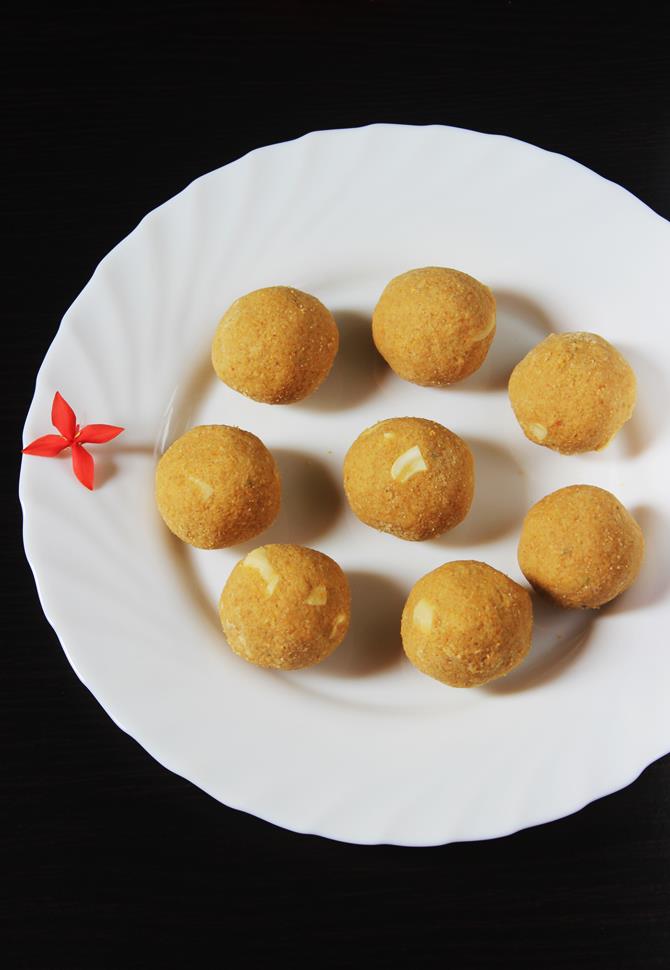 To make good delicious besan ladoo, choose the best quality and fresh besan available in the market. You can also get the chana dal milled in a flour mill to make fresh flour. Some folks prefer to use coarse besan which gives a nice crunch in every bite of the laddu. The quantity of ghee that is absorbed by the coarse variety is less than the fine flour. You can use coarse or fine flour to suit your liking.
You can also check these easy 30 ladoo recipes and 100 + Diwali sweets recipes on the blog.
Besan ladoo recipe below
Besan ladoo recipe | How to make besan ladoo | Besan laddu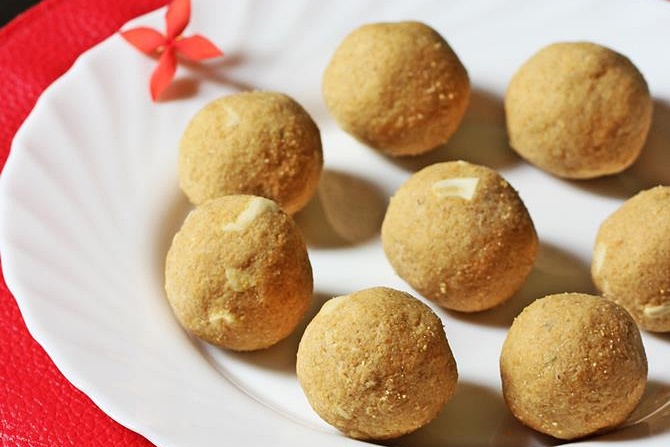 Besan ladoo recipe - sweet balls made from chickpea flour, sugar and ghee. These are made during Indian festivals.
Ingredients (240 ml cup used)
2 cups besan / chick pea flour/ gram flour
1 ¼ cup sugar
4 to 5 green cardamoms/ elaichi
½ cup ghee (if needed add 1 tbsp. more)
¼ cup Cashews chopped
Handful of raisins (optional)
How to make the recipe
Powder the sugar with elaichi.
Heat ghee and fry nuts. Set aside 3 tbsp ghee and cashews.
Add flour and stir well. If ghee is not sufficiently coated over the flour, use 1 tbsp. more.
Roast until the bean turns aromatic and dark golden in color. At this stage the ghee begins to ooze out from the flour.
Cool down little so that it is easy to handle.
Add powdered sugar and nuts. Stir and check if the flour can bind well to roll to balls.
If it is dry, add the ghee as needed little by little.
When the flour looks greasy enough, do not add any more ghee.
making besan ladoo
Take small portions and roll to balls.
Store besan ladoo in air tight jars.
Notes
Under roasting the flour will leave a raw smell of flour to the ladoos, so roast until you begin to smell good and the color changes to dark golden.
Do not use too much of ghee at one time, this may make the mixture very greasy and the flour may not bind well to shape the laddu.
Nutrition Information
Calories:
510
Fat:
8g
Carbohydrates:
75g
Protein:
25g
How to make besan ladoo recipe
1. Measure 1 ¼ cup sugar. Add 4 to 5 cardamoms and little sugar to a blender jar and make a fine powder. Add the rest of the sugar. Powder it finely. You can use white sugar or any variety of sugar.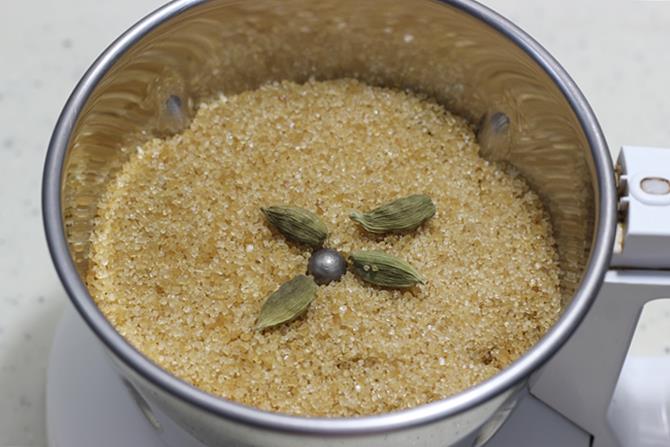 2. Set this aside.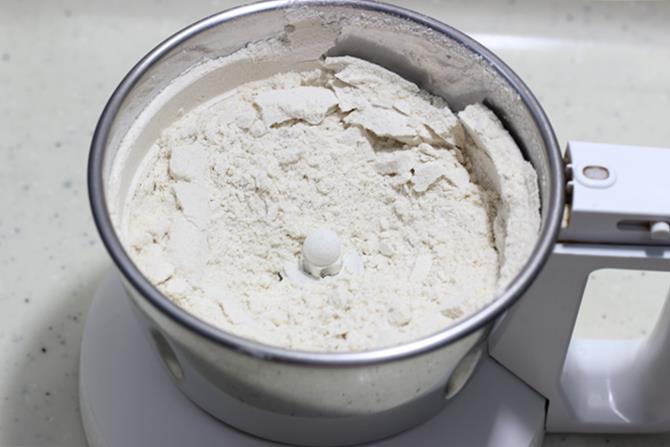 3. Make sure besan is at room temperature before using. In case you refrigerate, then allow it to come down to room temperature first before adding it to the ghee.
4. Heat ½ cup ghee in a deep pan, fry ¼ cup chopped cashew until golden. You can use less too. If using raisins, you can add them towards the end. When they puff up set these aside.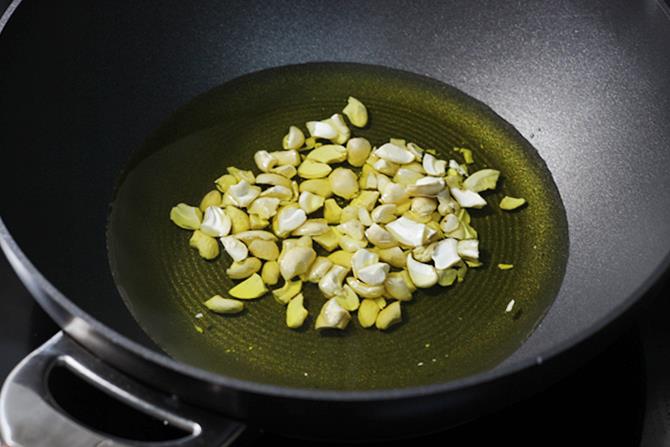 5. Set aside cashews as well along with 3 tbsp. of the ghee.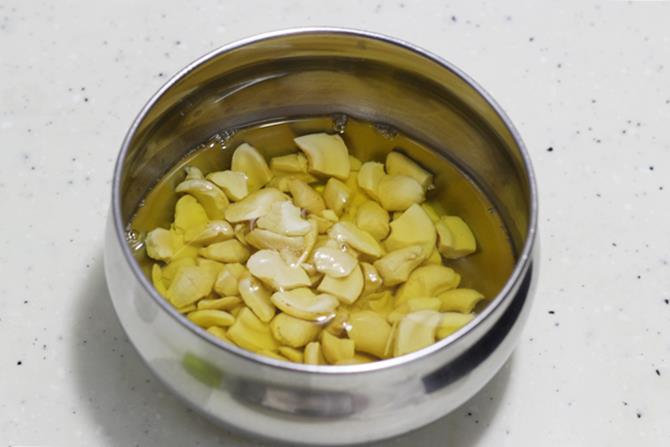 6. Lower the flame. Add besan to the ghee.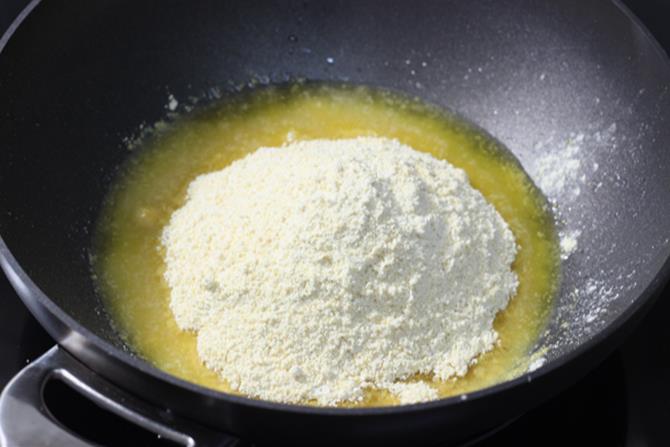 7. Mix to coat the besan well with ghee. To get the right taste and fragrance, besan must be coated well with ghee. If the mixture looks dry, add 1 tbsp. ghee that was set aside. Some variety of besan absorb ghee well, some do not. Especially if using coarse besan, you may have to be careful as it doesn't absorb much ghee.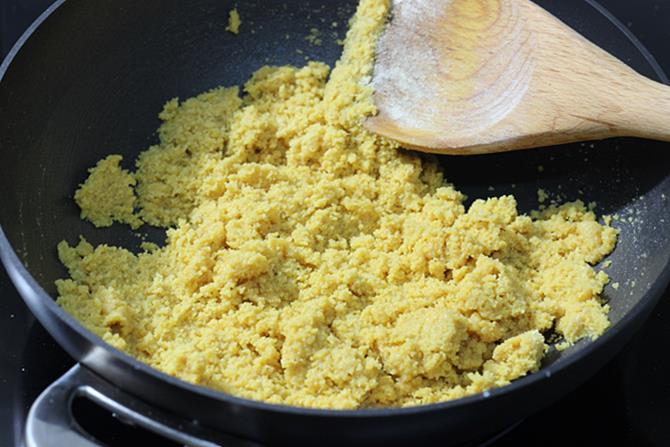 8. Begin to roast on a medium flame, constantly stirring for even roasting and to prevent burning. After a while the color of the besan begins to change, in between 12 to 15 minutes. I suggest not go by the time, it is just for an approximation. The time it may take depends on the flame, the kind of pan used and the source of heat.
9. When the besan begins to change the color, lower the flame and continue to stir. Take care it may get burnt. When it changes to a slightly dark color, you will notice, ghee begins to ooze out slightly from the mixture. The quantity of ghee that is oozed out may depend on the besan again. Switch off and set aside to cool. Do not leave on the hot stove, it tends to get roasted further.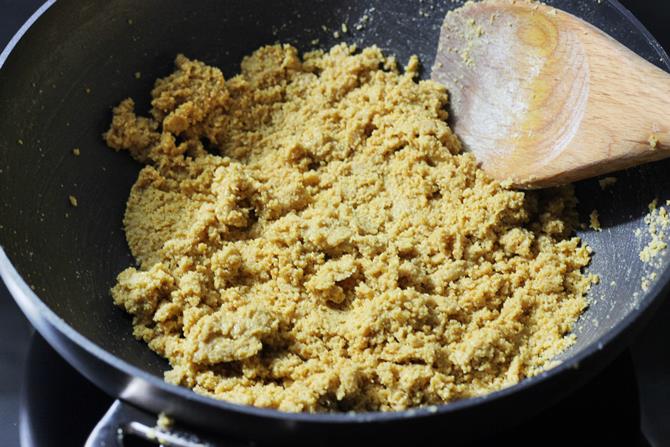 10. Allow it to cool down a bit, so that it is easy to handle. Add powdered sugar, cardamom powder and nuts. Do not add the ghee now. Do not add sugar to very hot besan. Mix well.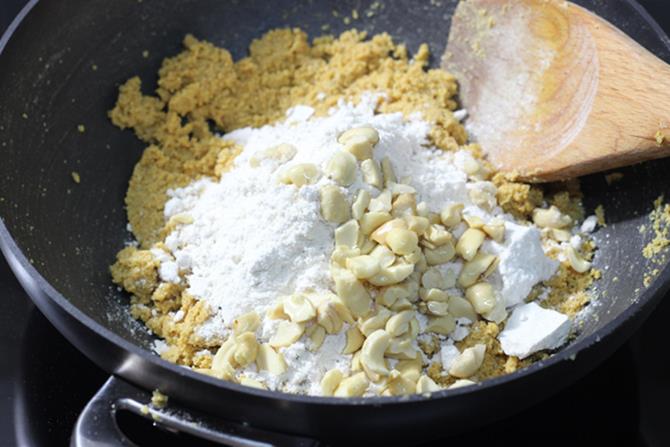 11. At this stage, the mixture must look fairly greasy and good enough to hold shape, otherwise add the rest of the ghee little by little as needed. Do not pour the ghee at one time. Use only as needed. I used up the entire ghee. Mix well.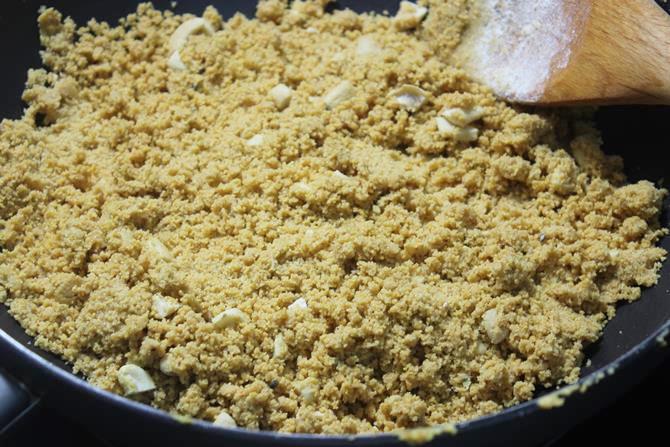 12. Take small portions of the warm mixture and roll to balls. Store them in a air tight jar and use with in 2 to 3 weeks. If using coarse besan, laddo may not look smooth. To give a nice finish, after few hours of making these, place each ladoo in a clean white muslin cloth and roll gently.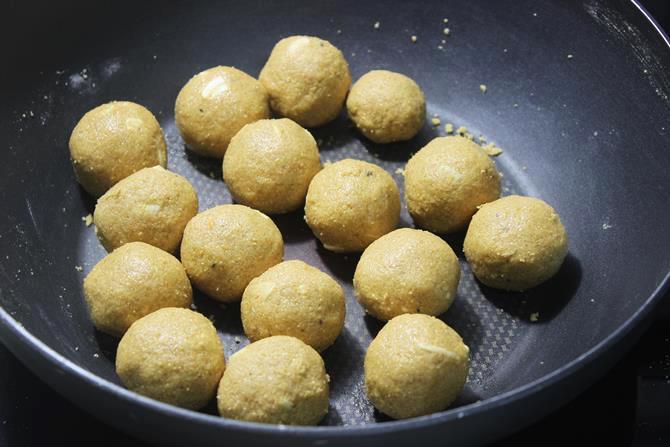 Store besan ladoo in a air tight jar.