Bottle gourd curry recipe – You can also find a collection of bottle gourd recipes from Indian cuisine on this blog. Bottle gourd is called as lauki in hindi, sorakaya in telugu, sorakkai in tamil and is often used in Indian cuisine to make a variety of dishes. You can find chutney, curry, pachadi, kootu and a quick sorakaya stir fry recipes. This bottle gourd recipe is easy and quick to prepare, most convenient for working folks. Stir fry recipes do not need too many ingredients either. But we need to make them flavorful to keep them interesting. These dishes go well with steamed rice and are usually accompanied by rasam or sambar or pulusu. You can even make these in large quantities and refrigerate them for later use.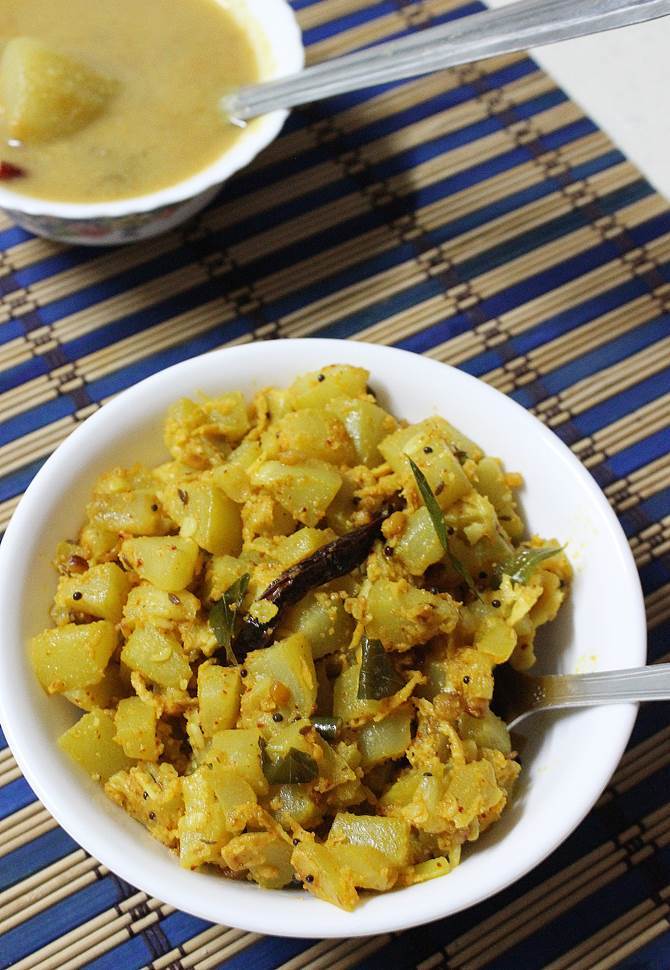 This takes barely 10 mins for preparing (+10 mins for chopping). I use my homemade vepudu karam for stir fries and it goes very well with this sorakkai poriyal too (details mentioned in the recipe). Since bottle gourd has lot of moisture in it, it tastes bland if nothing is used to enhance the taste. This powder gives a nutty aroma and taste to this bland veggie. I have used coconut too, it is optional, and you can skip it if you don't have in hand.
 
I make my stir fries always on the highest flame or heat so that I can cook faster. So to prevent burning I always use heavy bottomed pan that is wide. If you are not using a heavy bottomed pan, cook on a medium flame else your veggie can be burnt.
 
Step by step photos on bottle gourd curry or sorakkai poriyal
1.Wash and peel the skin of the gourd and chop to bite sized pieces
2.Heat oil in a wide heavy bottomed pan, add dals cumin, mustard, when they begin to crackle add curry leaves and chili and fry till the dals turn golden
3.Add the gourd, sprinkle salt and turmeric.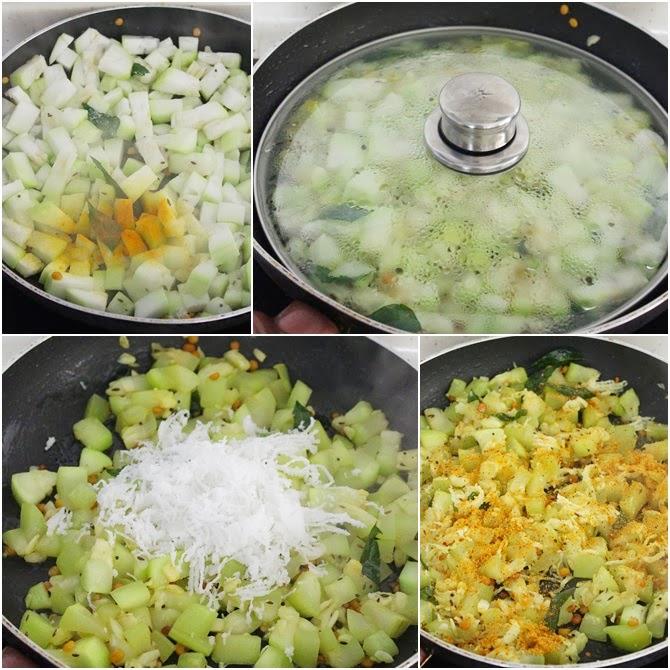 4.Fry on a medium to high flame for 3 to 5 mins, keep stirring to prevent burning
5.If your gourd is not tender and juicy like the one I used, cover and cook till the gourd is cooked fully. If it is tender just continue to fry without covering till it is fully done
6.Add the vepudu karam and coconut. Fry till it blends well with the veggie.
Serve bottle gourd curry with rice and rasam or sambhar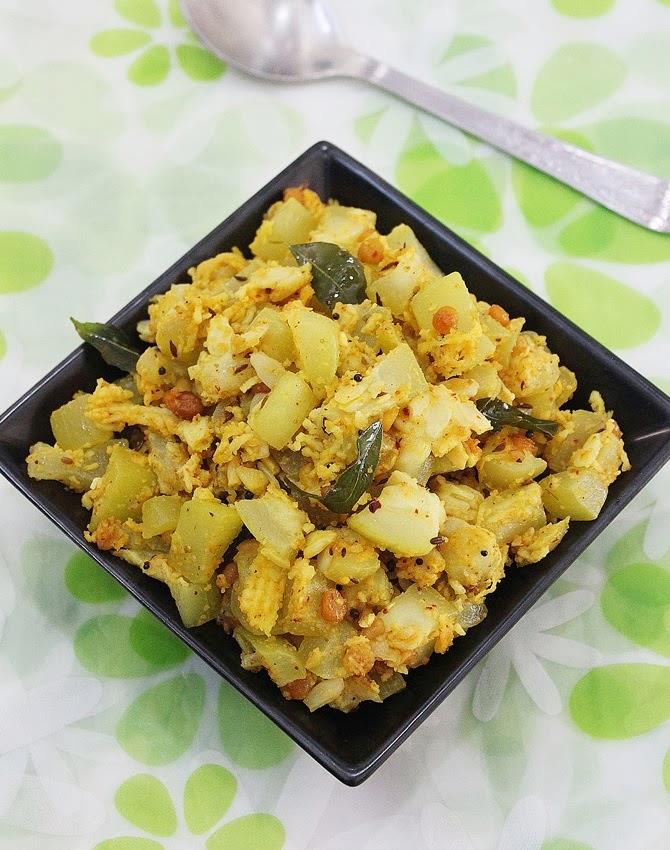 Find bottle gourd curry or sorakkai poriyal recipe below
Bottle gourd curry recipe | sorakkai poriyal | bottle gourd recipes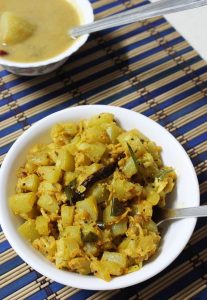 simple bottle gourd curry
Ingredients (240 ml cup used)
2 cups of bottle gourd chopped
1 to 2 green chilies slit (optional)
1 sprig of curry leaves
Pinch of mustard
Generous pinch of cumin
Pinch of turmeric
Oil as needed
1 tsp. chana dal (senaga pappu)
1 tsp. urad dal (minapa Pappu)
2 to 3 tsps vepudu karam (if you can't make it use peanut podi or idli podi or flax seed podi)
1 to 2 tbsps. Grated fresh Coconut (optional)
Salt to taste
How to make the recipe
Wash gourd under running water, peel the skin and chop to bite sized pieces.
Add oil to a wide heavy bottomed pan, add cumin, mustard, dal, fry till the dals turn golden, add curry leaves and chili and fry till the leaves turn crisp.
Add the bottle gourd, sprinkle salt and turmeric.
Fry on a medium to high flame for 3 to 5 mins, keep stirring to avoid burning. If the gourd is not tender or less juicy, cover the pan and cook till the gourd is cooked fully. If it is tender just continue to fry without covering till it is fully done.
Add the vepudu karam and coconut. Stir well to mix.
Serve with rice and rasam or sambar
More bottle gourd recipes
Bottle gourd kootu – south Indian style sorakkai kootu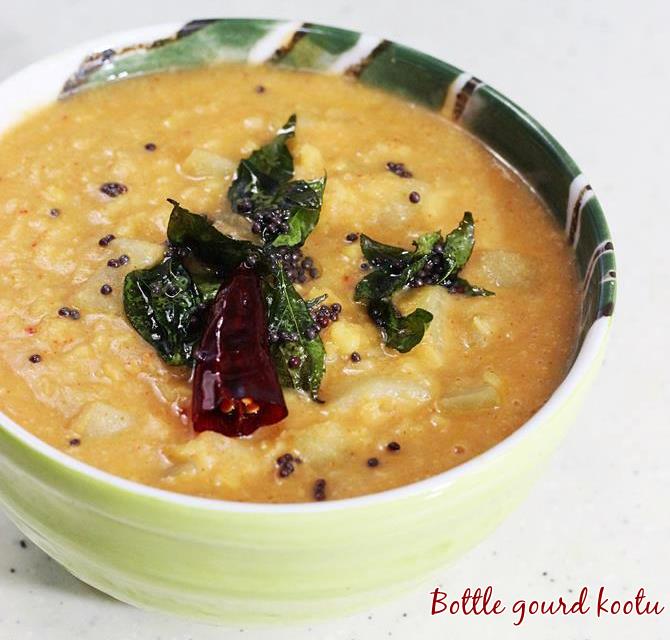 Bottle gourd in seasoned yogurt – andhra style sorakaya pergu pachadi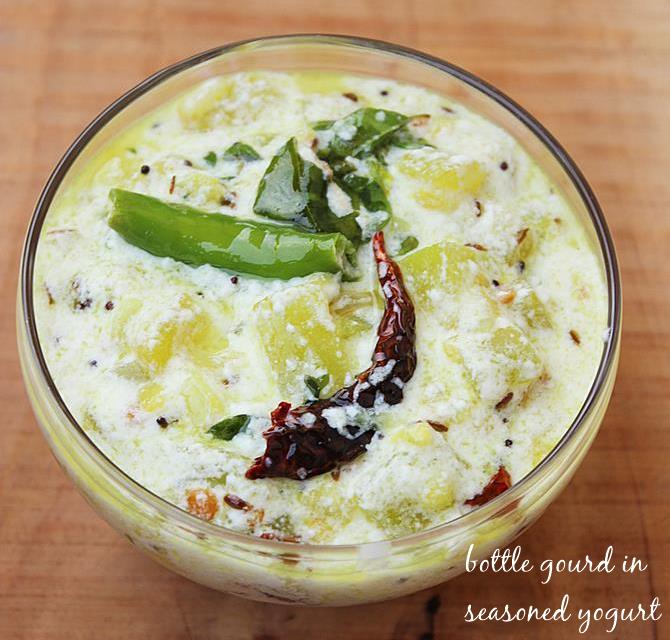 sorakaya pulusu – andhra style stew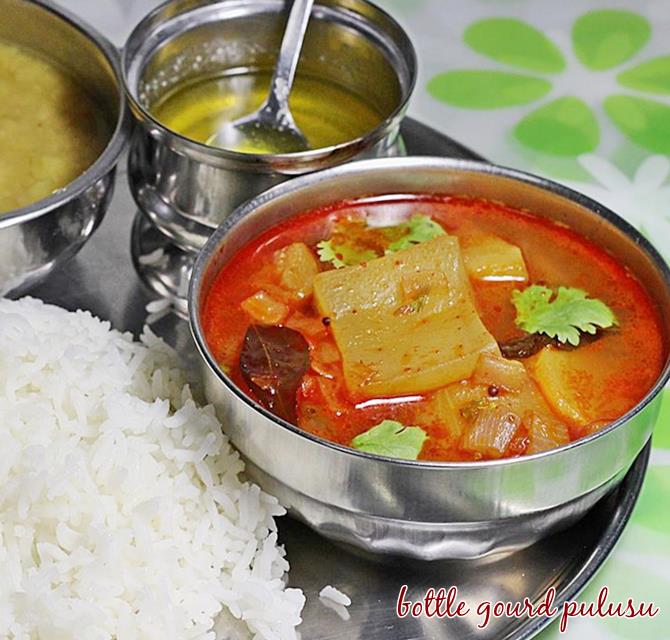 Chana dal and bottle gourd recipe