Bread roll recipe with green chutney – a good party snack recipe that's quite easy to make. To make stuffed bread rolls, spiced mix vegetables are stuffed inside the bread, rolled and shallow fried, baked or tawa fried. The preparation of stuffing is just very simple and needs only mixing up the ingredients like boiled or steamed veggies, garam masala and other basic ingredients. The stuffing is almost similar to the aloo paratha except that there are peas and carrots in this.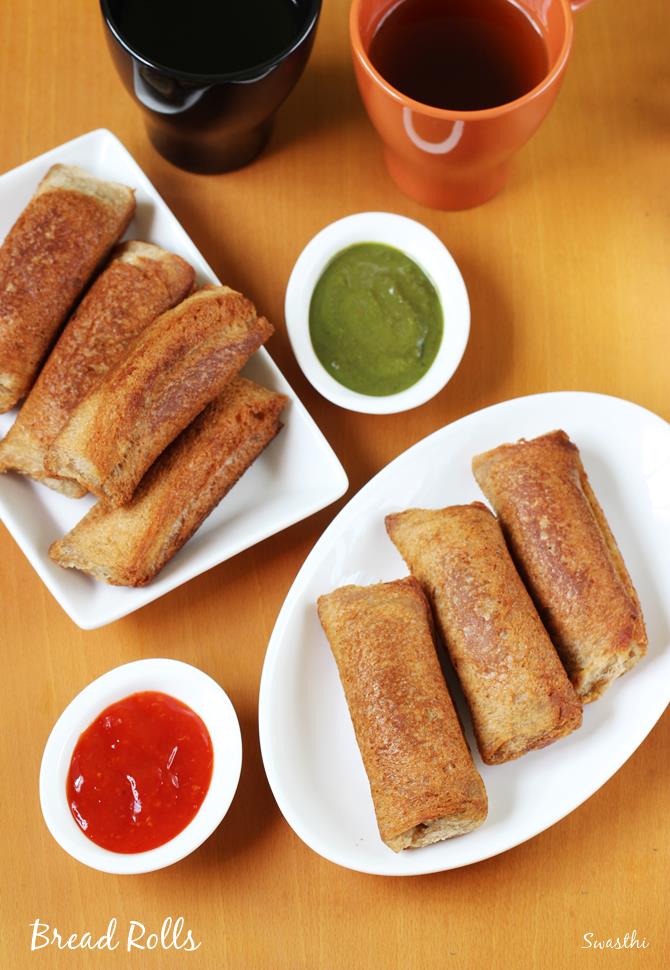 If you like to bake these, you can check this paneer bread rolls recipe. These make a very good party snack since they keep crispy for long time. They are best served with green chutney or sauce. You can find the recipe of green chutney here.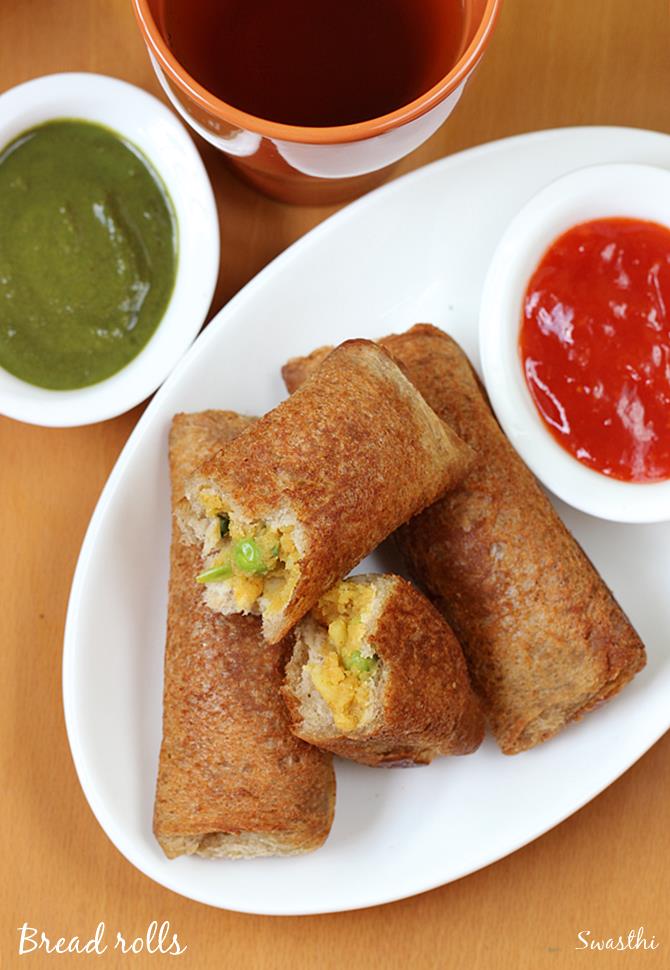 You may like to check these snacks recipes. Some similar snacks on the blog made with bread and aloo are bread pakora and this aloo grilled sandwich
You may also like to check this collection of easy bread recipes and these pakora recipes
Stuffed bread roll recipe below
Bread roll recipe | How to make stuffed bread rolls | Snacks recipes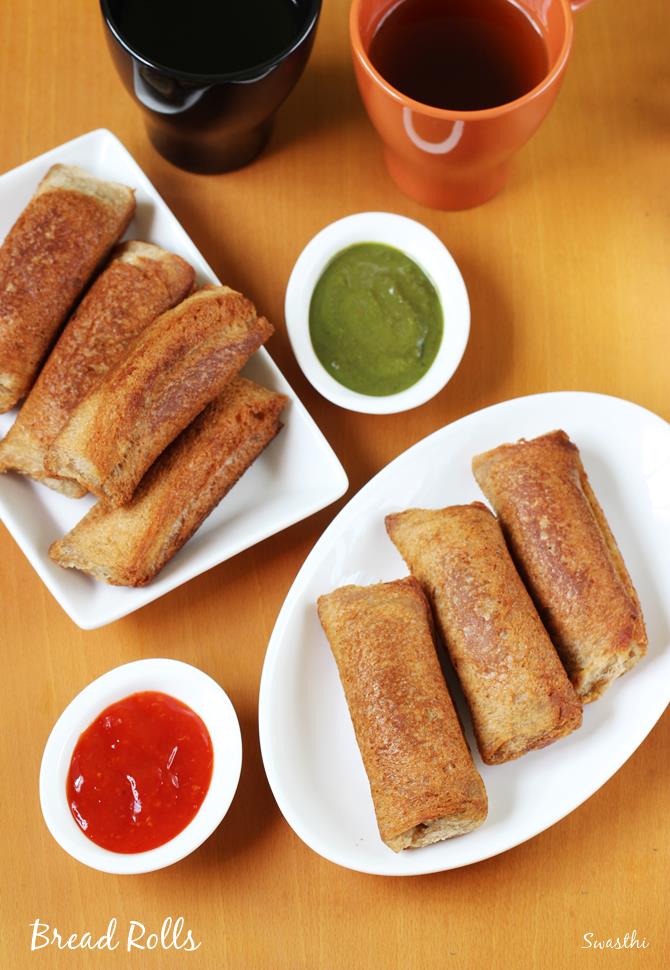 Bread roll recipe - Potato stuffed bread rolls are a good evening snack.
Ingredients (240 ml cup used)
10 bread slice (any)
1.5 cups potatoes cubed
½ cup carrots and peas together
½ to ¾ tsp red chili powder or green chili chopped
½ tsp garam masala (adjust)
Generous pinch of turmeric
2 pinches of amchur (optional)
Few coriander leaves chopped
Salt to taste
Oil as needed (if frying) or butter for brushing
1 tsp plain flour (can use unbleached, organic flour)
Little water.
How to make the recipe
Prepration
Steam potatoes until they are cooked al dente. Move the potatoes to a side, add carrots and peas. Steam until the carrots are tender.
Mash potatoes. Add carrots and peas, slightly mash them.
Add chili powder, garam masala, turmeric, salt and amchur.
Mix everything well and check the salt.
Divide the mixture to 10 equal balls and make an oblong or oval shaped balls. Set these aside.
Trim the edges of the bread.
Make a slightly thin paste of the flour using water as needed.
Toast the bread lightly until they turn a bit dry, make sure they do not turn hard.
Making bread roll recipe
Begin to roll the bread slices to flatten them.
Smear the flour mixture around the edges of the bread.
Place one ball towards end and begin to roll.
Stick the edges together and seal the inner filling.
Heat only few tbsps oil at one time, fry in batches until golden. You can also pan fry them, butter the bread rolls first and then toast them. To bake preheat the oven to 200 C and bake for 10 to 12 mins or until golden.
Serve bread roll with sauce or green chutney.
Step by step photos on how to make bread roll recipe
1. Boil potatoes in whatever way you like. I steam them in a cooker. It takes about 6 to 7 mins, it may vary depending on the kind of potatoes.


2. When they are 3/4 done, then i add carrots and peas to the same steamer. Steam them together until done. You can also skip carrots and peas.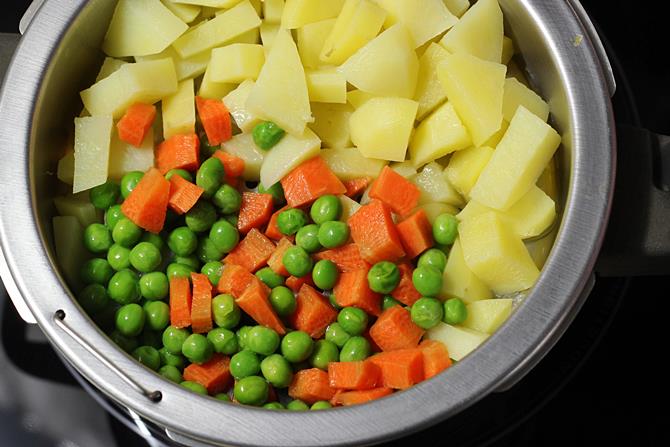 3. Mash the potatoes.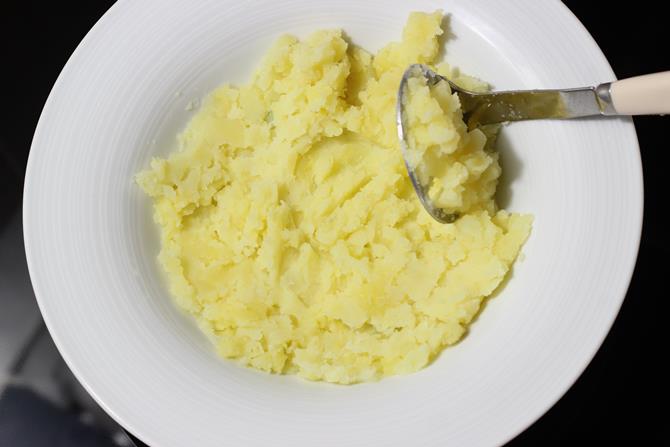 4. Add peas, carrots, chilli powder, turmeric, garam masala, amchur and salt.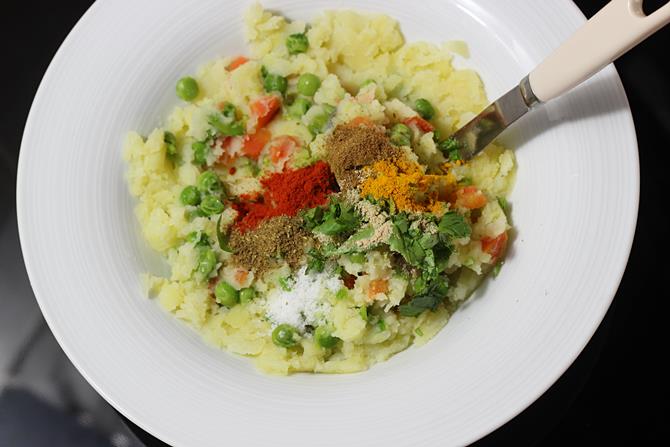 5. Mix together and divide the mix to 10 parts. Give them a oblong shape. Set them aside.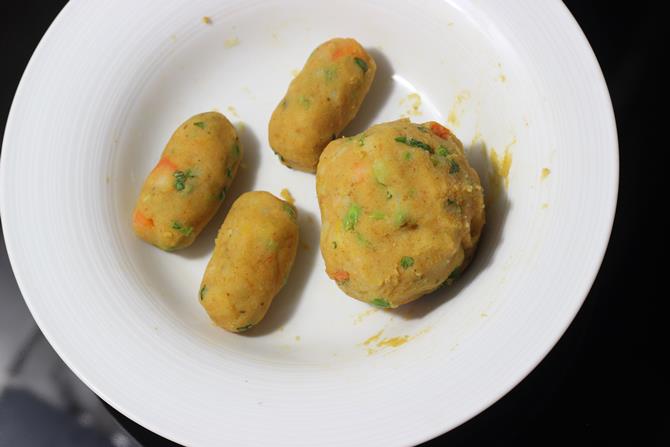 6. I prefer to lightly toast the bread for a while on the tawa to prevent them from soaking up oil while frying. This step is needed only if frying the rolls. Toast the bread slices only for few mins till the moisture in them dries up a bit. Do not toast them until they turn firm else the bread cannot be rolled well.
7. Roll each of the slice with a rolling pin. This prevents the bread rolls from absorbing too much oil.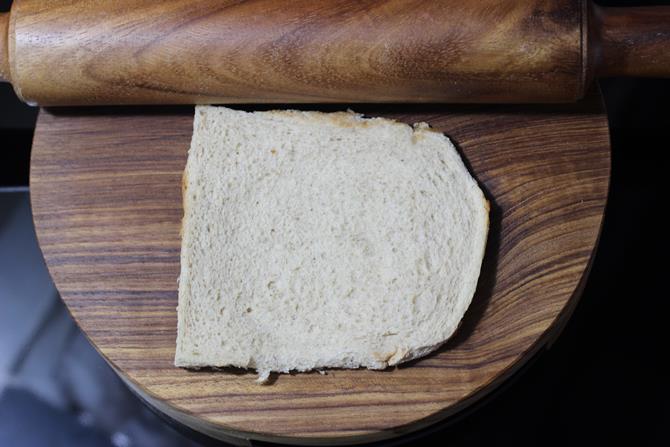 8. In a small bowl mix 1 tbsp of plain flour with few tbsp of water. Brush the edges with the flour mixture. Place the potato mixture on the bread.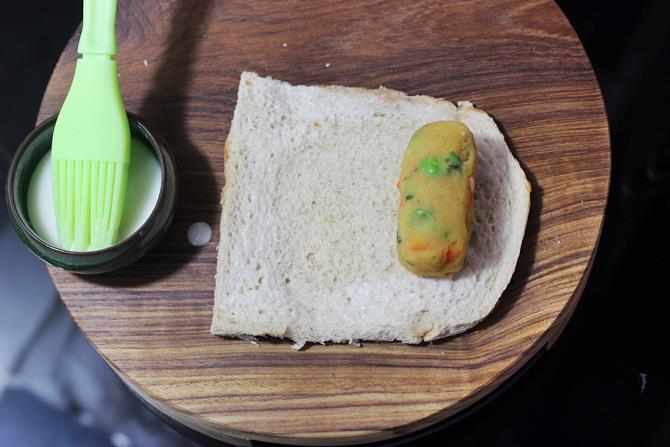 9. Roll the bread and press the edges gently to seal the mixture.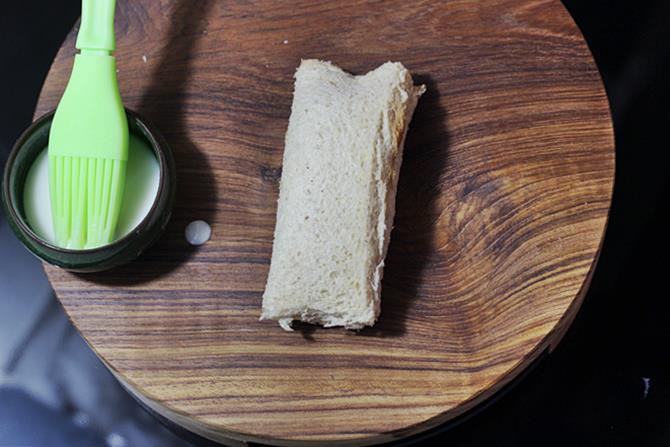 10. Finish making all the rolls.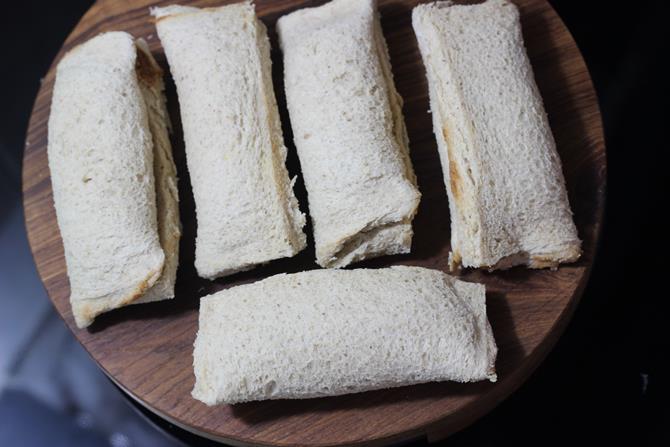 11. If you prefer to bake them, preheat the oven at 200 Degree C. Brush the rolls with melted butter. Bake for 10 to 12 mins or until golden. For pan frying , toast them after brushing with butter.
12. If shallow frying, Add oil only a few tbsp or as needed for each batch. Allow the oil to turn hot enough. Fry them. Do not add too much oil at one time else the rolls will absorb lot of oil.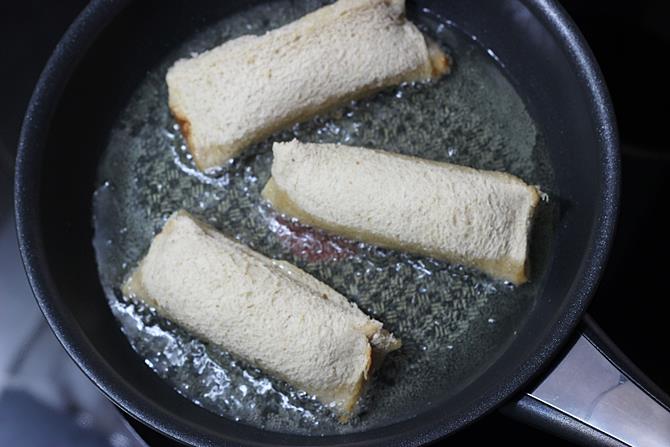 13. Flip them and fry on all the sides until golden.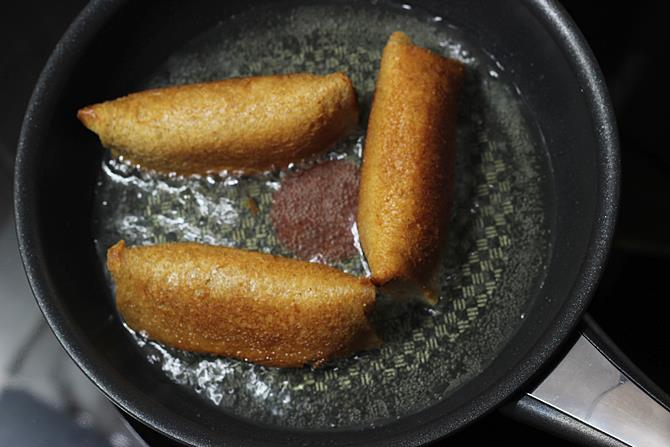 14. Drain them on a kitchen tissue.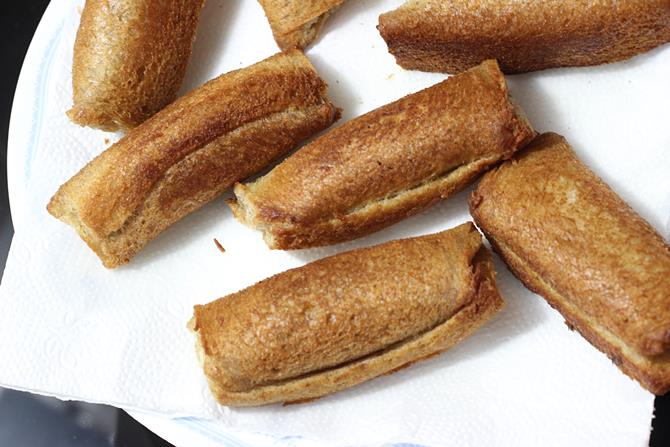 Best served with green chutney and a cup of black tea.