Bread vada recipe with video. Mixed vegetable bread vada can be made for an evening snack. These are very quick to make anytime since these are a instant snack which needs no soaking and no blending or grinding. First time I made these few months ago when I had some unexpected guests home and everyone liked these.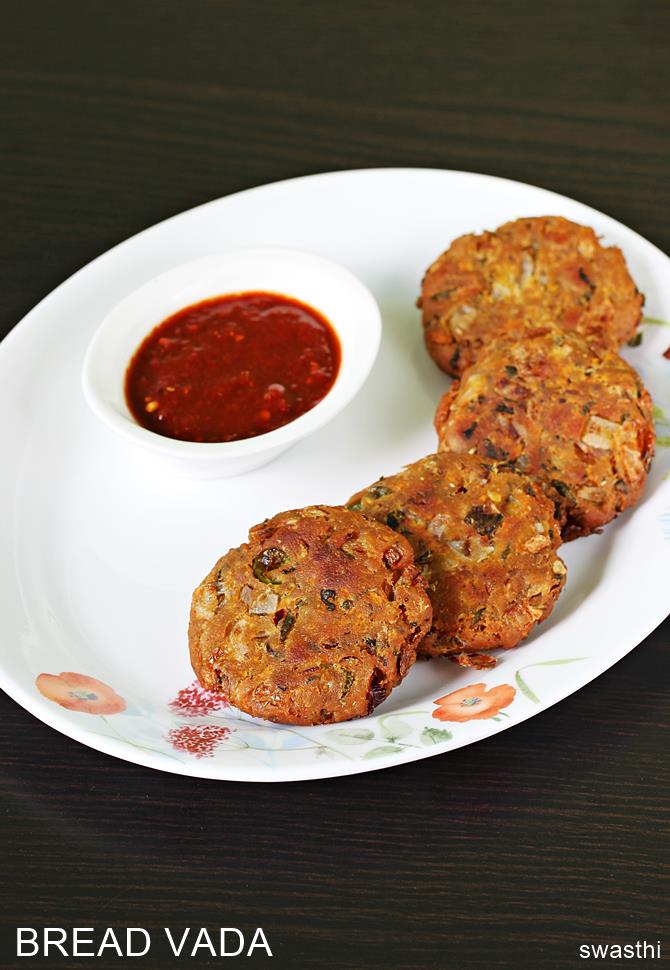 We at home usually do not prefer to make fried snacks using bread but my kids keep asking me for these bread vada. I made these on a weekend with just 3 slices of bread which was left over after making sandwiches.
To make bread vada, white bread, milk or multi grain bread are good choices. The taste of the vada depends on the kind of bread used, avoid using seeded breads or sprouted flour breads.
The key ingredients that add flavor to these is the garam masala, mint and coriander leaves, so do not skip them. I have used carrots and onions, you can also use blanched cabbage, boiled potatoes, mashed peas etc. They can be eaten alone with tea or can be had with a spicy chutney.
For more bread snacks recipes, you can check
Bread pakora
Garlic cheese toast
Bread pizza
Capsicum cheese toast
French toast
Video of bread vada recipe
Bread vada recipe card below
Bread vada recipe | Vegetable bread vada recipe | Bread snacks recipes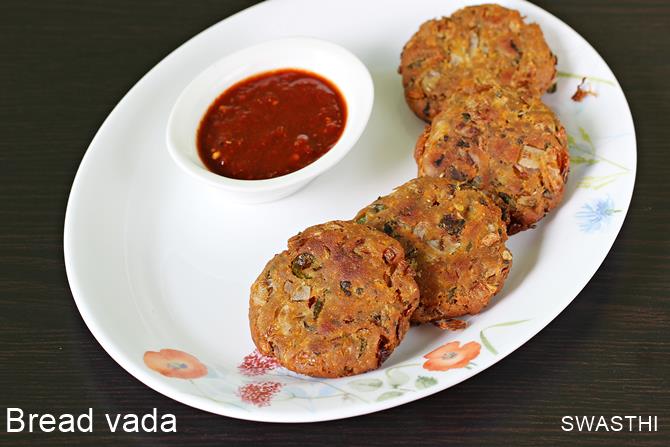 Bread vada are Indian style snack that are made with deep fried.
Yield / Serves:
7 to 8 vada
Ingredients (240 ml cup used)
3 fresh bread slices
½ cup grated carrots (1 large)
¼ cup finely chopped onions (1 medium)
1 green chili chopped
1 red chilli cut - optional
½ tsp garam masala
salt as needed
handful of mint/ pudina - finely chopped
handful of coriander leaves - finely chopped
¼ to ½ tsp grated ginger
¼ tsp cumin/ jeera
2 tbsps rice flour/ corn flour / maida
1 to 2 tbsp water
oil for frying
How to make the recipe
Tear off the bread slices to pieces. Add them to a mixing bowl.
Add ginger, carrots, onions, pudina, coriander leaves, salt, green chili, red chili, cumin, garam masala. Mix them gently and check if water is needed. If the veggies used has lot of moisture then you may not need any water.
Add 1 to 2 tbsp water if needed and begin to mix.
Add rice flour and make a dough.
Heat oil for frying. Divide the mixture to 7 to 8 parts and make balls.
Flatten them gently and make a patty. Do not make thick patties, they should be thin otherwise the vada will have the taste of dough.
Drop these in hot oil and fry on a medium heat.
These tend to turn brown quickly, so keep watching.
Fry them stirring often and flipping to both the sides.
When bread vada turns golden, remove them to a kitchen tissue.
Serve bread vada hot with any chutney or tea.