Brinjal fry recipe – Learn how to make simple brinjal fry in andhra style. Brinjal is one of the vegetable that is not used by many, but they provide us with good nutrition and health benefits. So it should be included in our diet. Brinjal can be used to make vangi bath, stuffed brinjal curry, brinjal chutney and brinjal fry. I have already posted a spicy brinjal potato fry, this recipe is different and very simple.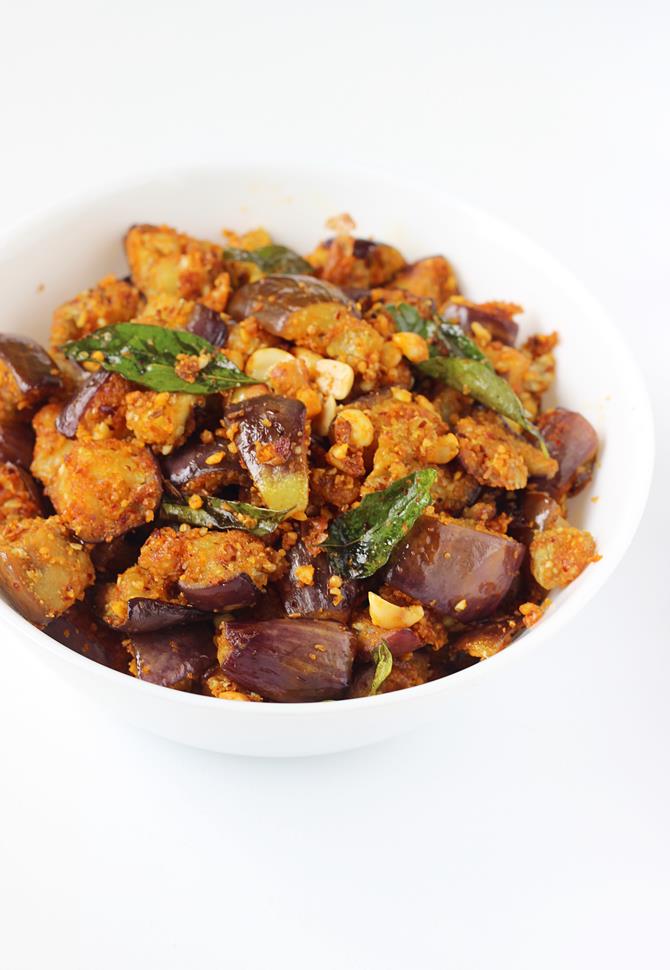 This brinjal fry goes well with rice and rasam or sambar . It just takes about 25 minutes to prepare. To make any brinjal dish, always choose tender brinjals that are fresh without any bruises. Also after chopping brinjals keep them in salted water until they are used to cook.
 
You can add few green peas or crushed peanuts to make this brinjal fry recipe. Both add a different taste. If using green peas, just add them to the pan along with brinjal.
 
If you love brinjals, you may like this collection of brinjal recipes.
 
Step by step photos on brinjal fry recipe
1. Wash and cut brinjal to pieces. Add them to salted water.
2. Add oil to a hot pan, add mustard and cumin. When they begin to splutter, add ginger garlic paste, green chili and fry until the raw smell goes away.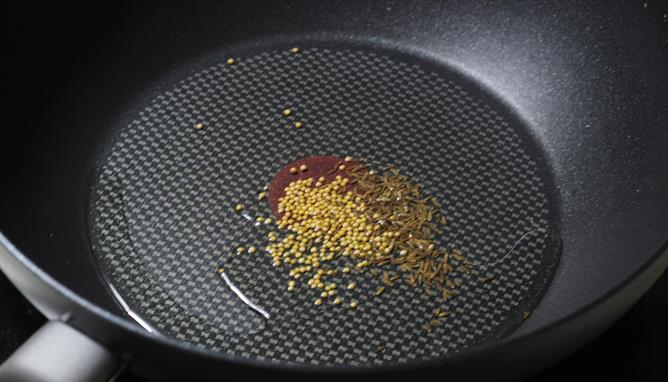 3. Add chopped brinjal. Sprinkle salt and turmeric. Fry until it gets cooked well on a low flame.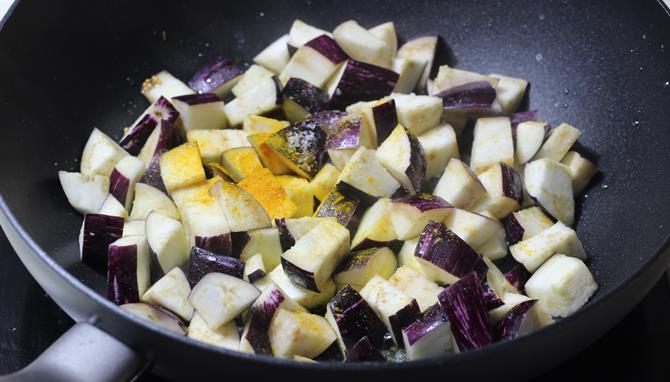 4. Add curry leaves, red chili powder, coarsely crushed roasted peanuts.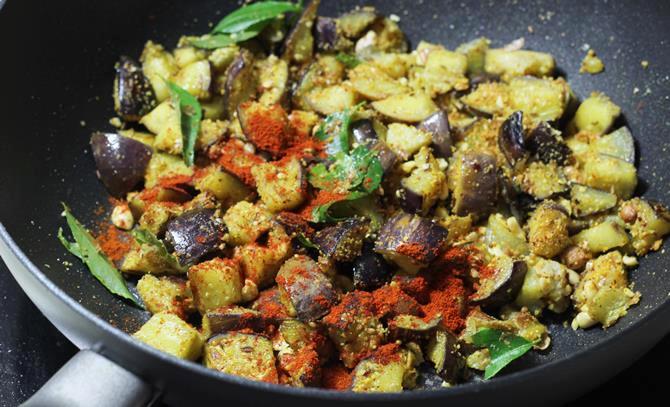 5. When you begin to smell good, add lemon juice. Switch off the stove.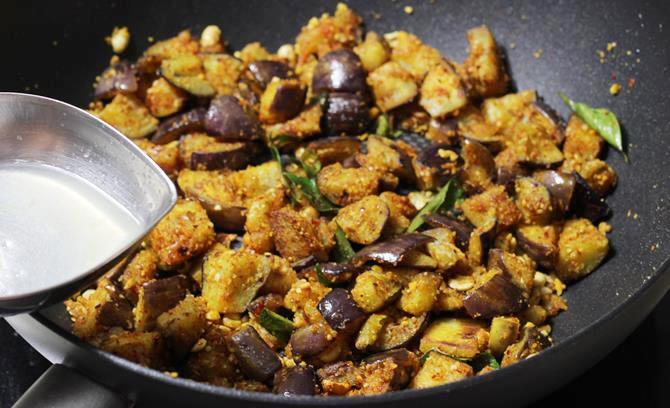 Serve brinjal fry with rice, ghee and sambar.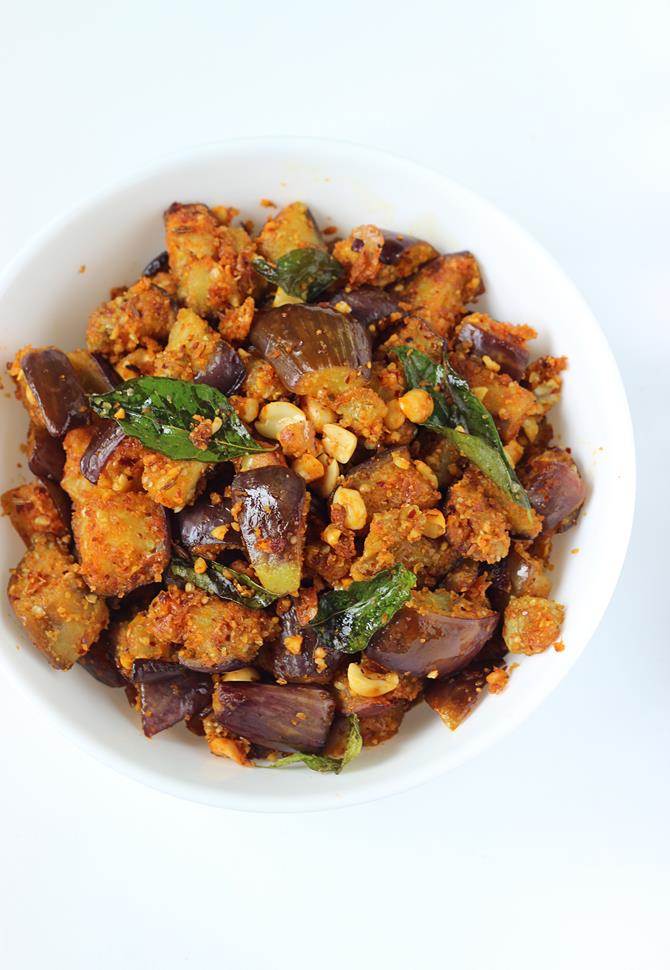 Find brinjal fry recipe below
Brinjal fry recipe | Andhra style vankaya fry recipe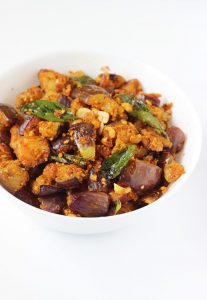 Ingredients (240 ml cup used)
250 grams brinjal / vankaya
3 green chilies slit or ½ tsp red chili powder
1 sprig of curry leaves
½ tsp mustard
½ tsp Cumin
Pinch of turmeric
1 tsp ginger garlic paste (optional)
½ to ¾ tsp light garam masala
Salt to taste
1 ½ tsp lemon juice (refer notes)
1 tbsp. Oil or as required
optional
Coarsely crushed roasted peanuts or fresh green peas as desired
How to make the recipe
This brinjal fry recipe can be made without peanuts too but they add a great taste. This step is optional. If you like to use peanuts for this recipe, dry roast them and set aside to cool. Remove the skin and pulse them in mixer.
Wash brinjals in water. Slice them or cut to desired sizes. Add them to salt water.
Heat oil in a wide pan, add cumin, mustard, and let them splutter.
Add the green chilies, fry till they turn pale in color.
Add ginger garlic paste, sauté quickly, do not fry for longer, can make your brinjal bitter.
Add the brinjal, salt & turmeric, toss on a medium flame, till they are cooked. If needed cover and cook till soft.
Add curry leaves, red chili powder, garam masala and coarsely crushed peanuts if using. Stir everything well. Cover and cook for 2 to 3 minutes on a low flame.
Add lemon juice if desired, before you serve.
Serve vankaya fry with rice.
Notes
If you are allergic to egg plants, try using lemon juice. It helps to prevents skin itch that is caused by eating eggplant in few people.