Broccoli curry recipe or Broccoli stir fry recipe. Broccoli is rich in dietary fiber, vitamins, minerals and more importantly anti-oxidants and has anticancer properties. It was never a preferred vegetable at home for years. I must say, my kids introduced me to this. Both of them would ask me, why I never make Broccoli curry or use it at least in stir fry or sabzi. My elder son will soon turn 9; I guess he is more curious these days about veggies & fruits and their nutrition.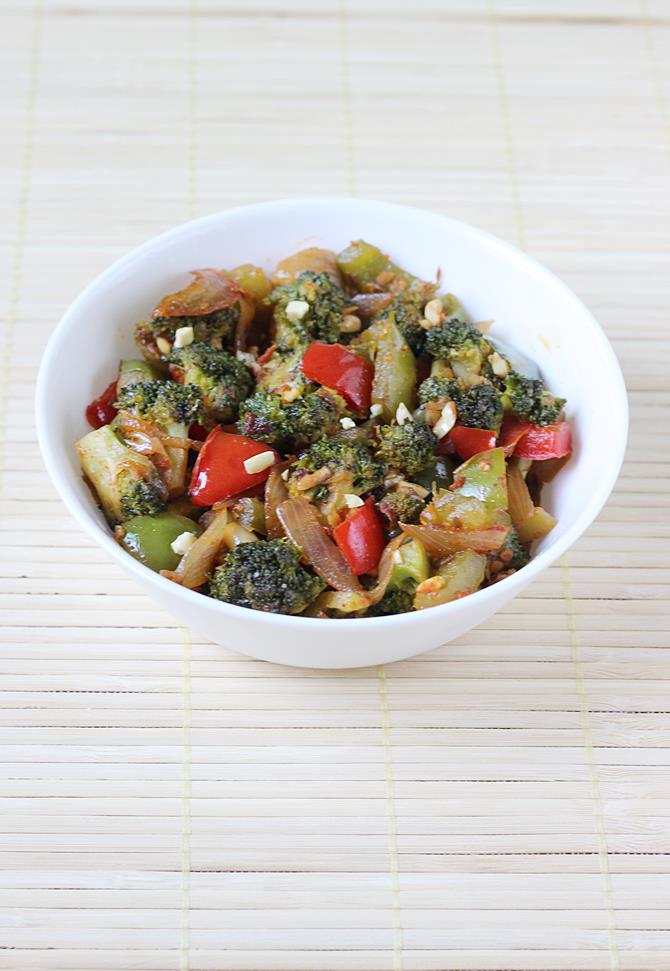 After we moved to our new home, I get to see this broccoli vegetable more often in the nearby supermarket and have started using this very frequently now. We all began to love this for its mild aroma and taste. The best way to cook broccoli for retaining its nutrients is to steam or stir fry it.
There are so many easy ways one can include it in their diet. Over the years, I have tried so many recipes and find that it tastes great if cooked in the correct way.
You may also like to check these Broccoli recipes
Broccoli chutney
Mix veg broccoli recipe
Broccoli gravy recipe
I have shared 2 broccoli stir fry / sabzi recipes in this post. First one is a simple recipe that one can cook to accompany rice or chapathi. It is almost the same as my gobi kheema recipe. I use raw almond milk (ground almonds) at the end to make it taste nutty and delicious. Almonds and broccoli make one of the best tasting combinations whether it is in the form of soup or a curry.
Recipe 1 – Broccoli curry or stir fry recipe card
Broccoli curry recipe | Broccoli stir fry recipe | Indian broccoli recipes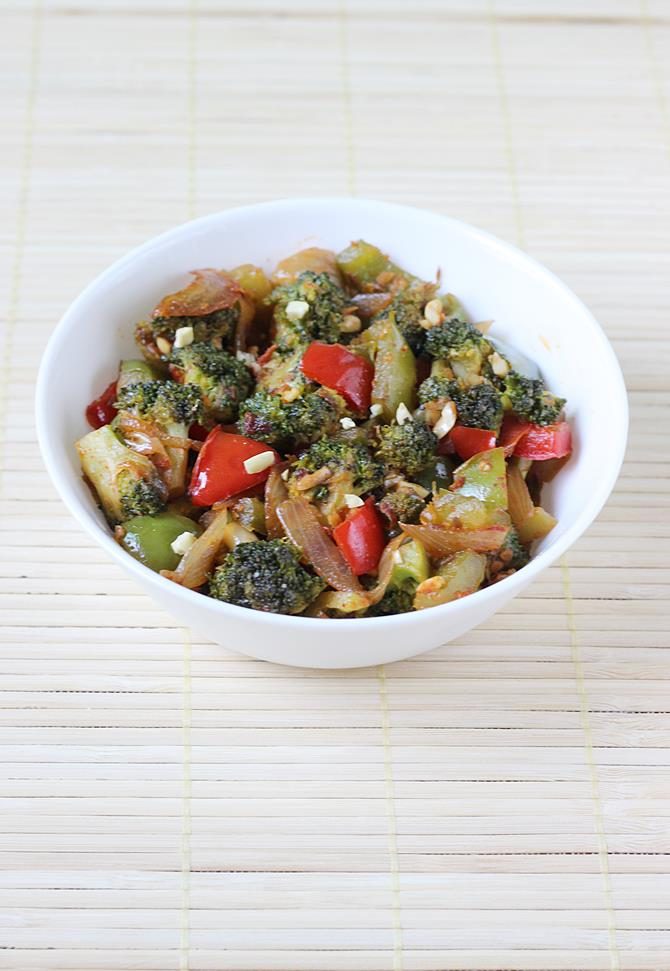 Simple Broccoli recipe made in Indian style.
Ingredients (240 ml cup used)
2 ½ cups florets or minced broccoli
¾ cup onions chopped finely
2 tbsp. oil
1 sprig curry leaves
1 green chili slit
¼ tsp. cumin/jeera
pinch of mustard
1 tsp ginger garlic paste
⅓ tsp. red chili powder
¾ to 1 tsp. garam masala or kitchen king masala
10 almonds (blanched preferred) or 3 tbsps of fresh coconut
salt to taste
How to make the recipe
Heat oil in a pan, add cumin and mustard, when they begin to crackle add, curry leaves and sauté for a min.
Add onions and fry till they turn translucent.
Add ginger garlic paste and fry for a min or two.
Add broccoli, sprinkle salt and fry till for 2 mins.
Add red chili powder, garam masala. mix well and cover and cook for 2 to 3mins.
Meanwhile make a paste of the almonds or coconut with very little water.
Pour almond paste or coconut paste to the broccoli. Stir fry for another 2 to 3 mins or till it becomes fragrant. Make sure it is cooked by then. Serve broccoli sabzi with roti or rice.
Broccoli stir fry recipe with step by step pictures
1. For ingredients please check the recipe card below. Add oil to a pan, add cumin, mustard, allow them to sizzle, add curry leaves and fry.
2. Time to add chopped onions and fry till they are lightly done.
3. Add ginger garlic paste and fry till the raw smell disappears.
4. Add broccoli florets, sprinkle salt and fry till for 2 to 3 mins.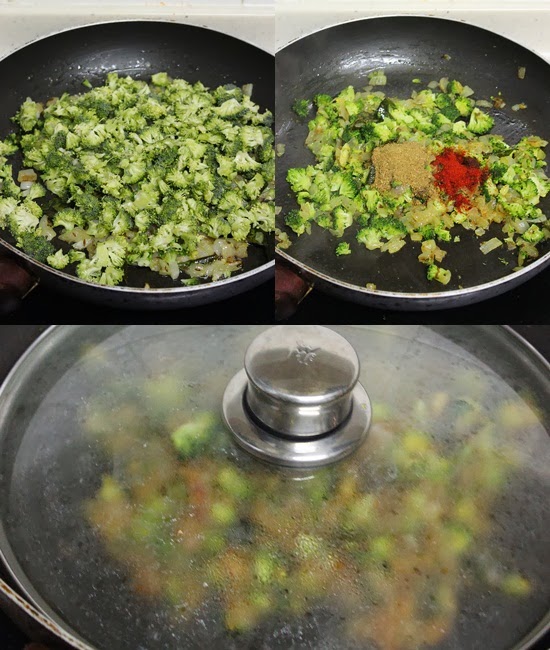 5. Add red chili powder, garam masala. Stir and cover and cook for 2 to 3 mins.
6. Step 6 and 7 are optional. If you don't like to use almonds or coconut you can just skip this. Make a fine paste of the almonds by adding little water to the blender. Or alternately you can blend 3 tbsp of coconut with 2 tbsp of water. There is also a readers comment that even coconut milk tasted good instead of almonds. So shared the tip here.
7. Pour almond paste or coconut paste to the pan. Stir fry for 2 to 3 mins or till it becomes fragrant and cooked.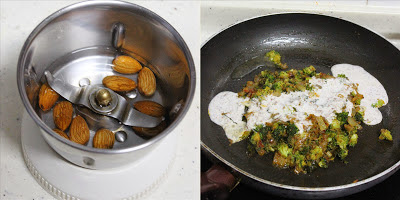 Serve broccoli stir fry with rice or chapati.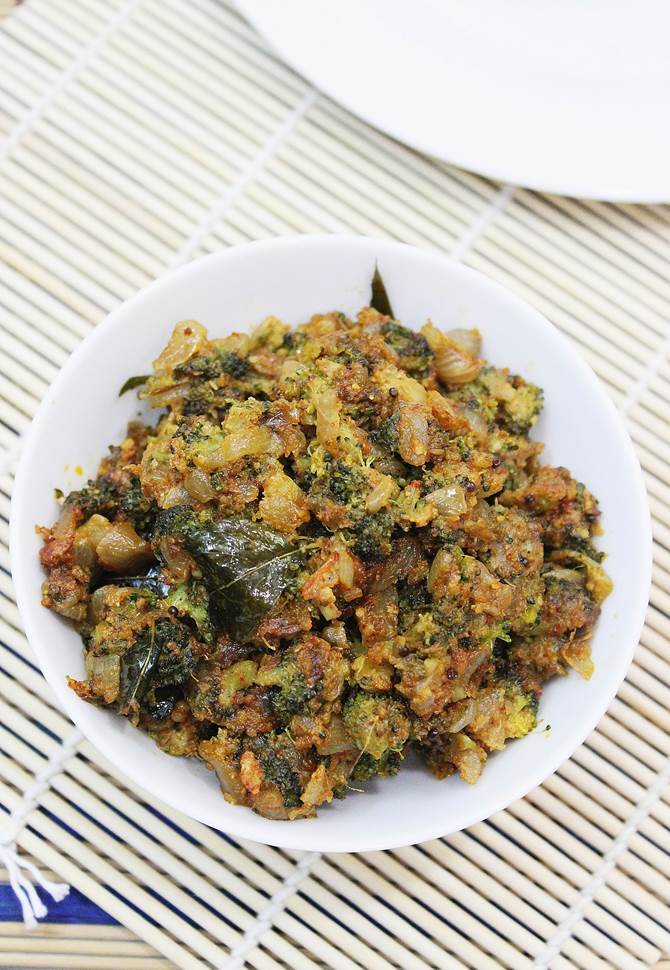 Recipe 2 – Broccoli sabzi or stir fry recipe
Ingredients
2 heaped cups broccoli florets
1/2 to 1 cup capsicum or potatoes or peas (optional)
½ tsp cumin
¾ to 1 tsp ginger grated or ginger garlic paste
Oil as needed
1 small onion sliced thinly or chopped finely
1 medium tomato chopped finely (deseed if you prefer)
Salt and turmeric as needed
½ tsp Red chili powder
½ to ¾ tsp garam masala
Few roasted peanuts crushed (optional)
Method
1. Heat 3 to 4 cups of water in a pot, add salt and add the florets. Leave them for about 5 minutes. This helps hidden worms come to the water. Drain off the water and rinse them well under running water. Drain them and set aside.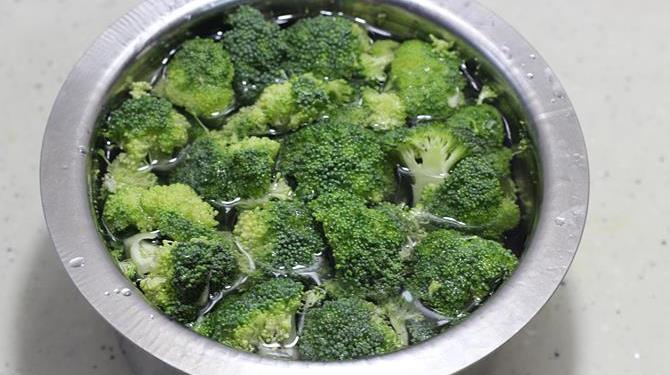 2. Heat Oil in a pan. Add cumin. When they begin to splutter, add ginger or ginger garlic paste. Fry until it turns aromatic.


3. Add sliced onions and fry until transparent.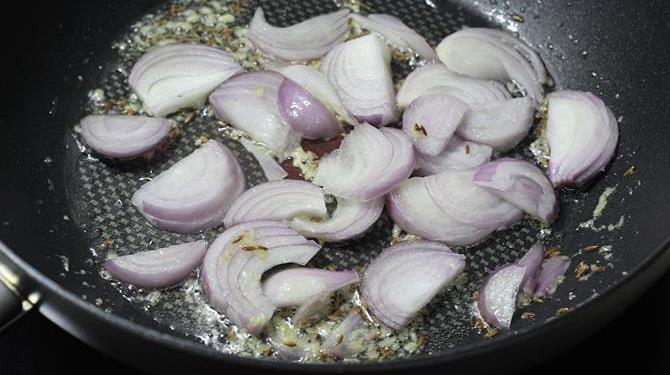 4. Add tomatoes, turmeric and fry until the tomatoes turn completely mushy. You can also add garam masala and chili powder now.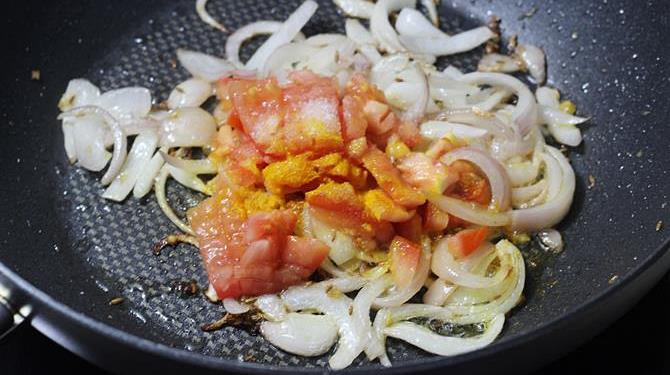 5. If using potato, add them now and fry until half cooked. Add broccoli, capsicum or peas. On a low flame fry until all the veggies get cooked. If needed cover and cook.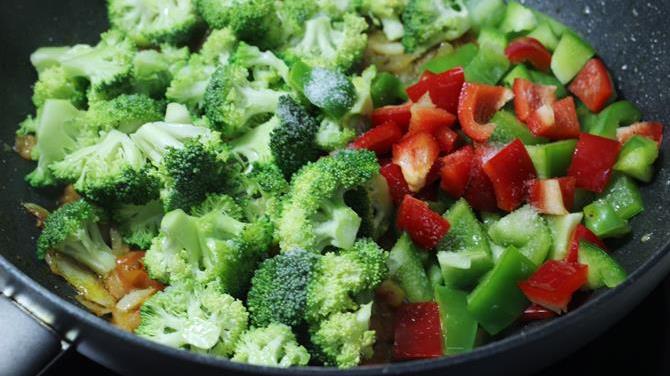 6. Sprinkle garam masala, red chili powder and roasted crushed peanuts and then stir fry for just one to 2 minutes. Peanuts can also be added just before serving to keep the crunch.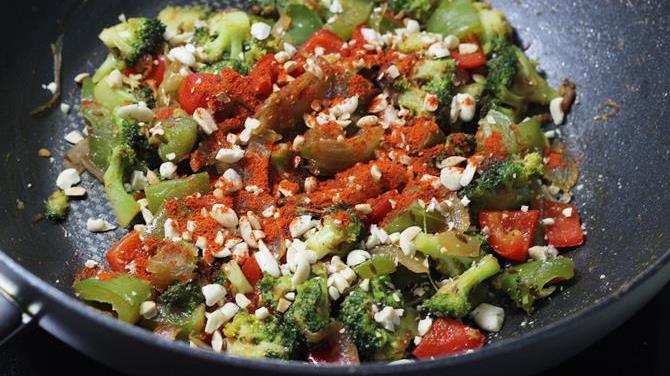 Serve broccoli sabzi with roti or rice.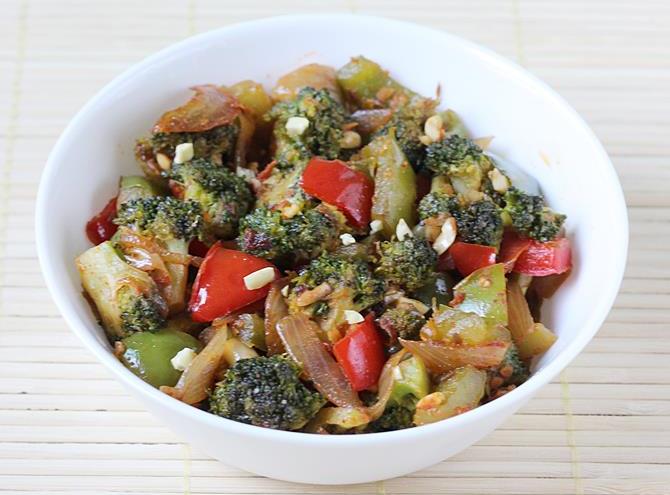 For more easy stir fry recipes, check
Baby corn stir fry
Ridge gourd stir fry (turai)
Ladies finger stir fry
Drumstick leaves stir fry
Mushroom stir fry or dry curry