Cabbage curry recipe – A simple cabbage masala curry to go with rice or chapathi. Cabbage can be used in a variety of Indian food recipes like paratha, curry, stir fry, raita, kootu, chutney, vada, soup, salad and kofta. This cabbage curry recipe is a good addition to the menu since it is healthy, simple, quick to make and tastes delicious.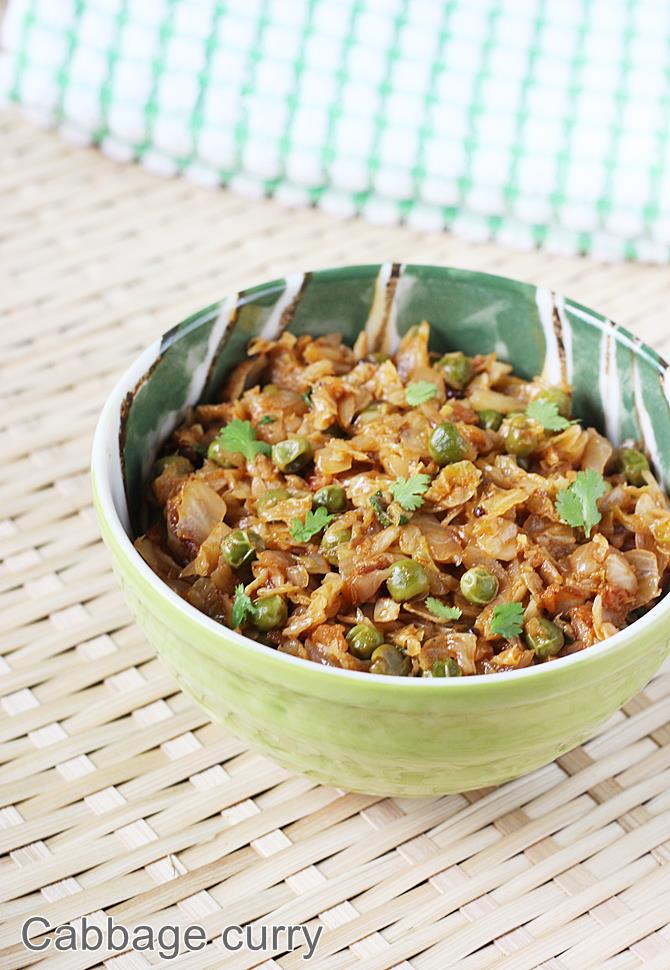 This simple cabbage curry goes very well with plain steamed rice, roti and even in sandwiches and wraps. This goes well in tiffin box too.
You may also like to check this collection of 14 cabbage recipes.
Cabbage vada
Chinese style cabbage stir fry,
steamed cabbage recipe,
cabbage stir fry,
cabbage rice,
cabbage paratha
Simple cabbage curry recipe
Cabbage curry recipe | How to make easy cabbage curry recipe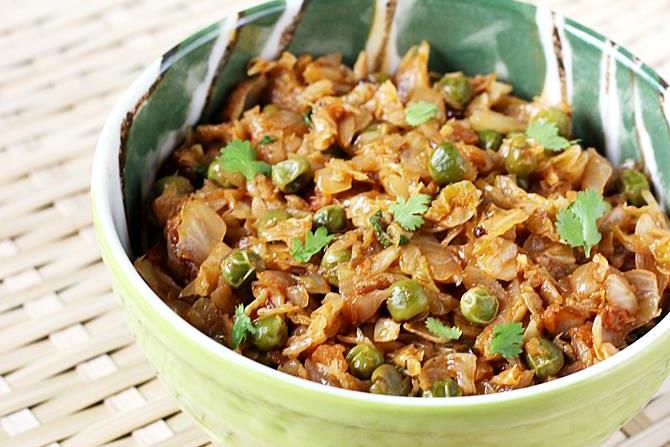 Cabbage curry recipe - Simple home style cabbage recipe made with simple ingredients.
Ingredients (240 ml cup used)
1 tbsp. oil or as needed
½ tsp cumin / jeera
¼ to ½ tsp mustard
¾ to 1 tsp ginger or ginger garlic paste or grated
1 large thinly sliced onion
1 large finely chopped tomato
salt as needed
a pinch of turmeric
½ tsp red chili powder
¾ tsp garam masala or sambar powder as needed
¼ cup green peas or 2 tbsp. chana dal (soaked and cooked)
2 to 3 cups chopped cabbage
few finely chopped coriander leaves
How to make the recipe
Preparation
Remove the outer leaves of cabbage and cut to quarters. Soak them in salted water for sometime. Cut and discard the core. Chop the cabbage and set aside. Alternately, chop the cabbage and add to salted water. Drain off and set aside.
Making cabbage curry
Add oil to a hot. When the oil turns hot, add mustard and cumin. when they begin to sizzle, add ginger garlic and fry till it turns aromatic.
Add sliced onions and fry till they turn transparent.
Add tomatoes, salt and turmeric. Fry until the tomatoes turn mushy and soft. Add spice powders and fry for a minute for the raw smell to go away.
Add green peas and then saute for a minute.
Add chopped and drained cabbage. Stir for the masala to coat the cabbage well and fry for 2 to 3 minutes.
Fry until the cabbage is cooked to your liking. If needed cover and cook.
Sprinkle Coriander leaves.
Serve cabbage curry with rice or roti.
How to make cabbage curry recipe
1. Add oil to a hot pan, add cumin and mustard. When they begin to splutter, add ginger garlic paste or grated ginger. Fry until the raw smell disappears. You can also add ginger garlic paste after frying onions.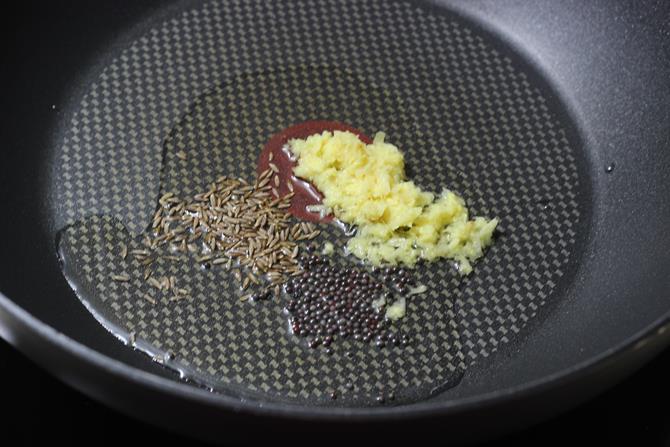 2. Add onions and fry until they turn transparent.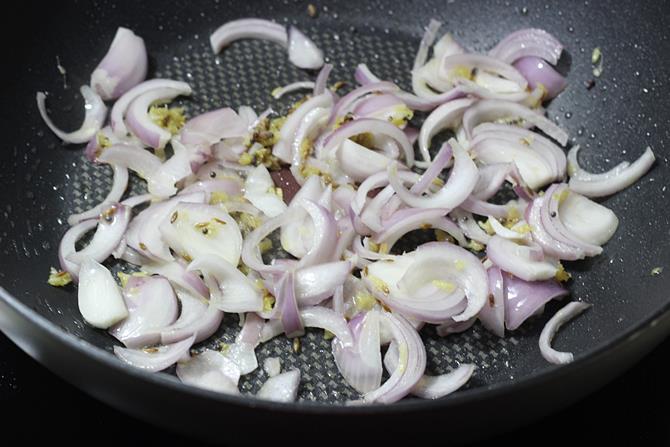 3. Add tomatoes, salt and turmeric. Fry until the tomatoes turn completely mushy and soft.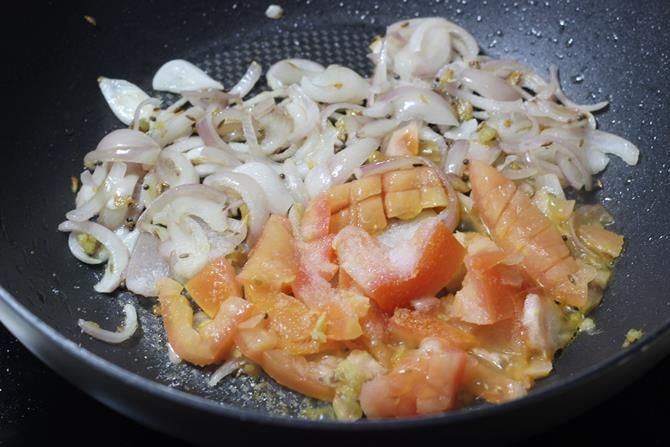 4. Add red chili powder, garam masala. Fry for one to two minutes without burning. I usually add some curry leaves here along with spice powders, this time i didn't use since i didn't have. Before proceeding to the next step, make sure the raw smell of tomatoes has completely gone.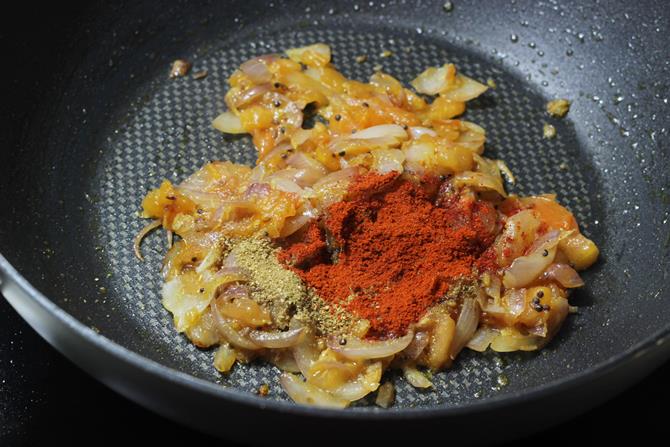 5. Add green peas and saute for a minute. You can use fresh/ frozen peas. Dried peas or chana dal can also be used to make this curry. Soak dried peas for about 10 to 12 hours. If using chana dal soak for one hour, cook and use here.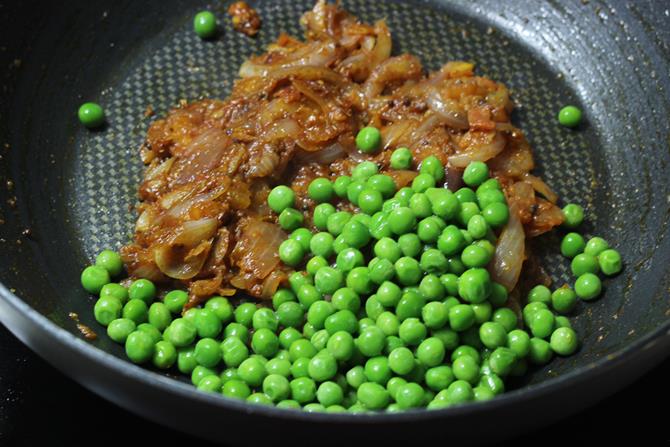 6. Add cabbage.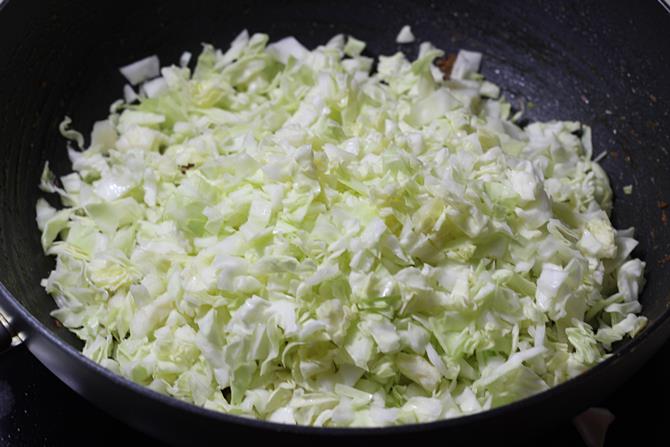 7. Mix everything till the masala coats the cabbage well. Fry for about 2 to 3 minutes.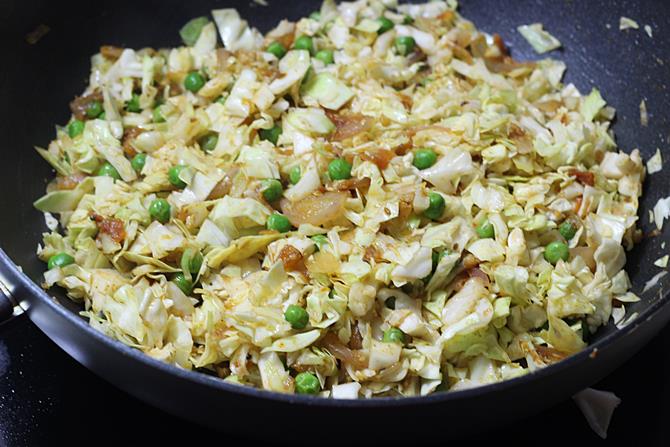 8. Cover and cook until cabbage is cooked. If the cabbage is very tender and young, cook without covering. It may release a lot of moisture and make the curry mushy. Some like to eat crunchy, you can just switch off when it is done to your liking. We like slightly soft cooked.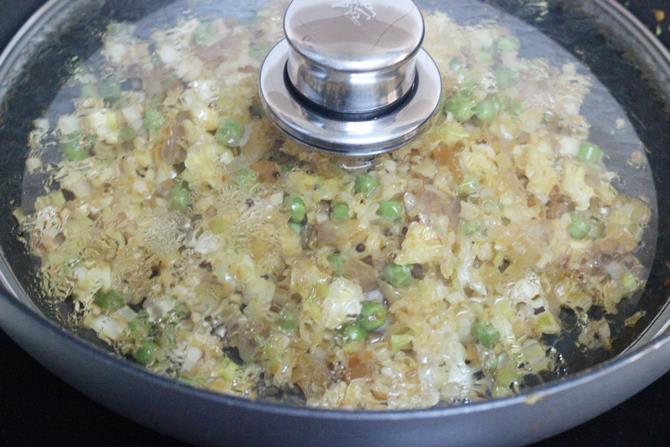 9. Add coriander leaves and stir well.