Cabbage kootu recipe with step by step photos. Kootu is a dal / lentil based dish from South Indian Cuisine , often served with rice or phulka. To make cabbage kootu, dal and cabbage can be cooked together. But i have first cooked dal and then added cabbage just not to overcook it. Sharing the way i make at home. I have used toor dal, you can also use moong dal, chana dal or a mix of both.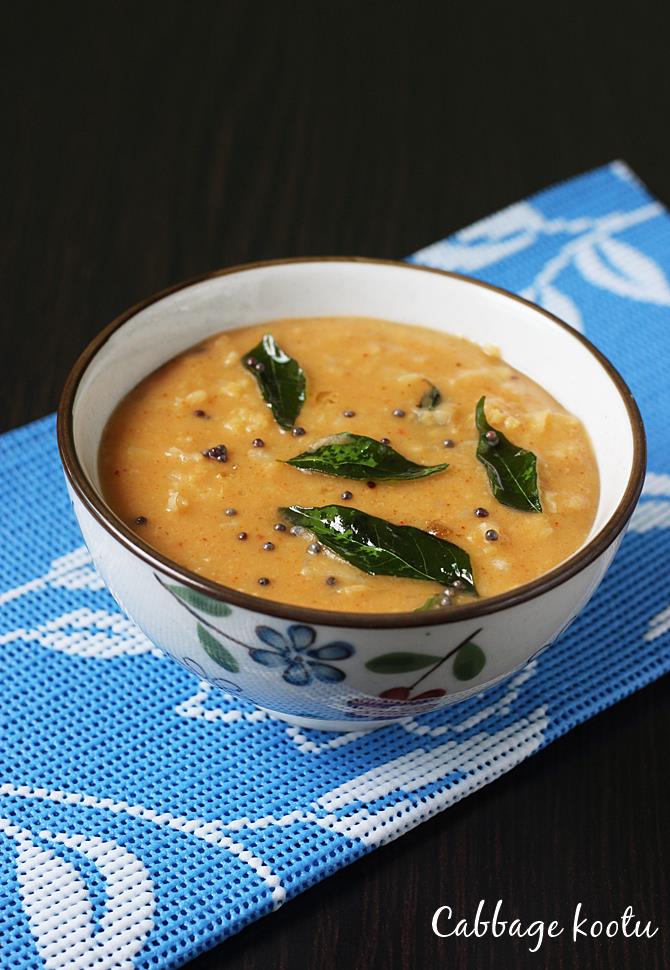 Cabbage can be cleaned in so many ways. You can quarter the cabbage and add them to warm salted water. Leave for a while and then rinse few times. Drain completely and chop. You can also chop it and add to salted water. Rinse well and repeat the rinse. You can also clean each leaf of cabbage and wash first and then drain water. This is slightly a tedious work. Drain cabbage completely chop it finely.
For more Cabbage recipes, you may check
Cabbage masala
Steamed cabbage curry
Cabbage stir fry
Cabbage kootu recipe below
Cabbage kootu recipe | How to make cabbage kootu | Dal cabbage recipe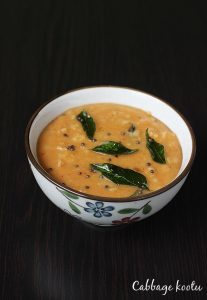 Simple cabbage kootu made in south Indian style made using dal or lentils and cabbage.
Ingredients (240 ml cup used)
½ cup dal (toor dal or moong dal)
2 cups chopped cabbage
tamarind as needed
salt as needed
turmeric as needed
to grind
3 tbsp fresh or frozen grated coconut
2 to 4 red chilies
½ tsp cumin / jeera
1 to 1½ tbsp. chana dal
to season
1 tbsp. ghee or 2 tsps oil
1 sprig curry leaves
¾ tsp mustard
pinch of hing
How to make the recipe
Soak tamarind in little water. Discard the pulp or filter. Set aside.
Cook dal till smooth. While the dal cooks, chop cabbage. Wash and add it to the cooked dal. Cook until the cabbage is done. Another method is to pressure cook dal and cabbage together for 1 to 3 whistles.
Dry roast all the ingredients mentioned under to grind, one after the other. Cool and make a fine paste with little water.
Add turmeric and ground paste. Stir and cook.
When the cabbage is cooked add tamarind.
Heat ghee or oil in a pan for seasoning. Add mustard, red chilli and curry leaves. When they begin to splutter, add hing.
Switch off and pour this to the cabbage kootu.
How to make cabbage kootu recipe
1. Soak tamarind in little hot water. Set aside. Add half cup dal to a pressure cooker or a bowl.


2. Wash few times until the water runs clear. Add 1 ½ cup water and pressure cook for 1 whistle. If placing inside a large cooker, allow to whistle thrice. You can also add cabbage now if you like to cook it very soft. But i prefer to add it later to cooked dal.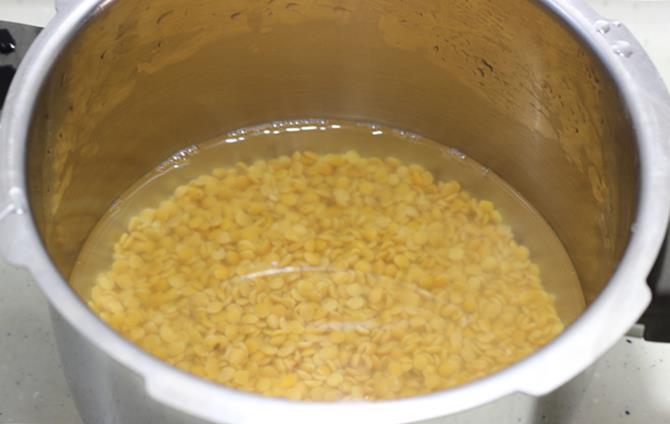 3. While the dal cooks, chop cabbage and add it to a pot of salted water. Drain off and wash few times. Set this aside. Fry red chilies and chana dal. Cool and add them to a blender along with coconut and cumin. You can also roast coconut and cumin without burning.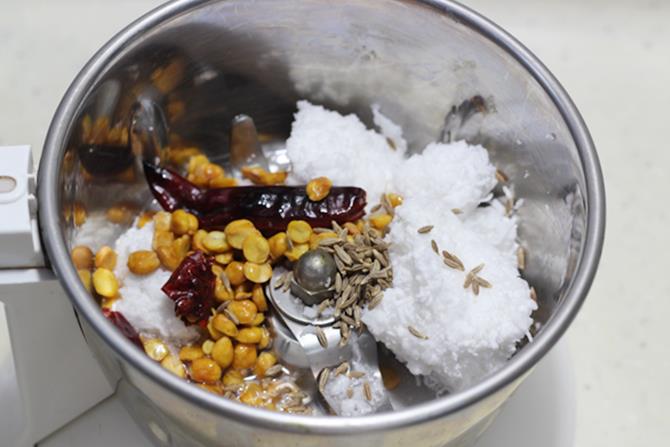 4. Add little water and make a smooth paste.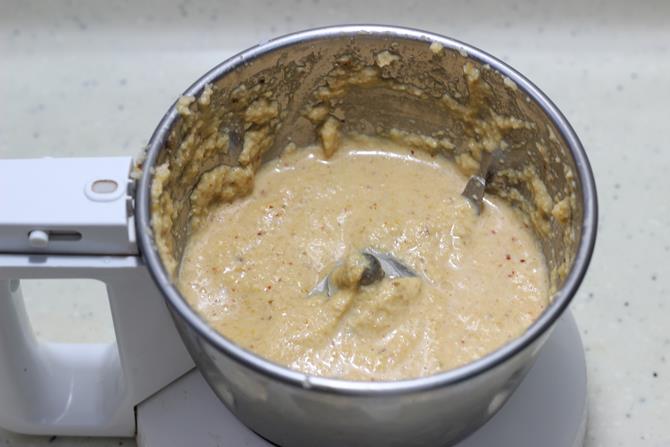 5. When the pressure goes off, add chopped cabbage and if needed more water. Cabbage gets cooked in just 5 to 6 minutes. If it is not tender then 8 minutes would be enough.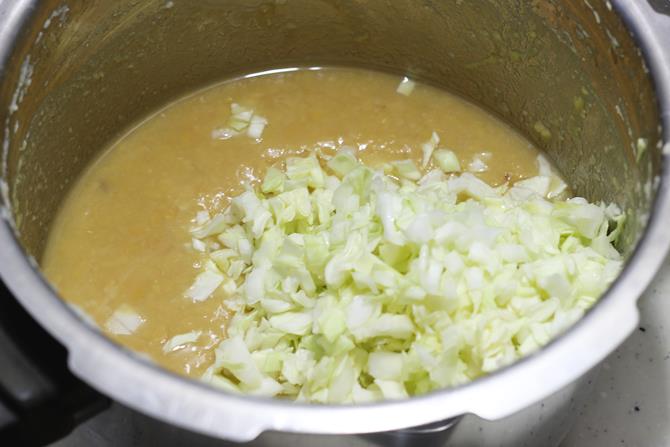 5. Add the ground paste. Cook for a while.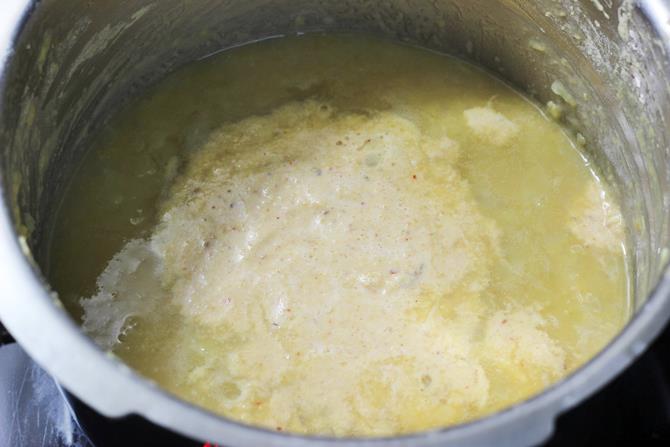 6. When the cabbage is cooked, add tamarind paste or water. Do not add tamarind before the cabbage is cooked. Stir and allow to bubble.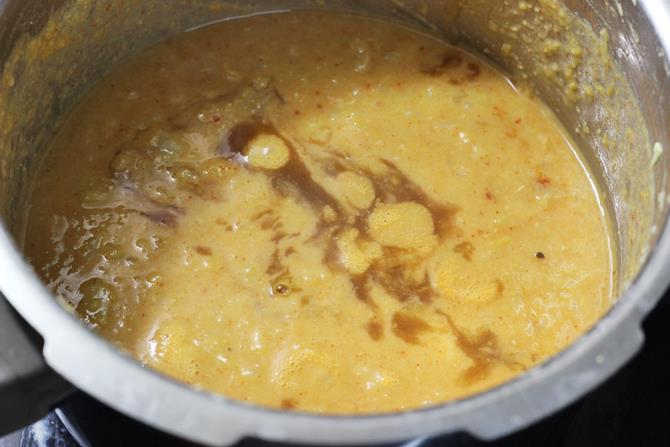 7. Heat a pan, add oil and heat it. Add mustard, red chili and curry leaves. When the curry leaves turn crisp. off the stove and add hing.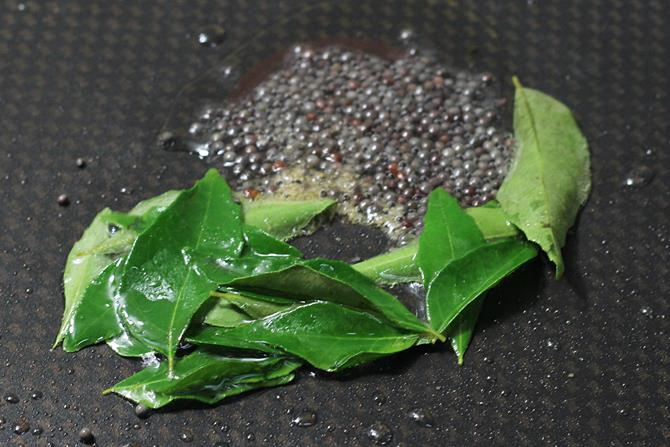 8. Pour it to the kootu.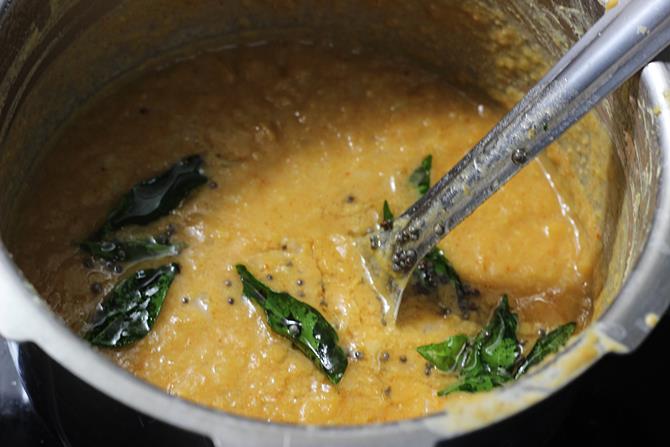 cabbage kootu is ready to be served with rice or phulka.