Cabbage pakora recipe – South Indian style crunchy cabbage pakoda recipe. If you love the flavor of fried cabbage, then you will surely love these. Stir fired cabbage & Fried cabbage has one of the most delectable flavor so I often use it in my veg manchurian, cabbage omelet, mixed veg pakora, cabbage kofta, fried rice and noodles as well.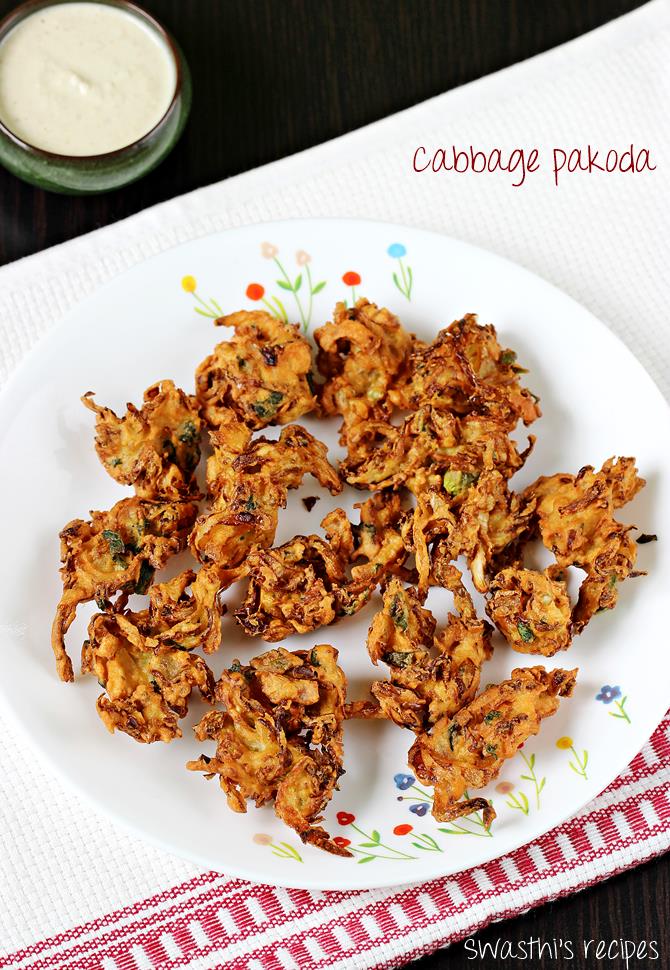 I made these cabbage pakora sometime ago when I was left with some cabbage after making Veg Manchurian. You can also add some coarsely crushed soaked moong dal to this. They turn out very good.
These cabbage pakora turn out to be very crunchy and remain so for about 45 mins to 1 hour.
For more cabbage recipes, you may like to check
Cabbage vada
Stir fried cabbage
Cabbage curry
Cabbage fried rice
Cabbage pakora recipe
Cabbage pakora recipe | Cabbage pakoda recipe in South Indian style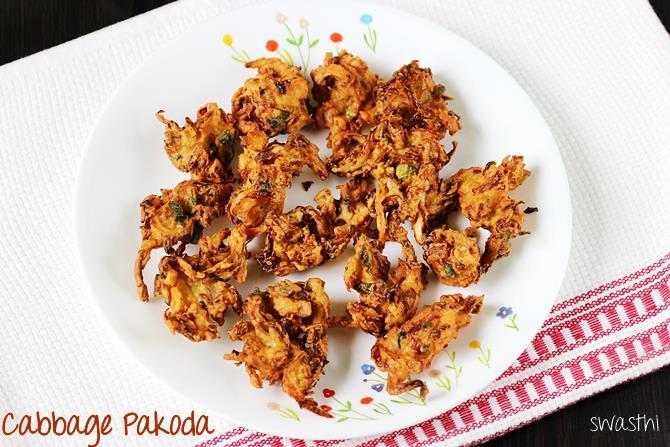 Cabbage pakoda recipe - Crunchy fritters made using cabbage, onion and chickpea flour.
Ingredients (240 ml cup used)
3 cups cabbage shredded
¾ cup thinly sliced onions (1 large)
Salt as needed
½ cup besan / chickpea flour / senagapindi
¼ cup rice flour / chawal ka atta
¾ to 1 tsp ginger garlic paste
¾ to 1 tsp ajwain or carom seeds
1 to 2 Green chilies chopped
Handful of coriander leaves chopped finely
1 small sprig of curry leaves chopped finely
Oil for deep frying
How to make the recipe
Add cabbage to a mixing bowl and sprinkle salt.
Add chilies, ginger garlic paste,ajwain, sliced onions, coriander and curry leaves.
Mix everything well and squeeze very well for 30 seconds. Set aside for 10 minutes.
Add the flours and mix well to make a thick dough. Try not to add water. If the mixture looks crumble. You can squeeze the mixture gently for the cabbage to release moisture further.
Heat oil in a pot, When the oil is just hot enough, Put the flame to slightly high then drop small portions of this mixture to the hot oil.
Keep stirring and fry until lightly golden, then reduce the flame to low. Fry until evenly fried to golden.
Drain on a kitchen tissue.
Serve cabbage pakora hot with tea.
How to make cabbage pakoda recipe
1. Cut cabbage to quarters and add them to hot water. Leave it for sometime. Then remove and rinse with fresh water. Shred and drain completely.
2. Before making the cabbage pakora make sure there is no moisture in it. Add cleaned and shredded cabbage to a mixing bowl and add salt.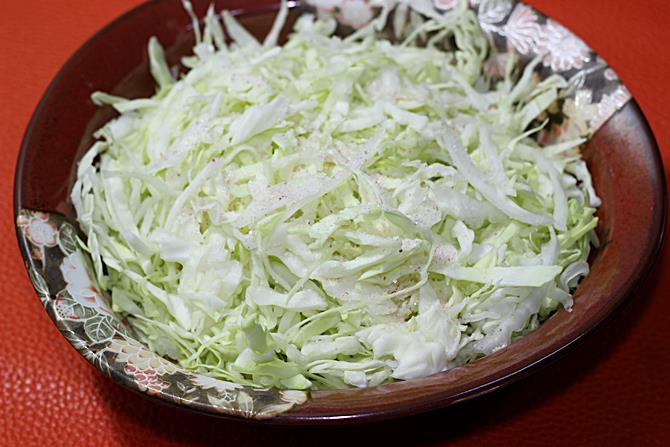 3. Add ginger garlic paste, coriander, curry leaves, chilies and ajwain.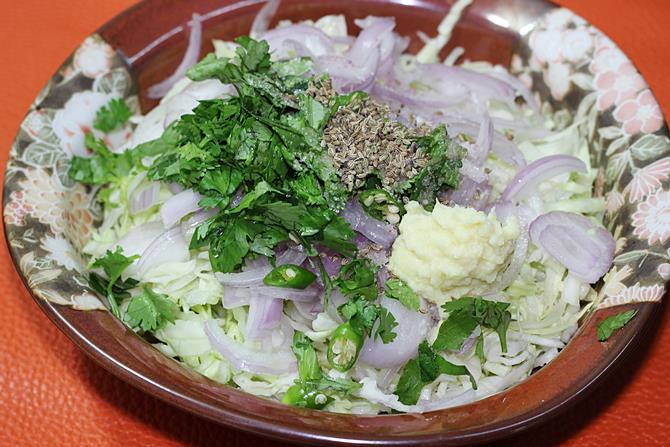 4. Mix everything very well and squeeze well for 30 seconds. Keep this aside for 10 mins.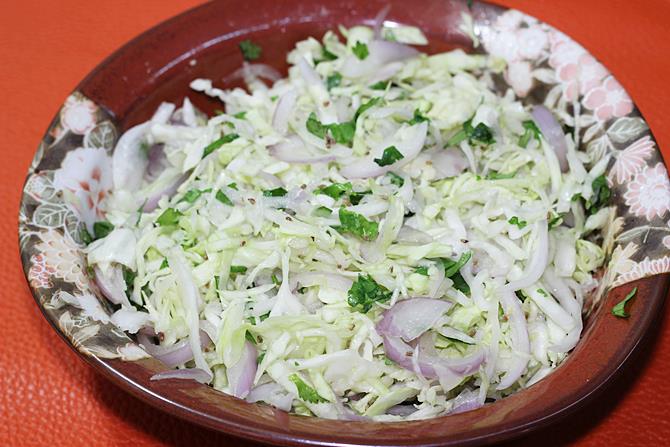 5. Add rice flour and besan.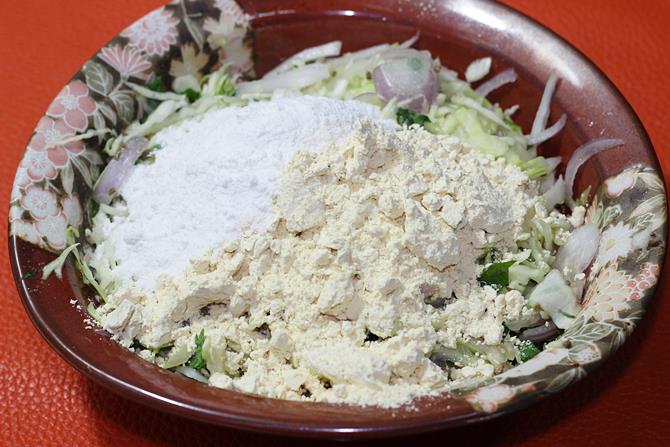 6. Mix everything very well and check the salt. The mixture has to dry and not soggy. If it turns dry, then squeeze the mixture , cabbage will release moisture. You can also sprinkle 1 tbsp water and mix. If the mixture is soggy, then add flour in the same ratios. 1 tbsp besan : 1/2 tbsp rice flour.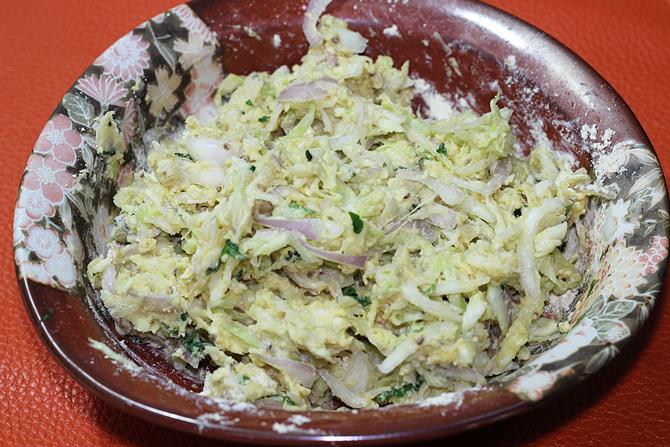 7. Heat oil in a kadai. When the oil turns just hot enough, put on the flame to slightly high, then drop small portions in the oil. Flatten the dough drop to get crunchy pakoda.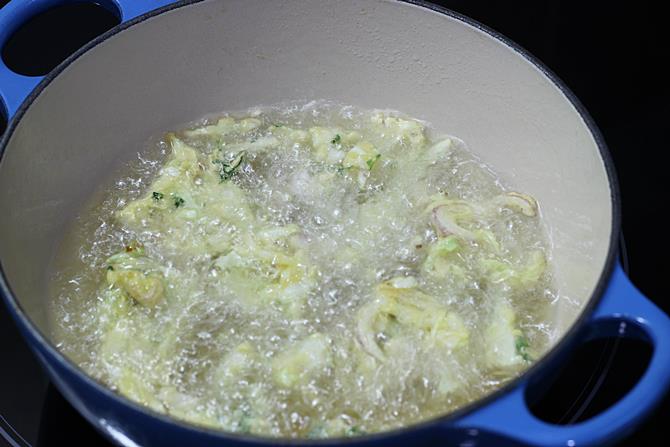 8. Fry until lightly golden. Then reduce the flame to low and continue to fry stirring often.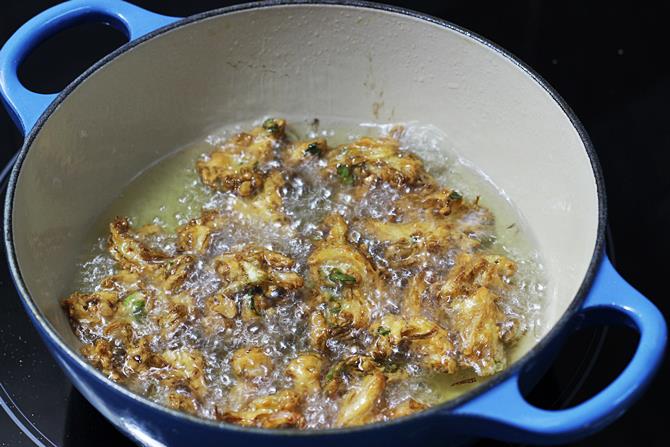 9. Take them off a bit early since they continue to cook even after removing from oil. Drain them on a kitchen tissue.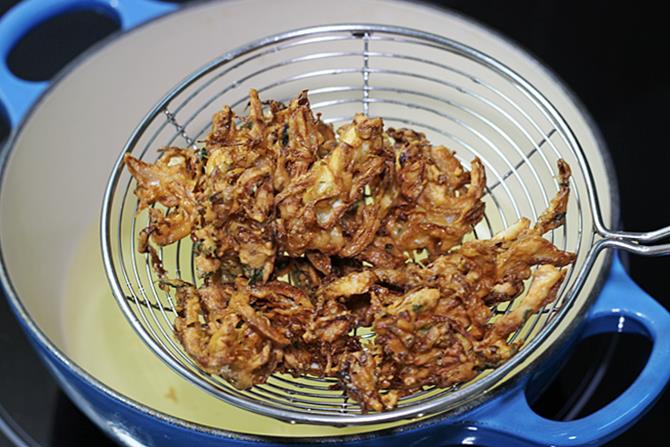 Serve cabbage pakora with tea or coffee.