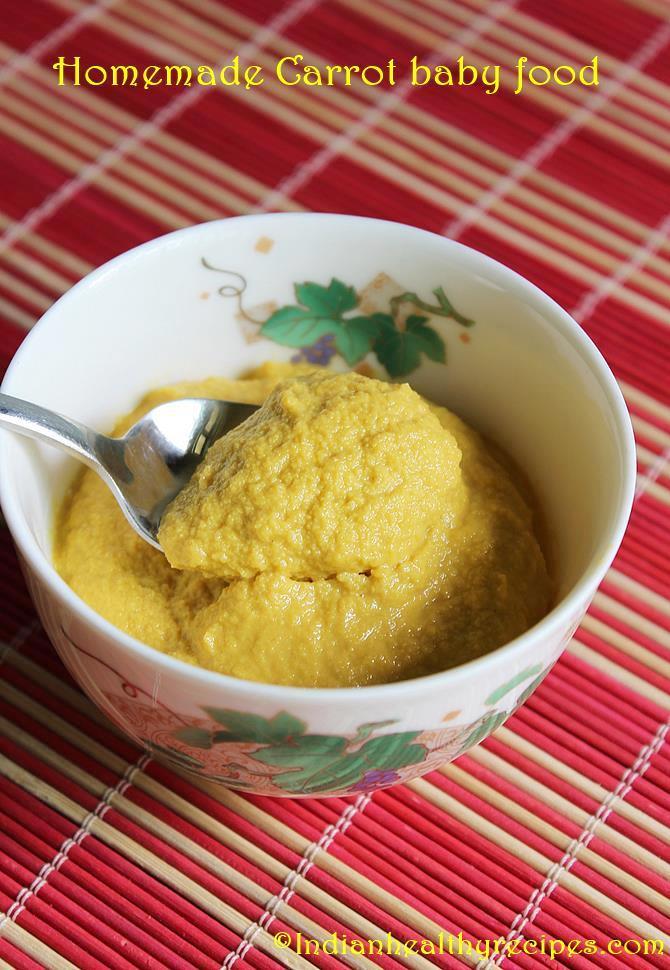 carrot baby food recipe , how to make carrot baby food , an easy, nutritious and great tasting carrot almond puree for babies and toddlers.
 
This baby food is recommended for babies above 8 months, not suitable to those who are allergic to almonds and cow's milk. For babes allergic to cow's milk, replace milk with water or try using almond milk, rice milk, or oat milk.
 
My boys have grown up to ages 9 and 4 this June. I no more prepare baby foods at home. Since some of you showed interest in my baby recipes which I posted earlier and were requesting  for more recipes, thought of walking back and digging my memory to recall what I used to feed my babies especially for weight gain. This was one of the foods I fed my kids till they turned 3.
 
This homemade carrot baby food is prepared in a double boiler method. If you ask me why I should go through this entire process of double boiler for making a simple carrot purée, following this method gives a wonderful texture and taste to the food which babies will love. The nutrients are retained since they are not heated directly.
 
Well, if you feel the entire process cumbersome, you can as well steam cook the carrots and soaked almonds. Cool them and puree. I don't find much difference in the process but taste wise, yes the double boiler method yields carrot baby food that is very very tasty.
 
I have never tried refrigerating any baby foods, so I would not recommend. Prepare fresh and feed fresh within two hours of cooking.
 
How often to serve this carrot baby food : 3 to 4 times a week is fine
 
How much to serve: start with one to two tsp. for a 8 months old baby, left over puree has to be consumed by mum or if you have an older kid you can serve. As the baby grows, you are the best to decide how much to serve. You could reduce almonds if you want to serve the entire purée. 8 almonds would be too much for a baby serving, use your judgment.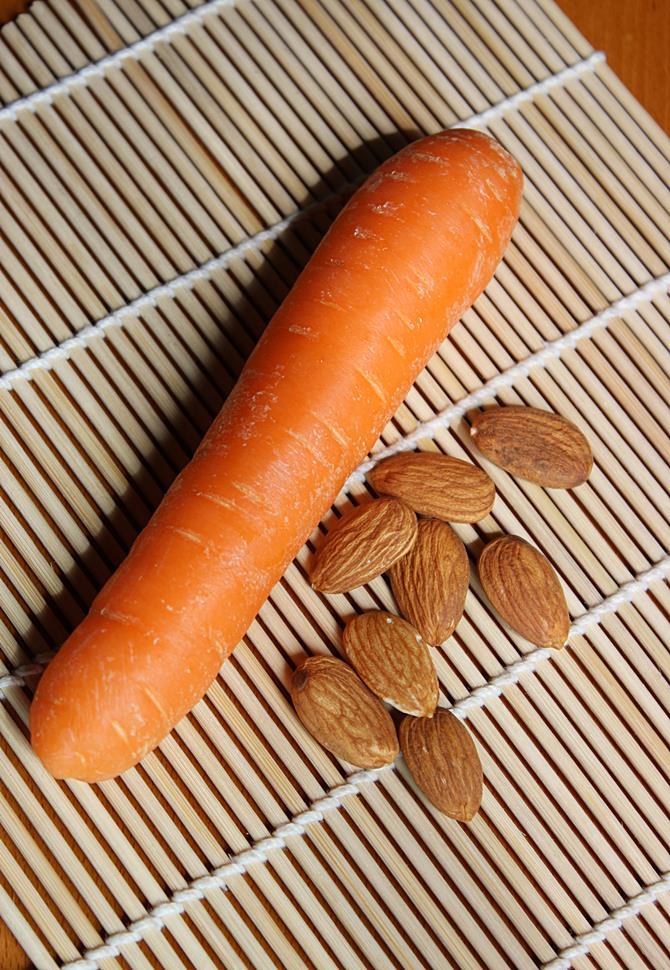 how to make homemade carrot baby food with step by step pictures
1. Bring 2 cups of water to a boil in the pressure pan. Meanwhile proceed with making the puree
2. Add chopped carrots, soaked and blanched almonds and milk to a blender jar. i didn't mention the quantity of milk to be used since that depends on the size and kind of carrots.But the ground mixture must be in between thick and thin dosa batter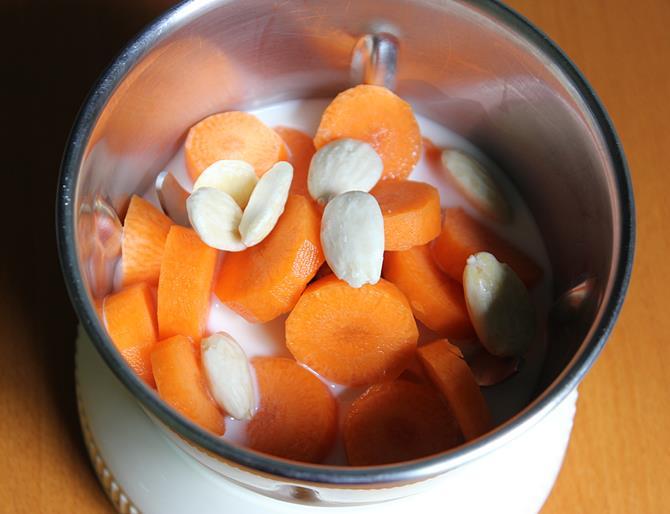 3. Puree till smooth like you see in the picture. Make sure there are no chunks of carrots or almonds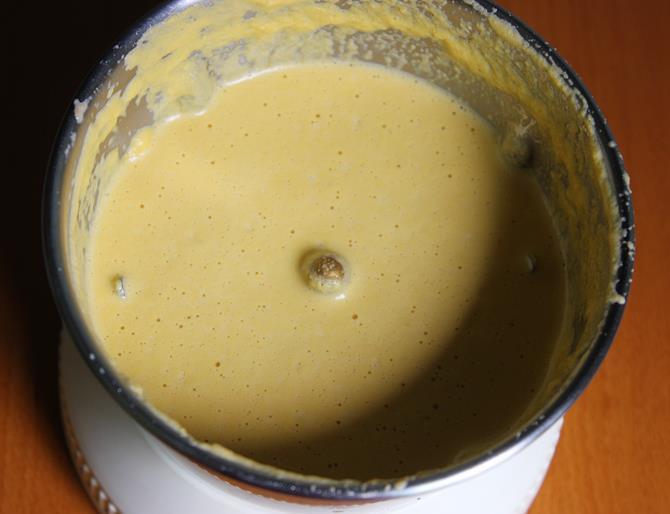 4. Transfer the mix to a wide stainless bowl, place in the rapidly boiling water. Hold it with the help of a Indian tong to prevent the bowl from floating. keep stirring to cook evenly. Cook for about 12 to 15 minutes.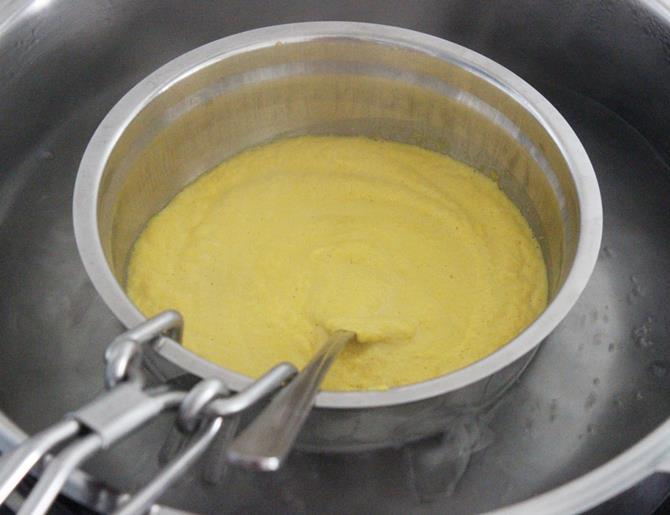 5. You will see the mix thickens meaning it is done, add grated jaggery and ghee. Mix well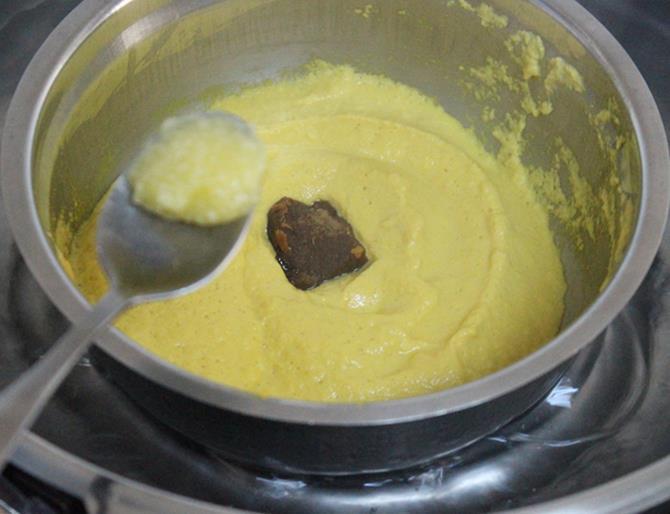 6. Cook for 2 more minutes. Leave the bowl in the hot water for another 5 minutes.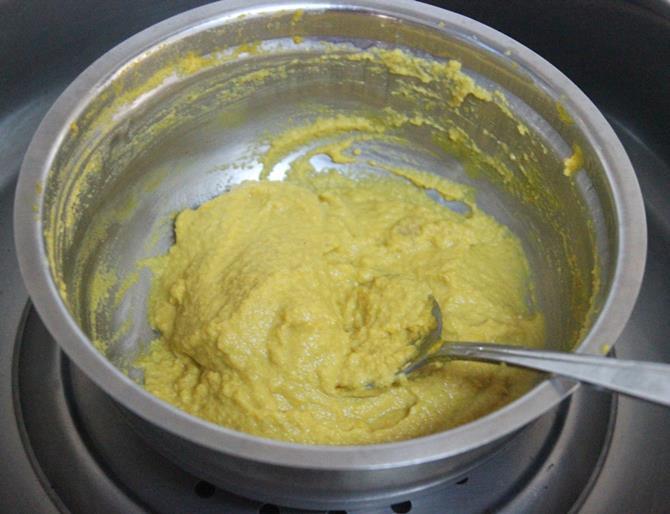 Serve warm, Warm foods digest better.
 
For more baby food recipes, check out
Potato rice
Chickpeas toddler meal
Indian baby food recipe
Wheat baby cereal (halwa)
Ragi malt
Barley carrot baby cereal
sago carrot kheer for babies
sago kheer with jaggery for babies and toddlers
Almond milk for babies
 
carrot baby food recipe below
Carrot baby food recipe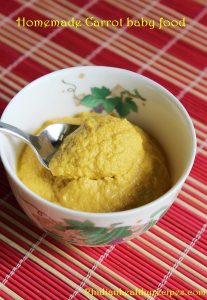 Easy to digest baby food made with carrot and soaked almonds, suitable to babies above 8 months, Appreciate reading the notes.
Ingredients (240 ml cup used)
1 large carrot
6 to 8 almonds
Whole milk / almond milk / rice milk / oat milk / water as needed
Small piece of jaggery grated or coconut palm sugar (Optional)
¼ tsp. ghee
How to make the recipe
Soak almonds for at least 6 hours in water, do not use hot or warm water. Peel off the skin.
Wash and peel carrot. Chop to cubes.
Add carrots, milk and almonds to a blender and purée it till very smooth. The consistency must be in between the thick and thin dosa batter.Do not make it very runny.Transfer this to a wide bowl , convenient to place in the pressure pan or boiling pan
Pour 2 cups water in a pressure pan or a pan suitable for double boiler
When the water comes to a rapid boil, place the bowl with purée in the pan, take care not to let the water seep in the purée.
Keep stirring occasionally so that the purée gets cooked evenly. Continue cooking for 12 to 15 minutes. You will see that the consistency changes slightly, turns thicker.
Add grated jaggery or coconut palm sugar and ghee. Stir well for both to melt well.
Continue cooking for another 2 to 3 minutes. Off the heat. Leave it in the boiling water for another 5 minutes
Notes
This baby food can be served 3 to 4 times in a week.
you can as well steam cook the carrots and soaked almonds. Cool them and puree.But the taste differs from cooking in a double boiler method
please take the advice of your pediatrician before you begin to serve this food to your baby.
Please ensure your baby is not allergic to any of the ingredients used in the recipe
start with one to two tsp. for a 8 months old baby,as the baby grows, use your judgement on how much to serve