Cashew pulao or kaju pulao recipe made in Andhra wedding style. Cashew pulao is a classic rice pulao that is served in Andhra Pradesh during special occasions like weddings and other ceremonies. Kaju pulao is usually accompanied by a potato kurma. A quick and easy to prepare dish packed with good amount of proteins from cashews with a minty flavor.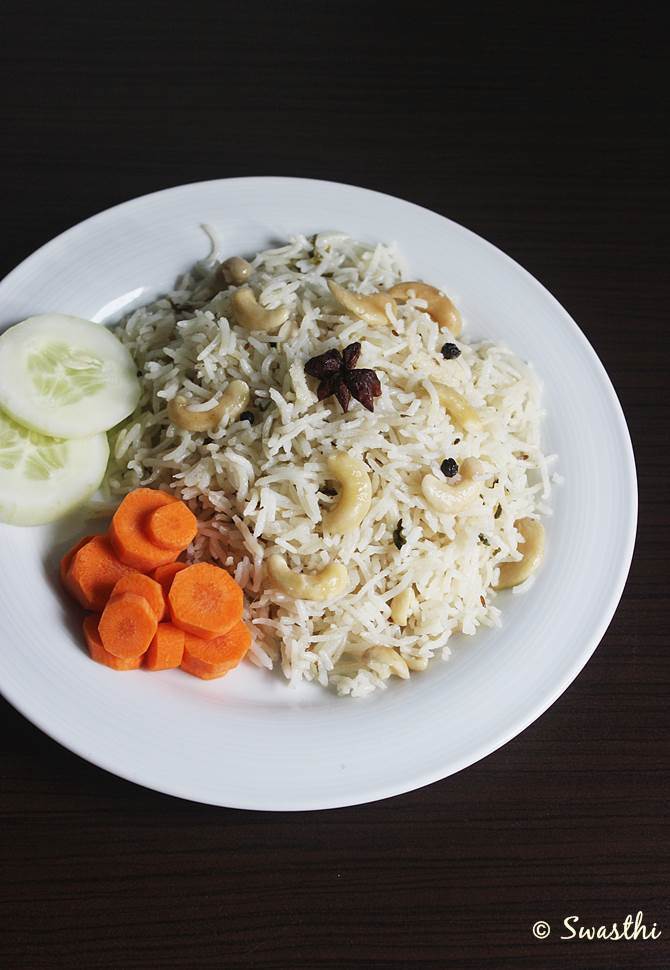 Cashew pulao has to be relished with a gravy. Usually no vegetables are used in this recipe like vegetable pulao and however it is a personal choice. I usually make this for the kids' lunch box, so end up not making any gravy and instead we serve with sliced carrots and cucumbers or a raita.
Kaju pulao will be a good addition to your menu when you have guests home. You can make a good paneer recipe, or easy and simple egg curry or simple chicken curry to go with this rice. If you do not have enough time to make a gravy for this kaju pulao, then you may serve with any of these raita.
Cashew pulao or kaju pulao recipe below
Cashew pulao recipe | Kaju pulao recipe (Andhra wedding style)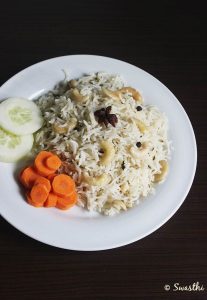 Cashew pulao or kaju pulao is a simple one pot rice dish made during andhra weddings.
Ingredients (240 ml cup used)
1 cup aged long grain rice (basmati or any other)
⅓ cup of cashews (broken to small, washed and soaked for 10 mins)
1 ¾ cups water (or thin coconut milk)
1 tbsp. ginger garlic paste
Fistful of mint leaves chopped
2 to 3 tbsp. Ghee or oil (use ghee only if serving hot)
1 green chili slit
Dry spices
1 bay leaf
1 star anise
1 to 2 strands of mace
½ medium sized nutmeg (optional)
3 inch cinnamon sticks
6 to 8 cloves
4 to 6 green cardamom
½ tsp shahi jeera (shahjeera in telugu)
little Stone flower
few pepper corn (optional)
How to make the recipe
Wash and soak rice in ample amount of water for 20 to 30 mins. Drain and set aside.
Wash and soak cashews for 10 mins. Drain and set aside.
Heat a pressure cooker or pot with ghee or oil. Saute all the spices until they begin to crackle.
Add ginger garlic paste and until the raw smell goes off.
Add pudina and then the cashews. Saute for 2 to 3 mins.
Add water and salt.
When the water comes to a boil, add the rice. Cook until the water is almost absorbed but rice is till soggy. Cover with a lid and cook for 5 to 7 mins on a low flame.
When the pressure reduces, remove the lid and fluff up the rice. Garnish with coriander leaves.
Serve cashew pulao hot or warm with a gravy or raita.
Notes
The amount of water to use depends on the kind of rice you use. I generally use aged basmathi rice which gets done perfectly with the following measurements:
For every one cup rice, I use 1 ½ to 1 ¾ cups of water based on the recipe. So I suggest you to adjust water according to the quality of rice.
If using normal ponni or sona masuri rice (aged) you can try with 2 cups water for every one cup rice and pressure cook for one whistle
Variation
you can make a paste of mint, fistful of coriander leaves, 1 small onion, greenchili, ginger garlic paste and use at step 2 and fry till you begin to get a nice aroma.
How to make cashew pulao recipe, kaju pulao
1. Soak rice for 20 to 30 mins. Soak cashews for about 10 minutes, Drain and set aside rice and cashews separately
2. Heat a heavy bottom pan or pressure cooker with oil, add dry spices and sauté till they release an aroma.however i did not use nutmeg and stone flower. I suggest you use for a good flavor. pepper corn as well.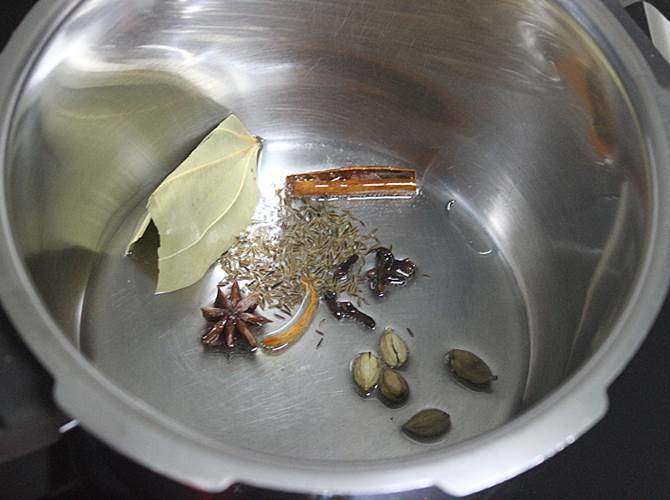 3. Add green chili, mint and ginger garlic paste and fry till the raw smell disappears from ginger garlic paste. I forgot to add the chili and ginger garlic paste so I added at next step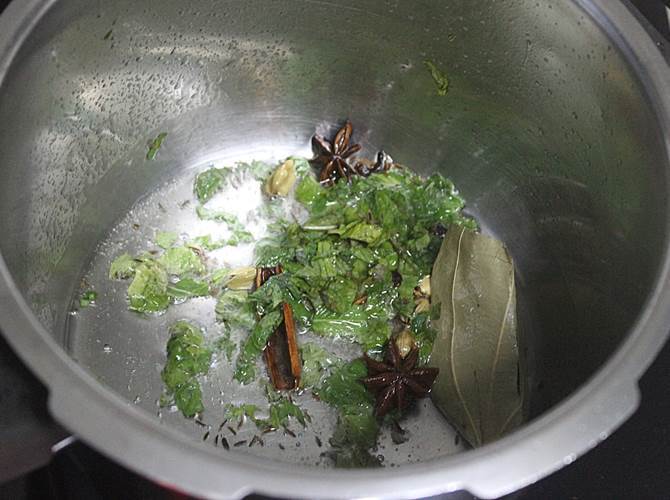 4. Add cashews and fry for 2 to 3 minutes. i had to add ginger garlic paste here since i forgot to add at step 3. But don't do this, the flavor you get is different if added here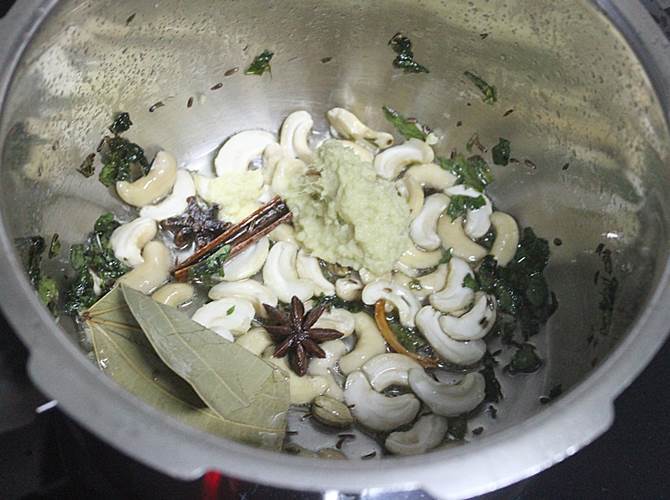 5. Pour 1 ¾ cups water, add salt. Bring water to a boil.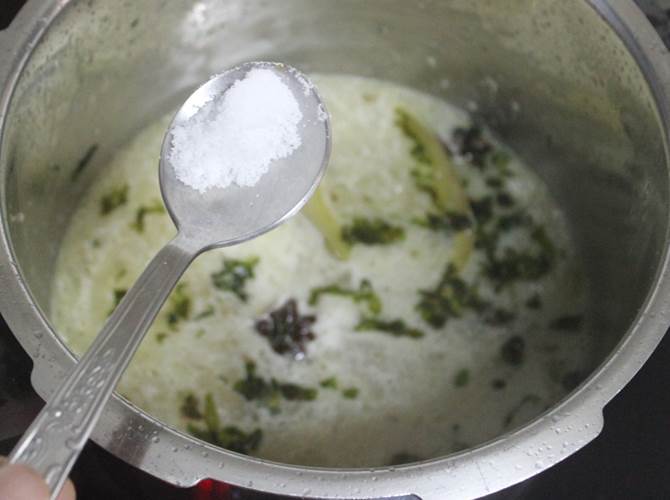 6. Add rice mix well and allow to cook on a medium flame till very little water is left in the cooker. It will be almost half cooked.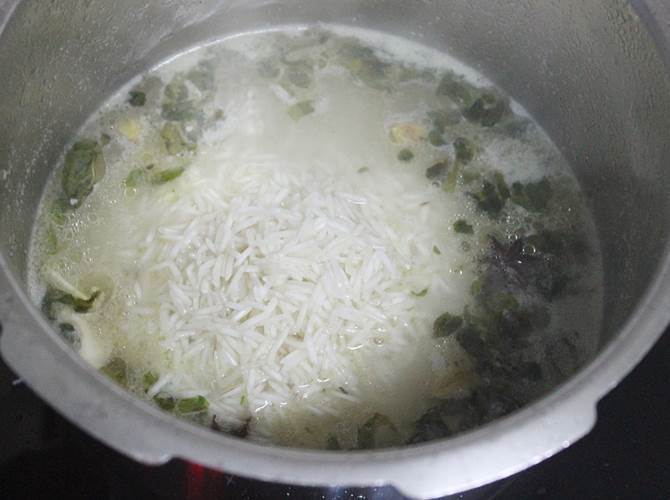 7. Mix well, reduce the flame and close the cooker lid, simmer the stove (lower the flame) and cook for about 5 to 6 minutes.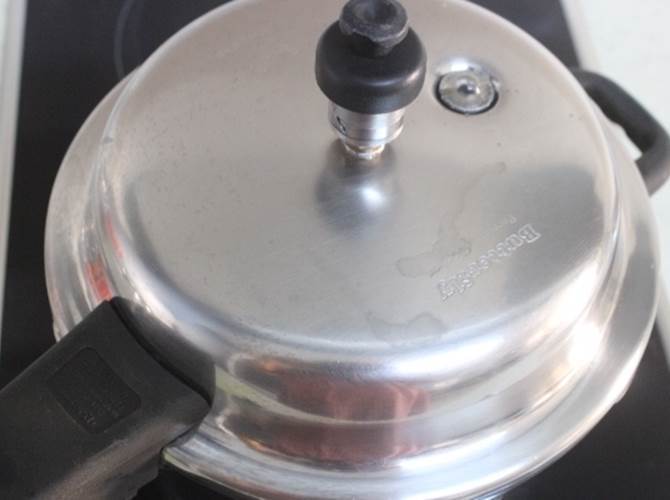 8. When the pressure goes off, open the lid and gently fluff up the rice.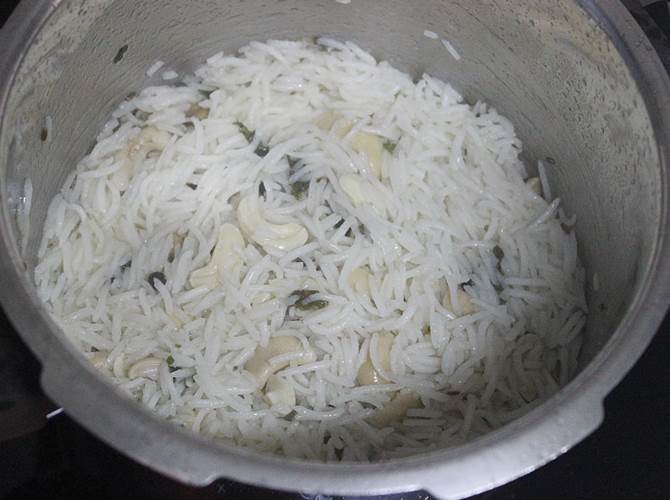 Serve kaju pulao with gravy or raita.