Chakkara pongal or sweet pongal recipe also known as sakkarai pongal is one of the most common sweet nivedyams or prasadams prepared in south India and offered to goddess, especially during pongal festival, varalakshmi vratam, Dasara / Durga Navratri. There are a few different ways pongal is made with varying ingredients like jaggery, milk, edible camphor, kalkandu (rock sugar), cow's ghee, coconut and nuts.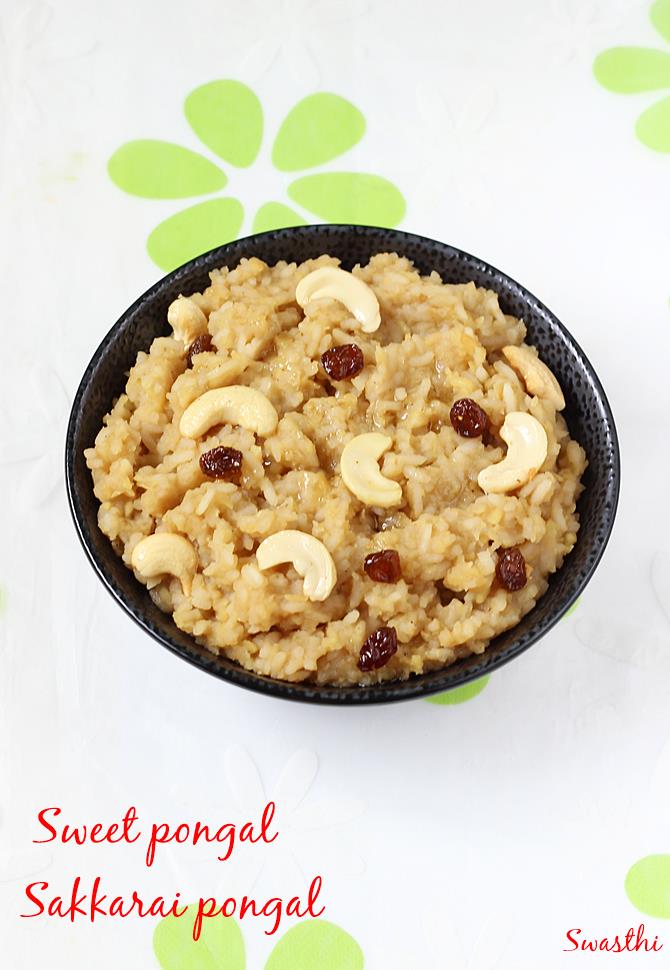 You can find the traditional sakkarai or sweet pongal recipe here rice and lentils are first cooked and then jaggery is added. It has a gooey texture and is best served hot or warm. It is not a quick recipe that can be prepared in a jiffy since jaggery has to be grated and then melted, filtered to remove impurities and then added to the cooked rice.
Though that is how it is prepared traditionally, I prefer to make it sometimes using sugar especially during festivals, making many dishes for naivedhyam and going through the lengthy process seems to be difficult for me. I am sharing my quick version of sweet pongal recipe using sugar. You can also add some milk after cooking the rice. When it is absorbed just add sugar.
The below picture is of the one I prepared with organic sugar sometime back. This can also be made to a dry or grainy texture. Most people like to prepare this slightly dry especially when they want to distribute it to guests.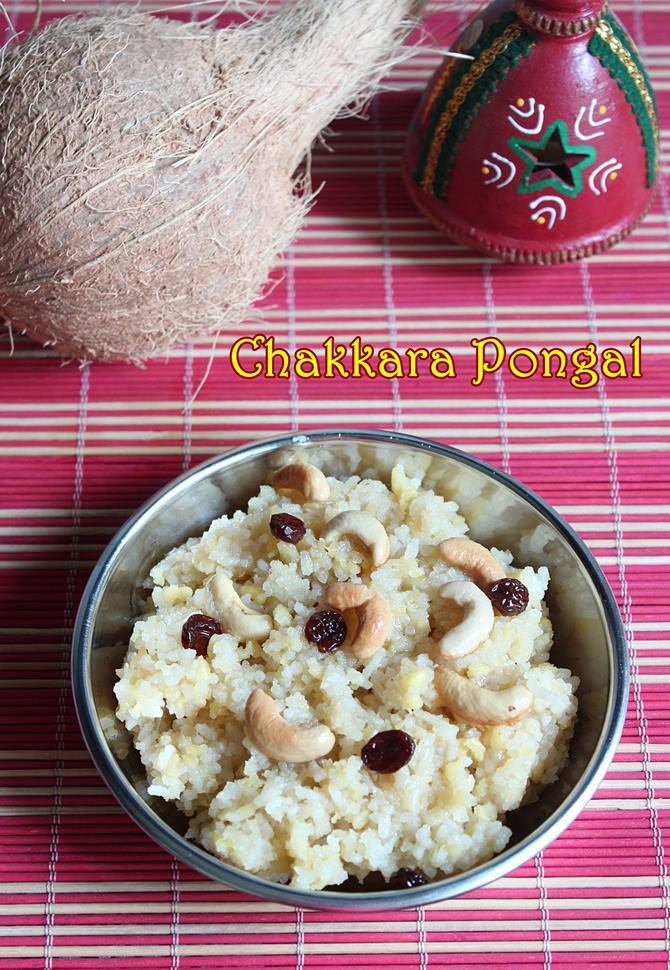 You may like to check this quick naivedyam recipes for puja
Ven pongal recipe
Curd rice
Rice payasam
Payasam recipes
Chakkara pongal recipe with sugar below
Chakkara pongal recipe | Sweet pongal recipe | Sakkarai pongal using sugar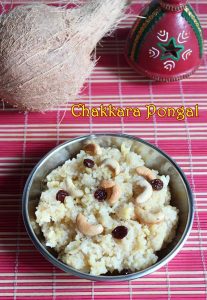 Chakkara pongal is a popular rice and lentil based sweet dish made to offer to gods during festivals.
Ingredients (240 ml cup used)
for sweet pongal
½ cup rice
½ cup yellow moong dal / pesara pappu
¾ cup brown sugar or white sugar or jaggery or kalakandu (rock sugar)
Small Pinch of edible camphor/ pacha karpuram (optional)
⅛ Tsp green cardamom powder
2 ½ cups water
Few Cashews
Few Raisins
2 tbsp. ghee
Optional
How to make the recipe
Preparing
Add dal and rice to a pressure cooker or pot. Wash them very well.
If possible soak them for 15 mins before cooking.
Add water and cook till the rice & dal is fully cooked. Allow the water to evaporate fully if more water is left. If cooking in a pressure cooker, allow to whistle once on a medium heat. If using milk, you can add it now and cook until the pongal absorbs all the moisture.
making sweet pongal
Add sugar, cardamom powder and mix well. Cook till all the moisture from the sugar evaporates.
Fry nuts and raisins in ghee, set the nuts aside. Off the stove, add camphor and pour the ghee to the rice.
Cover the rice for at least 5 to 10 mins. Garnish chakkara pongal with nuts.
Notes
Little milk can be used if using sugar. Adding too much of camphor, will leave a bitter taste
Adjust water to suit your rice, little more or less
How to make sweet pongal recipe with sugar
1. Add dal to a pressure cooker or pot.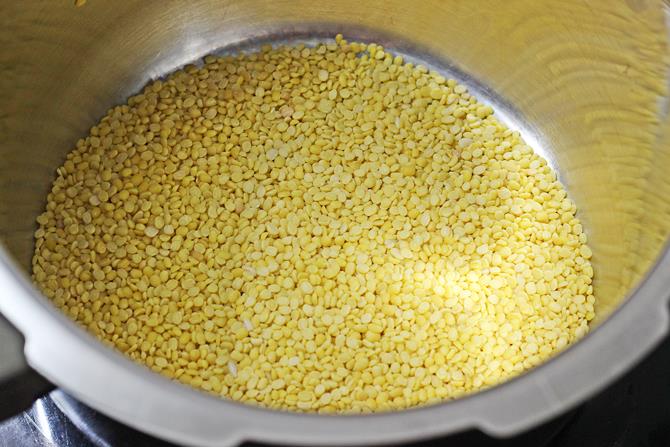 2. Add rice to the same pot. Wash several times. You can also use some brown rice and some regular rice.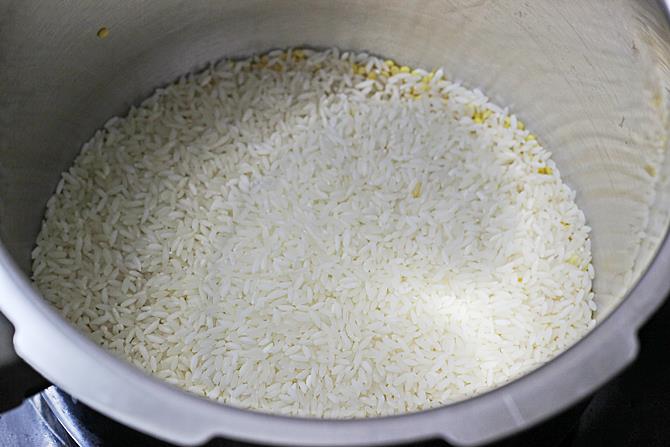 3. Add water. If you have time You can soak it for 15 mins.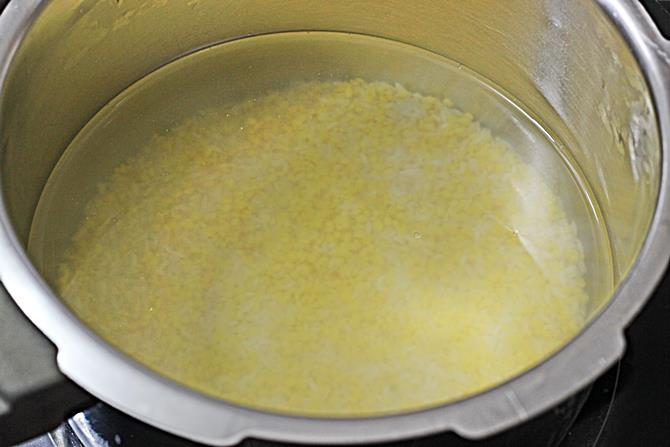 4. Cook until rice and dal are completely cooked. If doing in a pressure cooker, cook on a medium flame until cooker whistles once.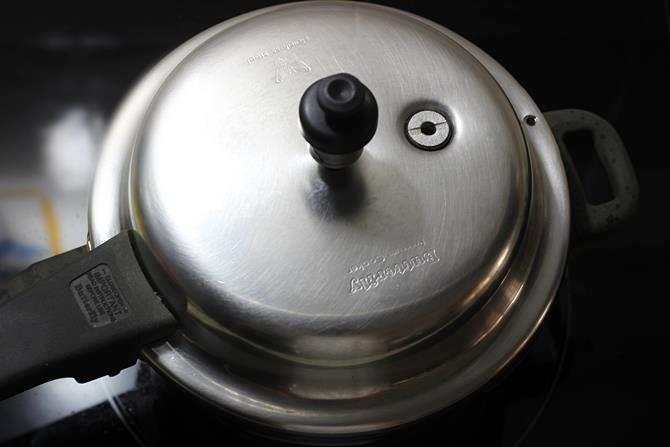 5. Rice and dal must be cooked well. If you like creamy texture, mash it and add some milk. Allow the milk to absorb.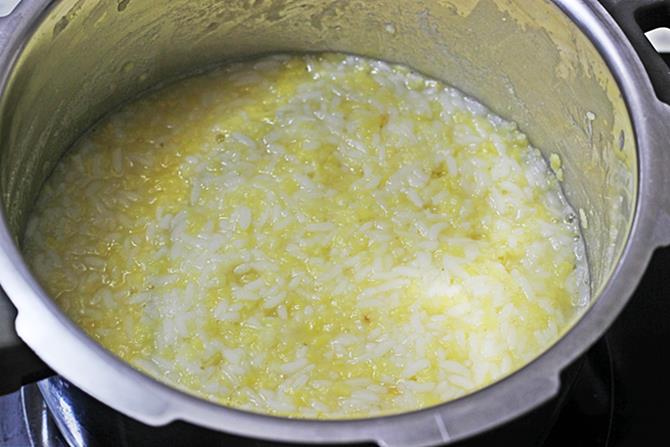 6. Add sugar, cardamom powder and mix. I have used cane sugar here. Usually refined sugar is not used to make pongal. So try to use unrefined sugar or powdered jaggery. Make sure that the rice is fully cooked before you add sugar. Sugar begins to release moisture , let this moisture evaporate fully.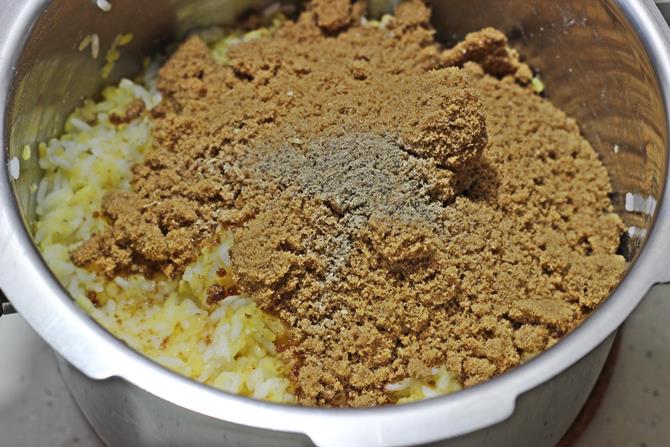 7. Meanwhile, Heat ghee in a pan, fry the nuts and raisins .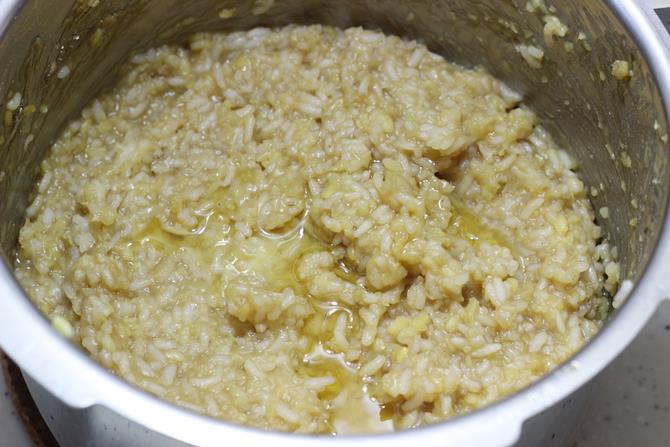 8. Off the flame, add camphor and transfer this to cooked rice. Mix well and keep the lid closed and cook on a low flame for a min. off the flame and keep closed for around 5 mins before you serve.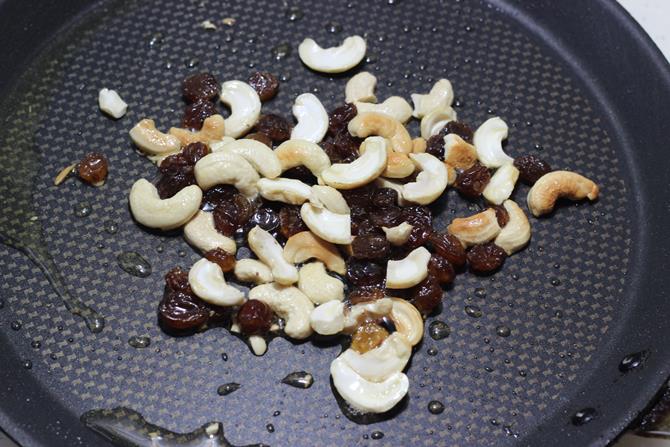 Offer chakkara pongali to Goddess.