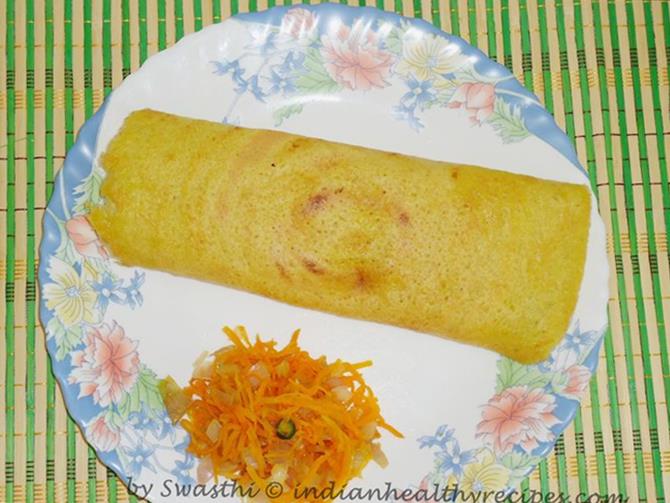 chana dosa makes a perfect breakfast for all age groups including diabetics. Chickpeas are considered to be one of the low Glycemic lentils and consuming these for breakfast has been proved to benefit in many ways like keeping the sugar spikes in control, good heart health.
 
Just like the pesarattu or green gram dosa, chana dosa too is high in protein and calcium and very well makes a milk substititue for vegans. The same batter can be used to make crispy thin dosa or uthappam and are absolutely tasty with wholesome goodness of vegetables too.
 
Notes before you attempt
1. I have used 1:1 ratio rice: chickpeas, I have made with all possible proportions and even with no rice too. But this proportion is the best in terms of health, taste and crispness too.
2. Minimum Soaking time is overnight, but I always soak them for 24 hrs and keep changing the water every few hrs in the first 15 hrs. This helps to digest these better without being left bloated.
3. Add the required amount of water while grinding, do not add water to the batter to make it thin after you finish grinding. This way they come out crisp.
4. I have used vegetables for stuffing, you can substitute with veggies of your choice
5. Chana dosa cannot be made thin like the plain dosa but will be crispy.
 




chana dosa recipe | healthy dosa recipe using chickpeas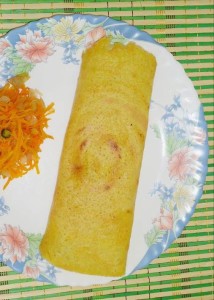 Ingredients (240 ml cup used)
1 cup of rice (do not use idly rice)
1 cup of channa / chickpeas
1" piece of ginger
2 Green chilies (optional)
½ tsp cumin seeds
Few tbsp. Of oil
Salt to make
Vegetables for stuffing
1 carrot shredded
½ cup chopped onions
2 green chilies
Salt to taste
How to make the recipe
Soak rice for at least 3 hours or overnight.
Soak chana for at least 8 hours.
Grind all the ingredients with enough water except the vegetables and oil. Make a smooth batter of a medium consistency, do not make it runny as you cannot make them crisp. Too thick batter with result in very thick chana dosa and will be unable to spread the batter when you make them.
Heat a pan with 1 tsp oil, add the vegetables and salt. Fry them on a high flame for 2 to 3 mins, till they are partially cooked to retain the crunchiness of veggies. Off the flame and set aside.
Grease a non-stick flat pan / dosa tawa and heat it till smoky hot.
Drizzle few drops of water, set the flame to medium, pour a ladle full or ⅓ cup of batter and spread the batter evenly with the base of the ladle to get a 7 " dosa.
Flip the dosa to the other side and toast it.
Flip it back, let it toast till crisp.
Add the vegetables, fold as desired.
Proceed to make more chana dosa.
Serve chana dosa hot with chutney or as it is.