Chettinad chicken curry, based on the authentic recipe many modern versions of this food have been derived, especially by the restaurateurs. Over the years, I got to taste a few which almost tasted same except the texture and the hint of spices. It is one of the most flavorful chicken dishes from the South Indian cuisine. The recipe shared here is the one I felt close to the restaurant style chettinad chicken curry. After several trials I arrived at this and can say this is one of the best flavorful and delicious curry.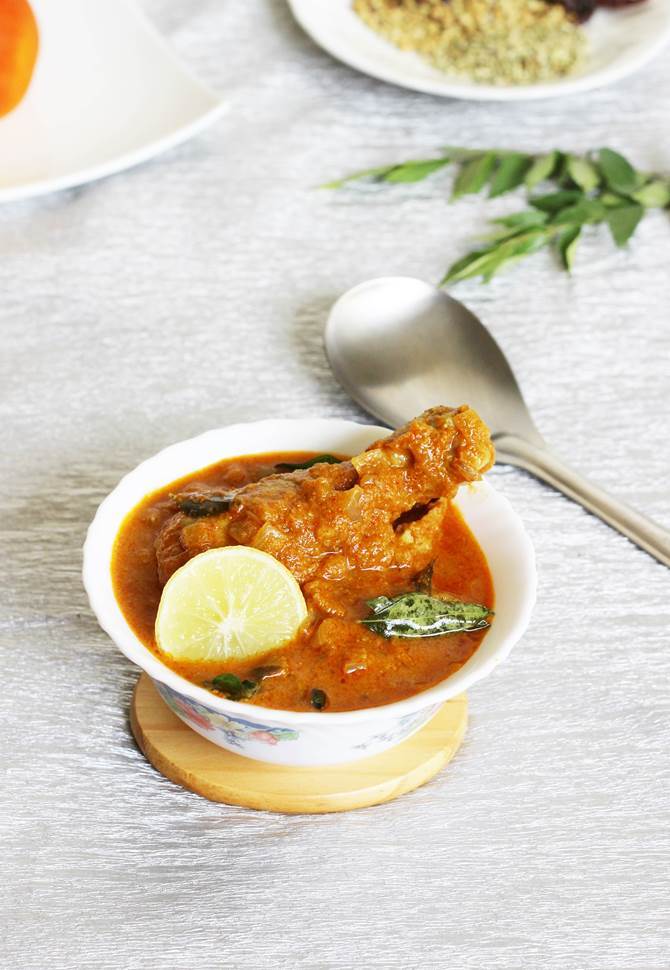 This recipe is roughly adapted from a cook book. Chettinad masala is usually prepared with red chilies , but I somehow did not get an appealing color, so I replaced them with red chili powder.
There is also a chettinad chicken varuval recipe on the blog, which is a dry chettinad style chicken fry.
You may also like more chicken curry recipes
Andhra chicken curry
Kerala chicken curry
Simple chicken curry
You can serve this with ghee rice, simple jeera rice, mint or pudina pulao.
Recipe of chettinad chicken curry below
Chettinad chicken curry recipe | Chicken chettinad gravy recipe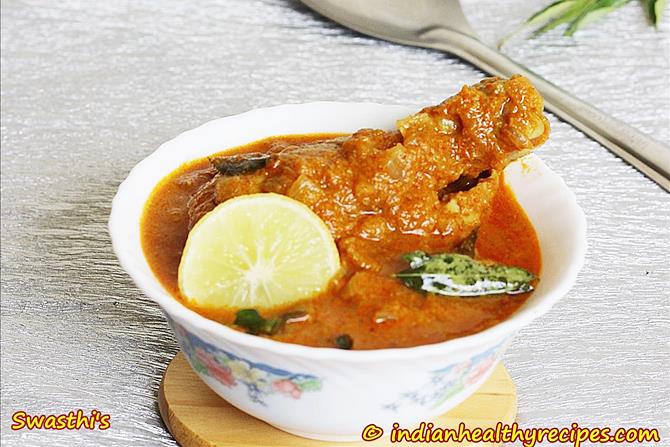 Chicken curry from South India's popular chettinad cuisine. Cooked in flavorful , freshly ground mixture of spices
Ingredients (240 ml cup used)
500 grams or ½ kg chicken
2 tbsp. oil
1 large onion finely chopped
1 to 2 sprigs of curry leaves
2 medium tomatoes (pureed)
1 bay leaf
Marination
⅛ tsp turmeric
¼ tsp chili powder
2 tsp. Lemon juice or yogurt (yogurt helps to make the chcken soft)
4 garlic cloves + 1 "ginger or 1 tbsp. ginger garlic paste
Salt as needed
Chettinad masala (roast and grind)
1 tbsp. Poppy seeds or pottukadalai or 6 to 8 cashews
¼ cup of grated coconut
2 tsp coriander seeds
1 tsp fennel seeds
½ tsp cumin
½ tsp pepper corn
3 to 5 red chilies (or 1 tsp red chili powder)
2 green cardamoms
3 cloves
1 inch cinnamon stick
How to make the recipe
Marinate meat with marination ingredients. Set aside
Dry roast all the ingredients lightly one after the other, listed under roast and grind for chettinad masala. Set aside to cool
Grind poppy seeds to a smooth powder without water, then add the spices, powder to fine and add water and make a smooth paste. Set aside
Grind tomatoes to smooth.
Heat oil in a pan, add bay leaf, onions and fry till they turn translucent, golden is better.
Add chicken, fry for at least 4 to 5 mins
Filter pureed tomatoes to the pan, add turmeric, salt, chili powder. Mix well & fry till the oil begins to separate.
Add the ground paste and curry leaves. Fry for 2 to 3 mins.
Add 1 ¼ cup water. Cover and cook till it is fully done, soft and tender. The gravy becomes thick by then. If not cook the without a lid and evaporate some water. Add more water if needed to get the desired consistency. cook till the chicken gravy thickens. Garnish with fried curry leaves.
Serve chettinad chicken curry with rice or phulka.
Nutrition Information
Calories:
357
Fat:
25g
Carbohydrates:
15g
Sugar:
6g
Sodium:
268mg
Fiber:
4g
Protein:
18g
Cholesterol:
60mg
How to make chettinad chicken curry recipe
1. To make chettinad masala powder, On a low flame dry roast coriander, saunf, cumin, pepper corn, cardamoms, cloves and cinnamon. When they begin to smell good, switch off the stove. To the hot pan, add red chilies, coconut, poppy seeds or potukadalai. When the poppy seeds turn crisp. Transfer to a plate and cool them. Powder them first and then make a fine paste with little water. Set aside this paste in a bowl. In the same blender, add tomatoes and puree.
2. Marinate chicken with turmeric, chilli powder, lemon juice, ginger garlic paste and salt. You can use yogurt instead of lemon juice to tenderize the chicken.
3. Heat a pan with oil and bay leaf if you desire, i skipped it. Add onions and fry till transparent to golden. Golden gives a good taste to the curry, since i cooked in a stainless steel pan, they don't turn to golden.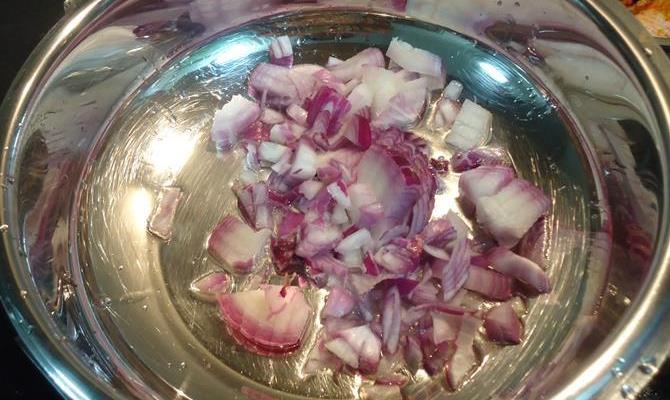 4. Add chicken and fry for about 4 to 5 minutes for the raw smell of the ginger garlic to go away.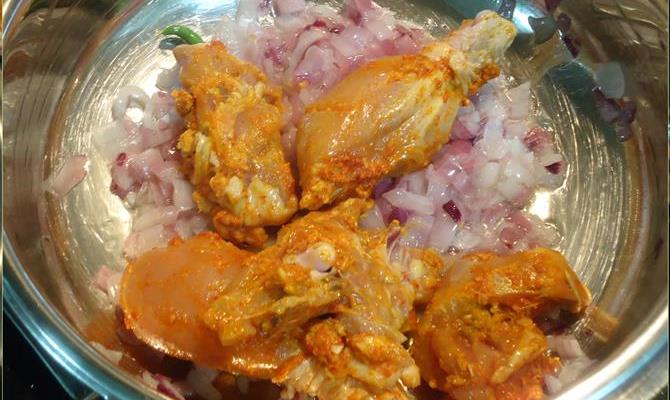 5. I prefer to filter the pureed tomatoes. You can skip that.
6. I used red chili powder since i did not use red chili for the chettinad masala. Add the tomato puree, red chili powder, salt and turmeric as well.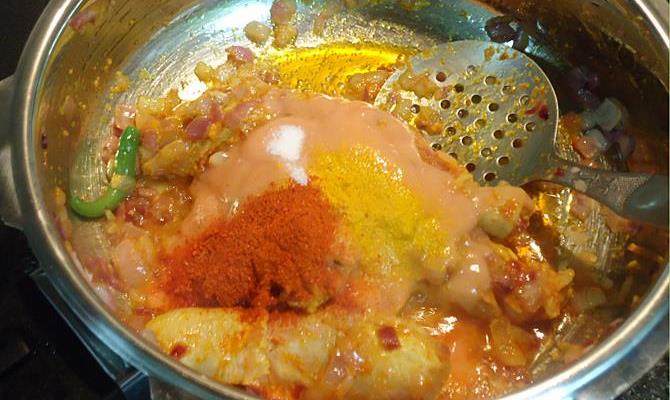 7. On a medium flame, fry till the mixture begins to leave oil. This takes about 5 to 7 minutes. Add the chettinad masala paste and curry leaves. Fry again for 2 to 3 minutes.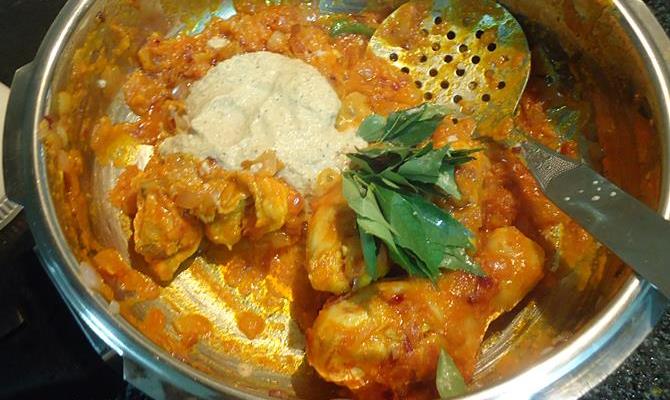 8. Add water as needed.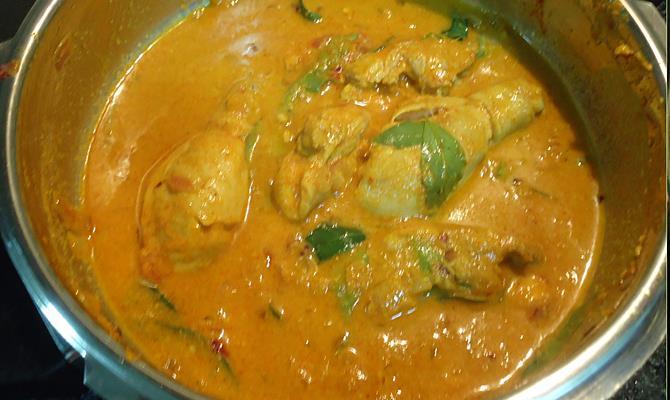 9. Cook covered till the chicken is fully cooked, soft and tender. I garnished with fried curry leaves.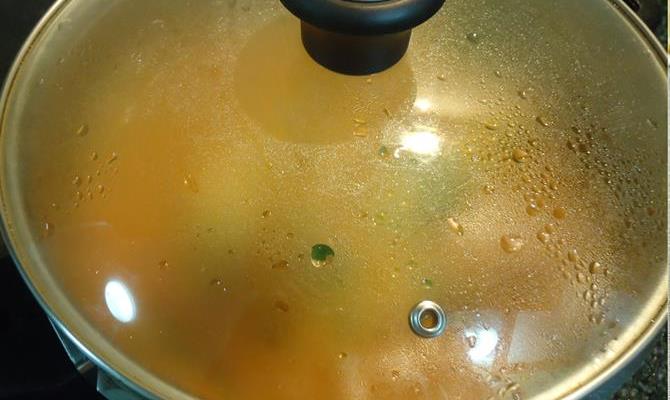 Serve chettinad chicken with rice or phulka.