Chicken 65 recipe dry & gravy recipe in street style  – Learn to make easy chicken 65 recipe at home. A popular South Indian chicken starter and a street food as well. It is made in so many ways, that i got to taste a few and had shared one chicken 65 recipe earlier roughly adapted from vahchefs video. The recipe I am sharing now is more a street food and can be made to a dry or gravy recipe. It is also served in some South Indian restaurants especially in Tamil Nadu.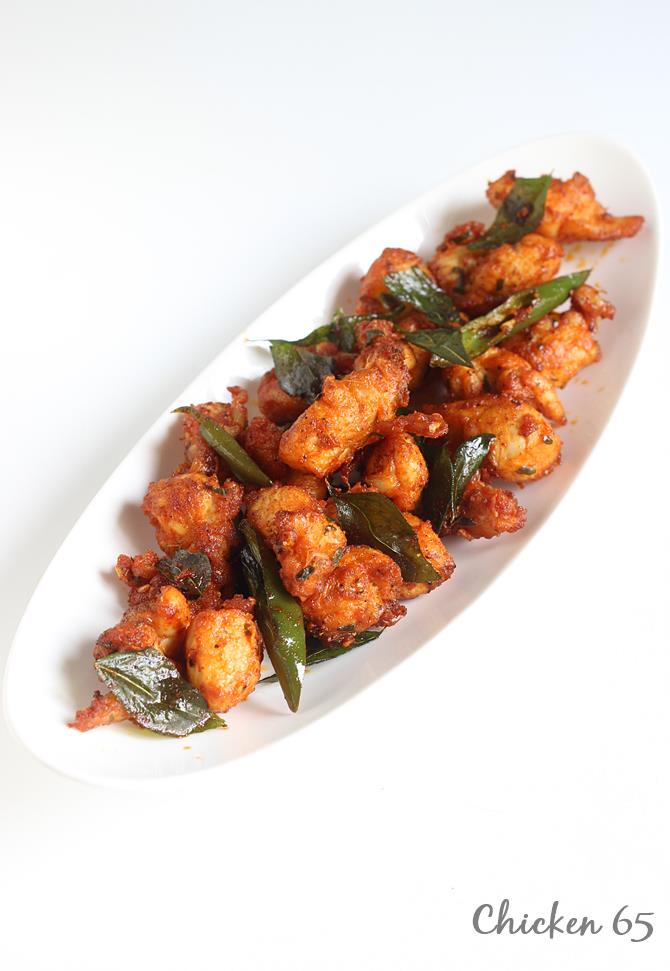 This chicken 65 recipe yields crispy fried chunks that is entirely different from the one i shared earlier. This one again is from the chefs video, but simplified. Hope you will love this as much as we did. This is one of the best crisp fried chicken starter, is definitely at its best like a restaurant style chicken 65 I shared earlier.
This recipe of chicken 65 does not need food color, ajinomotto or any sauce. It is made with simple and basic ingredients that one does have in an Indian Kitchen. You might find the quantity of all ingredients more in the pictures since i used 350 grams, i scaled down the recipe to 250 grams.So the recipe can easily be doubled or tripled. Stick on to the exact measurements mentioned in the recipe to make the best Indian fried chicken.
Egg is an optional ingredient, but it is used in the street style one. However I have not used as we do not favor the flavor of egg much in this recipe. I suggest using egg to those who like the flavor. It also helps in keeping the chicken soft and juicy.
You may like to check more Indian chicken starters recipes,
murgh pakora
murgh tikka
tandoori murgh
chicken majestic
chilli chicken
Easy street style chicken 65 recipe dry & gravy
Chicken 65 dry & gravy | How to make chicken 65 street style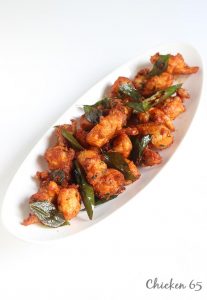 chicken 65 recipe is one of the popular south Indian chicken starters that is deep fried and then seasoned.
Ingredients (240 ml cup used)
250 grams or ¼ kg boneless chicken cubes
1 tsp ginger garlic paste
¼ tsp pepper powder
¾ tsp kashmiri or byadgi red chili powder
1 sprig curry leaves chopped finely
salt as needed
1 tsp oil
1 tsp. vinegar
¼ tsp garam masala powder or biryani masala powder
¾ tbsp. corn flour or corn starch
oil for deep frying
1 egg for half kg chicken or 1.5 tbsp curd (optional)
seasoning for dry version
2 generous pinches Kashmiri or byadgi red chili powder (optional)
2 sprigs curry leaves
1 to 2 green chilies (seeds removed)
seasoning for gravy
3 to 4 tbsp curd & ½ tsp of garam masala or 2 tbsp tomato sauce and 1 tsp soya sauce
Half tsp red chili powder
2 sprigs curry leaves
1 to 2 green chilies (seeds removed)
Little salt as needed
How to make the recipe
Preparation
Mix red chili powder, vinegar and oil to a smooth paste.
Marinate with the paste made above along with pepper powder, ginger garlic paste and salt.
Sprinkle corn flour and mix once again. Sprinkle garam masala and mix again. Adding egg is optional. For ½ kg chicken , one egg can be used. If using curd add it now.
Set this aside to marinate for 30 minutes to 2 hours. If you intend to set aside for more than 30 minutes, then refrigerate for one hour and let it site out for 45 minutes or so.
Add oil to a pan and heat. Deep fry chickn till done. Over frying can make it hard. so fry just until cooked and tender.
Drain them on a paper tissue.
Drain off the oil from the pan to a pot and retain few drops. or use a fresh pan and add a tsp oil.
When the pan is hot, add curry leaves and green chilies. fry until crisp.
Seasoning chicken 65 dry
Add the red chili powder, stir it well to blend in oil. Switch off the stove
Add the fried chunks and toss. Serve chicken 65 hot or warm.
To make chicken 65 gravy
Add half tsp more red chili powder, 3 to 4 tbsp curd and half tsp garam masala. or You can also use 2 tbsp tomato sauce, 1 tsp soya sauce and more red chili powder. Mix everything and saute for 2 to 3 mins until the mixture thickens. Do not allow to dry up.
Add the chicken and saute just for a minute.
Chicken 65 gravy is ready to serve hot. Garnish with coriander leaves.
Notes
Red chili powder in the seasoning has been used to give a good color to the chicken. You can skip it.
Nutrition Information
Calories:
278
Fat:
23g
Carbohydrates:
5g
Protein:
11g
How to make chicken 65 recipe with step by step photos
1. Wash meat thoroughly. Drain off completely. Cut them to bite sized pieces. Add 1 tsp. red chili powder to a small bowl, add 1/2 tsp oil and 1 1/2 tsp vinegar. Mix and make a paste. Add to a bowl chicken, finely chopped curry leaves, salt, ginger garlic paste or grated, pepper powder and then the red chili powder paste. Marinate it well. Lastly sprinkle the flour and mix well.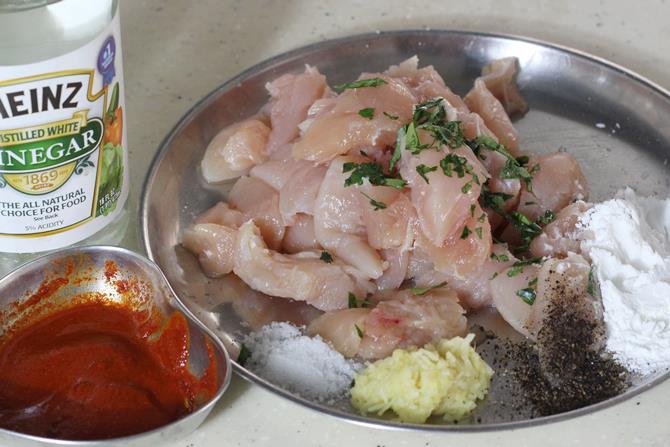 2. Now sprinkle garam masala and mix well. Add the egg or curd now if using, I did not use. I was left with some extra flour which i did not use since i wanted to get a good color.Use the exactly the amount mentioned in the recipe.Using more flour will not give good color to the chicken. Set this aside for 30 minutes to 2 hours. If you are going to set aside for more than 30 minutes, refrigerate it for one hour and then leave it out till it comes to room temperature. Usually for another 45 minutes. For the meat to become tender, 2 hours works best.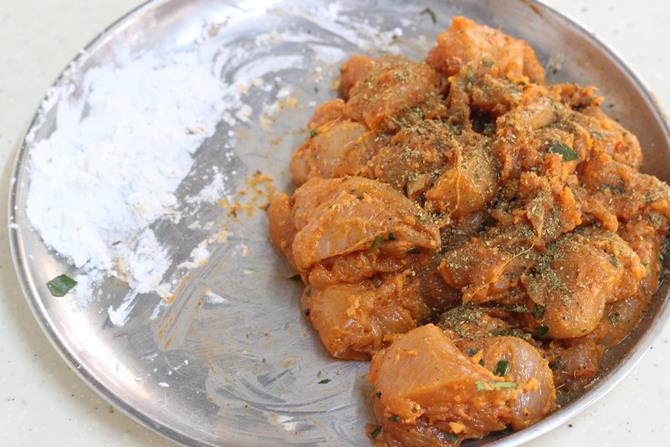 3. Heat oil in a deep pan and fry till cooked. Make sure the meat is at room temperature before frying.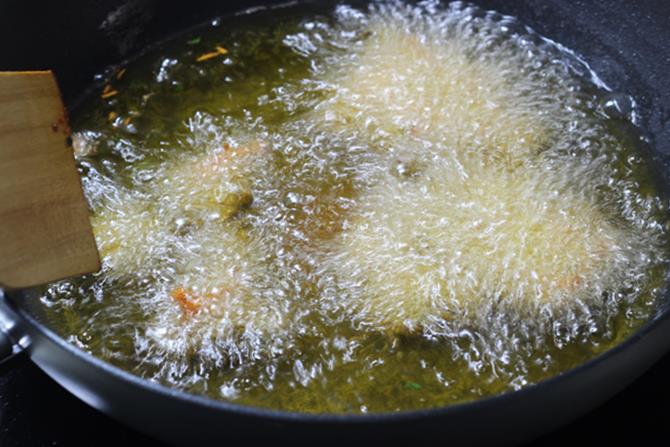 4. Do not over fry, they tend to turn hard.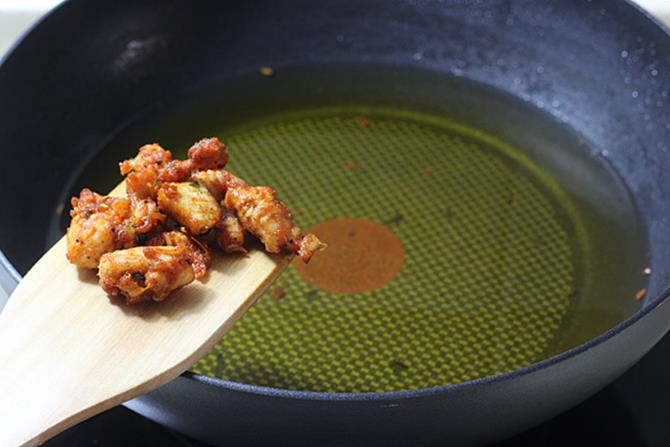 5. Drain them on a kitchen towel. These don't absorb much oil since they are not batter fried.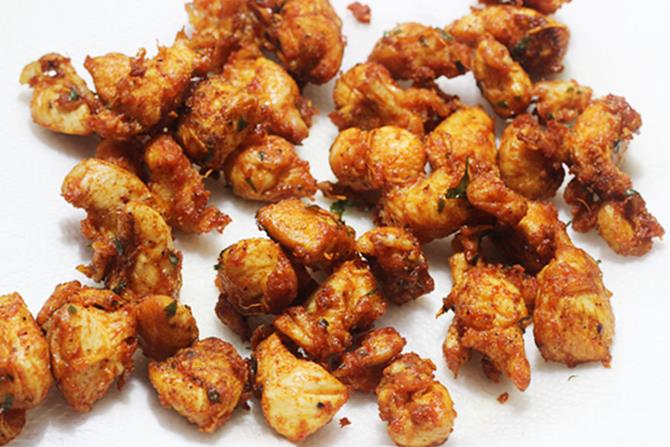 6. Drain off the oil to a pot and keep few drops in the pan. Or you can use a fresh pan with oil.Add curry leaves and slit green chilies. You can even add cashews for a restaurant style garnish. Fry till the curry leaves turn crisp.Switch off the stove. Add red chili powder, stir it immediately to blend well with the oil.Do not burn it.
You can find so many versions of street style chicken 65, some even use tomato sauce and soya sauce at this stage and some curd. If using you can add about 2 tbsp tomato sauce, 1 tsp soya sauce or thick curd along with more chili powder and garam masala. I haven't added any of these.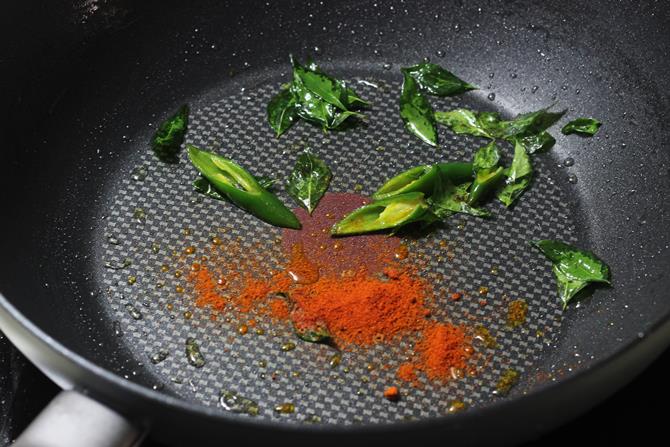 7. Add the fried bites and toss. If you have kids at home, set aside some chunks before you make them more hot and spicy.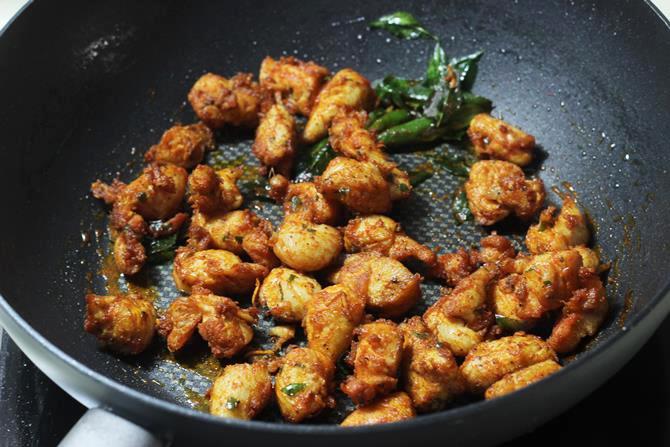 yummy chicken starters is ready. Serve hot or warm with a cup of tea.