Chicken fried rice recipe – an easy Indo chinese fried rice recipe using chicken. This is one of the best i made some time back on a weekend. Made with basic ingredients, it tastes delicious with soft tender chunks of chicken.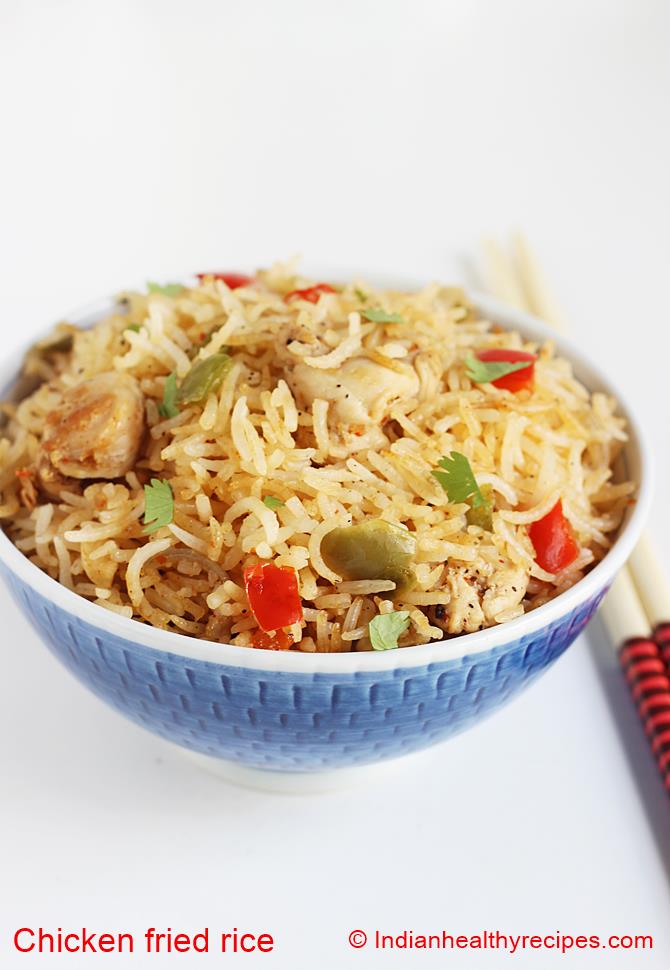 To make chicken fried rice, I used cubed boneless fillets. Even bone-in chicken (chicken with bones) or shredded chicken or minced chicken can be used. Made in a Indo Chinese style using sesame or olive oil, soya sauce, white vinegar and chilli sauce. If you have celery and spring onions you can use them, i made it without them. You can also check this spicy schezwan chicken fried rice.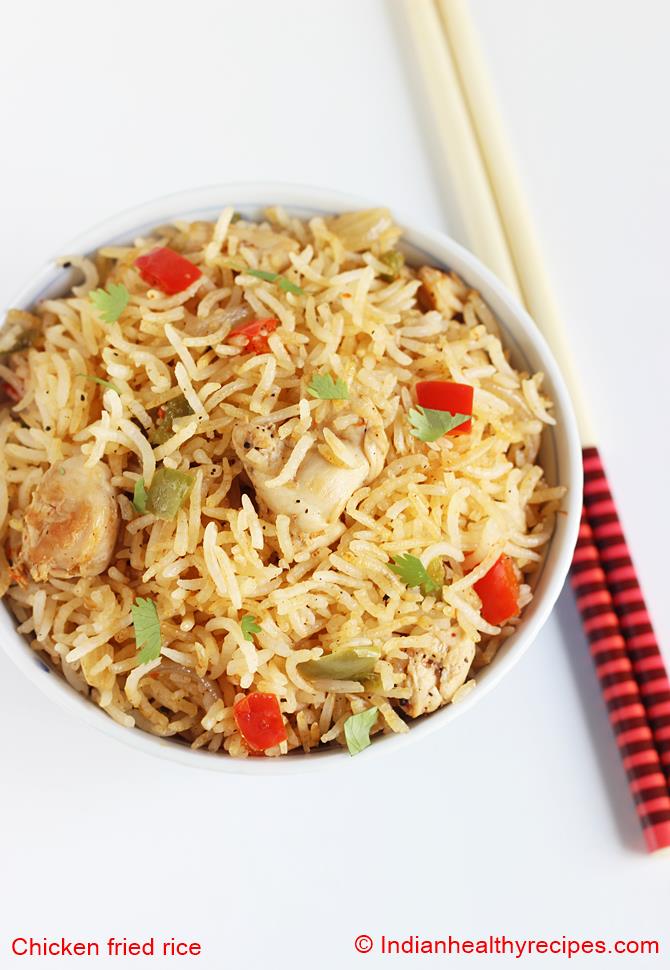 For more fried rice recipes check
Veg fried rice
Chilli garlic fried rice
Egg fried rice
Mushroom fried rice
Pineapple fried rice

Chicken fried rice recipe by Swasthi below
Chicken fried rice recipe | How to make chicken fried rice recipe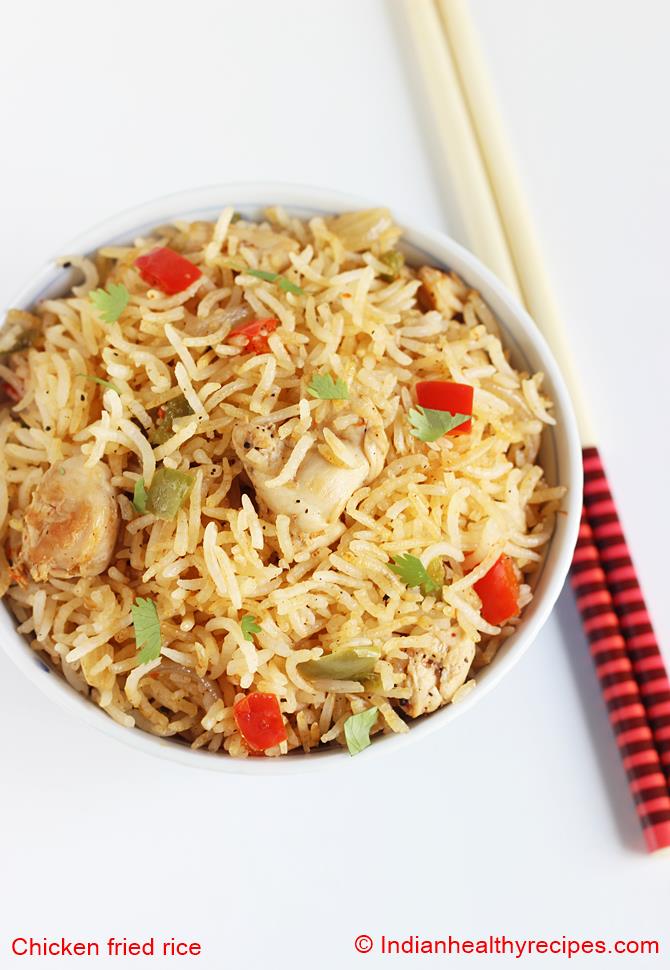 fried rice using chicken made in an Indo chinese style
Ingredients (240 ml cup used)
1½ cups rice (I used basmati)
200 grams chicken (you can use more or less,refer notes)
salt as needed
1 tbsp. garlic chopped
¾ to 1 tbsp. soya sauce
¾ to 1 tbsp. vinegar
½ tbsp. chilli sauce (adjust to suit your taste)
¼ tsp pepper powder
2 tbsp sesame oil or olive oil
1 small star anise (optional)
1 strand mace (optional)
veggies
2 medium spring onions or 1 medium onion
½ cup bell peppers chopped
1 carrot chopped optional
peas optional
2 to 3 sprigs celery optional
How to make the recipe
Wash rice at least twice and cook till al dente. Drain to a colander and cool it completely. Do not add hot rice to the wok while making fried rice, it makes the rice mushy.
Add one tsp oil to a small pot or pan, add chicken and begin to cook on a low flame till the chicken turns tender and soft cooked. If needed stir in between. If your chicken doesn't release water, sprinkle very little water.
When the chicken is cooked, pour the sauces to the hot chicken. Set this aside for a while. If you have time set aside for 30 minutes to make the chicken flavorful.
Heat a wok or wide pan with oil.
Add garlic , star anise and mace and fry for a minute.
Add white parts of the spring onions or sliced onions and fry for 2 to 3 minutes.
Pour the chicken along with the sauces. Cook till the sauce thickens if it is thin.
Add capsicum and fry till half cooked. They taste best when crunchy so do not overcook.
Add rice, pepper powder, salt and green parts of the spring onions. Sauces already contain salt, so you may need to add very little salt.
Mix well and fry for 2 to 3 minutes.
chicken fried rice is ready.
Notes
If using chicken less than 200 grams, slightly reduce soya sauce and vinegar
Step by step photos on how to make chicken fried rice recipe
1. Wash soak long grain rice for a while and then cook till al dente in surplus water. That was one and a half cups of rice, i cooked in 5 cups of water.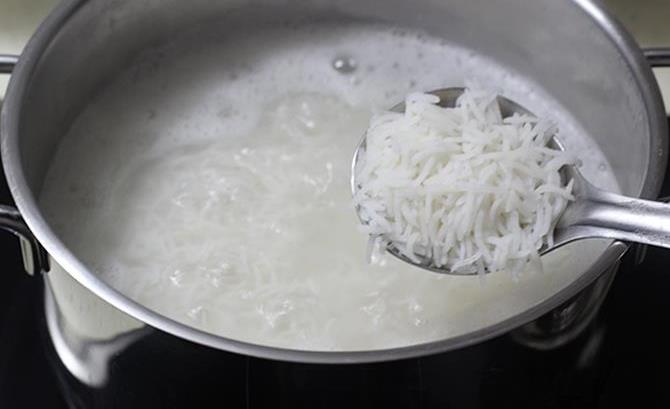 2. Drain off and spread it in the colander. Set aside to cool completely.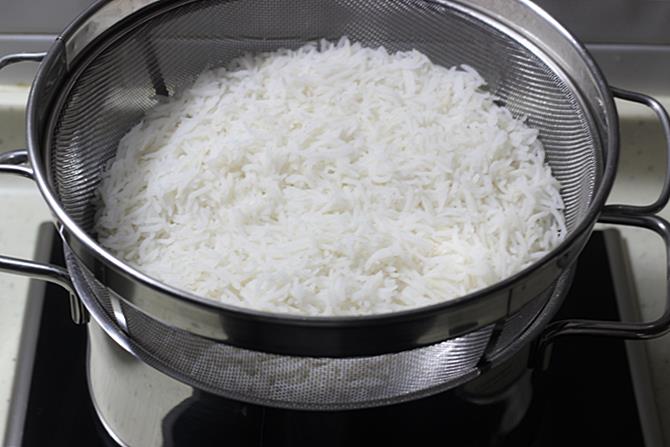 3. Add one tsp oil to a heavy bottom pan, Add cubed chicken.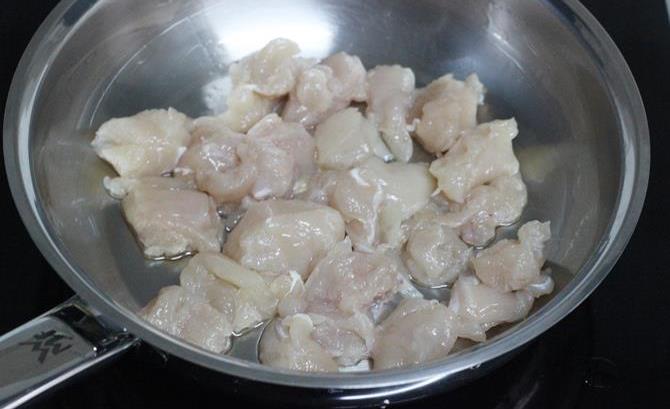 4. Cover and cook on a low flame. Keep stirring to prevent burning. This is the perfect way to get tender chicken.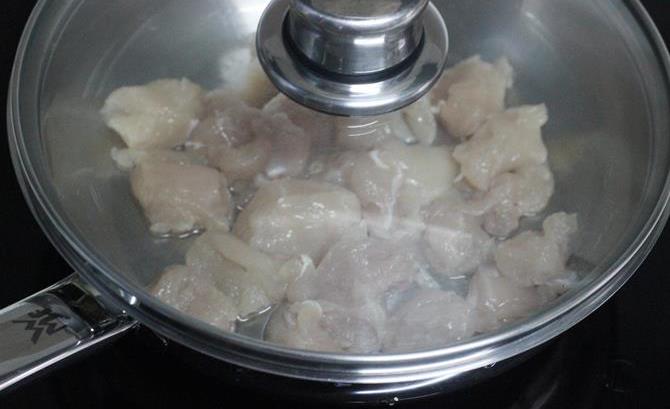 5. While the chicken gets cooked, prepare the sauces. Add soya sauce, chilli sauce, vinegar and pepper powder to a bowl and set aside.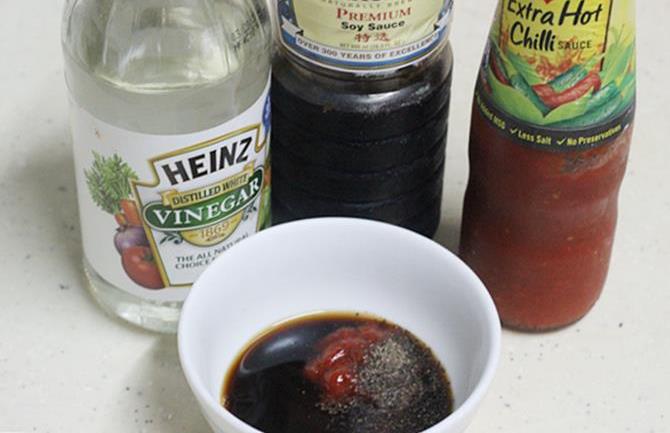 6. After a while chicken is cooked with little stock left.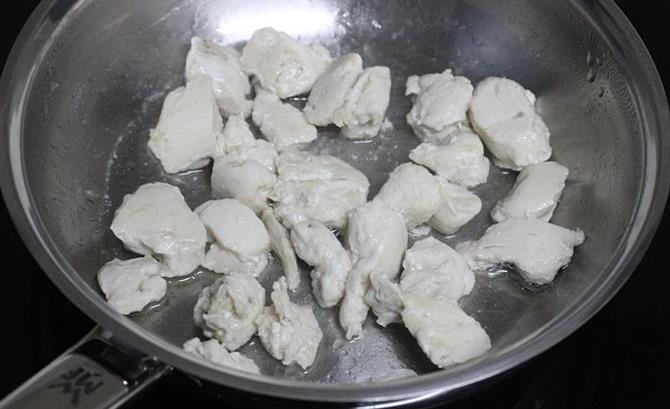 7. Pour the sauces we made at step 5.I did not discard the chicken stock.  Cover and Set this aside. I usually it aside for about 30 minutes for the chicken to absorb the flavors and turn tender. This is optional, you can right away make the fried rice if chicken is already tender.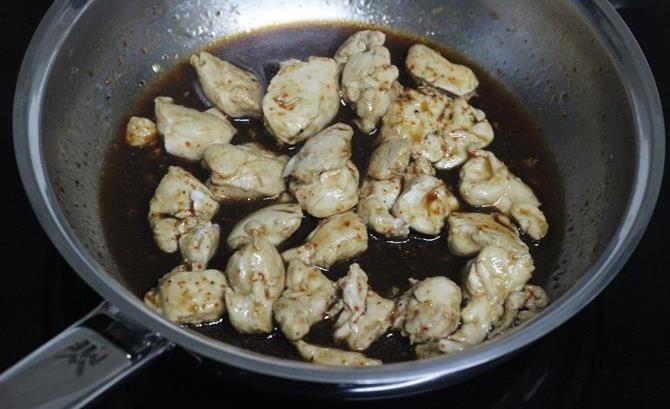 8. Add oil to a hot wok or a wide pan. When the oil turns hot, add garlic and fry until it smells good. Add onions or white parts of spring onions. I prefer to use a star anise and a strand of mace, especially for the chicken fried rice since it lends a good flavor. If you don't have just leave it.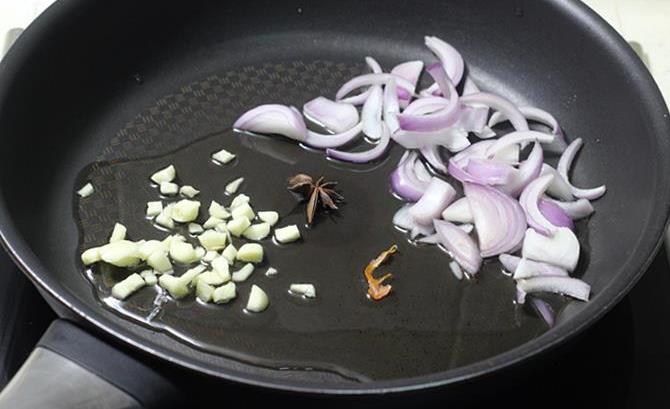 9. When the onions turn transparent, pour the chicken along with the sauces. Cook till the sauce slightly thickens. Since i did not discard the stock, sauce thins down and hence need to thicken it.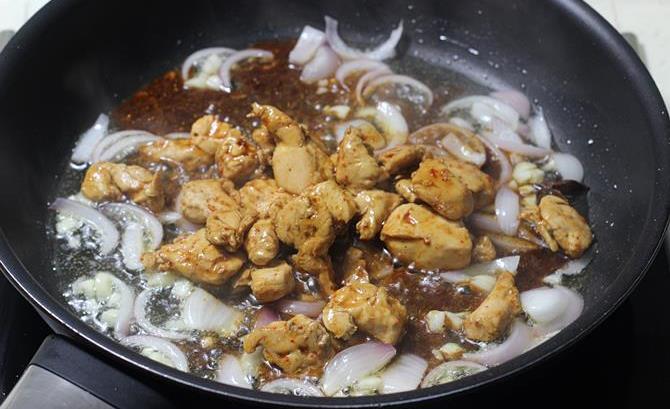 10. Add capsicum. If you have celery you can use it now. Toss everything well and cook until the capsicum is half done.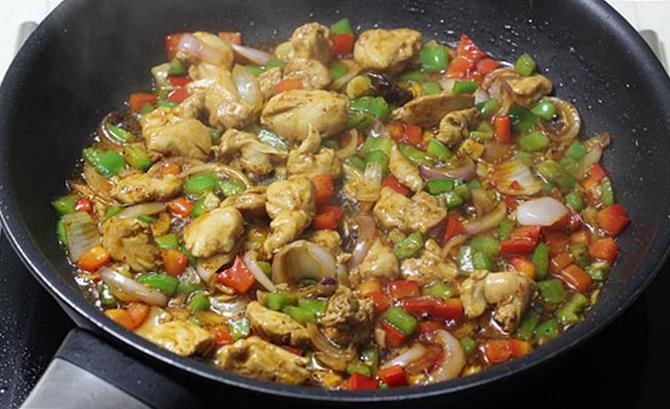 11. Make sure the rice is cool and non sticky before you proceed. Add rice, sprinkle salt and pepper. Take care not to add too much salt, since most sauces have salt added to them. If you have spring onions, add the green parts.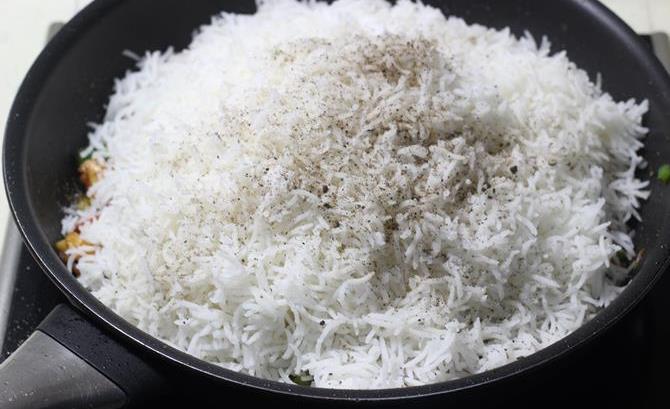 12. Mix everything well and fry for about 2 to 3 minutes.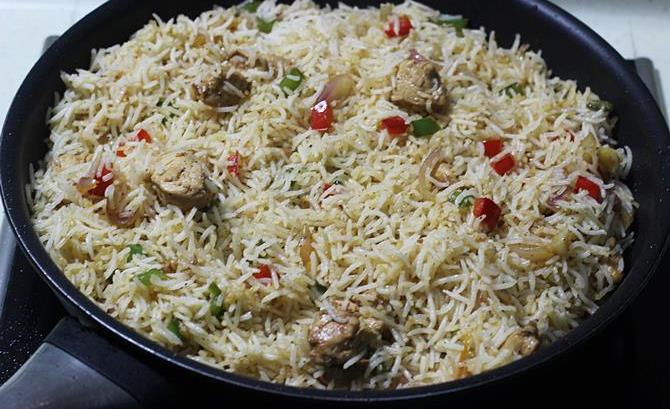 Serve chicken fried rice hot.