Chicken kebab recipe – Soft, juicy and delicious yogurt marinated chicken kabab. Any piece of food, mostly meat that is grilled over charcoal fire is called kabab or kebab. Shami kababs, seekh kababs, galouti kabab, reshmi kababs, doner kebab are some of the most popular ones. I am sharing a simple chicken kebab recipe which i make at home sometimes for a weekend snack or meal.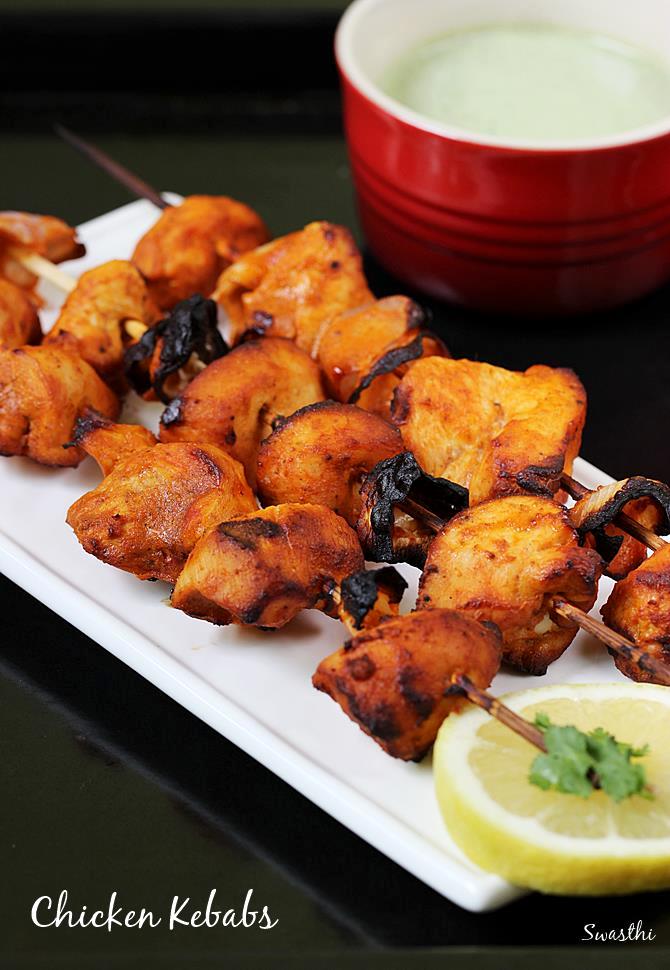 These chicken kebab go very well as a starter or can be used in wraps and salads too. They taste delicious with a very good aroma and turn quite soft and juicy. These taste best when served with a good mint raita /chutney or kebab chutney made with mint, coriander and yogurt. You can serve this with green chutney.
These chicken kebab can also be grilled on charcoal fire or on a grill pan on the stove. You may also like veg hara bhara kabab and veg seekh kebab.
For more grilled chicken recipes, you may like to check
Shami kabab
Reshmi kebab
Chicken Shawarma recipe
Tandoori chicken
Chicken tikka
Tandoori chicken sandwich
Chicken kebab recipe below
Chicken kebab recipe | How to make chicken kabab recipe | Kebab recipe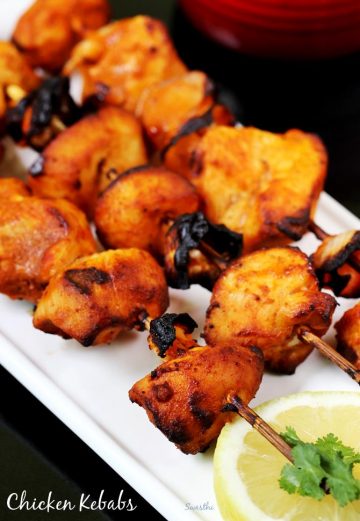 Chicken kebab recipe - Spices & yogurt marinated grilled boneless chicken kebabs. A popular appetizer from middle eastern and Indian cuisines.
Ingredients (240 ml cup used)
250 grams boneless chicken cubes
2 to 3 tbsp thick curd/ greek yogurt/ hung curd
2 tbsp oil (olive oil or sesame oil)
salt as needed
1 ½ tbsp lemon juice
¾ tsp garam masala or a mix of ground cumin, cinnamon, cloves, cardamom, pepper, coriander
1 to 1½ tsp ginger garlic paste
¾ to 1 tsp red chilli powder or paprika
1 medium onion cubed and layers separated
How to make the recipe
Marination
Wash chicken and drain water completely.
Mix all the ingredients and marinate.
Cover and refrigerate for over night or at least 4 hours.
Line the chicken and onions alternately on the skewers.
Making chicken kebab
Preheat the oven to 240 C for minimum 15 to 20 mins.
Place them in a tray and grill for 15 mins.
After 15 mins, Flip them and grill for another 15 mins. The last 5 mins, move the tray to the top rack or broil. At this stage you can brush some butter or oil over the kababs if you prefer.
Serve chicken kebab hot with mint raita or chutney.
Nutrition Information
Calories:
482
Fat:
36g
Carbohydrates:
5g
How to make chicken kabab recipe or kebab recipe
1. Prepare marinade with hung curd/ greek yogurt or thick curd, lemon juice, ginger garlic paste, turmeric (optional), chilli powder, salt, oil, garam masala or (ground cumin, cinnamon, coriander, cloves, cardamom and pepper).
You can refer this post to make hung curd. I have used this garam masala and olive oil. You can use any oil including sesame oil. My ginger garlic paste has turmeric in it, so I did not add any more. I prefer to use onion for most grilled foods as they lend a unique aroma when they are charred.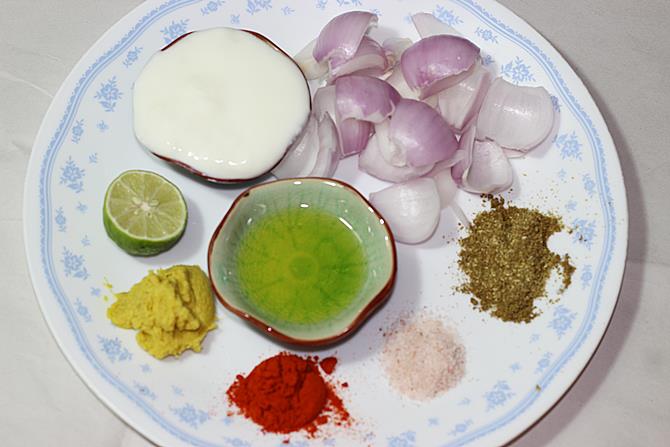 2. Add boneless chicken to a bowl. Make sure there is no water. Excess moisture either in the chicken or curd is going to drip off the chicken and make kebabs not so good.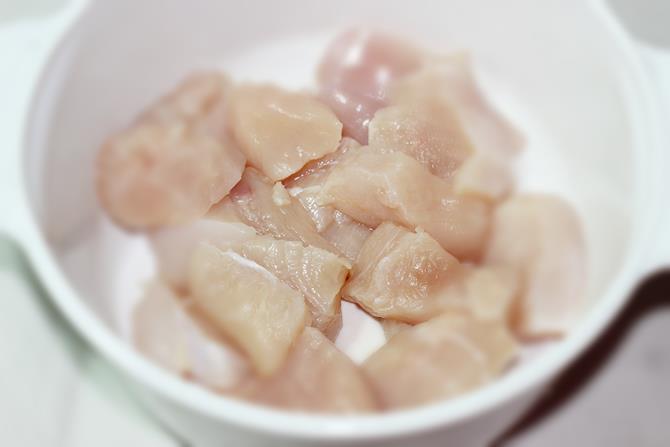 3. Marinate the chicken with the ingredients mentioned in step 1. Add the onions (layers separated) as well.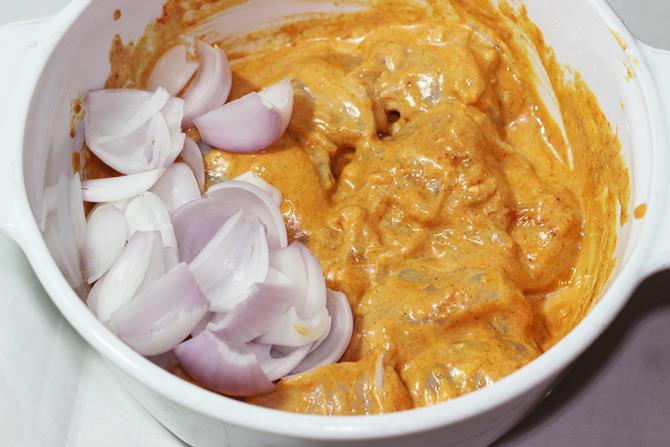 4. Marinate and refrigerate over night or least for 4 hours. The longer they soak up in the marinade the more tender and delicious they taste.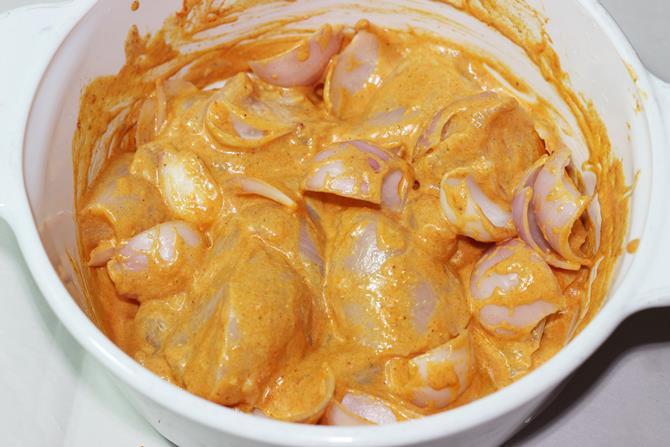 5. When you are ready to grill them in the oven. Heat the oven to 240 C for at least 15 to 20 mins. Rinse the skewers and put them on alternately chicken and onion.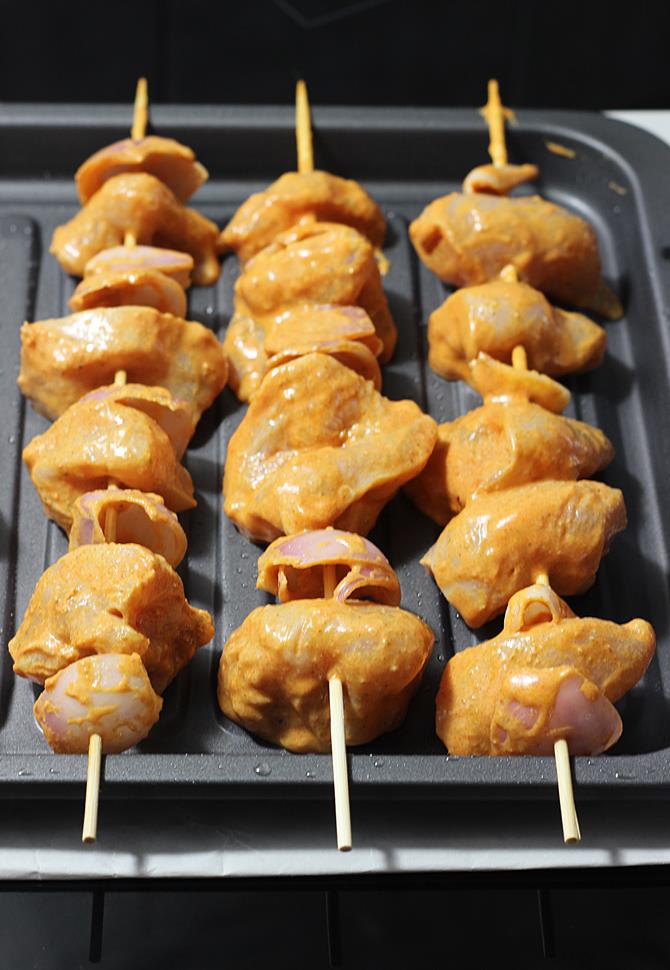 6. Grill the chicken kebab for 15 to 20 mins and flip them. Grill for another 10 to 15 mins. The last 5 mins, I prefer to move the tray to the top rack. At this stage you can also brush the kababs with little butter or oil. I have not done it. The onions will char and impart a good flavor when moved to the top rack. The difference in the color is due to the lighting, they turn our red in color if you use a good chilli powder.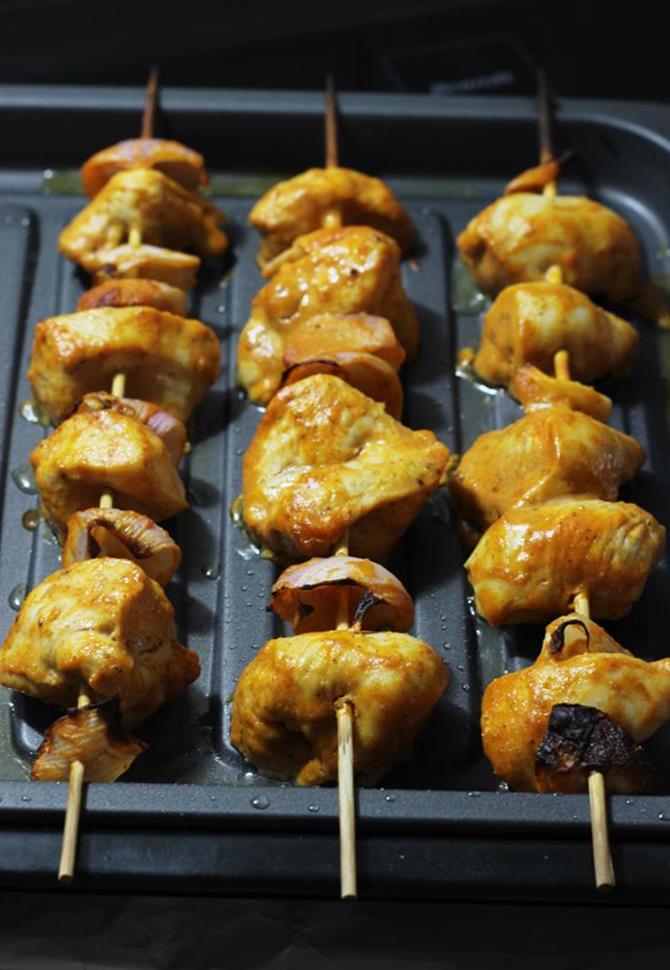 Serve chicken kebab hot with mint chutney or mint yogurt raita or green chutney.