Chicken tikka recipe – Tandoori chicken tikka is one of the most popular chicken starter or appetizer from Indian Cuisine and is popular across the world. Tikka means a cube or a piece and chicken tikka is a cube of chicken that is marinated in spiced yogurt mixture called the chicken tikka marinade. Chicken is left to soak up for few to several hours to tenderize naturally and absorb the flavors. Then the chicken cubes are grilled in tandoor oven or barbecued.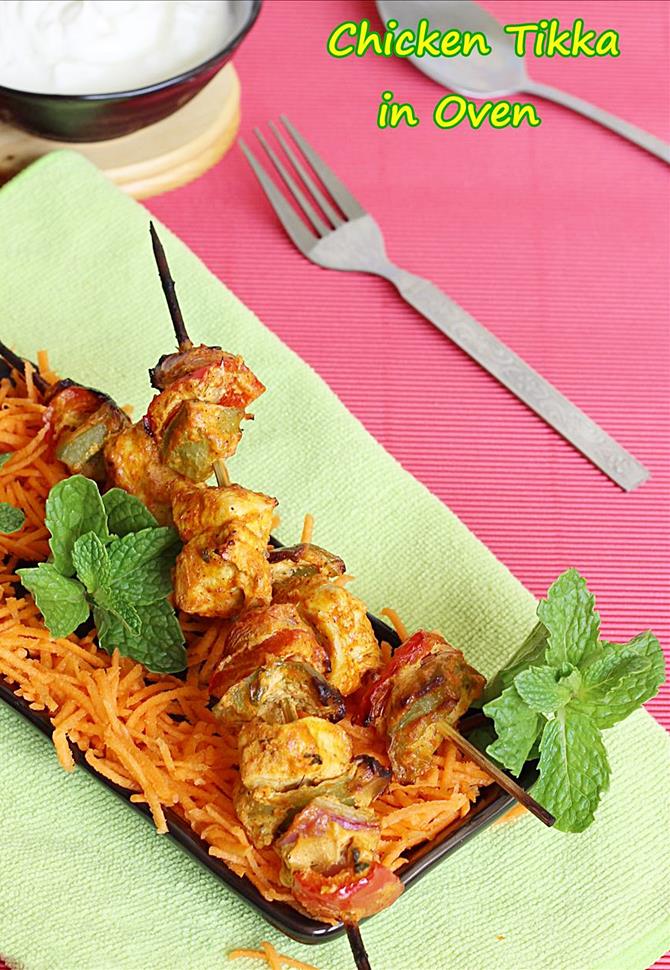 Learn how to make chicken tikka recipe in oven
For a home preparation, making chicken tikka recipe in an oven is convenient, the way I made them here. If the chicken tikka is made to enjoy as an appetizer, we use gram flour / besan and if the tikka is made to prepare a chicken tikka masala gravy, then gram flour should not be used since it alters the taste of the gravy entirely.
 
To make chicken tikka recipe, food color is often used which I have not. If you are particular about the color, I suggest using a good Kashmiri red chili powder or paprika which yields a good vibrant color.
 
Adding too much of garam masala or spice powder, leaves a bitter taste to the tikkas. So adjust the quantity slightly to suit the taste. To make the best chicken tikka, always use hung curd or thick curd that has been drained off well otherwise the tikka doesn't turn out good.
 
For more Indian Tandoori recipes you can check
Chicken kabab
Tandoori chicken
Tandoori chicken sandwich
Butter chicken
Chicken tikka masala
Tandoori chicken tikka recipe below
Chicken tikka recipe | How to make chicken tikka recipe in oven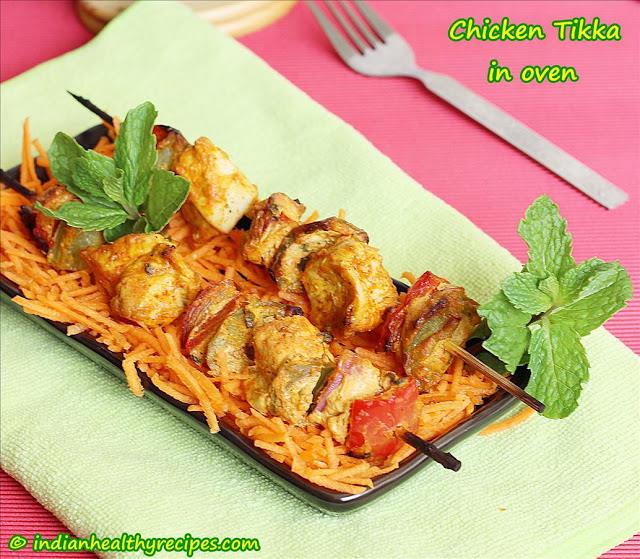 chicken tikka recipe, to yield the world popular grilled Indian chicken tikka
Ingredients (240 ml cup used)
400 to 500 grams of boneless chicken cubes
1 to 1 ½ tbsp. besan / chickpea flour (optional, refer notes 1)
1 cup regular thick curd or ½ cup of hung curd or greek yogurt (refer the instruction 1, how to make)
Veggies (at room temp, using from the fridge right away makes them soggy)
½ green bell pepper
½ red bell pepper or tomatoes (remove the seeds and pulp)
1 large onion cubed
chicken tikka masala marinade (skip, if using readymade tikka masala powder)
¾ to 1 tsp. Kashmiri red chili powder or paprika
⅛ tsp. pepper powder
1 ½ tsp. ginger garlic paste
⅛ tsp. turmeric
½ tbsp. kasuri methi / dried fenugreek leaves (crushed)
1 to 2 tbsp. lemon juice (adjust, if your curd is sour, you can skip this)
¼ tsp biryani masala powder or ½ teaspoon of good garam masala
½ tsp coriander powder (optional, refer notes 3)
Salt to taste
1 tbsp. oil
How to make the recipe
to make the best chicken tikka, we need drained yogurt/ curd or greek yogurt works fine. If you are using regular yogurt, then add it to a cheese or muslin cloth and then drain off the excess water. You must have a thick consistency curd. you can also leave the yogurt to drain off for several hours in the refrigerator, after placing it in a muslin cloth.
Wash and cut chicken fillet to equal sized cubes, remove the moisture from them using disposable tissues. Or set them side for a while to take away the dripping water.
Mix all the ingredients under chicken tikka masala marinade with yogurt, lemon juice, gram flour. Marinate the chicken for at least an hour. 12 tastes the best. You will have to refrigerate if marinating for longer than an hour.
Soak the wooden skewers for at least 30 mins in water to prevent them from burning.
Just before you begin to grill, cube the veggies and marinate in the left over marination. 5. Put them on to skewers, alternating veggies and chicken.
Pre heat the oven to 240 C for at least 15 minutes, bake for 20 to 30 mins or till fully done. I suggest checking after 20 mins. This depends on the size of your chicken pieces and how tender it is.
Notes
1.If chicken tikka is made to prepare a chicken tikka masala gravy, then do not use besan /gram flour.
2.Meat tenderizer is needed if the chicken is not tender, follow the instructions on the pack for the quantity.
3.Coriander powder is used to bring down the spice levels in garam masala, use it if your garam masala is pungent or very strong.
how to make chicken tikka recipe in oven with step by step pictures
1. Add curd, lemon juice, ginger garlic paste and all other spice powders to a plate and mix well.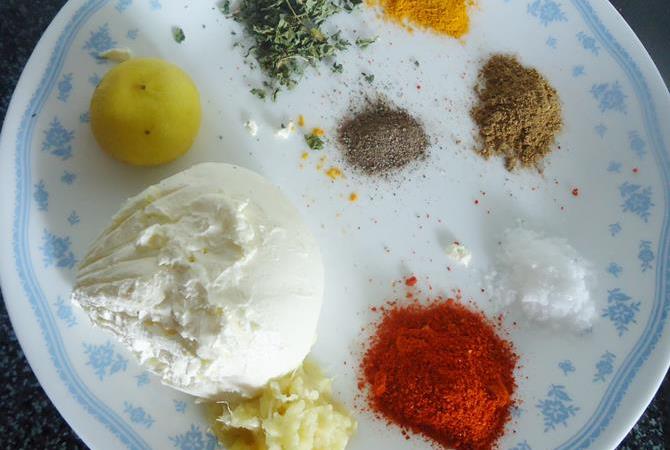 2. Add oil to the marinade. Oil helps to tenderize the chicken when used along with yogurt or lemon juice.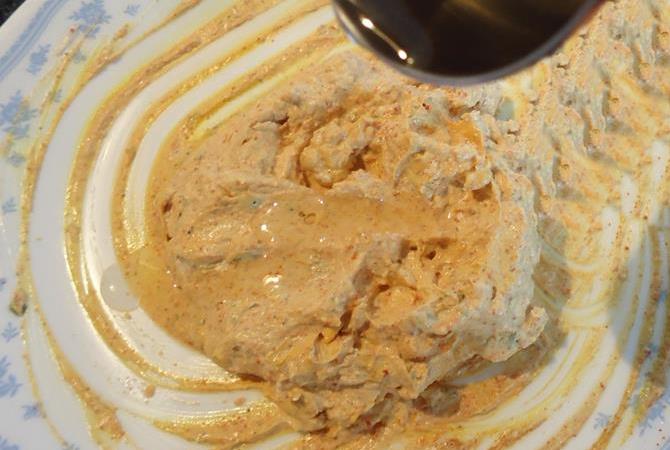 3. Add the chicken that is drained completely. Make sure there is no water dripping from the chicken before you add it to the marinade.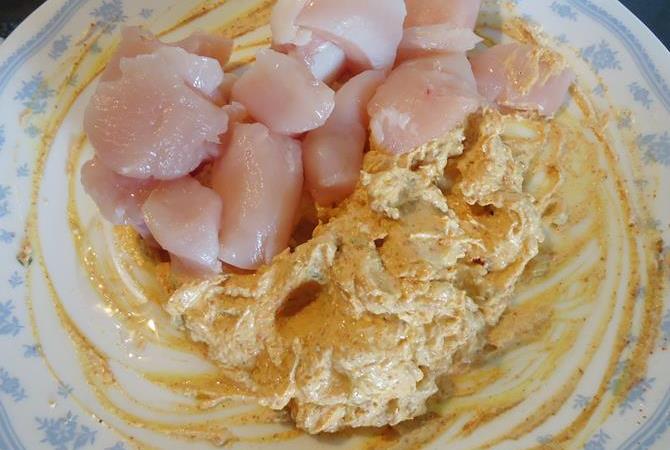 4. Mix everything well. Set this aside for at least an hour to over night in the fridge. If you have meat tenderizer, you can use it. But that is optional.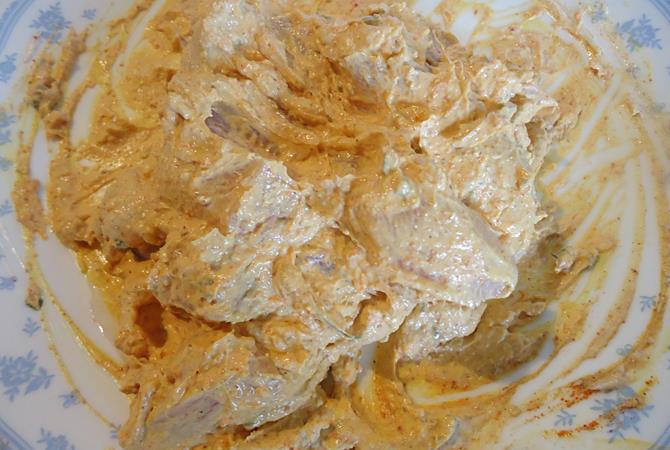 5. When you are about to grill them, soak the skewers for 30 minutes in water to prevent burning. Preheat the oven to 240 C. Set aside the chicken removing excess marinade. To the excess marinade add the cubed veggies. Toss them to coat the marinade well.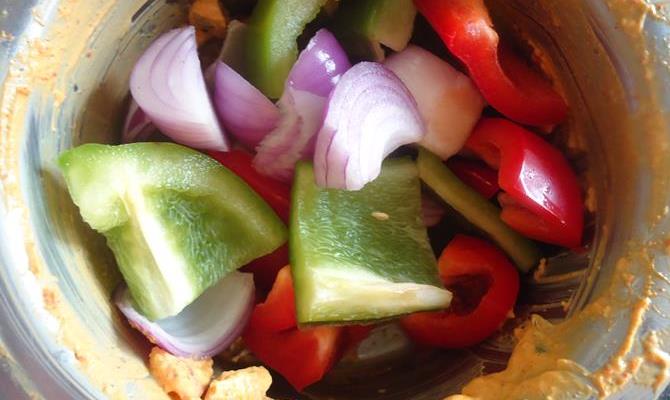 6. Skew them alternately chicken , onion and capsicum. Grill this for about 20 to 30 minutes.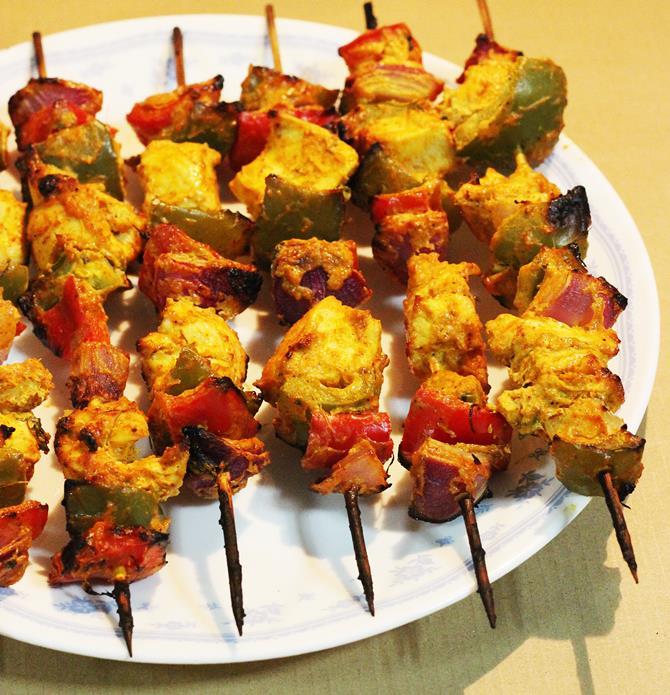 Serve chicken tikka with mint raita.