Chicken soup recipe – Learn how to make a healthy chicken vegetable soup at home. Mildly flavored and can adjust to suit your taste. Add vegetables of your choice like potatoes, corn, carrots, peas etc. Adding vegetables is optional but i suggest since they add taste to the soup.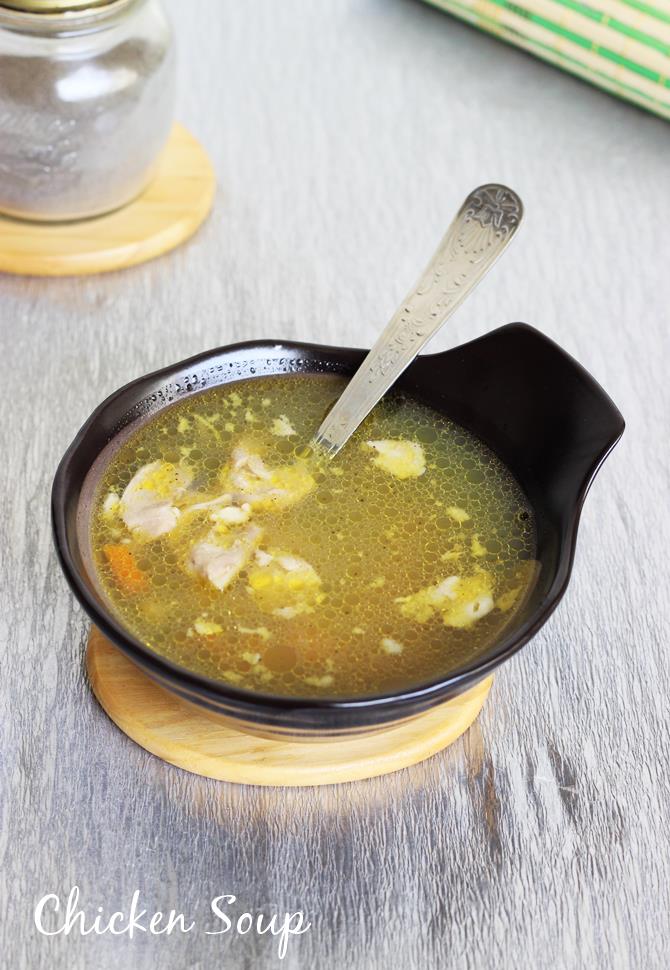 Chicken soup can be made in so many ways. I never stick on to any particular recipe. I prepare it in whatever way I feel like and is easy for me. I prepare this almost daily when my kids have cold. I feel it helps them to heal naturally with in few days. I generally keep them only on this soup and few spoons of rice, as it is lighter to digest.
I also add some veggies or corn since my kids love them as well in the soup. This tastes very close to the chicken vegetable soup that is served in pizza hut in Singapore, except that mine has an added flavor of ghee and spices.
You may like to check these 70 Indian chicken recipes, Top 10 chicken recipes, Top 10 chicken biryani recipes.
Indian chicken soup recipe below
Chicken soup recipe | How to make chicken soup recipe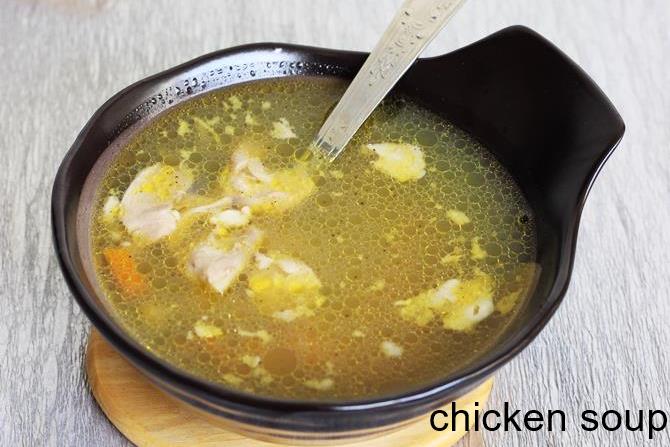 Indian style chicken soup made with vegetables and spices.
Ingredients (240 ml cup used)
250 gms chicken (bone-in chicken)
1 cup mixed vegetable carrot, potatoes, peas etc (choose any)
½ cup of corn(to thicken soup)
Few tbsp. Lemon juice (helps in fighting flu and cold)
1 tbsp. ginger shredded or grated or paste
1 tsp ghee or oil
Spices
1 bay leaf
Few pepper corn
2 Small cinnamon stick
3 to 4 cloves
How to make the recipe
Add potatoes, peas, corn, chicken, salt, 1 cinnamon stick and few pepper corn to a pressure cooker. Pour enough water (3 to 4 glasses) and cook for 3 whistles.
Heat a deep pan with oil, sauté the rest of the spices along with ginger
Add carrots and fry for a min. cook till the carrots are cooked.
Drain off the stock to the pan and set aside chicken.
Shred the chicken and add it back to the pan.
Squeeze in the lemon juice and add pepper powder.
Serve chicken soup warm.