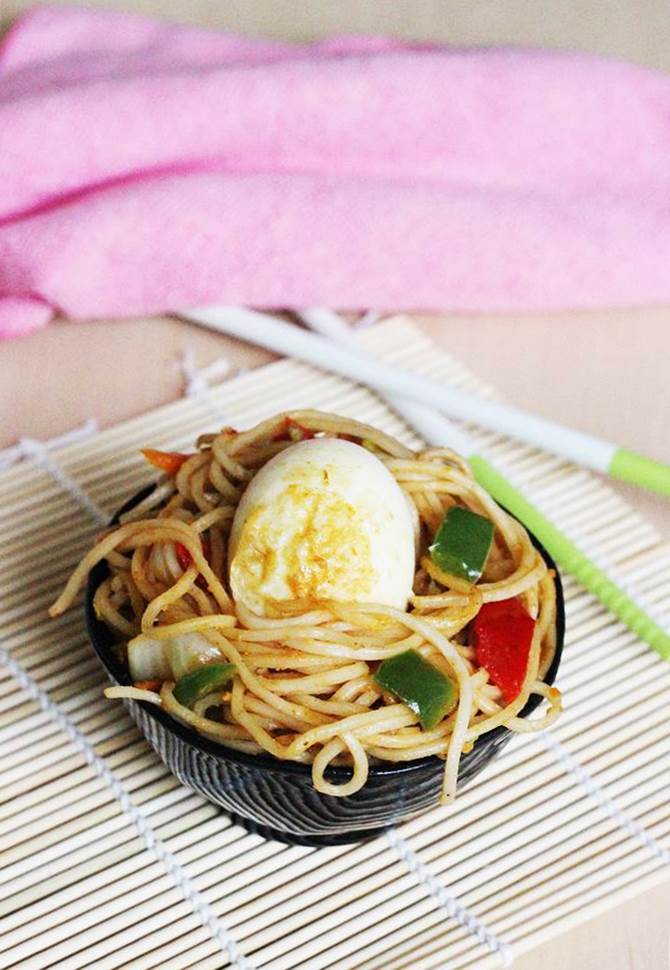 egg fried noodles recipe made in chinese style – These fried noodles are so easy to make and they turn out to be filling and yummy. This bowl of noodles has the all the goodness of veggies with an boiled egg and the aroma of sauces is just great. You can use your favorite sauces, we are great fans of the peri peri hot chili sauce, one of the hottest chili sauces that is popular in Asia. If you are using noodles that come with the liquid or the powder seasoning, you can just go ahead and use. Eliminate the sauces from the ingredients list below.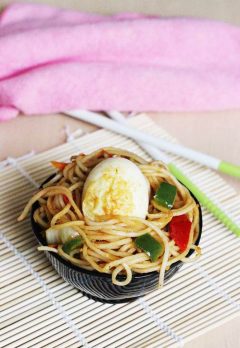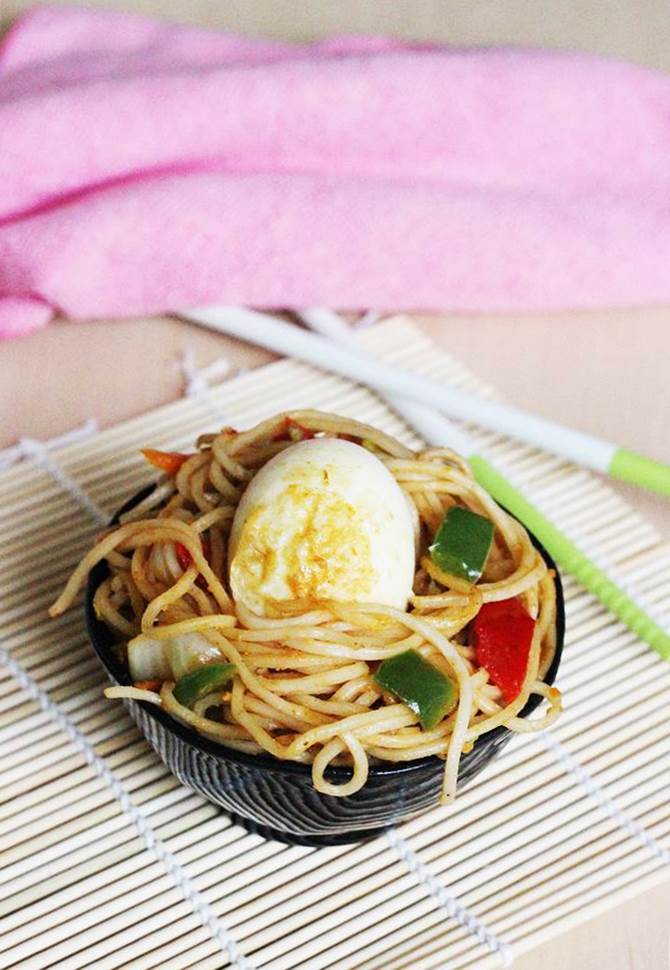 egg fried noodles recipe | chinese egg fried noodles recipe
Ingredients (240 ml cup used)
1

individual pack of egg or veg noodles

1

tsp

soya sauce + 1 tsp chili sauce + 1 garlic clove chopped (or any ready seasoning)

pepper powder as needed

1

hard boiled egg (optional)

1

egg

¼

cup

of bell peppers (can use bean sprouts, cabbage or any other veggies)

Few scallions (white and green separated)

sesame oil as needed
How to make the recipe
Bring 3 cups of water to boil. Add the noodles and cook till al dente or just done. Read the instructions on the pack for cooking time.

Drain and rinse in lot of cold water. Drain in a colander.

Heat oil in a wok, fry boiled egg till roasted.

Add garlic, chopped scallion, (white part), capsicum, bean sprouts if using.

Sprinkle salt lightly & evenly. Fry till they are done.

Pour in the egg and scramble. Cook till the egg is partially cooked.

Add sauces or your seasoning powder. When it begins to bubble, add noodles and fry on high for 1 to 2 mins.

Serve hot.
more noodles recipes on the blog,
egg fried noodles
vegetable fried noodles
hakka noodles