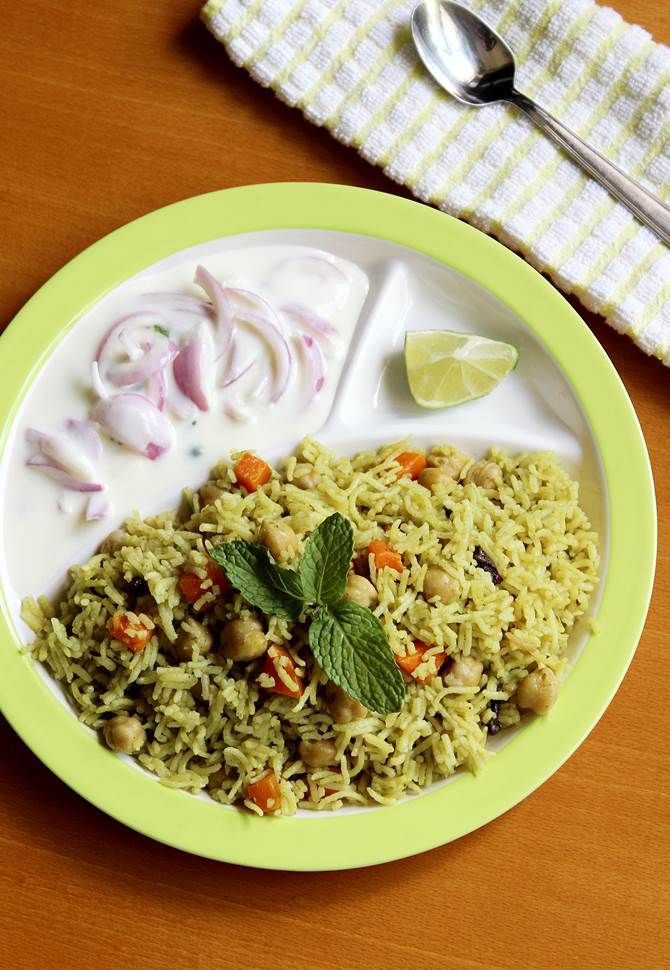 chole biryani – chana biryani Recipe
Who doesn't like biryani? I think all of us do. Biryani is a popular Indian rice dish that is made with vegetables or meat and also with chickpeas. Chickpeas are called as Channa, chana or chole in hindi. chole biryani (chana biryani) is protein packed dish with great aroma of spices and is one of my most preferred lunch.

This biryani can be made in many ways. This recipe yields biryani that is flavorful, slightly spicy and we don't need any yogurt. I prefer to cook my channa in the biryani spices rather than cooking them separately and adding to the biryani. I feel cooking them in the spices gives a lot of flavor and taste to the channa. channa is said to aggravate vata if not cooked in spices. iam a hardcore believer of ayurveda though i do not follow strictly an ayurvedic diet.

You can make this biryani in a pressure cooker or in a casserole too.

chole biryani – chana biryani Recipe below
Preparation time: 10 mins
cooking time: 30 mins
serves 3

Ingredients

2 cups soaked chick peas (channa soaked for 15 hours) (can reduce to 1 cup)
1.5 cups soaked Basmati rice (or any long grain rice)
2 medium sized tomatoes (chopped )
1 large carrot chopped optional
¼ tspn. turmeric
4 tbsp. oil
3.5 cups Water

dry spices
1 star flowers
1/2 tsp. caraway seeds ( shahi jeera)
1 bay leaves
1/2 small nut meg
2 inch cinnamon sticks
8 cloves
12-14 peppercorn
1 strand mace
6 cardamom
1 tspn biryani masala pow (optional)

to grind
fistful of mint leaves
fistful of coriander leaves
1 large onion (chopped)
2 slit green chilies
1 tbspn ginger garlic paste

how to make chole biryani in pressure cooker
1.Heat pressure cooker, temper the spices in oil, add the ground paste and sauté for 2 to 3 mins.
2.Add tomatoes, salt, turmeric and continue to sauté till the tomatoes turn mushy.
3.Add soaked channa (chick peas) fry for 2 to 3 mins, pour water(3.5 cups) and let the chana cook fully. Alternately can use cooked chana and reduce the water.
4.When the channa is fully cooked, add the soaked rice,biryani masala if using. mix well and pressure cook on a low flame for 1 whistle. Alternately can cook the rice until done without pressure cooking

Serve with onion raita or with a salad