coconut palm sugar, one of the popular varieties of palm sugar used in Southeast Asian countries. Read on to know if it is suitable to diabetics. Coconut palm sugar in its unrefined form looks dark in color like shown in the pictures below.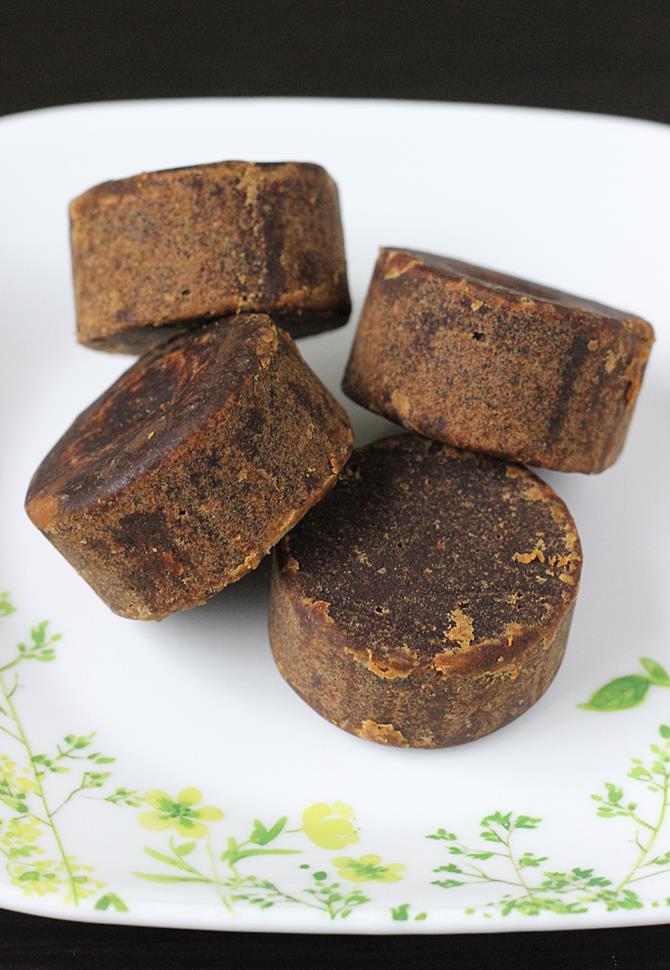 To enjoy coconut palm sugar one need not be diabetic, it is an unbleached wholesome sweetener that is not stripped of its nutrients. It is suitable even to a year old baby. With the festive season around, wanted to share about palm sugar and how safe is it to diabetics.

Though in the past I have already written about "how to identify pure palm sugar", today's post is an insight to "why palm sugar may be a healthy choice" & " is it healthy to diabetics". Though iam not a health expert, using and researching about this sugar for more than 9 yrs has made my way to this post. This is a topic that's still new to the global health community and not much info is available as research is still underway.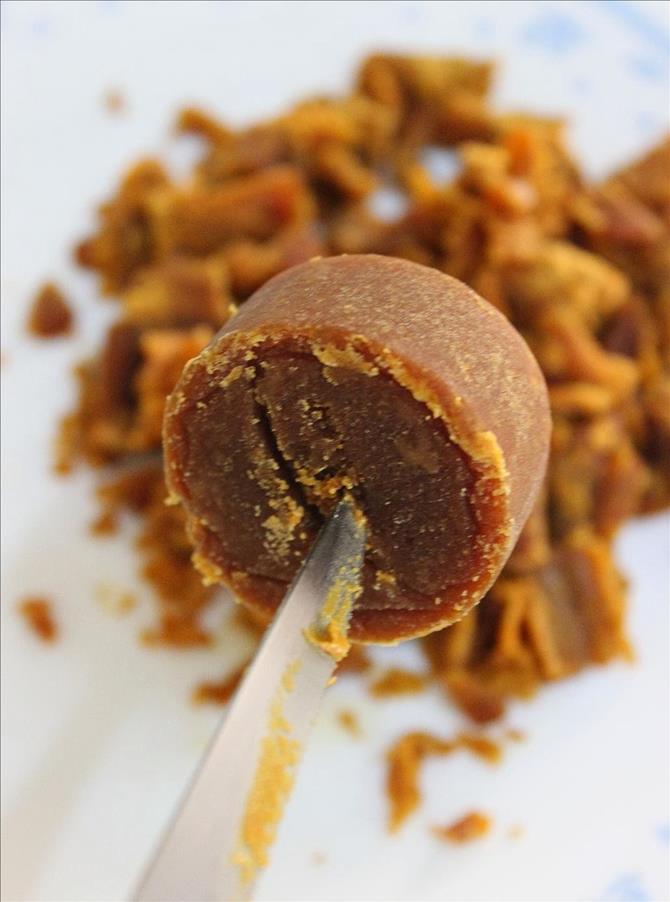 palm sugar is just a general term used to refer jaggery or sugar that is made from the trees that belong to the palm family (Arecaceae family). To specify a few are Palmyra palm, date palm, sugar date palm, & coconut palm. Coconut palm is nothing but our coconut tree. So palm sugar can be made from any of these trees and based on the regions it is manufactured. Briefly

1. Kerala, Tamil Nadu, Karnataka and coastal Andhra Pradesh make Palm Sugar from the sap of Palmyra Palm (thadi chettu in telugu)
2. In the Middle east, it is made from the sap of date palm.
3. In west Bengal and Bangladesh, it is made from the sap of sugar date palm.
4. In Indonesia, philipines and malyasia , it is made from flowers of Coconut palm.

To categorize a food as suitable to diabetics, it must have a low Glycemic index (GI), a measure of how quickly blood sugar levels rise after eating a particular type of food. So out of all the above listed palm sugars the first 3 are not suitable for diabetics as they do not have low GI. But they can be used as sugar substitutes by anyone as they make a wholesome nutritious substitute to refined sugar.

Ayurveda recommends palm sugar from palmayara (karupatti, thati bellam) since it is rich in minerals, iron and many other nutrients. Ayurvedic experts recommend only 5 to 10 Gms of karupatti per day as a medicinal accompaniment for diabetics. Also Karupatti has been traditionally used to fight asthma and debility and is strongly recommended for growing children as a health food.

coconut palm sugar has a low GI, which is a positive sign for embracing it by the global health community as a diabetic sweetener. Though low in GI, it has carbs and calories equal to that of white sugar. So include it in your carbs and calorie count. There is still not enough evidence or research done to prove that pure coconut palm sugar is definitely suitable for diabetics. But definitely it is better and safer than any other sweeteners that are available in the market today.

However consuming coconut palm sugar in moderation is very important. While agave nectar (high in fructose) leads to fat deposits in the liver and white sugar spikes the blood sugars immediately. Artificial sweeteners like " Zero" and "Equal" too come with many side effects.

Price and adulteration
The cost of pure coconut palm sugar is almost thrice the price of refined sugar. Do not be cheated by the adulterated palm sugar, I had several experiences with it. Singapore being one of the largest consumers of imported coconut palm sugar, we still get adulterated one, since no labels specify how pure it is.

Based on the price and looks and with the help of my helper (who hails from Indonesia) I learnt how to identify. If you are interested to know, do visit my post on " how to identify pure coconut palm sugar ".

Substituting coconut palm sugar for white sugar
One kg of white sugar goes a long way in my home as long as 4 to 5 months for a family of 4. Isn't this surprising? Yes I am a diehard fan of this palm sugar for its super rich taste and aroma. First time when my hubby bought this home 7 yrs back, It was lying in the shelf untouched for several months. After few months heard about it from a Singaporean friend and tried it. In most of my indian recipes and for cakes and cookies too I use coconut palm sugar. This sugar is more suitable for chocolate based bakes and jaggery recipes. It enhances the taste of cocoa in bakes. If you have not tried it yet, do try this to get mesmerized by the taste of it.

my best coconut palm sugar recipes on the blog,
banana oats muffins
vegan chocolate banana cake
dry fruit balls
chocolate freezer fudge
almond burfi

Availability
Coconut palm sugar is not available in india, I have checked in places like Bangalore and Hyderabad. In Singapore, Mustafa, fair price and cold storage have many varieties of coconut palm sugar. In USA too it is available, now major exports from Indonesia and philiphine are heading towards USA, after which Singapore market has experienced a plunge in the price of this sugar by almost S$ 1.5 per kg.

This post was originally created on 5th november 2012, has been updated with the latest info on 4/3/2015