Coconut rice recipe – One of our favorite South Indian foods at home made using fresh coconut. An aroma of curry leaves and fresh coconut makes the rice flavorful. It is very easy to make, can be prepared in just few minutes if fresh grated coconut and cooked rice are ready. It can be served with any simple curry or curd and a fresh vegetable salad. It is also made on festivals for the lunch. You may also like to check these top 10 Coconut Recipes. Some of the most popular ones are coconut chutney, traditional coconut ladoo and coconut burfi.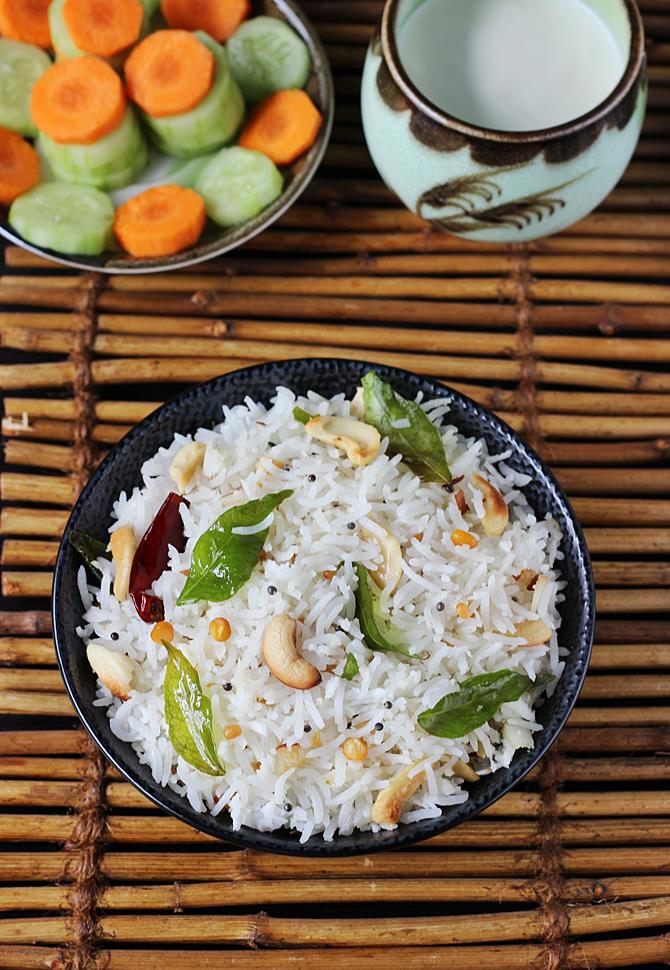 I mostly make this for the kids lunch box and pack with sliced carrots and cucumbers. Kurma curries like potato kurma, paneer kurma, soya chunks kurma, jackfruit seeds kurma go well with coconut rice.
Coconut rice recipe shared here is simple, sometimes i also like adding a fistful of grated carrot or little grated raw mango or a tbsp of lemon juice, mint leaves or coriander leaves.
For more rice recipes, you may like to check
Lemon rice
Ven pongal
Curd rice
Ghee rice
Peanut rice
Find complete recipe of coconut rice below
Coconut rice recipe | How to make coconut rice recipe | Tengai sadam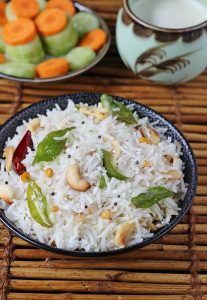 Coconut rice recipe is one of the most basic tempered rice made with fresh grated coconut and curry leaves.
Ingredients (240 ml cup used)
1 cup cooked rice (any kind of rice)
½ cup grated coconut (fresh or frozen) (adjust to suit your taste)
salt as needed
1 green chili (slit or chopped)
1 broken red chili (optional)
1½ tbsp. ghee or coconut oil
½ tsp mustard
½ tsp cumin (optional)
pinch of hing
½ to ¾ tbsp. chana dal
½ to ¾ tbsp urad dal
1 tsp chopped ginger
cashews or peanuts as needed
How to make the recipe
Preparation
Cook rice in the regular way you would do it. Either in the cooker or pot. Make sure the rice is grainy and not mushy. Cool completely.
You can use either freshly grated coconut or frozen one. You can use more or less as desired.
Making coconut rice
Heat ghee or oil in a pan, add cumin, mustard, dals and cashews. When the dal turns golden, add ginger, green chili, curry leaves and red chili. Sprinkle hing.
Add coconut, rice and salt. Off the heat. Stir everything well. Coconut can also be fried first and then rice added.
Serve coconut rice with a simple curry or yogurt.
How to make coconut rice recipe
1. Soak and cook rice to grainy in whatever way you like. You can pressure cook or cook in a pot. Cool it completely.
2. Add ghee or oil to a hot pan, add mustard, cumin, dals and cashews or peanuts. Fry until the dals turn golden, add ginger, green chili, red chili and curry leaves. Fry until the leaves turn crisp. Add hing.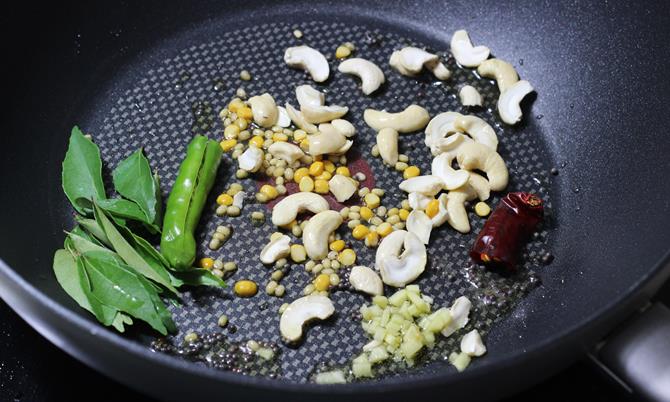 3. Add coconut and rice. Sprinkle salt and mix. If you like fried coconut, you can fry the coconut first till it begins to smell good. Then add rice and salt.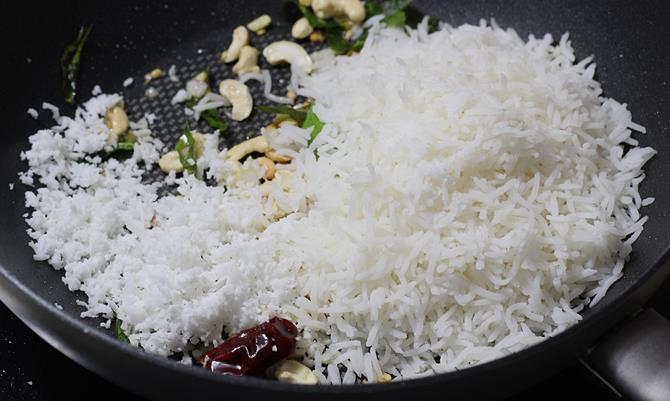 4. Switch off the stove and mix everything well.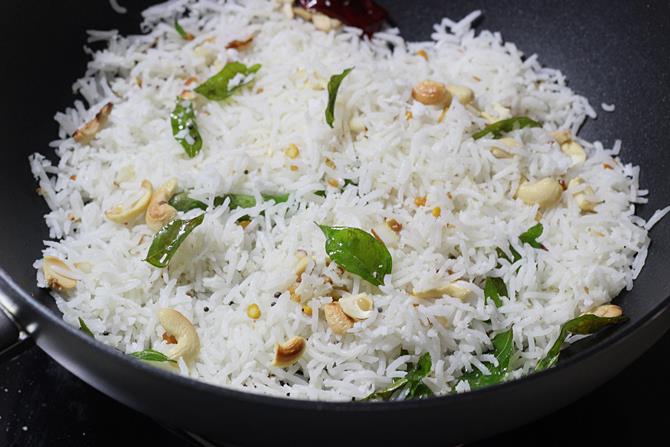 Serve coconut rice with a simple curry or yogurt and a veg salad.