How to cook basmati rice for biryani recipe – The aroma and taste of a dum cooked Biryani largely depends on the quality of basmati rice used. Using good quality basmati is not enough, but it has to be cooked right to the correct texture before using it for a dum biryani. Though basmathi rice for biryani is cooked in a generic method, to what stage it has to be cooked is something tricky and depends entirely on a recipe used to make the biryani. To cook basmati rice for biryani, always follow the instructions mentioned in the biryani recipe and not a generic one. Cooking rice to al dente is not right for all kinds of biryani.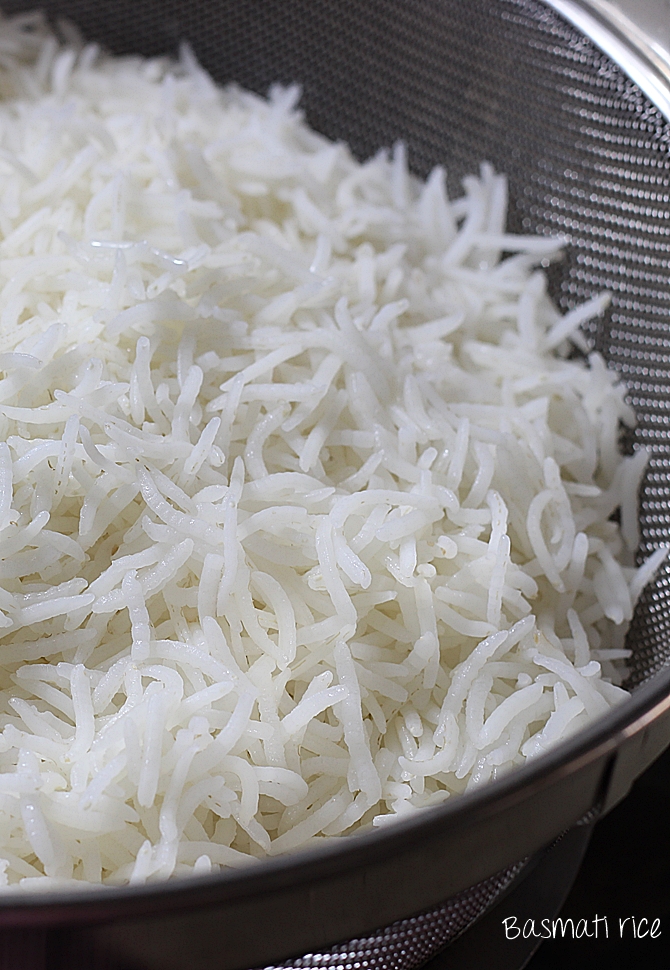 There are so many kinds of basmati rice available in the market among which many are not good enough to use for a dum biriyani making. Using basmati rice that is from the current harvest, low GI rice, unpolished rice and mulberry rice are some of the kinds which do not yield good grainy rice once it is cooked.
How to cook basmati rice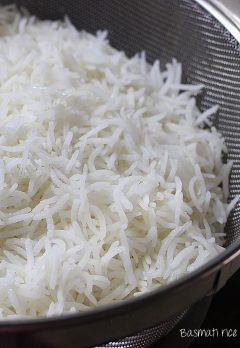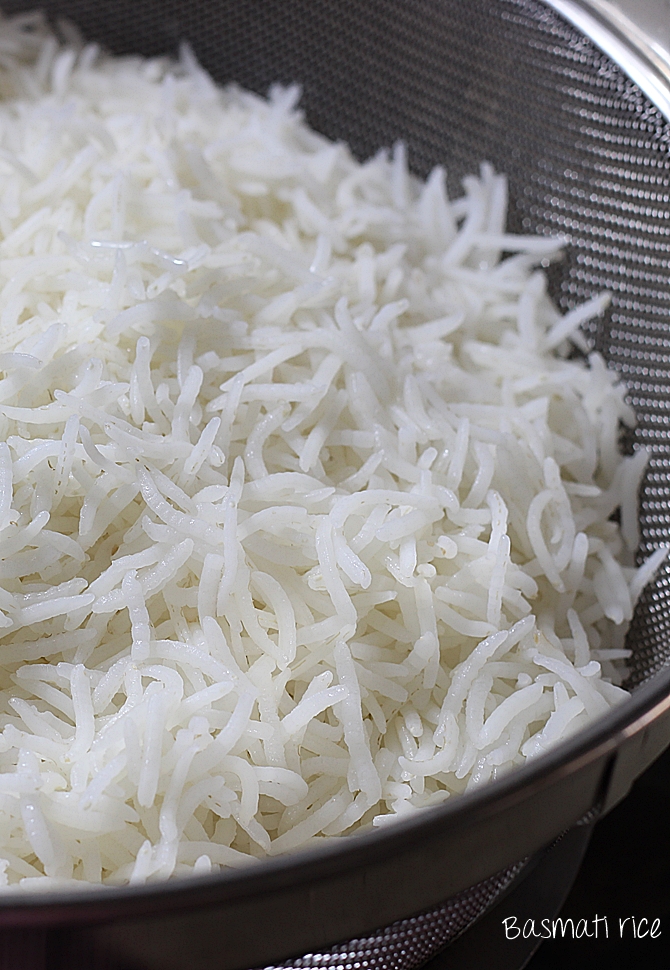 How to cook basmati rice for biryani recipe | How to make rice for dum biryani
Cooking basmati rice correctly is very crucial to making good biryani.
Ingredients (240 ml cup used)
1

cup

basmati rice

4 to 5

cups

water

salt as needed

1

tsp

to 1 tbsp oil
spices as desired
Bay leaf

cinnamon

shahi jeeera

cardamoms

mace

star anise
How to make the recipe
Pls follow the detailed instructions below.
How to cook basmati rice for biryani recipe
1. Always choose premium quality basmati rice that is aged and has been stored in good condition. Wash it well a few times in ample amount of water. Soak for at least 30 to 40 minutes again in apmple amount of water depending on the kind and brand. Some kinds of rice need about 60 minutes plus for the grain to absorb water. This helps the grain to expand well while cooking. Drain the rice.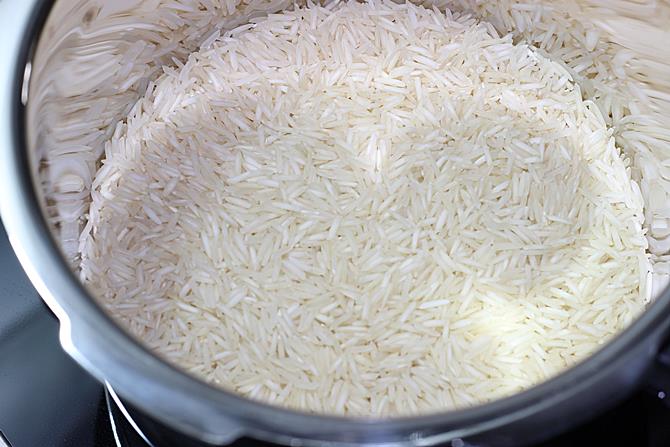 2. Bring water to a boil in a large pot. Usually for 1 cup rice, any where from 4 cups to 5 cups can be used. If you are not using premium quality rice, you should be using up to 5 cups water to get rid of starch completely. Add salt as needed. Taste the water, it has to be slightly salty.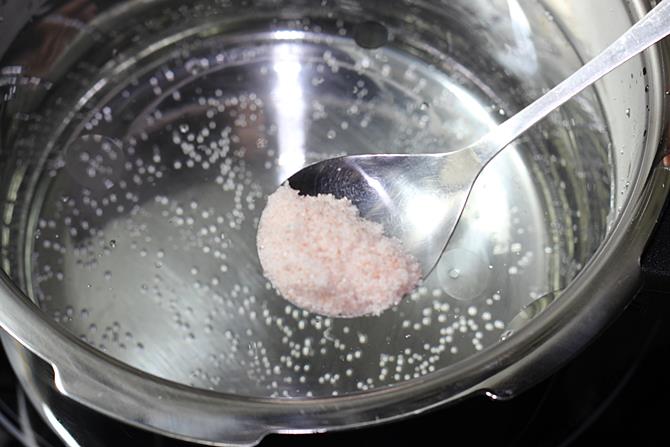 3. Add in the spices along with 1 tsp to 1 tbsp oil again depending on the quality of rice. Spice like bay leaf, star anise, shahi jeera, cinnamon, cloves and mace can be used. All the spices are optional, but most commonly a bay leaf and some shahi jeera does the job of infusing flavor to the rice. If you do not like to get the whole spices in your biryani then you can also tie them in a muslin cloth and add it to the water. Discard it when the rice is drained.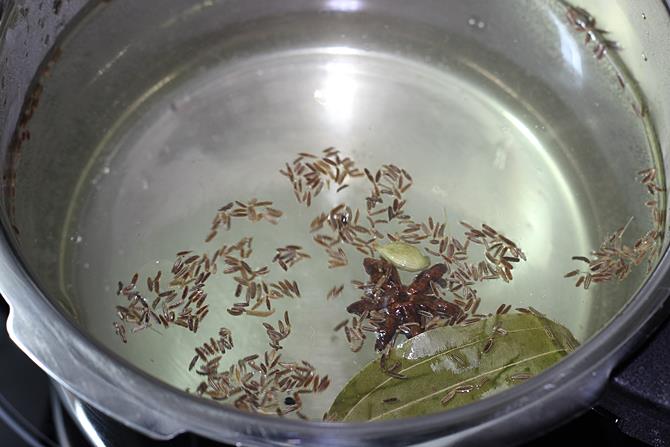 4. When the water comes to a boil, allow to boil rapidly. Add the drained rice. Do not stir too much since the rice is soaked for long time it tends to break.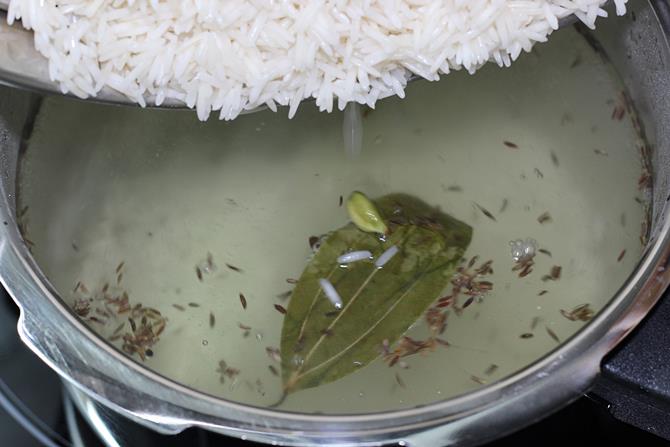 5. When to drain the rice depends on what kind of biriyani you are making.
If making kacchi mutton biriyani, basmati rice has to be half cooked i.e 50% to 60%. The rice expands completely by then, but has to be cooked further which is done during the dum process. Usually yakhni or rice cooked water is also added in small quantity to generate the steam since mutton takes longer time to cook.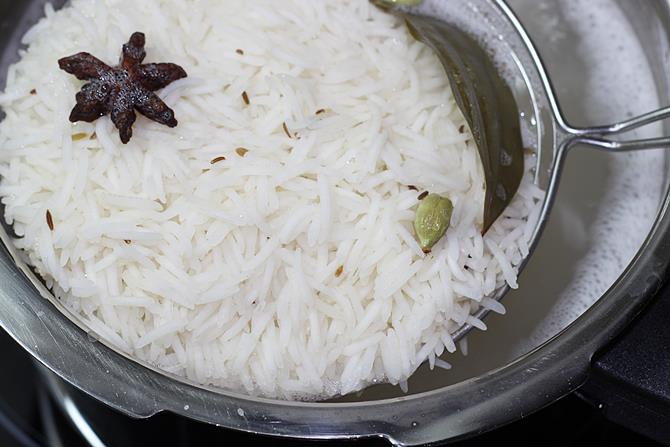 If making kacchi chicken biryani, your rice has to be under cooked or 75% cooked and not al dente. Since the marinade for kacchi biryani has more moisture than the pakki biryani, it has to be under cooked. 25% will be cooked when the meat is dum cooked due to dum released during the process. But how do you identify 75% cooked basmati rice? When you bite into the rice, you will feel the slight rawness in the rice.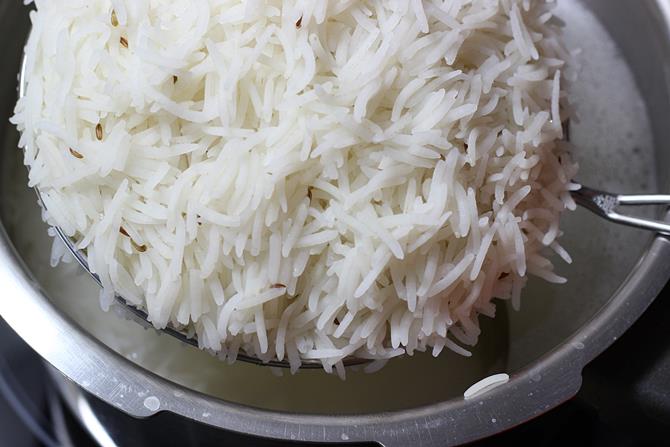 If making pakki biryani – veg biryani, chicken biryani, mutton biryani – Basmati rice has to be 90% cooked i.e cooked to al dente. The rice doesn't get cooked much in this kind of biriyani since it is dum cooked for short time. Basmati rice turns slightly tender due to the short period of dum/steam.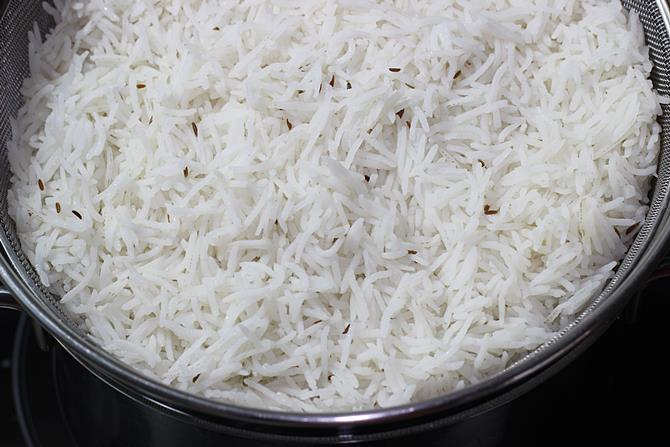 If making only layered biryani – like egg, prawns or fish biriyani – rice has to be cooked to 90 to 100% based on the moisture and the time taken for dum cooking. Rice must be grainy but not mushy. In this kind of biriyani, the dum process does not release any moisture but instead only infuses the flavors.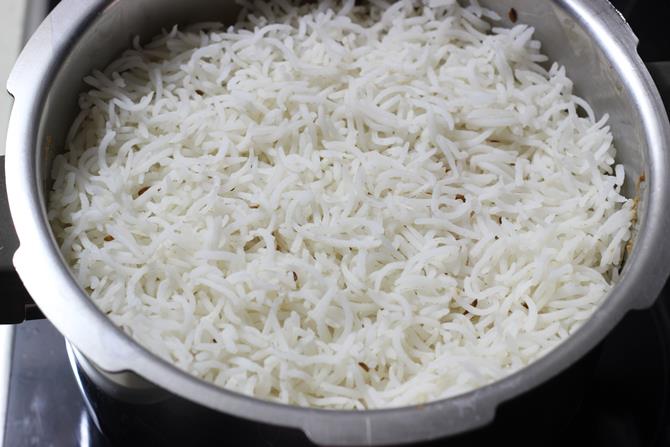 It is always best to follow cooking basmathi rice for making biriyani from the biryani recipe you choose to try and not follow a generic one.