Chicken Pakora recipe or crispy chicken pakoda is served in most restaurants as an appetizer and is also prepared in many Indian homes. Chicken is marinated in spices and then coated with flour or batter and deep fried. Chicken pakora recipe can be made in so many ways. I am sharing 2 super simple recipes. It is made without any soy sauce or vinegar or any other fancy ingredients. We just need a few handful of ingredients to make them taste great and crispy.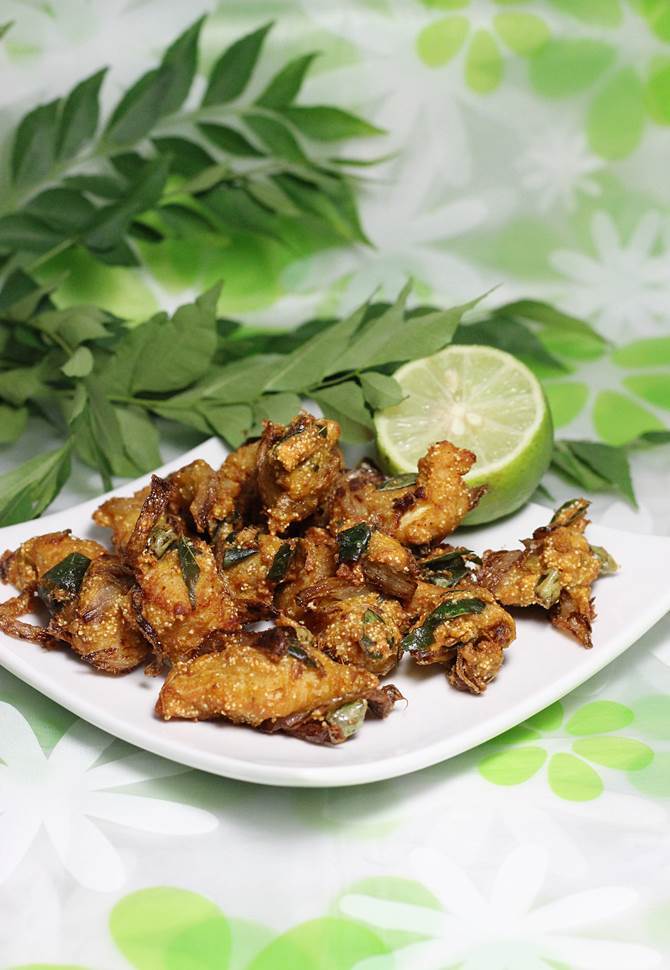 Using either curry leaves or mint / pudina is essential to make them very flavorful and I am sure you will crave for them more.
In the first method, Onions are also used to give volume and flavor to the chicken pakoda. These are made in my mom's home, on the 3rd day of sankranthi, known as kanuma in Andhra Pradesh. This day is typically celebrated to feast and son-in-laws are treated with delicious foods.
The second method is mostly served in North Indian restaurants and street side. These are made using egg which helps to keep the chicken tender and juicy.
If you have refrigerated the chicken, make sure that it comes to room temperature before you fry, this way they are crispier and remain so for longer as well they absorb less oil.
You may like these chicken recipes,
chilli chicken
Street style chicken 65
Chicken Nuggets
Chicken burger
Popcorn chicken

Chicken pakora recipe
Chicken pakora recipe| How to make chicken pakoda or chicken pakora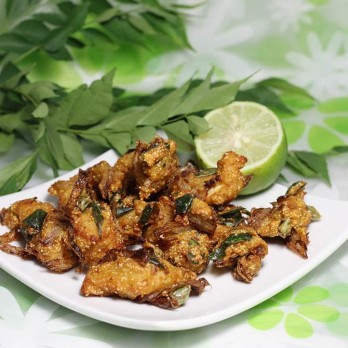 Chicken pakora recipe - Also called as chicken pakoda is a deep fried appetizer made with chicken and basic Indian spices.
Ingredients (240 ml cup used)
½ cup chicken strips or cubes
½ cup sliced onions layers separated
2 green chilies chopped
1 tsp ginger garlic paste
1 tsp of finely chopped ginger pieces (optional, but adds a great aroma)
1 tbsp. lemon juice (adjust)
½ tsp red chili powder
¼ tsp garam masala or biryani masala powder
⅛ tsp turmeric
Salt to taste
15 to 20 curry leaves washed and chopped
4 to 6 tbsp. besan or chickpea flour (adjust as per needed, this depends on how much moisture your chicken expels after we marinate)
1 tbsp. corn flour or semolina
Oil to deep fry
How to make the recipe
Preparation for chicken pakoda
Cut chicken to thin strips of 2 by ¾ inch. Refer the pictures. Wash and drain up the water thoroughly.
Mix together chicken, onions, curry leaves, ginger, ginger garlic paste, green chili, red chili powder, masala powder, turmeric, lemon juice and salt. Set aside for 20 to 30 mins.
Making chicken pakoda
Heat oil in a kadai for deep frying.
Add in the flour, cornflour or semolina as needed to make stiff moist dough. If needed sprinkle little water to the dough and do not make it floury either. Just use enough flour to bind them.
When the oil is hot enough, drop these chicken pieces one after the other along with the onions. Do not crowd them in the kadai. Keep stirring and fry till they turn golden brown.
Once all the pakoras are done, refry all the pakoras in batches for 1 to 2 mins to keep them extra crisp. Take care not to burn.
Serve crispy chicken pakora as a appetizer.
Notes
do not fry these in very hot oil, as they will turn brown without cooking inside.
Nutrition Information
Calories:
258
Fat:
15g
Carbohydrates:
23g
Protein:
7g
Method 1 – How to make chicken pakora recipe or chicken pakoda
1. Add all the ingredients to a bowl , except flour, semolina and oil.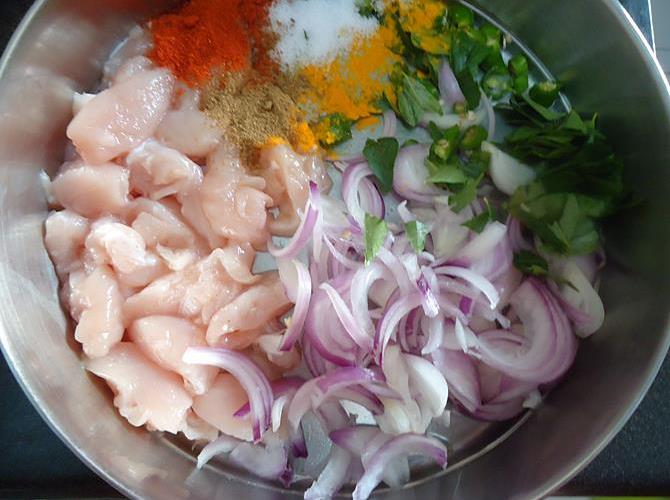 2. Marinate and set aside for 20 minutes.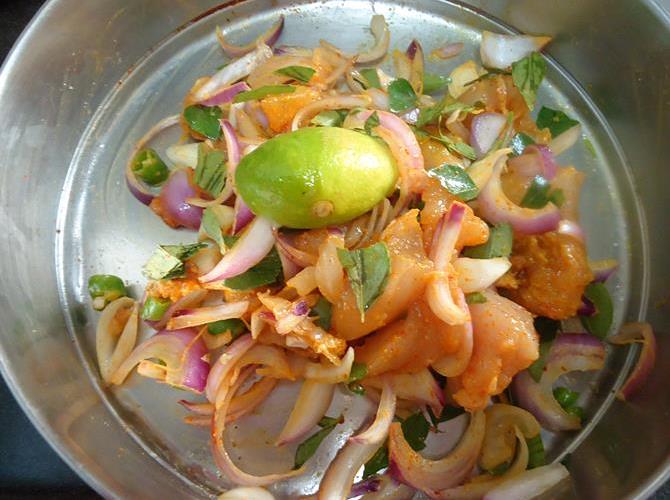 3. Sprinkle evenly flour, cornflour or semolina over the chicken and mix.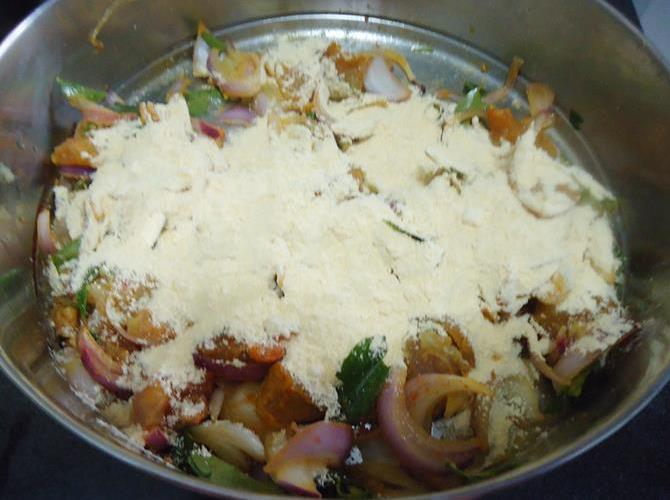 4. You must get a stiff dough, if needed sprinkle little water.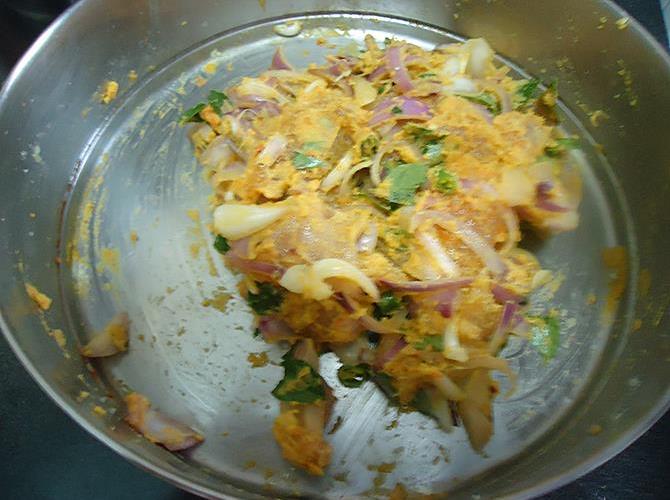 5. Heat oil, when it is hot enough take small portions of this chicken and onion mix and drop them in oil.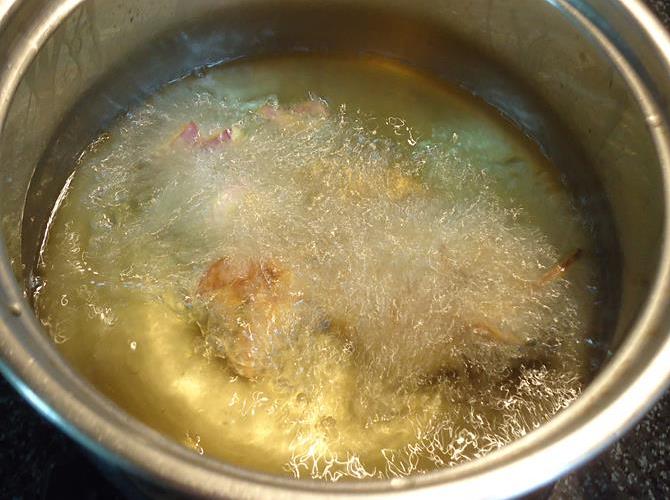 6. Fry till golden and drain them on absorbent papers.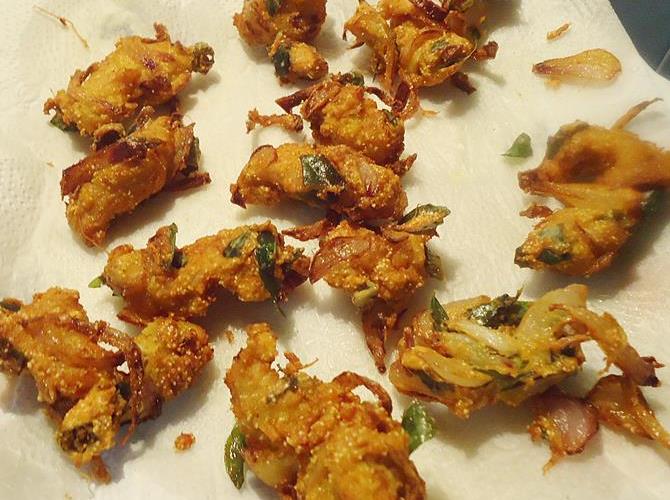 Serve chicken pakoda hot.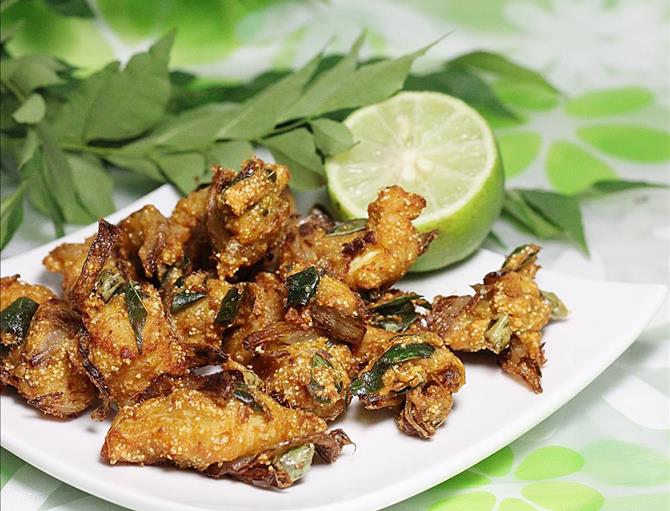 Method 2- Restaurant and street style chicken pakora using egg
Ingredients
250 grams of cubed chicken
1/4 cup besan ( can use 2 tbsp more)
2 tbsps corn flour (can use 1 tbsp more)
salt as needed
Turmeric / haldi as needed
half tsp ajwain/ carom seeds
1/2 to 3/4 tsp garam masala powder
1/2 tsp red chili powder
3/4 tsp ginger garlic paste
Egg white from 1 small egg
Oil for deep frying
1. Add ginger garlic paste, red chilli powder, ajwain, turmeric, salt and garam masala. Mix them up well along with chicken cubes.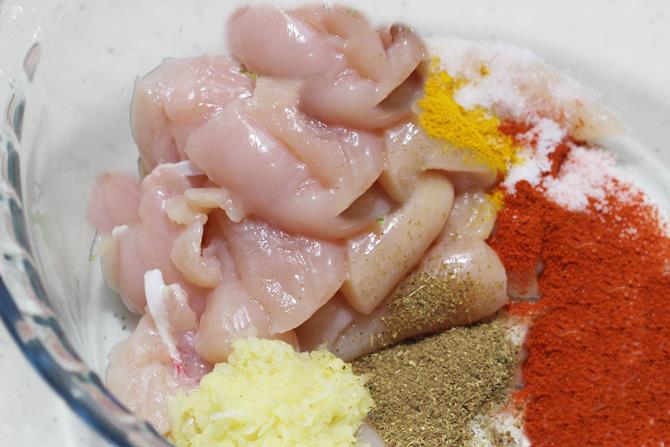 2. Add besan and corn flour. Mix well. Add egg white. You can also add curry leaves or mint or coriander leaves. If you like you pakora to be coated with more flour, add double the amount of besan and corn flour than mentioned in the recipe box below.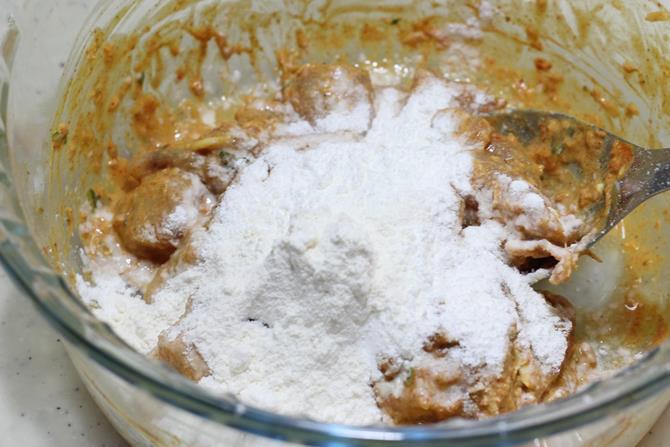 3. Mix well.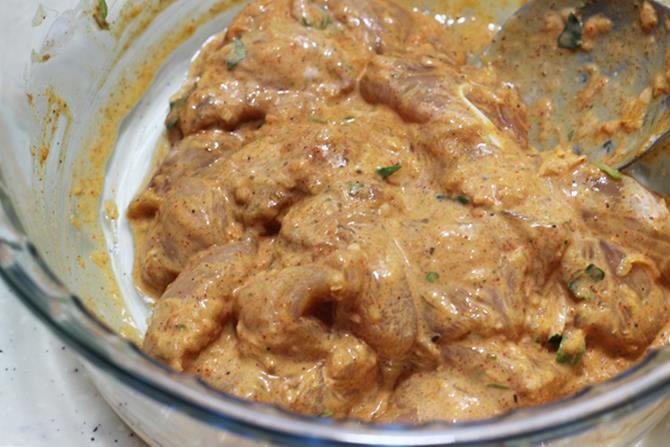 4. Heat oil until hot enough and fry on a medium heat until golden.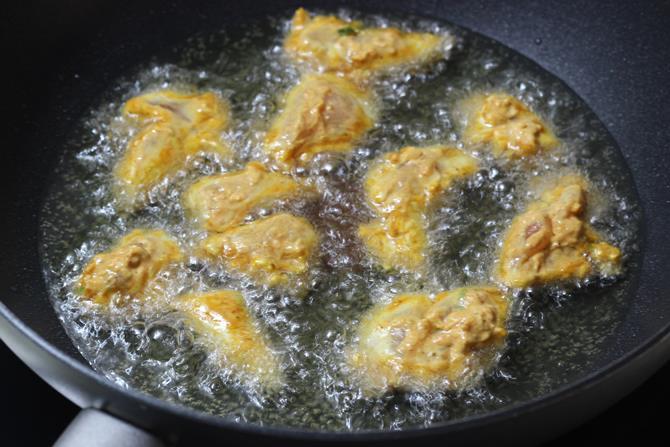 5. Drain on a kitchen towel.