Onion pakoda or onion pakora are deep fried snack that are made with chickpea flour, salt, light spices and a main ingredient like onion or a vegetable. These are very commonly prepared in most Indian homes and is a popular snack & street food too.These are easy to prepare when you have a sudden guest or friend at home and you want to make them feel special. These make a good tea time snack especially during the cold winters.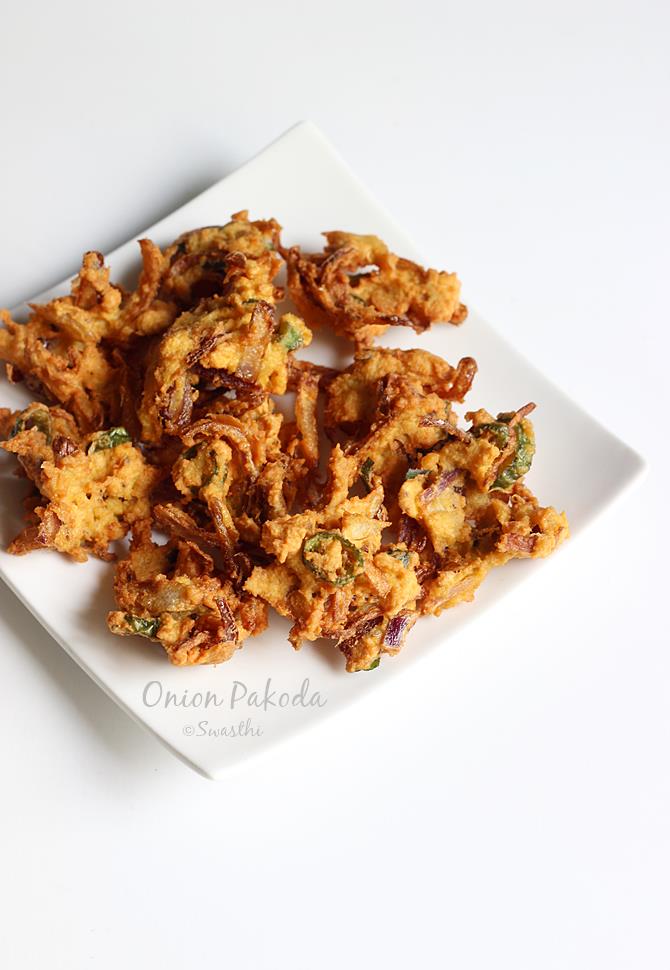 Sharing the perfect crispy onion pakoda recipe that will surely rob your heart. These do not absorb or soak up much oil when made following this recipe. I have mentioned corn flour, semolina or rice flour as optional ingredient, if you want the extra crunch that can last for a little longer try with one of these flours. Try using fresh flours, do not use stale besan that is smelly or bitter in taste.
onion pakora can also be prepared with corn flour or wheat flour or a mixture of both and the results vary from what is seen in the pictures, but they are a good option to those who would like to avoid chickpea flour (besan).
For more pakora recipes, you can check
Mix vegetable pakora
Cauliflower pakora
Mirchi bajji or mirchi pakora
Chicken pakora
Prawn pakora
Step by step photos on how to make onion pakoda or pakora
1. Add sliced onions, minced ginger,chopped green chilies, mint leaves and curry leaves to a bowl. Sprinkle salt evenly.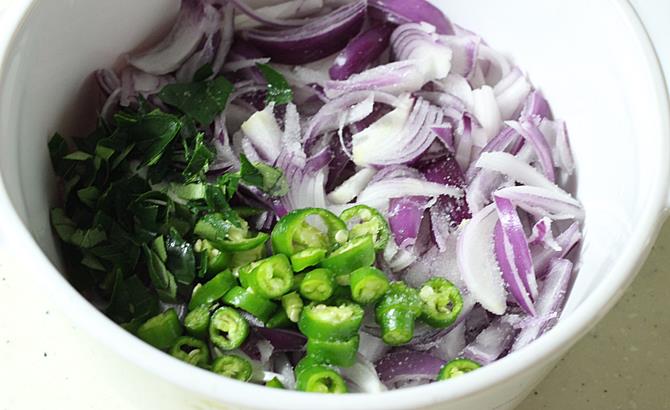 2. Squeeze the onions a couple of times to begin releasing moisture. Set this aside for 5 minutes.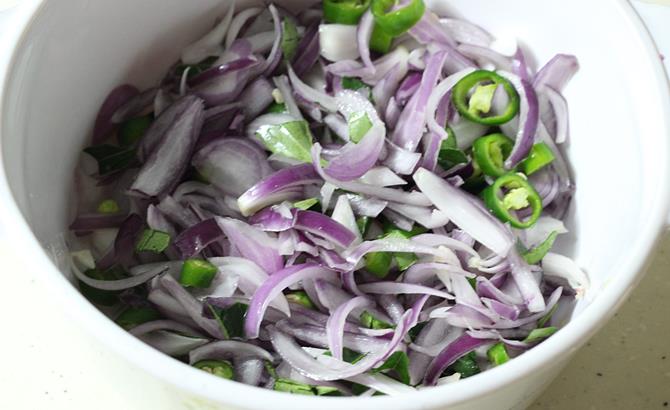 3. Sprinkle evenly flour, vaamu (ajwain) and little more salt.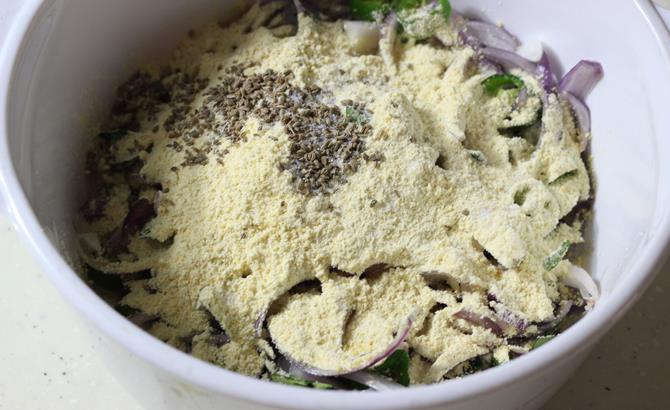 4. Mix everything well. You get a dry mixture now.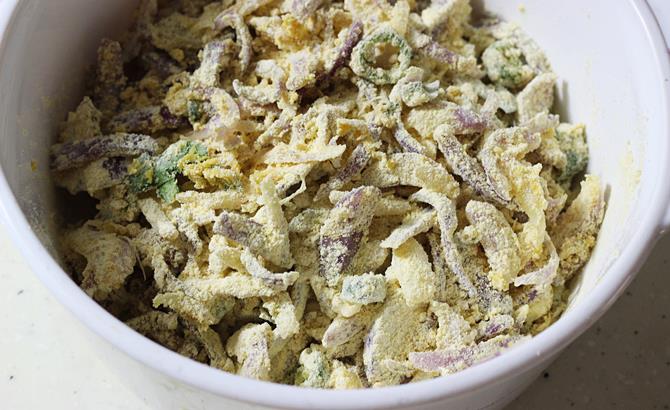 5. Sprinkle 2 tbsp water each time and mix the flour to make a moist dough. Do not pour water, just sprinkle to get the dough right. Sprinkle more water as needed. I used little over ¼ cup,but it depends on the amount of moisture your onions release. The mixture must be tight and not soggy or dripping otherwise they soak up lot of oil and will not turn crispy.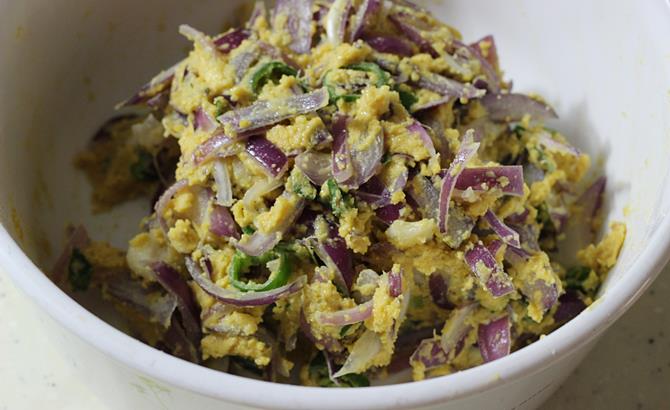 6. Heat oil in a pan till hot. Check if it is hot enough by dropping a small quantity of dough in the oil, it must rise and not sink. This is the right time to begin frying. Take small portions and drop them in the oil and fry stirring occasionally for even frying.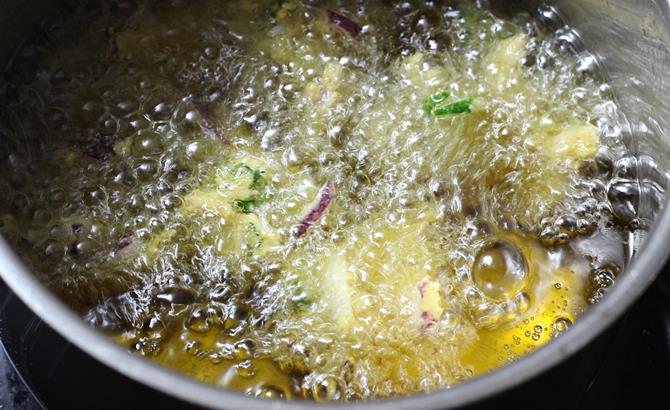 7.Fry them till golden and drain them on an absorbent paper.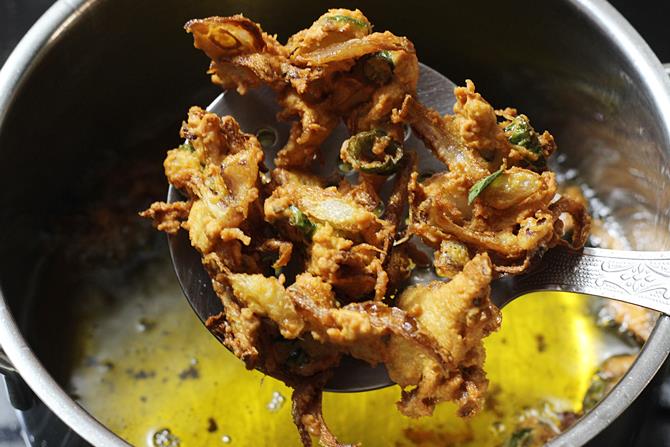 Serve hot.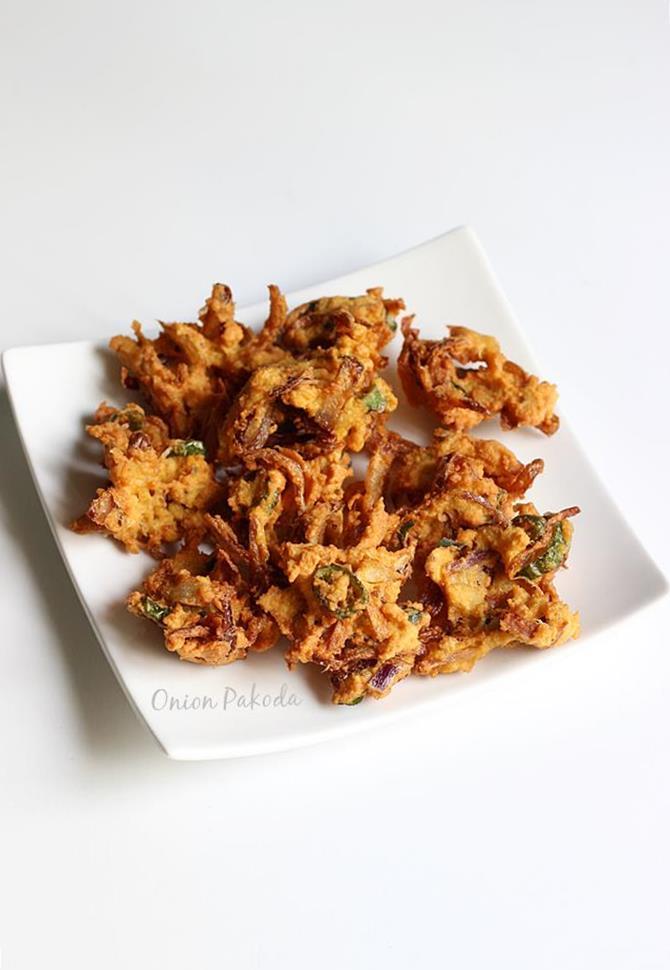 Find onion pakora recipe below
onion pakoda or pakora recipe | How to make onion pakoda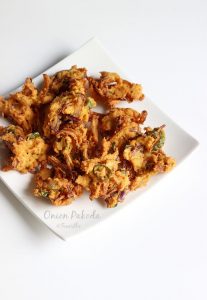 Onion fritters, a popular street food of India often had with a cup of tea or coffee.
Ingredients (240 ml cup used)
2 cups thinly sliced onions, layers seperated(240 ml cup)
1 ¼ cup besan / senaga pindi / chick pea flour(240 ml cup)
1 tbsp. corn flour or semolina or rice flour (optional, for extra crunch)
Salt as needed
½ tsp. ginger finely chopped (optional)
¼ to ½ tsp. ajwain / vaamu / carom seeds(adjust to suit your taste)
2 to 3 green chilies chopped(adjust to suit your taste)
1 sprig curry leaves chopped
8 to 10 mint leaves chopped
Oil for deep frying
How to make the recipe
Wash and peel onions. Wash under running water. Slice them thinly and separate the layers. Measure 2 cups and add them to a mixing bowl.
Chop chilies, curry leaves and mint leaves, add them to the mixing bowl of onions.
Sprinkle salt evenly. Nicely squeeze the onions with your palms few times without mushing them up. Leave it aside for 5 minutes.
The onions release moisture, sprinkle flour, ajwain and more salt if needed.
Mix everything well to coat the onions with the flour.
Add water 2 tbsps each time and mix the flour to make a moist mass of dough. The dough must be tight and not soggy like batter else they absorb lot of oil while frying.
Heat oil in a kadai or fry pan for deep frying the pakoda.
Check if the oil is hot enough, drop a tiny piece of dough first, it has to rise and not sink in the oil. When the oil is hot enough, take a small amount of dough and make small pakoda and drop them in the oil. Do not add too many pakodas in the pan, they should have some space to move around. While frying stir occasionally for even frying.
Fry them till golden and transfer them with a ladle to an absorbent tissue placed in a plate.
Serve onion pakoda hot with a cup of tea or coffee.
Nutrition Information
Calories:
326
Fat:
16g
Carbohydrates:
34g
Protein:
10g