Curry leaves chutney recipe is made in two ways in my home. A chutney that is creamy thick and smooth goes well with idli, dosa, pongal and most other south Indian breakfasts.The other is the karivepaku pachadi which is made similar to the methi leaves chutney that goes best with rice. We also make the curry leaves podi rice that is a qix fix to dinner any time. Curry leaves are high in antioxidants, minerals and vitamins. Consuming them regularly can help to beat infections, anemia, diabetes, bad cholesterol and many other disorders in human body.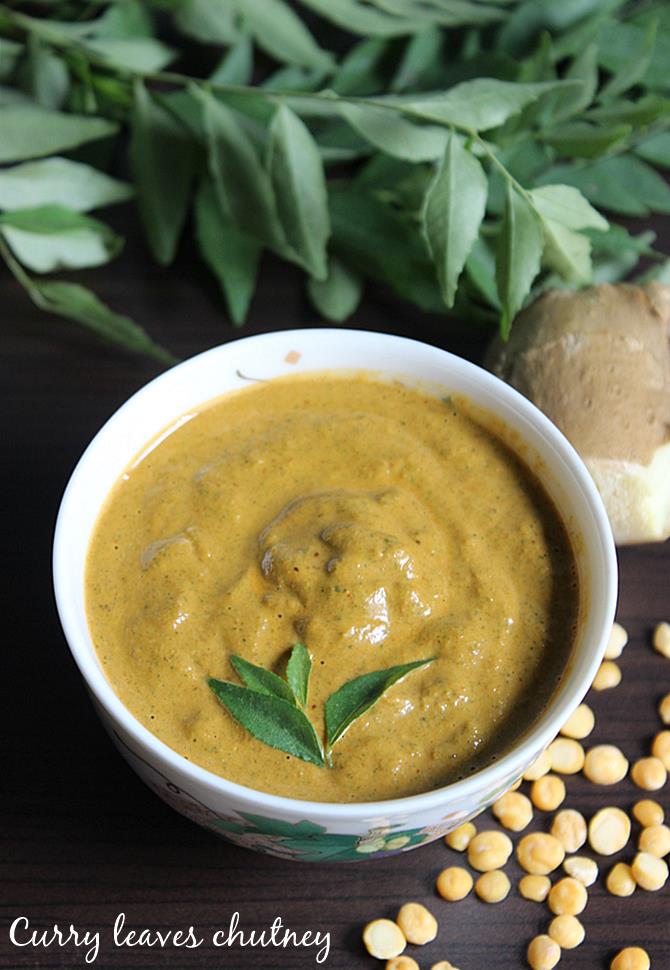 Curry leaves chutney, iam sharing today is a diabetic friendly recipe, can be consumed regularly by folks trying to beat or prevent diabetes.To enjoy this chutney, one need not be diabetic,can be consumed by any one.
Curry leaves are proved to increase metabolism and control blood sugar levels when consumed regularly or often. Chana dal is one of the best lentils to use in any chutney recipe as they are low in glycemic index as well the glycemic load, which doesn't give sugar spikes. There are a lot of forums on the web, you could read them for the proven effects.
If you are in the habit of using roasted gram/ putnalu/ pottukadalai in chutney, replace it with chana dal, the taste of this dal is so good in any chutney and it does come with more health benefits than pottukadalai. Chana dal gives a good creamy mouth feel that doesn't come with roasted gram.
For those who are doubtful about the nutrients being lost in stir fried curry leaves. You can dry the curry leaves in shade for few days until they turn crisp. Mash them up, to powder with moist free hands and store it in a glass jar. If desired can be refrigerated. Add to the chutney whenever needed. My mum dries the curry leaves in the veranda during the day for three days to dehydrate them completely, not during the monsoons since the leaves get molded.
To make curry leaves chutney, i have used red chilies, ginger, chana dal. You can replace the ingredients with green chilies, garlic, peanuts, coconut or roasted gram to suit your taste. To make the recipe diabetic friendly, i made them using the mentioned ingredients. I did not season the chutney to make it low fat and as such it doesn't need, since it is so flavorful, smooth and tasty on its own. I color of the chutney will be different if green chilies or coconut are used.
This chutney can be served with any variety of idli, dosa, upma,pongal.
For more chutney recipes, check
capsicum chutney
onion ginger chutney
red capsicum chutney
radish chutney
Curry leaves chutney or karivepaku pachadi recipe below
Curry leaves chutney recipe | kadi patta chutney | kavepaku pachadi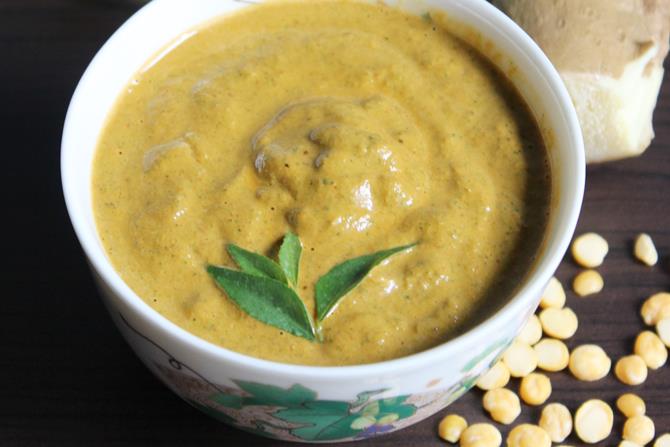 Curry leaves chutney made in andhra style using curry leaves and lentils
Ingredients (240 ml cup used)
2 to 3 tbsp. Chana dal / senaga pappu
8 large sprigs of curry leaves (1 cup loosely measured)
1 small piece of ginger or garlic
¼ tsp. cumin
2 to 3 Red chills or green chilies
Lemon juice or tamarind as needed
Salt as needed
Oil 1 tsp.
How to make the recipe
Soak tamarind in little warm water. Skip if using lemon juice.
Wash curry leaves in lot of water, drain them in a colander.
Dry roast chana dal till lightly golden. Add red chilies fry till crisp. You can fry them in oil too. Set these aside to cool.
Skip this step if you are using curry leaves powder. Fry curry leaves till crispy. Cool them.
Add salt and tamarind paste or lemon juice as needed.
Blend everything together with enough water. curry leaves chutney is ready to serve.