Dahi vada recipe with video – Deep fried lentil balls dunked in yogurt and topped with different kinds of chutneys and garnished with spice powders. Dahi vada is one of the classic North Indian chaat snacks that is sold as a street food across India. Dahi literally translates to curd or yogurt and vada are deep fried lentil balls.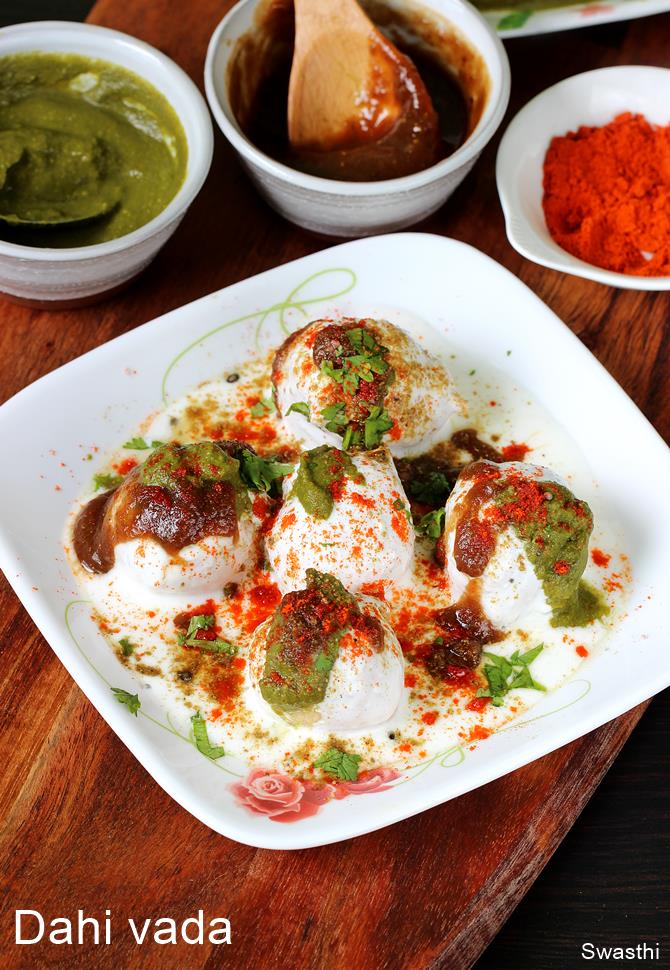 There are many versions and variations of this snack known with different names across India – Dahi bhalla, Thayir vadai, perugu vada and mosaru vade are some of the most known variations.
Well made dahi vada have a melt in the mouth texture. The sweet sour tamarind chutney and flavorful spicy green chutneys compliment the taste. Various spice powders and chaat masala add flavor & zing to the chaat making it look & taste delicious.
Making dahi vada is quite easy, except there is a bit of preparation work that includes soaking the dals and making the chutneys. The key to mouth melting, soft and fluffy dahi vada is grinding the batter properly until light & fluffy. Fresh ground green chutney and fresh curd/ dahi also take this chaat to the next level.
You can also make tamarind chutney and green chutney the previous day and refrigerate. Make sure you don't use onions in the green chutney if you are making it ahead.
For more snacks recipes, you can check
Batata vada
Namak pare
Bread pakora
Mixed dal vada
Hara bhara kabab
Samosa
Video of dahi vada recipe
Dahi vada recipe card below
Dahi vada recipe | How to make dahi vada | North Indian dahi vada recipe
Dahi vada are deep fried lentil balls soaked in curd/ yogurt and topped with various chutneys and spice powders.
Yield / Serves:
Serves 4 - 20 dahi vadas
Ingredients (240 ml cup used)
For vada
½ cup urad dal/ skinned black gram (whole or split)
½ inch ginger/ adrak
1 green chili / hari mirch
½ to ¾ tsp cumin/ jeera
Salt as needed
Pinch of hing
2 to 4 tbsp chilled water or as needed (do not use a lot)
4 to 6 cashews chopped
Oil as needed for deep frying
2 cups curd/ dahi / yogurt (thick & fresh)
For green chutney
1 cup coriander leaves / daniya patta
¼ cup mint / pudina
1 green chili (use as needed)
¼ inch piece ginger/ adrak
1 garlic clove (optional)
½ tsp cumin/ jeera
Lemon juice or amchur (dry mango powder) as needed
1 tbsp chopped onions (skip if making ahead, replace with fried gram/ bhuna chana)
Salt as needed
water very little if needed
For tamarind chutney
¼ cup tamarind/ imli (seedless)
½ cup jaggery or ¼ cup jaggery & ¼ cup dates (seedless) (use as needed)
Water as needed
Salt to taste
¼ to ½ tsp dry ginger powder / saunth or sonti powder
½ tsp roasted cumin powder / jeera powder
¼ to ½ tsp red chili powder
½ tsp coriander powder/ daniya powder or garam masala
For garnishing
½ to ¾ tsp roasted cumin powder/ jeera powder
¼ tsp red chili powder
½ to ¾ tsp chaat masala
Handful of coriander leaves chopped finely
How to make the recipe
For detailed instructions on making dahi vada follow the step by step photo instructions below after the recipe card.
How to make North Indian dahi vada recipe
1. To make dahi vada, always use thick and fresh dahi that is made from full fat milk. If you are new to making it at home, you can follow this post on how to make dahi or curd at home. You will need to make it the previous night.
2. Wash and soak urad dal for at least 6 hours. Proper soaking allows the batter to fluff up well while grinding. While the dal is soaking you can make green chutney and tamarind chutney.

3. While making chutneys make sure they are thick otherwise dahi turns very runny once the chutneys are added. You can dilute if needed while you serve. To make green chutney add all the ingredients mentioned in the recipe card to a blender jar and make a fine paste using very little water or as needed. If you are making it ahead and not going to use it up within few hours then skip onion in the green chutney. Instead use fried gram/ bhuna chana dal which helps to keep the chutney thick without turning runny after refrigerating. Chutney without onion keeps good for about 4 to 6 days in fridge.
Making sweet tamarind chutney, heat 1 cup of water in a pot. Add tamarind, jaggery and dates if using. Simmer all these for 4 to 5 mins until the tamarind turns soft and completely mushy. Add red chili powder, salt, cumin powder and coriander powder or garam masala. Mix well. Taste this and add more jaggery if needed to suit your taste. Transfer this to a wide plate cool it. Blend it and pass through a sieve to a wide bowl. Add dry ginger powder and mix well. Transfer this to a glass or ceramic jar. Store this in fridge and use up with in 4 to 6 days.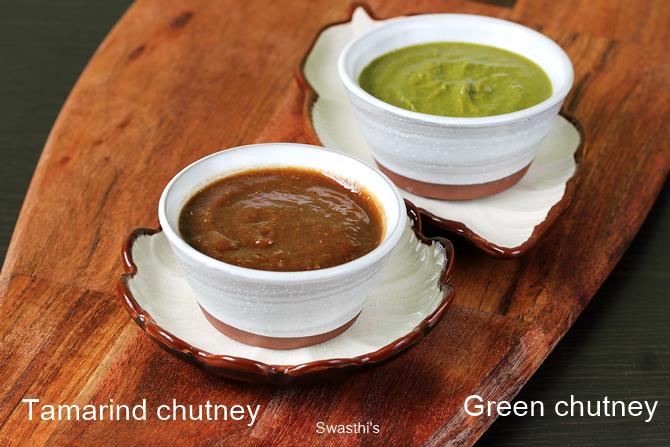 4. Drain dal completely and add it to a blender jar along with cumin, salt, ginger, green chili and hing.


5. Blend it coarsely first, then add a tbsp of water at one time and grind it again. Scrape off the sides.


6. Keep blending until you get a smooth, thick and fluffy batter adding 1 tbsp chilled water each time or as needed. Do not add too much water as the batter may turn runny. If the blender jar turns warm wait until it cools down before you begin to blend again. If the batter turns hot, vada will come out hard.


7. Towards the end of blending, you must have smooth, fluffy and light batter. To check this, you can drop a small amount of batter in a bowl filled with water. Light and fluffy batter floats.


8. Transfer the batter to a bowl and beat it well for 30 to 60 seconds to aerate. This makes the vadas fluffy, light and also they get cooked well. Add cashews if using. Place a wide bowl half filled with water away from your stove to soak the fried balls. Due to harsh sunlight in my kitchen, the color of the batter looks different. It turns out white.


9. Heat oil on a medium flame. When the oil is hot enough, drop a very small amount of batter. It comes up if the oil is hot enough. Drop small amounts of batter in the hot oil either using your greased fingers or greased tbsp spoon.


10. Keep stirring and fry until the vadas turn golden. Drain them on a kitchen tissue first.


11. Transfer to the water while they are still hot. Rest them for 20 mins. Timing may vary depending on the size of the vadas.


12. They will absorb water and become bigger in size. Gently press down the vadas in between spatulas or your palms one after the other to remove excess water. Place them in a tray or serving plates. Handle them gently they may break.


13. Beat dahi/ yogurt until smooth. You can also add a tbsp of powdered sugar and little salt to the dahi. I haven't used any.


14. Pour dahi over vadas generously. Allow them to rest for at least 15 mins and this is optional.


15. Just before serving top the dahi vada with a generous amounts of green chutney and sweet tamarind chutney.


16. Sprinkle cumin powder, chaat masala, black salt and then red chili powder. Finish off with coriander leaves, this is optional. Make sure you use more or less dahi, chutneys, chaat masala, cumin powder and red chili powder to suit your taste buds.


Serve dahi vada immediately after you sprinkle the spice powders.