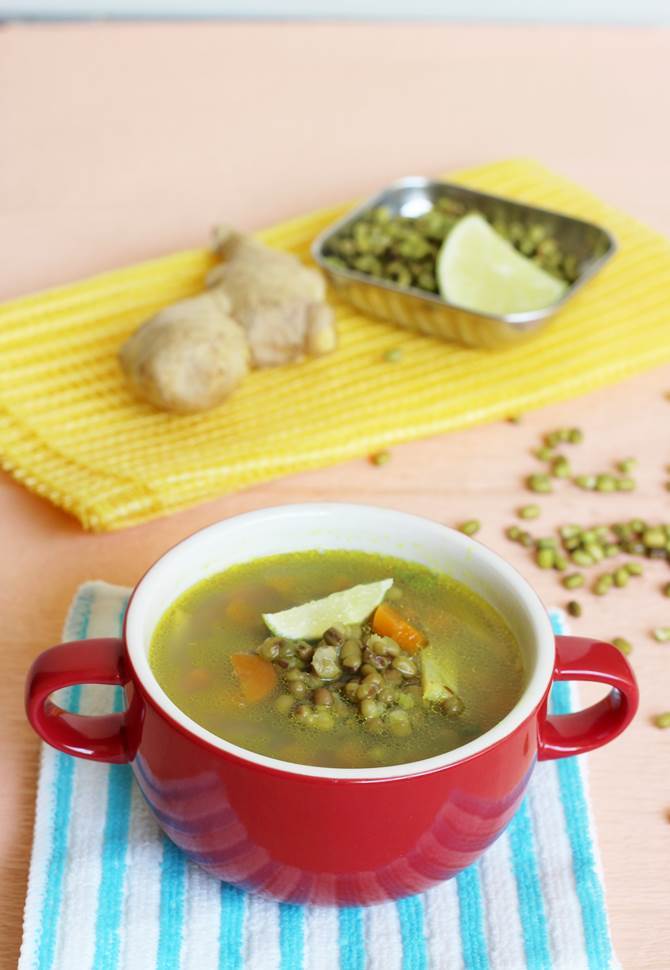 mung bean detox soup recipe – step by step guide to making a easy, safe homemade detox soup using moong beans or green gram.
Please read the entire post before you attempt to try this detox soup.
Years ago, this mung bean detox soup recipe or a close variation to this had been telecasted in almost all Indian channels in health or Ayurveda series. The Popular Dr.OZ 's site too has a similar recipe. What is special about this soup? It is just made out of the mung beans or the whole green gram and seasoned with ghee and mild spices.
Mung beans are considered to be tridoshic and can balance any kind of doshas in the body effectively. This is purely an ayurvedic terminology which many of us may not understand. To be simple, Ayurveda believes that toxins in the body are the main culprits that bring in health issues to everyone, so we must get rid of these toxins to stay young and healthy.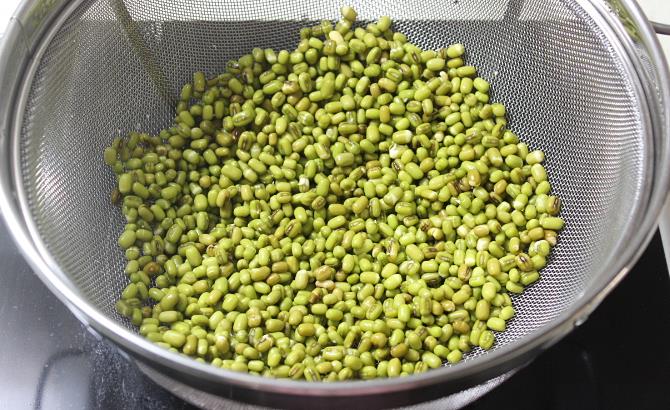 Moong beans are one of the best super foods that can safely detox the body and increase metabolism and keep disorders & diseases at bay.
Benefits of mung bean detox soup:
Ayurvedic experts say this soup detoxes the entire body including liver and improves the overall health. But I have noted down few based on mine, my family and friends' experiences.
1. Firstly people with arthritis and spondylitis feel a lot of improvement in their symptoms. Remember, I did not say it will heal your arthritis or spondylitis, but after the detox your symptoms are better.
2. Reduces the number of migraine attacks. In my case, it has healed me totally after using it for several years.
3. Removes chronic constipation, regulates bowels flushing out toxins.
4. Improves appetite & digestion.
5. It helps to loose excess weight,
6. Clears acne and improves complexion (if caused due to bad diet).
7. Lastly, after you detox for several days, you feel so light, fresh, much energetic, happy and satisfied.
How to consume this mung bean detox soup:
There are no hard and fast rules. This is how it is generally categorised (source ayurvedic books)
1. For a lighter detox, consume this for 1 week as breakfast and have a light lunch and dinner. Refrain meat, refined foods and fried foods.
2. For a more concrete detox, consume this throughout the day, any number of times you desire. Very Light dinner like veg kichidi and or easily digestible fruits, no later than 7 pm. No other food except plain water, throughout the day. This is done for 7 days continuously in a month to lose weight. Has to be done for several months. Ensure that you hydrate yourself well during this. After I did this for 2 months, lost almost 7 kgs without any issues. For dinner you can follow this veg khichdi recipe mentioned in method 2.
3. If you are on a healthy diet always, you may not need to detox intensely. In that case, 1 day in a week, eat nothing else except this soup and plain water, any number of times. Continue for several weeks, 1 day per week.
Who should not consume detox soup :
Not suitable to pregnant & nursing women, diabetics, kids, aged folks and people with unknown liver problems or digestive problems.
Effects of mung bean detox soup:
After 1 ½ to 2 hours of consuming this mung bean detox soup, many people experience mild to severe headache and even nausea. This is a part of the detox process. This happens only for the first 2 to 3 days when you begin the detox. If you cannot bear, you can eat something immediately and it subsides. But you will not be detoxed well.
You might experience an increase in the bowel movements after 6 hours of consuming this. It is just normal. Though it is not the case with everyone.
This mung bean detox soup recipe is one of the easiest recipes that can be prepared even by a newbie.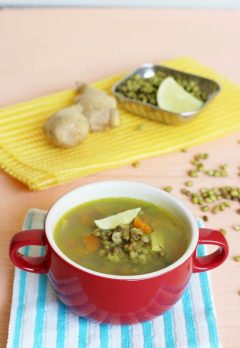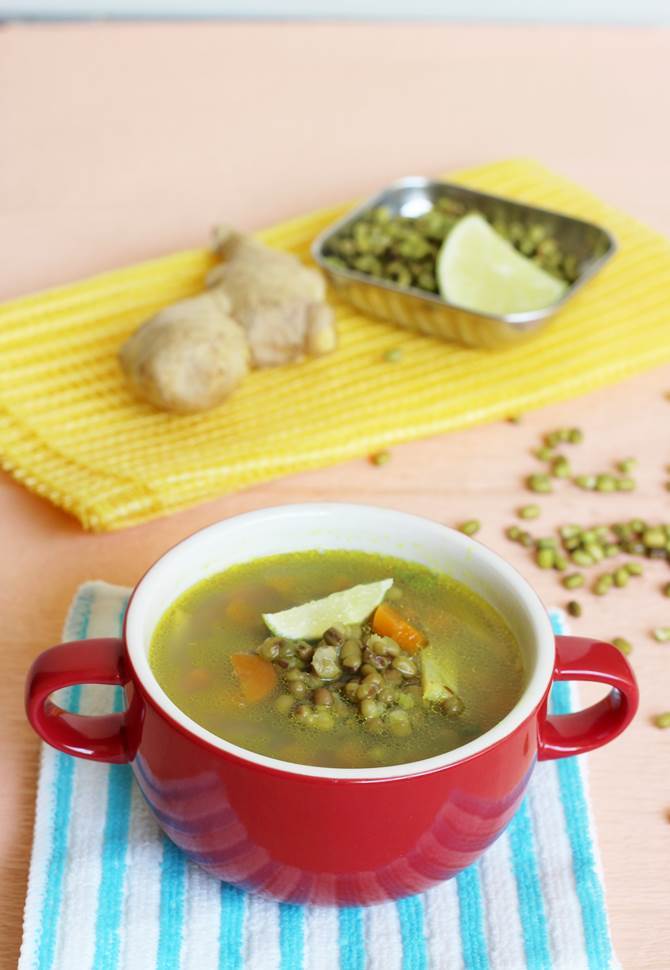 mung bean detox soup - easy homemade detox soup recipe
Easy and healthy green gram soup that works great as a detox soup
Ingredients (240 ml cup used)
½

cup

of Moong beans/ green gram/ pesalu

3½ to 4

cups

water for cooking

1

inch

piece of fresh ginger

pinch

of cumin seeds / jeera

pinch

of Asafoetida / hing (optional) (to prevent bloating)

1

tsp

cow's ghee / clarified butter

generous pinch of monsoon spice mix (equal quantities of Cumin (jeera), dry ginger powder(sonti) and carom seeds (ajwain))

Lemon juice (optional)
Optional veggies
Bottle gourd or carrot

occasionaly you can use palak (Indian spinach)
How to make the recipe
Soak green gram for overnight, wash and pressure cook with veggies and enough water till soft. Mung beans must break open on their own. They can be cooked in a pot as well.

Heat a small pan with ghee, add cumin, when it splutters, add grated or sliced ginger and fry.

Add this to the soup.

Add salt, spice powder. Mix and bring it to a boil and simmer for 2 mins.

Add lemon juice and Serve warm. By the end of the day, the liquid part of the soup has to be finished. Left over mung bean can be discarded if unable to finish. Please do not refrigerate and consume this the next day. Each day, the soup has to be made fresh.
more green gram recipes,
how to sprout green gram
sprouted mung bean salad
green gram curry