Dondakaya fry or vepudu recipe – learn to make simple ivy gourd stir fry in andhra style. Ivy gourd is called as dondakaya in telugu, kovakai in tamil, tondekayi in kannada, tindora in gujarati and tendli in marati. It is used to make stir fry, curry and dondakaya pachadi in Andhra cuisine.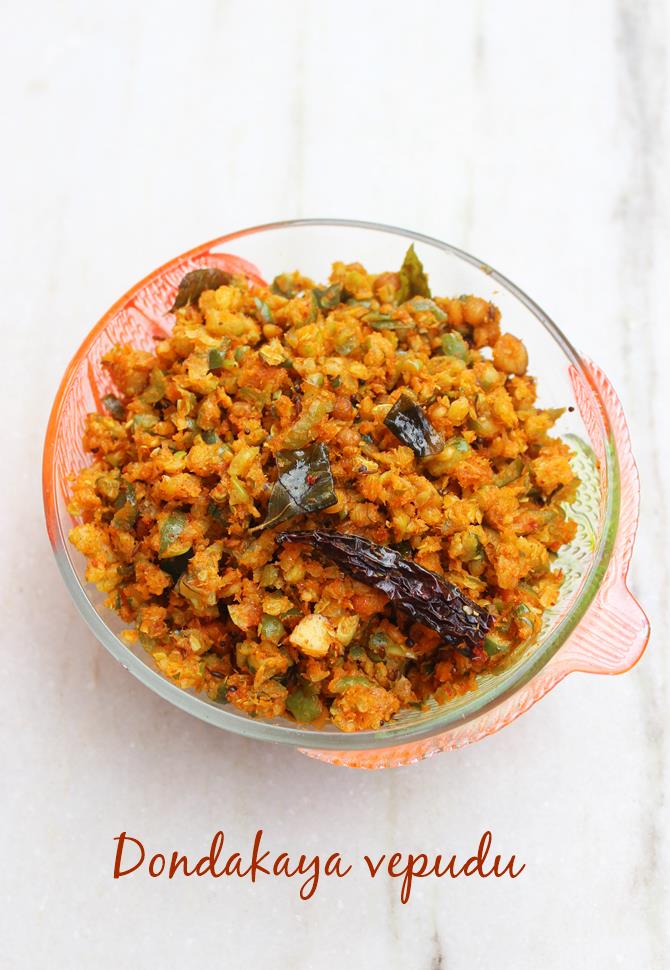 To make dondakaya fry, you can slice them or chop them. I used my food processor to chop them and the vepudu gets done quickly since the veggie is chopped to small bites. Just wash and chop off the ends and add them to the food processor and pulse them a couple of times.
 
I use my vepudu karam to spice up the vepudu, you can just use coconut and sesame powder too. We also use peanuts sometimes, but you can find chopped almonds in my fry (used up the leftovers after making an halwa) . Dondakaya fry can be served with rice and rasam.
 
More dondakaya recipes,
Dondakaya chutney
Dondakaya curry
Find dondakaya fry or vepudu recipe below
Dondakaya fry recipe | Ivy gourd stir fry recipe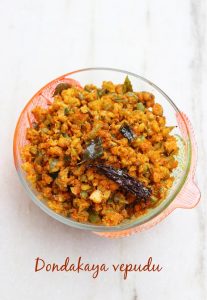 A simple Ivy gourd stir fry to accompany rice
Ingredients (240 ml cup used)
250 grams dondakayalu / ivy gourd
1 red chili broken or green chilies
1 sprig curry leaves
¼ tsp mustard
¼ tsp. cumin
¾ tbsp. channa dal / senga pappu
¾ tbsp.urad dal / minapapappu
Oil as needed
1 to 2 garlic cloves crushed
Pinch of hing
⅛ tsp. turmeric
Salt as needed
¼ tsp. red chili powder
2 tbsps. Vepudu karam or coconut grated and 1 tsp. sesame seeds powder
Few tbsps. roasted skinned peanuts
How to make the recipe
Soak ivy gourd in a large utensil filled with water.
Wash them thoroughly under running water.
Drain them in a colander and wipe off with a clean cloth or let them dry off completely
Chop off the ends. Slice them thinly vertically or horizontally. If using food processor, just add them and pulse a couple of times.
Heat a pan with oil, add mustard, cumin and dals. Allow the dals to fry till golden, add curry leaves and hing. Saute till the leaves turn crisp
Add chopped dondakaya pieces, salt and turmeric.
Stir fry till soft cooked. If needed just simmer the stove, cover and cook
Add vepudu karam or coconut, red chili powder, sesame seeds powder and then the peanuts and stir well
Fry till you begin to smell the coconut. Off the stove. Serve dondakaya fry with rice.
for more simple stir fry recipes, check
baby corn stir fry
ladies finger stir fry
with peanuts
raw banana fry
elephant yam fry
snake gourd stir fry
bottle gourd stir fry