Dosakaya pappu recipe – andhra style yellow cucumber dal to serve with rice or chapathi. Andhra style dal recipes are mostly made with leafy greens or vegetables like palak, methi, gongura, tomato, gourds and cucumber. There are a few different ways of preparing pappu. One common method is to add all the ingredients and pressure cook. Then mash and temper. Ingredients like green chilies, chili powder, ginger, garlic, tamarind and ghee are used to suit one's taste.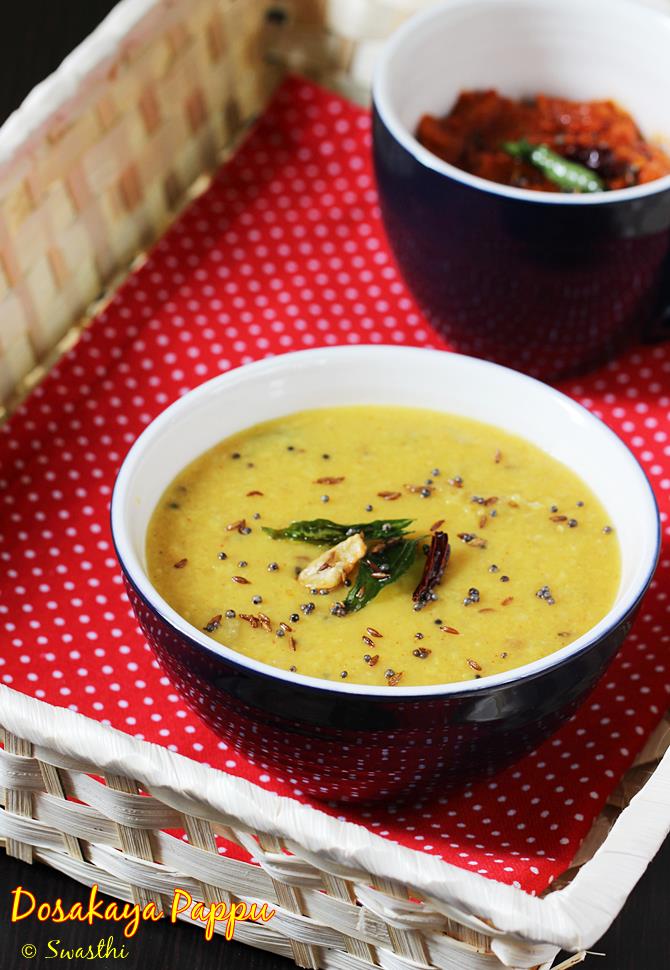 To make andhra pappu, most people use a lot of red chili powder, green chilies and tamarind to make it sour and hot. Due to these ingredients, the dish gets a deep orange to red color.
I have shared a lot of andhra pappu recipes on this blog, but none have that kind of a color since I rarely use lot of tamarind and chili powder. Dal turns acidic with the addition of tamarind, chili powder and is not easy on the tummy especially if consumed regularly.
To get a village style dosakaya pappu, all you need to do is, just add more chili powder and tamarind in this recipe. You may also like to check this dosakaya pachadi recipe.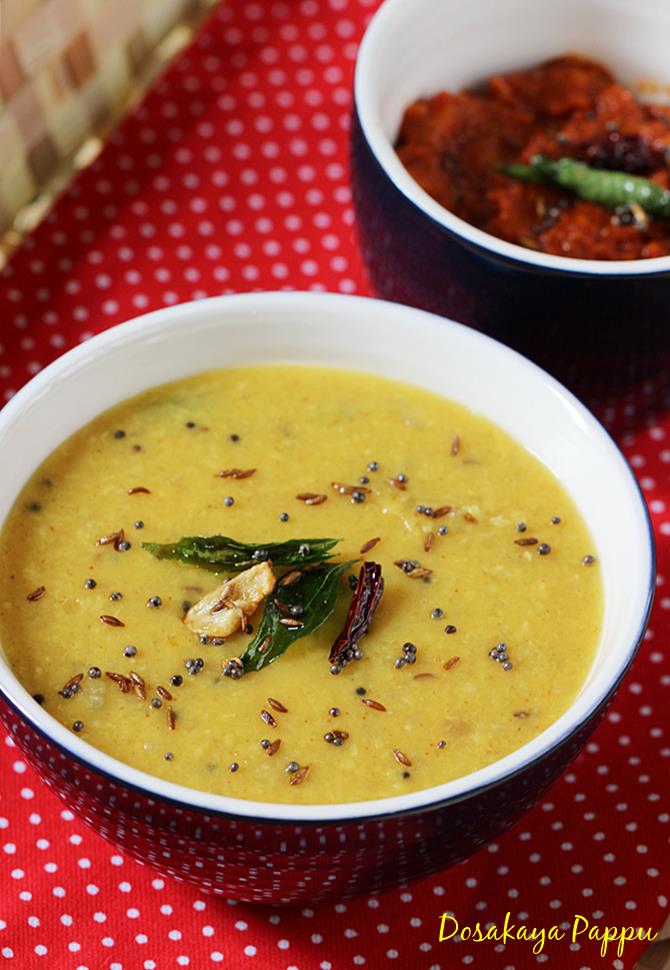 You can find more andhra dal recipes,
sorakaya pappu
menthi kura pappu
gongura pappu
palakura pappu
mamidikaya pappu
tomato dal
Dosakaya pappu recipe below
Dosakaya pappu recipe | How to make dosakaya tomato pappu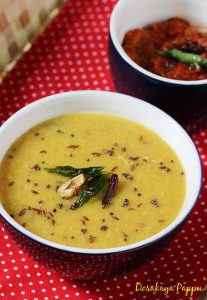 Dosakaya pappu is a andhra style dal recipe made with cucumber and lentils. It is served with chapathi or rice and ghee.
Ingredients (240 ml cup used)
¾ cup dal/ pappu (toor dal or moong dal or a mix)
2 ¼ cups water
1 ½ to 2 cups chopped cucumber/ dosakaya
1 small onion sliced
1 medium tomato chopped (optional)
½ tsp red chili powder or 2 green chilies
salt as needed
⅛ tsp turmeric
1 inch ginger(optional)
2 garlic cloves lightly mashed
½ tsp mustard
½ tsp cumin / jeera
3 tsp ghee or 2 tsp oil
1 broken red chili
1 sprig curry leaves
pinch of hing
How to make the recipe
Wash dal few times till the water runs clear.
Wash and peel Cucumber / dosakaya. Cut to quarters, remove the seeds and discard. Chop and add them to the cooker.
Add dal, cucumber, sliced onion, chopped tomato and green chili. Pressure cook for 1 to 3 whistles depending on the kind of cooker you use.
If using tamarind, soak it in little warm water and extract thick juice.
When the pressure releases, mash the dal.
Add salt, chili powder and turmeric.
Tempering dosakaya pappu
Heat ghee or oil in a pan, add red chili, mustard and cumin. When they crackle, add garlic, curry leaves and ginger. Switch off. Add hing. If using tamarind, you can pour the tamarind juice to the pan and pour this to the dal.
stir and cook for a while until the raw smell of chili powder goes off. Dosakaya pappu is ready to serve with rice or chapathi.
Notes
Do not use tomato or tamarind if using sour cucumbers. Pappu may turn very sour.
You can also squeeze off little lemon juice just before serving. But skip tomato and tamarind.