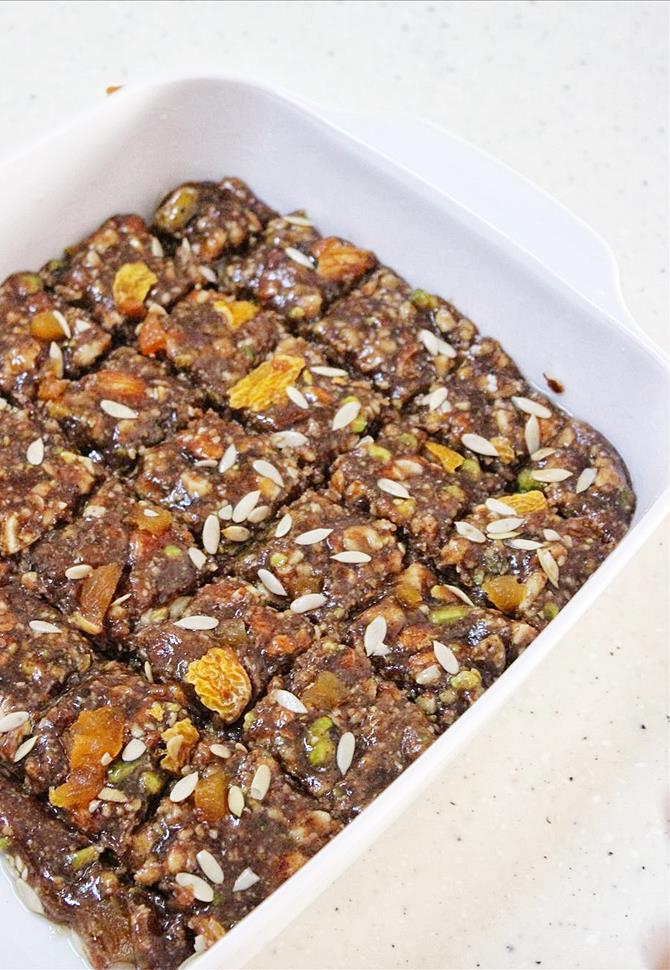 Dry fruit halwa or dry fruit burfi is one of the easy and best diwali special recipes I made this year. It is one of the tastiest sweets using dry fruits, I have ever tasted. I have posted a dry fruits laddu recipe earlier and today's burfi is not similar to that but the ingredients are almost the same except that for the ladoos I used jaggery and for burfi I use sugar. Though sugar is used, the burfi looks darker in color due to the ground dates.
Dry fruit halwa and burfi from the recipe below
Dry fruit halwa | Dry fruit burfi recipe | diwali special recipes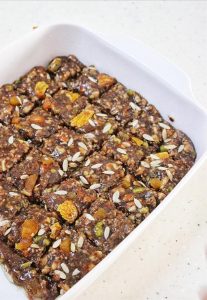 Dry fruits halwa recipe - a delcious dessert made with dates, nuts and apricots.
Recipe type:
Dessert / Sweet
Ingredients (240 ml cup used)
Pistas 60 gms or ½ cup
Walnuts 60 gms or ½ cup
Almonds 125 gms or 1cup
1 tsp. melon seeds (maghaz in hindi) for garnish
1 tbsp. Dry dates chopped (optional) for garnish
1 tbsp. Apricots chopped (optional,)
¼ tsp. cardamom powder
½ cup Dates tightly packed
1 ½ cups sugar – ¾ cup water
90 ml ghee (can reduce to 60 ml)
How to make the recipe
Grease a tray with ghee and set aside. You can even use a foiled tray
Add 15ml ghee and lightly fry pistas, walnuts, almonds till you get a nice aroma. Do not over fry them.
Once cool, pulse them to get chunks of nuts if you wish to make burfi. If you wish to make halwa you can make a coarse powder. Add cardamom powder and set aside
Grind dates, sugar and water together to a smooth puree
In a heavy bottom, add the rest of the ghee and melt it
Add the pureed dates sugar mix; begin to boil on a medium flame. Initially it turns very frothy and you will have to control the heat else it will spill out of the pan. Keep stirring
After boiling for about 5 to 7 mins, the froth begins to reduce like shown in the pic. Keep stirring.
Then the syrup will begin to thicken, all the froth disappears, continue to cook, keep stirring.
In the next stage, the syrup comes to a halwa consistency, this is where you will have to stop boiling and add nuts if you wish to have a dry fruit halwa and not a burfi.
But you wish to have a burfi you must be quick in this step, simmer the heat, and then pour half a tsp. of this syrup in a plate filled with cold water. Immediately it settles in the same shape you drop the syrup. Remove it and make a ball. You must be able to make a non-sticky ball. Refer the pic. You can check it by doing it twice.
Add the nuts, off the heat.
Mix well and pour it in a greased tray. Tuck whatever garnishing you wish to.Leave this to settle down for about 45 mins.
Cut them to squares and let it cool down completely before you attempt to remove.
Store them in an air tight jar and refrigerate.
Variation: If you wish to have a crunchy burfi, hit the syrup ball against a steel plate and it should make a hard noise. the noise that is generated by a soft ball and hard ball are different. This you can master by experience.
Notes
Tips: If you wish to make a dry fruit halwa and not a burfi
1. Use silvered almonds. Coarsely powder the nuts at step 3.
2. Stop boiling the syrup at step 9 , add nuts and transfer to a serving bowl.
Notes:
1. If you do not like to use dates, you can skip it along with ghee and increase the sugar by another ½ cup. But it will taste like a nut chikki and not a burfi.
2. This time for a change I used dry dates & apricots for garnish, but my kids did not like it. It comes out tasty even without those 2. So if you do not like tangy taste, just skip apricots.
More easy dry fruit sweets
dates ladoo
dry fruits ladoo
oats dry fruits ladoo
Step by step photos on dry fruits burfi recipe below