Dry fruits laddu recipe or dry fruits ladoo. I had always wondered how a dry fruits laddu sold in sweet stalls taste divine. I would try to relate the taste of it with every other possible ingredient that could be used to make the most yummiest laddu.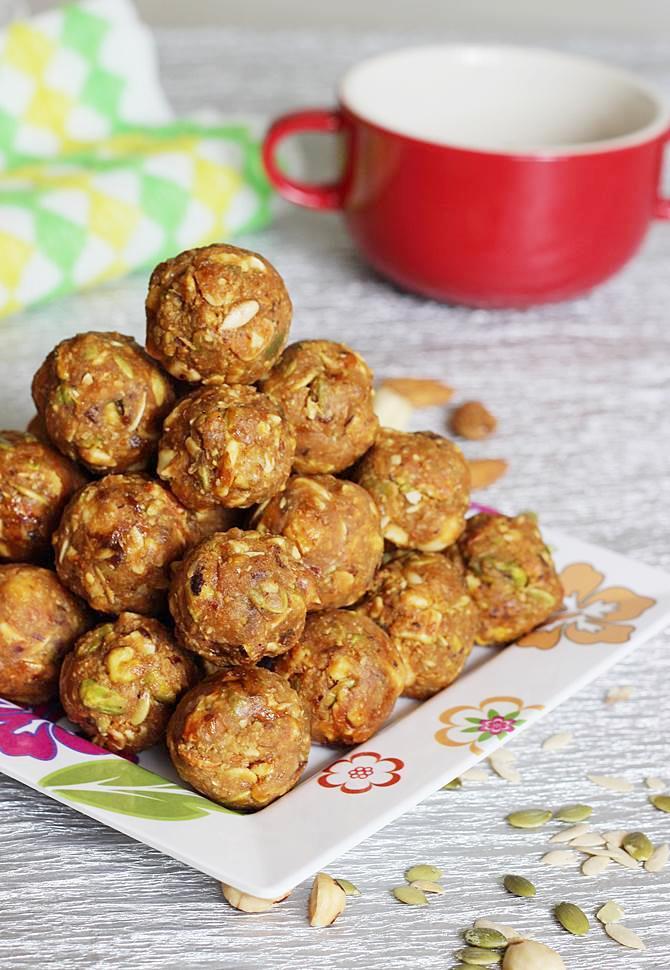 Dry fruits laddo recipe iam sharing today, is not a simple one like dates and nuts ladoo, but it is worth the work. This recipe is not the one for beginners or for those who don't understand the syrup consistency. It yields the best tasting dry fruits ladoo that can be prepared for special occasions and festivals like diwali. The best thing about these, they keep well at room temperature for 2 weeks or more.
 
To make these dry fruits laddu ,I use whatever nuts I have in stock, you can replace your desired nuts. If you do not have a helping hand to roll the ladoos , prepare these in small quantities since the mix dries up when it becomes cool and it is difficult to roll them.
 
Best to use dried coconut (copra) and not the one that is used for baking. if you do not like hazelnuts, replace with some other nuts.
 
I used tiny pieces of rock sugar. Kids love to eat these crunches in the ladoos. If you do not like, you can skip them.
 
For more similar ladoo recipes, you can check
Oats dry fruit ladoo
Date nut ladoo
Raisin nut balls
Dates sesame ladoo
 
How to make dry fruits laddu with step by step pictures
1. Pulse cashews, pistachios, almonds, hazelnuts coarsely. do not powder.
2. Chop dates to small chunks. Keep them aside.
3. Heat  a heavy bottom pan with 2 tbsps ghee, roast the nuts on a low flame.



4. Add seeds and coconut fry for 2 to 3 mins



5. Add dates and cardamom powder. Fry till you get a nice aroma of coconut. Off the stove and Set aside. Add rock sugar or can alternately add at step 9



6. Grate jaggery . Add 2 tbsps water to jaggery and melt it on a low flame



7. Filter it and discard the debris. I also discarded the bottom part of the melted jaggery since debris settle at the bottom. Add 1 tbsp ghee to the jaggery.



8.  Boil this jaggery syrup till you get a soft ball consistency. To check drop little syrup in a small bowl of water. You must be able to roll and get a soft ball. Refer the pic. off the heat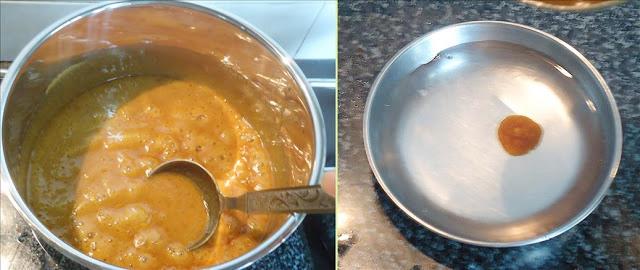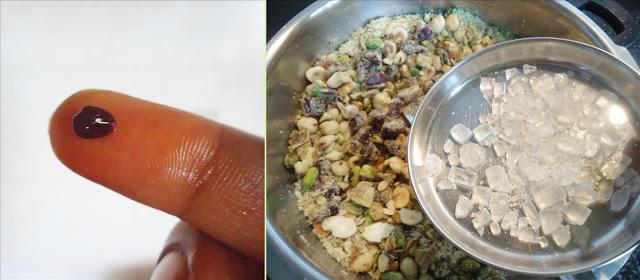 9. Add rock sugar to the nuts
10. Add this jaggery syrup to the nuts and mix well. Begin to cook again on a low flame, stirring constantly to prevent burning. Cook till you see jaggery strings in the mix. Refer the pic. It indicates that the consistency is good to make balls that do not stick to the hand. off the heat



12. Let this cool slightly. When you can handle the mix well, grease your palms and make balls. dry fruits laddu is ready store them in an airtight jar.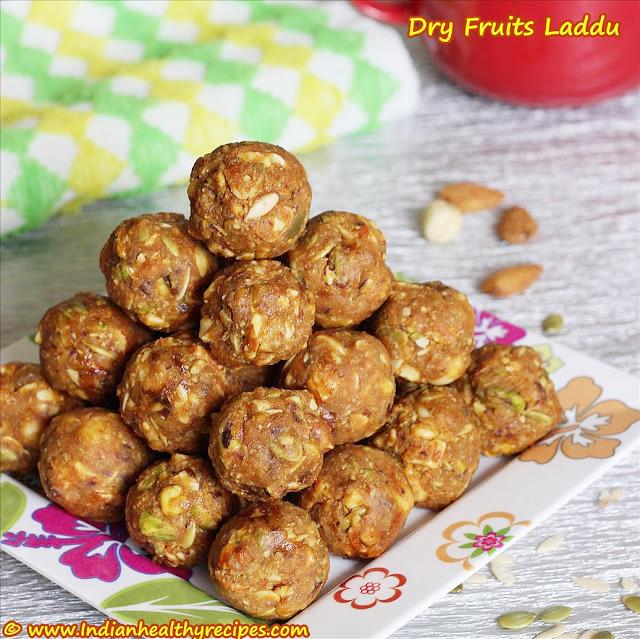 Store dry fruits laddu at room temperature in an air tight container. They keep good for more than 2 weeks.
 
For more laddu recipes , check
bandar ladoo
ragi ladoo
sesame seeds ladoo
badam ladoo
sunnundalu
 
Dry fruits laddu recipe or dry fruits ladoo below
Dry fruits laddu recipe | Make dry fruits ladoo with jaggery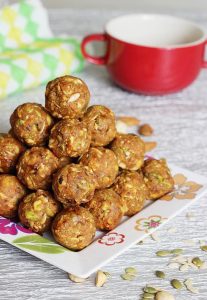 Delicious Special Dry fruits ladoo that can be prepared during festivals and special occasions
Ingredients (240 ml cup used)
½ kg mixed nuts, dates and dried coconut
½ kg jaggery or palm sugar or palm jaggery
few tbsp. tiny rock sugar (optional)
½ tsp green cardamom powder
3 tbsp ghee
How to make the recipe
Ina blender pulse nuts coarsely. Chop dates.
To a heavy bottom pan add ghee and roast the nuts on a low heat, add coconut and seeds and fry for 2 to 3 minutes
add chopped dates and cardamom powder. Fry stirring well till you smell the roasted coconut. If using rock sugar, add it.
To a heavy bottom pot, add grated jaggery and 2 tbsps. Water and melt on a low heat. Filter this to remove impurities. Add 1 tbsp. Ghee to the jaggery and begin to boil it till it reaches a soft ball consistency. You can drop a spoon of this syrup in a bowl filled with water. The syrup can be rolled to a soft ball. Switch off the heat.
Pour jaggery syrup to the roasted nuts and stir well. On a low flame, begin to cook, keep stirring to prevent burning. It has to be cooked till the jaggery strings are seen.
Let the mixture come down to warm, roll the mixture to balls with greased palms.
Notes
I used hazelnuts-75 gms, pumkin seeds-25 gms, melon seeds-25gms, pistachios-75 gms, cashews-25gms, almonds-75 gms, dates-100gms, coconut-100gms. you can use any nut in any quantity but together has be ½ kg.