Dum aloo recipe – Fried baby potatoes simmered in smooth, creamy and delicious restaurant style gravy. One of the classic Indian dishes served in a special meal. Dum aloo can be served with ghee rice, plain basmati rice, jeera rice, lachha paratha, plain paratha, puri, naan or roti.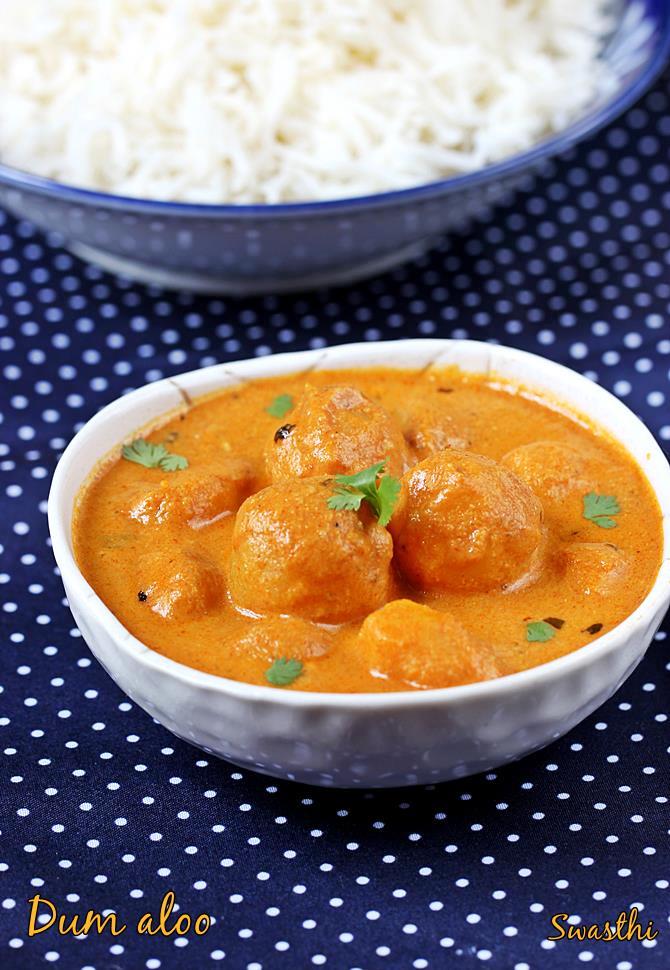 I make this home style dum aloo sometimes since it needs no deep frying potatoes. Today's dum aloo recipe yields a delightful dish which is good to make when you have guests home or for a party or a special occasion.
Potatoes are deep fried to lend a very delicate & melt in the mouth texture. They also absorb flavor and gravy when they are simmered in the curry and taste very delicious. However they can be shallow fried or pan fried too. This recipe is roughly adapted from Chef sanjeev kapoor's site.
Some of the Indian potato recipes I have shared before include Batata vada, simple Potato curry, delicious Aloo gobi, South Indian style Potato kurma and Potato egg curry.
Dum aloo recipe below
Dum aloo recipe | Restaurant style dum aloo curry recipe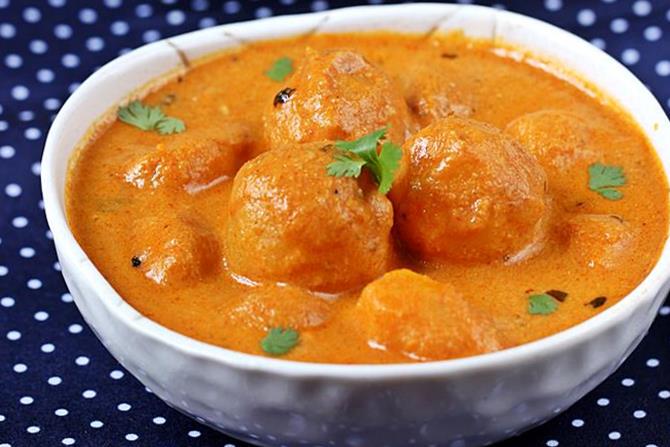 Dum aloo recipe - Slow cooked fried baby potatoes in onion tomato and yogurt grVY
Ingredients (240 ml cup used)
250 grams potatoes (about 25 small baby potatoes)
¼ cup oil or as needed for frying
1 cup cubed onions (preferably blanched)
1 ripe medium tomato deseeded( do not use sour tomato)
10 cashew nuts
1 tbsp oil
1 very small or half bay leaf
1 green cardamom / elaichi
1 slit green chilli
1 tsp ginger garlic paste
½ to ¾ tsp garam masala
½ to ¾ tsp coriander powder
½ to ¾ tsp kashmiri chilli powder
salt as needed
little turmeric powder
3 tbsps thick curd / plain yogurt ( do not use sour one)
¼ tsp kasuri methi / dried fenugreek leaves
coriander leaves few chopped
How to make the recipe
Preparation
Wash and peel potatoes. If using large potatoes, then cube them to equal size. If using baby potatoes make sure all are of the same size. Prick them with a fork or tooth pick to ensure they get cooked from inside as well.
Bring 3 cups water to a in a pot and boil them for 3 mins. Remove them and wipe off or allow to air dry. In the same water you can boil onions for 2 to 3 mins and blanch them. Boiling onions is optional & is suggested to prevent bitterness from some variety of onions.
Making dum aloo curry
Heat oil and fry them until lightly golden. Set aside.
Make a fine paste of cashews, onions and tomatoes.
Heat a pan with oil, and saute bay leaf and cardamom. Fry ginger garlic paste until the raw smell goes.
Add the onion tomato paste and saute until the raw smell goes away and the paste thickens slightly.
Add chili powder, garam masala, salt and turmeric. Saute until the masala smells good and leave the sides of the pan.
Add curd and saute until it turns thick.
Add potatoes and ½ to ¾ cup water. Stir well and bring the mixture to a boil.
Cover and cook on a low heat for 5 to 7 minutes. At this stage the gravy must be thick and potatoes fully cooked.
Sprinkle crushed kasuri methi. Stir and cook for just another minute. switch off.
Sprinkle coriander leaves and transfer dum aloo to a serving bowl. Keep covered until dum aloo is served.
How to make dum aloo recipe – step by step photos
1. I have used baby potatoes, but they can be replaced with cubed medium sized potatoes. Wash, peel, cube if large and prick them with tooth pick or fork randomly a few times. Par boil them for 3 mins. If using uneven sized baby potatoes, cut the large size ones to make all of them of the same size. This way they boil & fry evenly. I have parboiled the potatoes, just to make sure they get cooked well when fried. Drain them and wipe off with a clean cloth or tissue. In the same water you can boil onions for 2 to 3 mins and rinse them in cold water. This helps to prevent the gravy from turning bitter. I have however used raw onions directly.
2. Heat oil in a pan. You can shallow fry, deep fry or pan fry until golden. I have deep fried them just for 3 mins.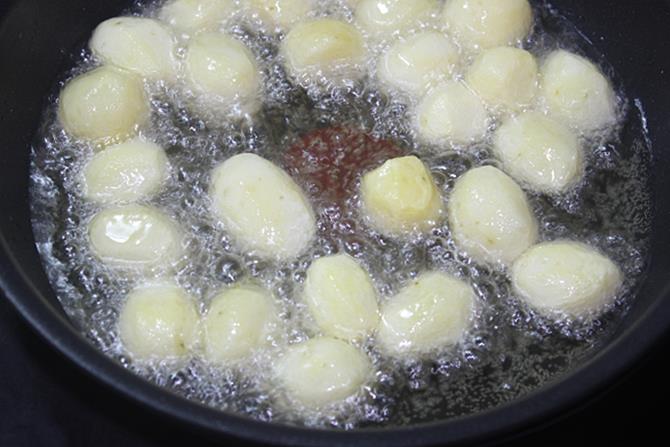 3. Drained off the oil and pan roasted until golden. I do this just to avoid heating oil for a long time. Set these aside.


4. Add cubed onions, deseeded tomatoes and cashews to a blender jar. I am not sure if you can skip cashews. But they lend a richness to the gravy.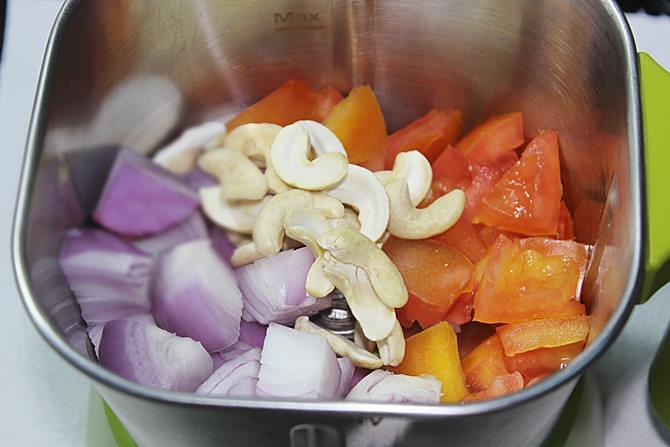 5. Make a smooth paste.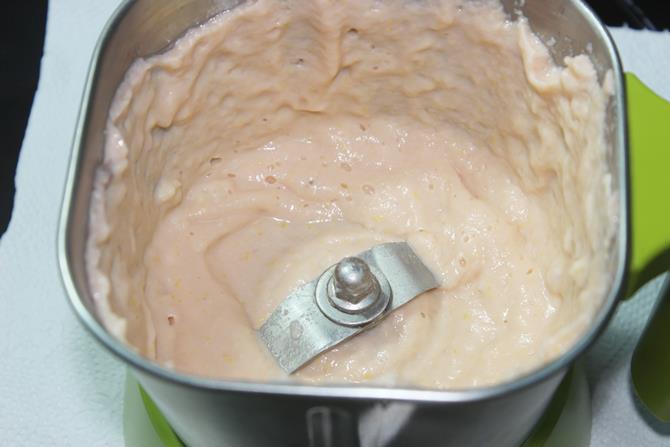 6. Heat the pan with little oil. Add bay leaf & green cardamom. Saute just for a minute. Add ginger garlic paste and green chili. Saute until the raw smell goes off.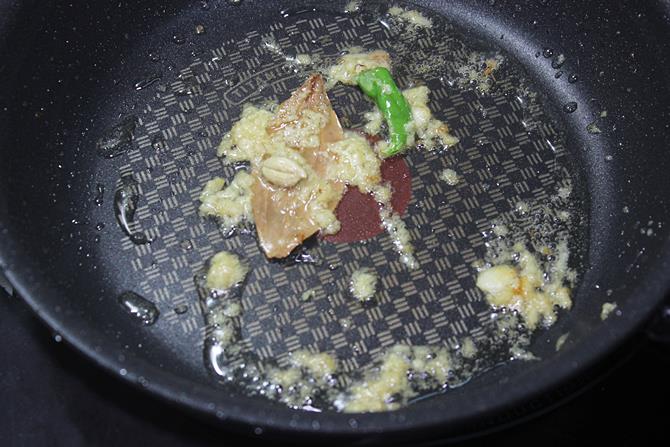 7. Add the ground paste.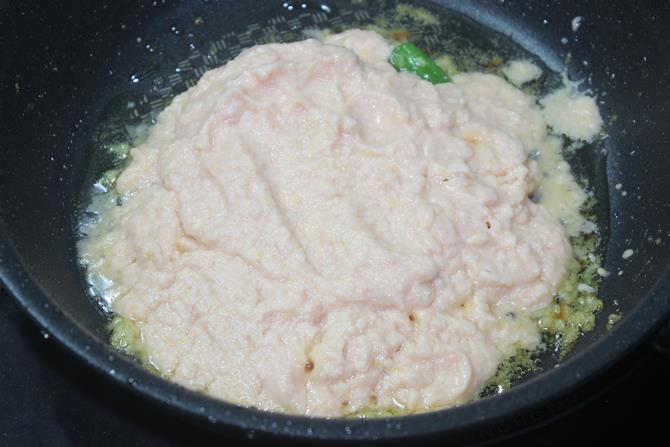 8. Saute until the paste thickens and raw smell goes away.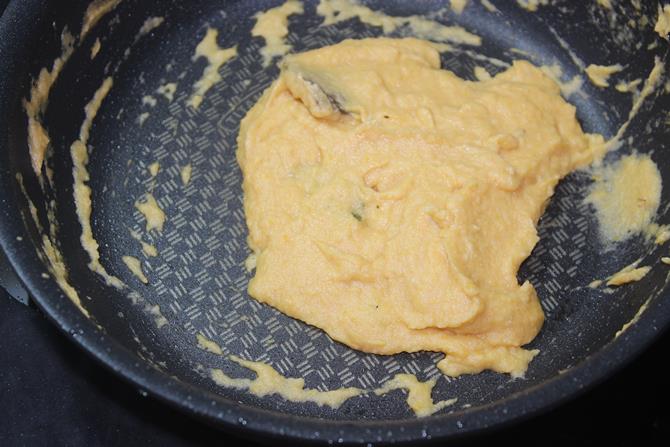 9. Add salt, turmeric, red chilli powder and garam masala. I used this punjabi garam masala.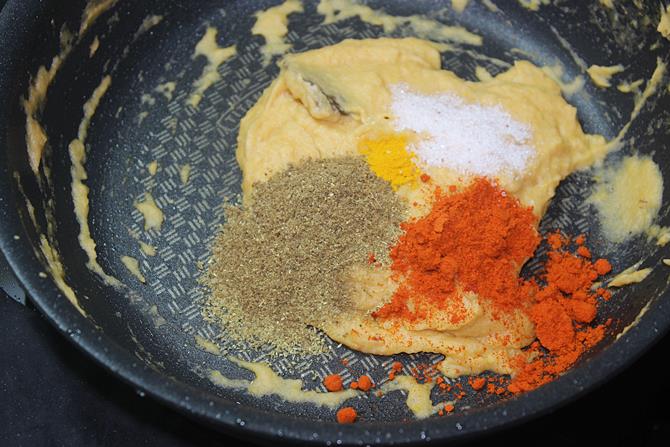 10. Saute until the onion tomato masala begins to leave the sides of the pan. Make sure the raw smell has completely gone before you proceed with the next step.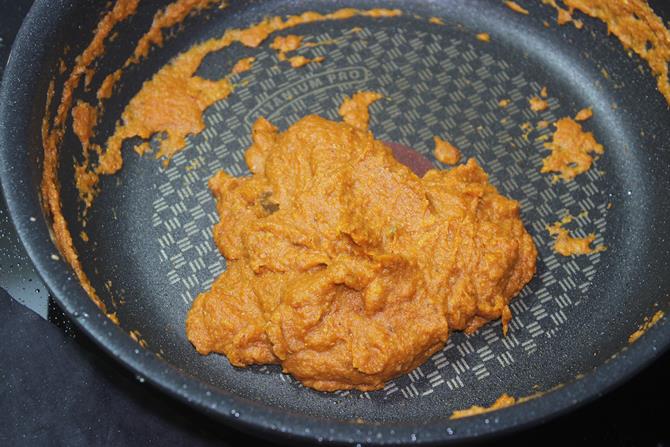 11. Add fresh curd / yogurt. Please note: Do not use sour curd / yogurt.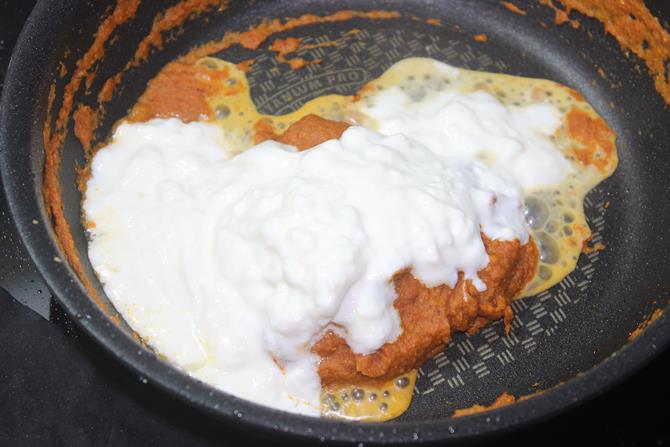 12. Saute until it thickens and bubbles.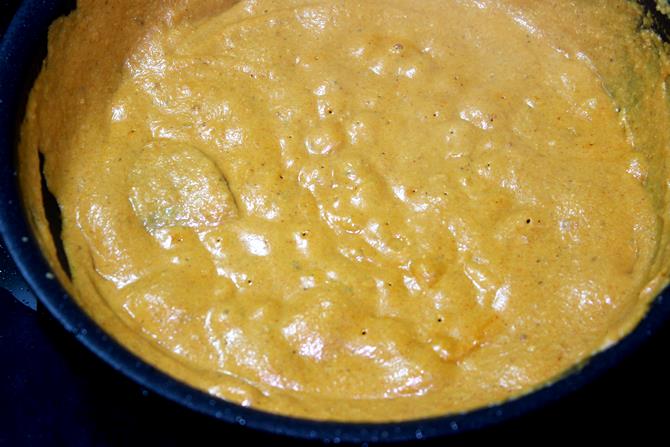 13. Add the fried potatoes and then ½ cup water. If needed add ¼ cup more.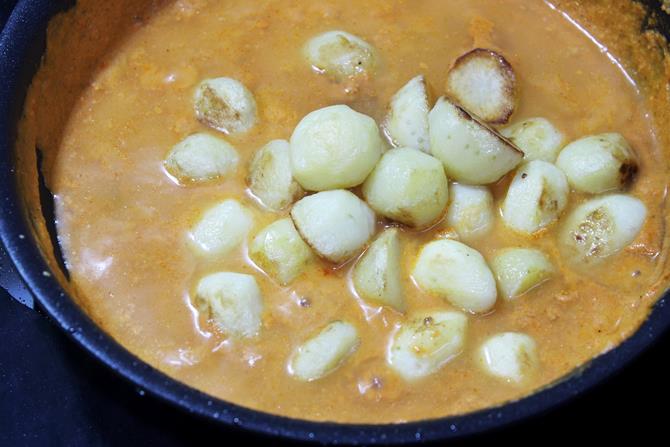 14. Bring the gravy to a boil. Cover and cook on a very low flame for 5 mins. Check whether the potatoes are soft cooked. Make sure the gravy has reached a thick consistency. It thickens a bit more when cooled.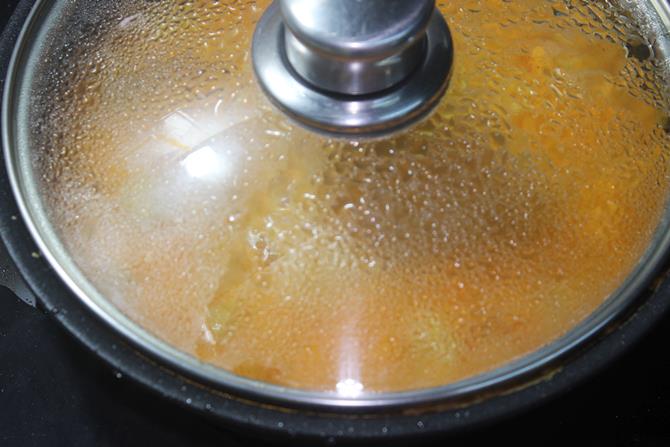 15. Add crushed kasuri methi. Cook for just a minute. Switch off.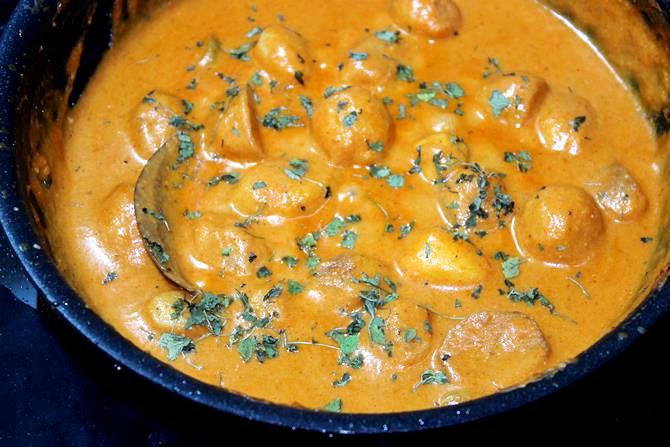 Transfer to a serving bowl. Keep dum aloo covered until you serve. Serve with plain paratha, laccha paratha, naan, roti, plain basmathi rice or jeera rice.