Easy malpua recipe – Detailed recipe of malpua along with step by step photos. Malpua is a sweet pancake popular in Uttar pradesh, Rajsthan, Bihar, West bengal, Orissa and Maharashtra. However each region has a different version of making these. Apart from flour different ingredients like fruit, milk, khoya and even coconut are used in some versions. Malpuas are traditionally made in many homes during festivals like Holi and diwali.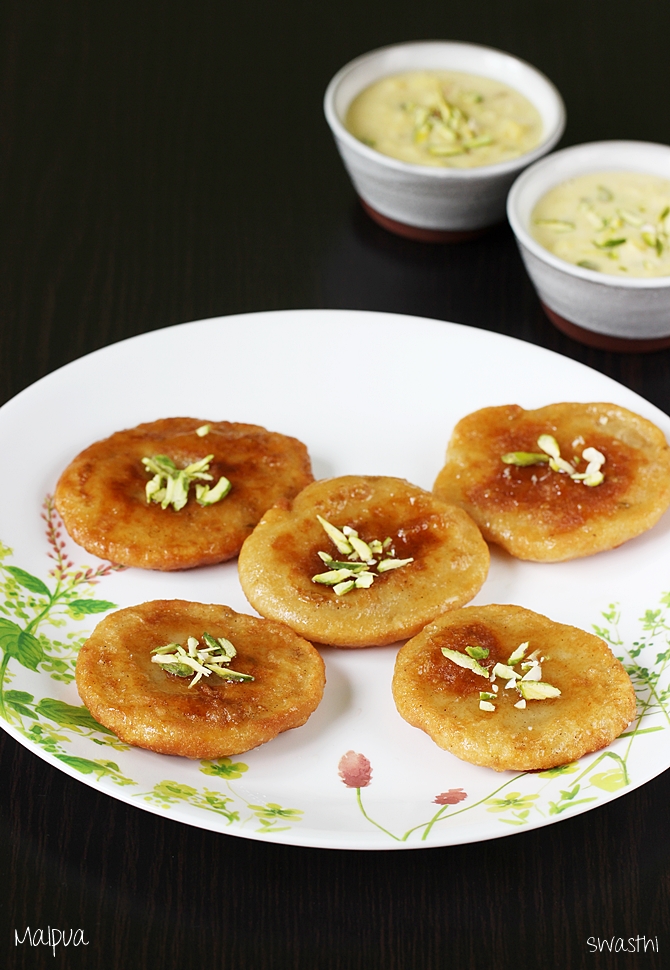 I am sharing an easy recipe of malpua that can be made for Diwali. This recipe can be made using milk or khoya that adds a nice aroma to the malpua. These is usually served with rabdi or rabri. If you do not have the time to make rabdi, then you can just make these with some sugar added in the batter which will also sweeten the malpuas apart from the sugar syrup.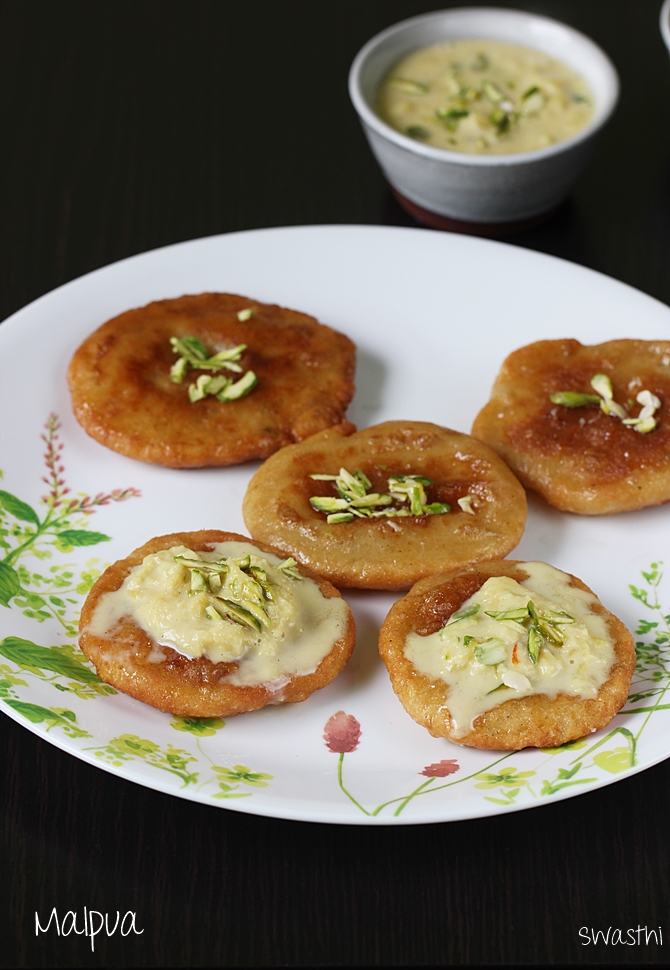 You may like to check this collection of 100 Diwali sweets recipes and these Diwali snacks recipes.
For more sweets recipes, you may like to check
Kalakand
Rasmalai
Kaju katli
Rasgulla
Video of malpua recipe
Easy malpua recipe
Easy malpua recipe | How to make malpua recipe | Malpua rabdi recipe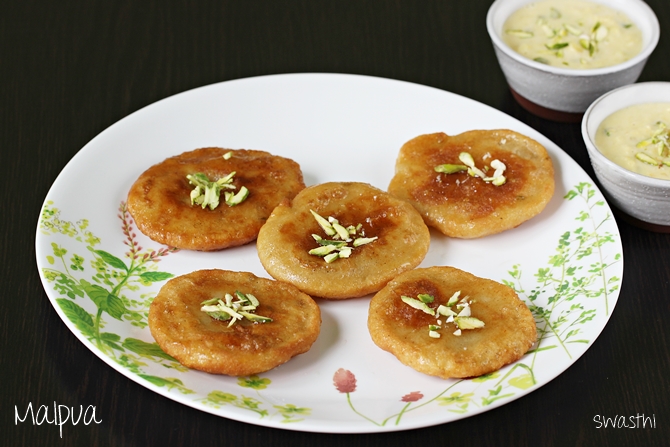 Malpua are sweet pancakes made during festivals. This are mostly served as dessert snack.
Recipe type:
Dessert / Sweet
Ingredients (240 ml cup used)
1 ¼ cup maida / plain flour (prefer organic)
2 green cardamoms
1 tsp fennel/ saunf crushed
½ cup milk or 2 tbsps mawa / khoya (tightly packed) about 25 grams (or 3 tbsps milk powder or ¼ cup thickened milk)
¼ cup water + more water as needed for batter
Ghee or oil for frying
For sugar syrup
½ cup sugar
¼ cup water (2 tbsps more if needed)
How to make the recipe
Please follow the step by step photo guide for clear instructions.
How to make malpua rabdi recipe
1. To make malpua recipe usually milk is thickened, cooled and then used in the recipe. Since that does take some time, I used mawa here. This recipe works well with either 2 tbsps of mawa or 3 tbsps milk powder or 1/4 cup thickened milk. You can also skip using all these and just use plain milk to make the batter.
Which flour to use? – This recipe uses plain flour, traditionally these are made with wheat flour or plain flour and some even use rice flour.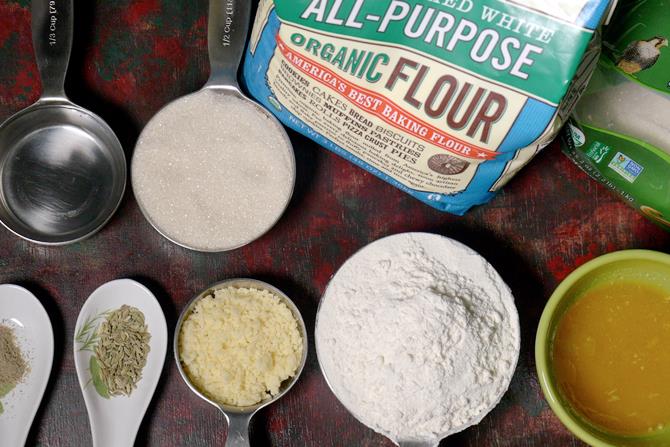 2. You can also use full fat milk and skip this step. Mix mawa or milk powder in 1/4 cup slightly hot water.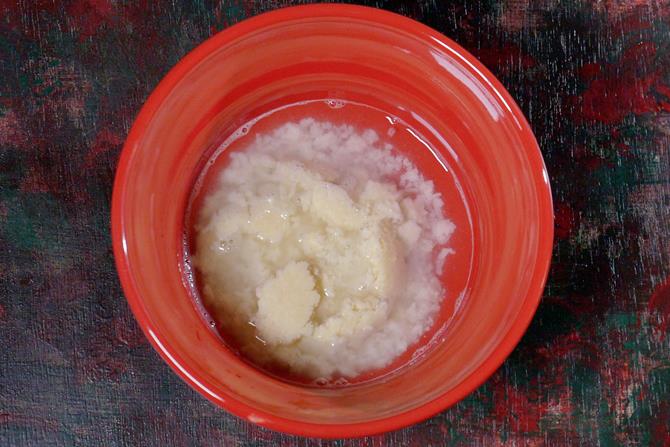 3. Stir to melt it.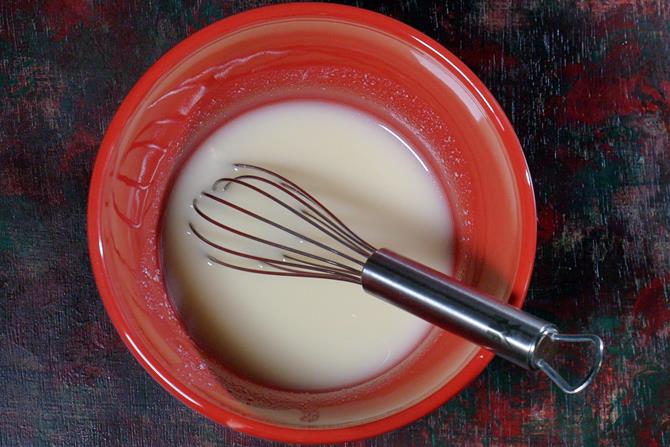 4. Add flour, fennel seeds and cardamom powder.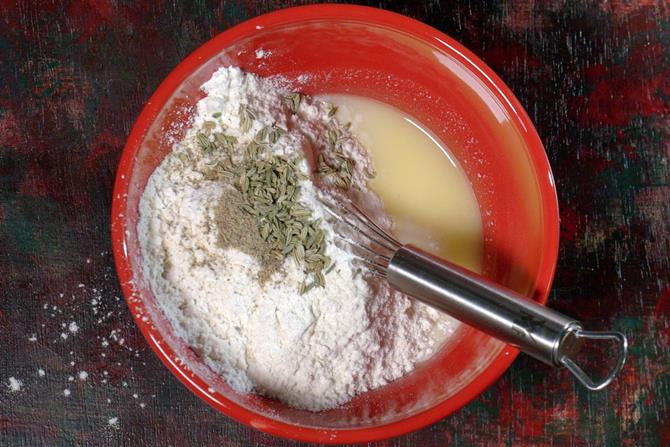 5. Add more water as needed and make a batter.
Consistency of batter: Malpuas can be made thick or thin to suit your liking. If you like them fluffy and thick then the consistency of batter must be slightly thicker but of pouring consistency. If you like them very thin then make a free flowing batter. But do not make it too runny since the batter spreads a lot when you pour it in the pan. If you are not going to serve them right away it is good to make them slightly thick like I did.
There is no soda used in this recipe, so if you like fluffy malpuas you will need to beat the batter very well for 1 minute. Set the batter aside until the sugar syrup is ready.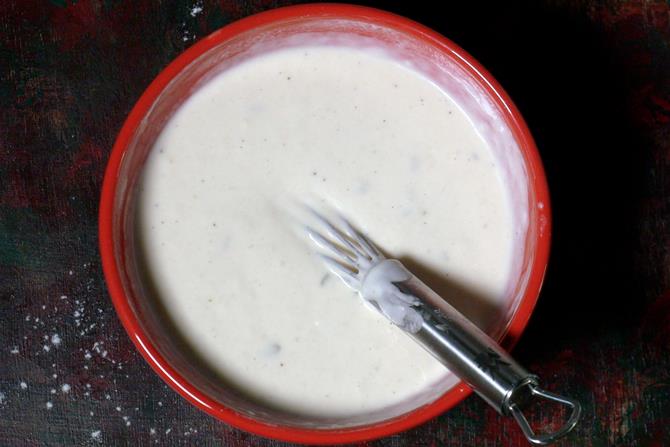 6. Mix together sugar and water in a pot.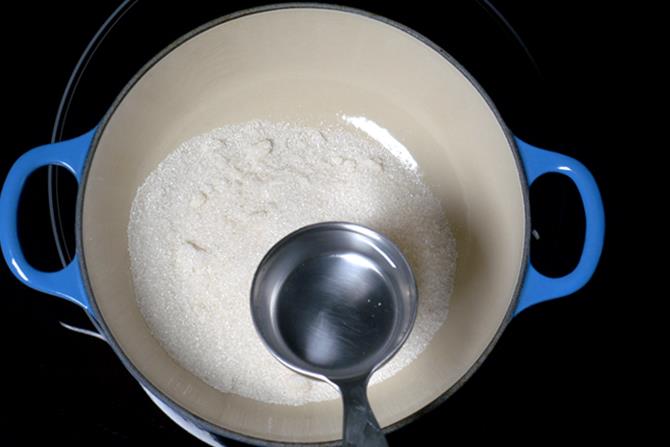 7. Boil the syrup until it turns sticky or 1 string consistency. If you are not going to serve them with rabri, it is good to make a 2 string consistency. This helps to sweeten them better.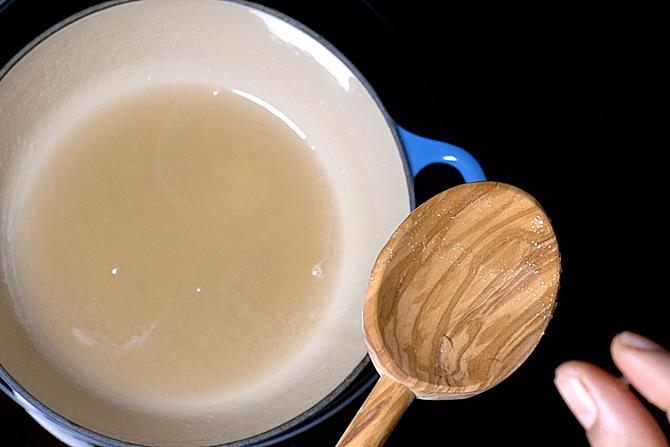 8. Heat 3 cups water in a wide pot and place the sugar syrup in it to keep the syrup warm and prevent crystallizing.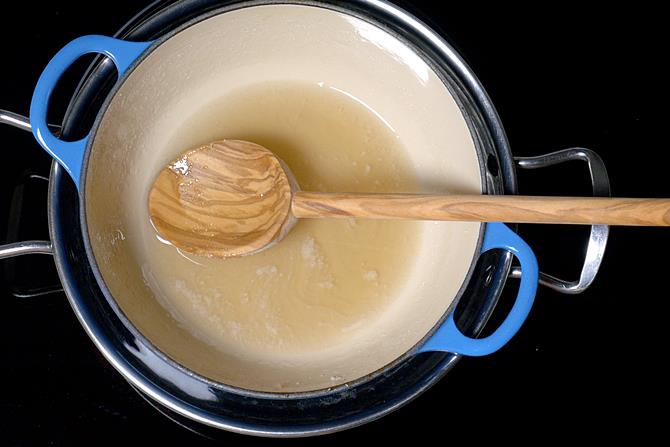 9. Usually malpuas are deep fried in ghee. I have shallow fried in ghee here. When the ghee turns hot, pour half ladle of batter about 2 to 3 tbsps. The batter spreads on its own if it is of the right consistency.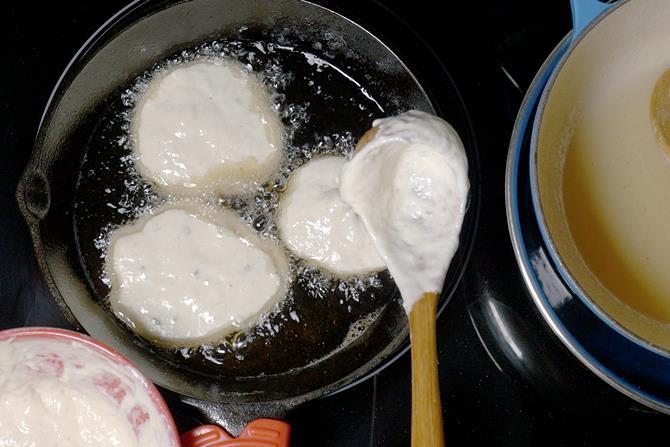 10. Flip them and fry until golden. If you make them with thin batter, then you will get them thin and only the edges turn crisp and golden.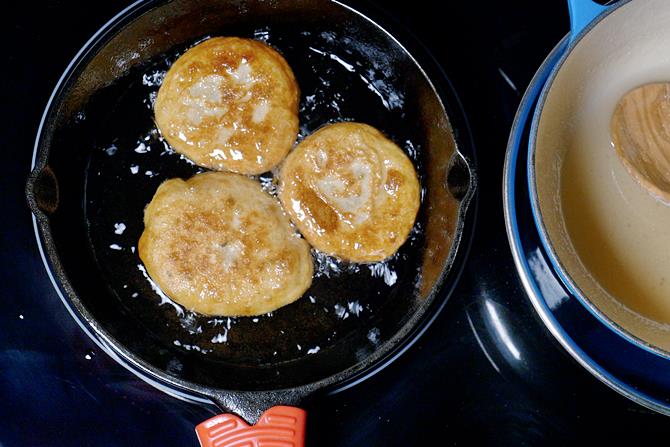 11. When they are done, drain them from ghee and add to the sugar syrup. Make sure you stir the syrup well once before adding the malpuas.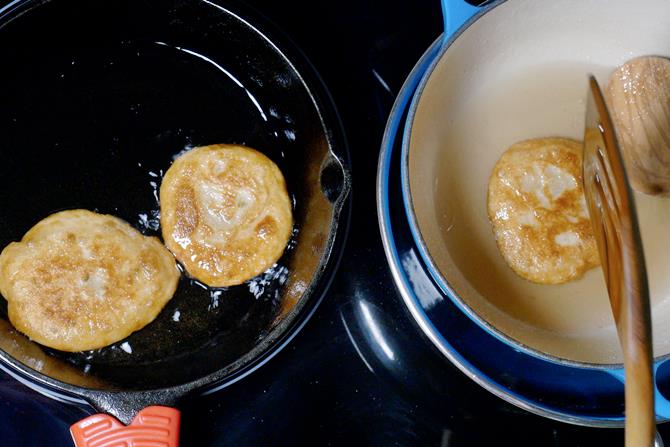 Garnish malpuas with chopped pistachios and almonds.