Egg bhurji recipe or anda bhurji recipe with video and step by step photos. Checkout video at the end of this post to make an andhra style egg porutu. Eggs are a good stand by while trying to get a meal ready in minutes. They are so versatile and can be used to make egg roast, egg curry, egg masala, biryani, sandwich. One of the easiest recipe is a egg bhurji or anda bhurji, i.e scrambled eggs.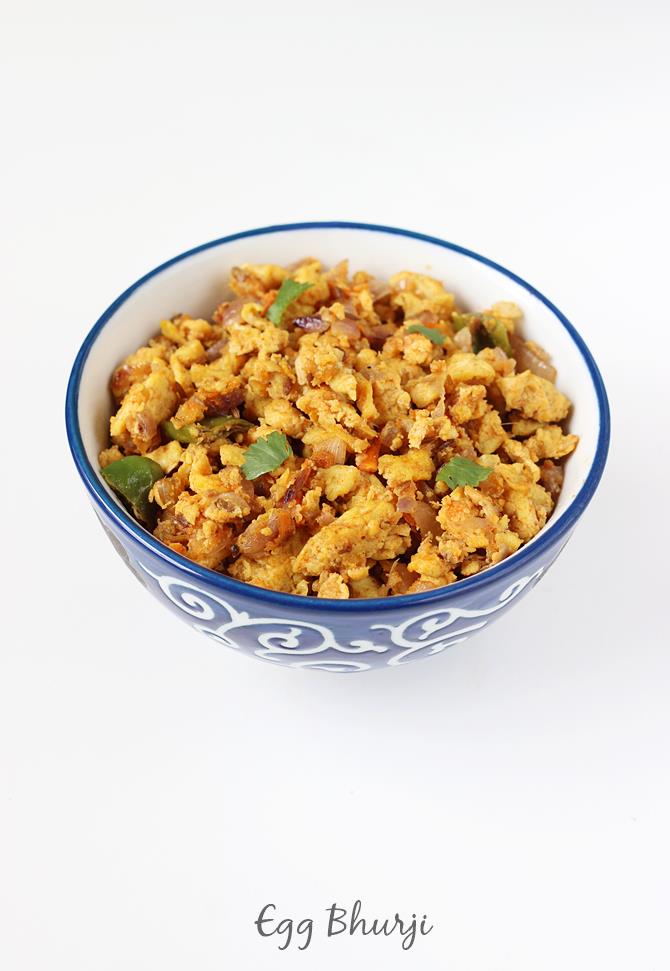 For more similar recipes check out this collection of egg recipes on the blog.
There are so many ways an egg bhurji can be made anywhere from as simple as just scrambling an egg in fried onions. Adding chili powder and not even using ginger garlic paste. Since it is one of the foods that is regularly or often made at home, i got a chance to try many variations of making anda bhurji. I had a readers request for a recipe that can yield bhurji to accompany pav and this one pairs well with pav, bread, plain rice or even roti/ chapathi.
Vegetarians, check this paneer bhurji.
To make egg bhurji recipe, garam masala or pav bhaji masala is used to remove the raw smell of eggs. If you don't like to use garam masala often or you like the flavor of eggs, you can skip ginger garlic paste and garam masala. I always had a dislike to use tomato for a bhurji, but finally got it right this way and have been making this for a while.
Egg bhurji or anda bhurji recipe below
Egg bhurji recipe | How to make egg bhurji recipe | Anda bhurji recipe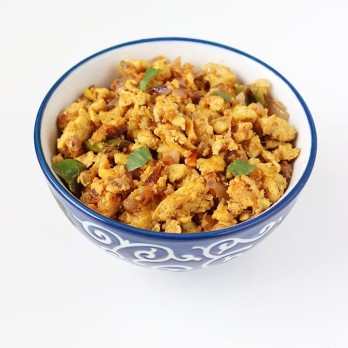 Egg bhurji is a simple scrambled eggs dish made in Indian style.
Ingredients (240 ml cup used)
2 large eggs
1 large onion finely chopped
1 green chili slit or chopped
½ tsp. of garam masala or pav bhaji masala(adjust to suit your taste)
½ tsp. ginger garlic paste
red chili powder as needed
pinch of turmeric
oil as needed
½ tsp. cumin / jeera
few coriander leaves or curry leaves
optional ingredients (if you don't have leave them)
¼ cup bell pepper/capsicum
1 small tomato (refer notes)
How to make the recipe
Preparation
Rinse a bowl and break the eggs and pour them to the bowl, this way egg doesn't stick to the bowl. Check for shells. If you like you can beat the eggs until frothy after adding salt and turmeric. set aside.
Chop onions finely.
Making egg bhurji
Add oil to a pan. Add cumin, when it splutters add onions, chilies and fry until golden. Add ginger garlic paste and fry till you get a nice aroma.
If using tomatoes, add them and fry until they turn soft and oil begins to separate. If using capsicums, add them now and fry till they are partially soft for 2 to 3 minutes.
Pour the eggs and scramble lightly. Keep cooking and scramble once more. Stir egg bhurji constantly to prevent burning.
Add masala powder, red chili powder, curry leaves or coriander leaves. Stir well. Check the salt and spice and adjust.
Cook until just cooked. Switch off the stove.
Garnish anda bhurji with coriander or mint leaves.
serve egg bhurji with rice or bread/ pav or chapathi
Notes
1. If you prefer to use chopped tomatoes, Fry tomatoes till they turn mushy and then oil begins to separate, otherwise it will leave the egg bhurji with a raw smell of eggs.
2.You can skip garam masala or use only coriander and cumin powder or pav bhaji masala too.
Nutrition Information
Serving size:
1
Calories:
147
Fat:
11 grams
Carbohydrates:
5 grams
Protein:
6 grams
Cholesterol:
163 mg
Video of simple egg bhurji recipe
How to make egg bhurji recipe or anda bhurji recipe
1. Break eggs to a bowl, add turmeric and salt. Beat the eggs till frothy. set this aside. This step is optional and you can add eggs without beating to the pan as well. But the fluffy texture would be missing. Some folks also add in few tbsps of milk to yield a fluffy scrambled egg.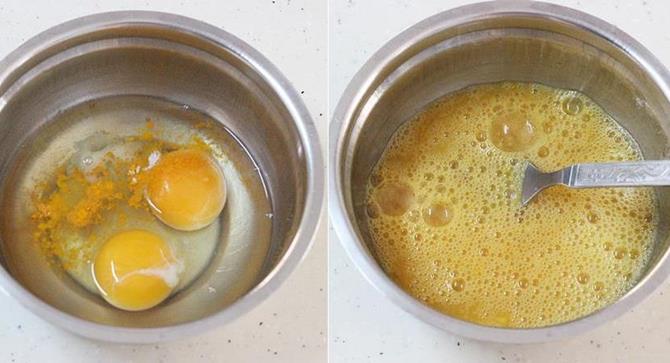 2. Add oil to a pan, add cumin and allow them to splutter. Add onions and chilis.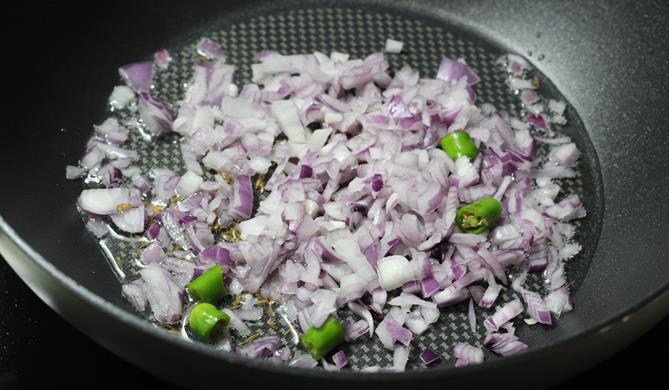 3. Fry until the onions turn golden. Add ginger garlic paste or crushed ginger and fry until the raw smell goes off.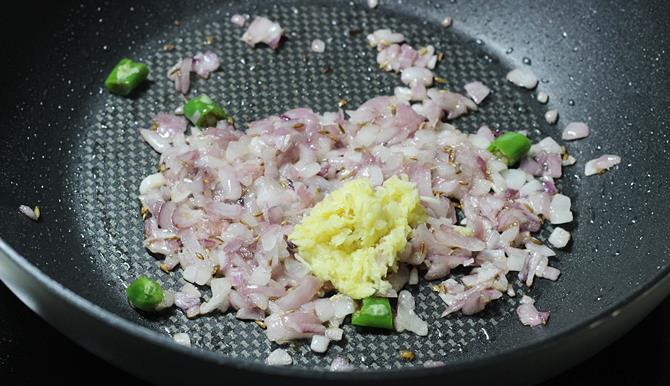 4.  This step is optional, If you don't like to use tomatoes, just leave it or use capsicum. Add finely chopped tomatoes and fry.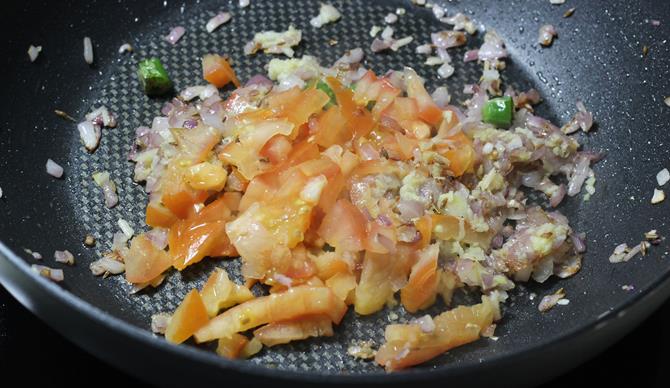 5. The tomatoes should dry up well and blend well with  onions.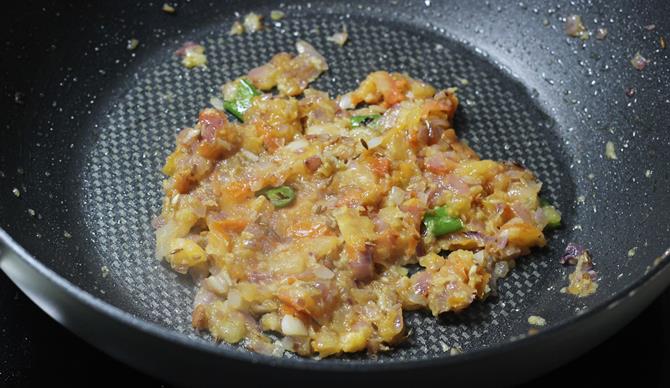 6. Pour the eggs, you can add eggs without beating as well.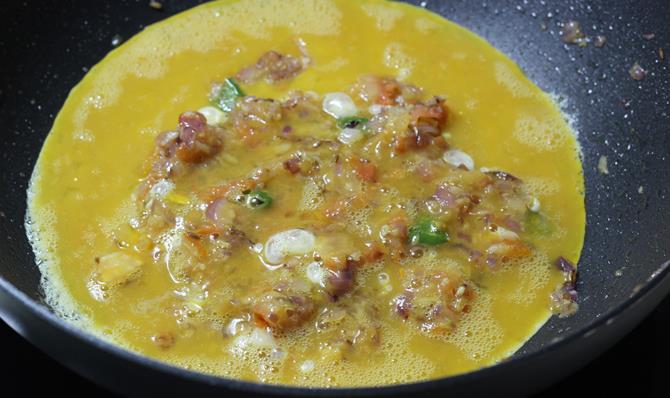 7. Scramble the eggs to suit your liking. Scrambled eggs are not a very healthy way to consume eggs. The lesser we scramble the better for health. Add garam masala , chili powder or pav bhaji masala. Stir and fry.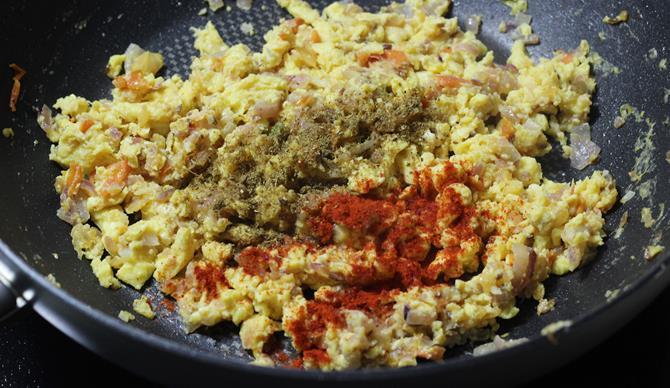 8. Adjust salt, add coriander leaves. Cook until just done. Do not overcook they loose the nutrients and softness.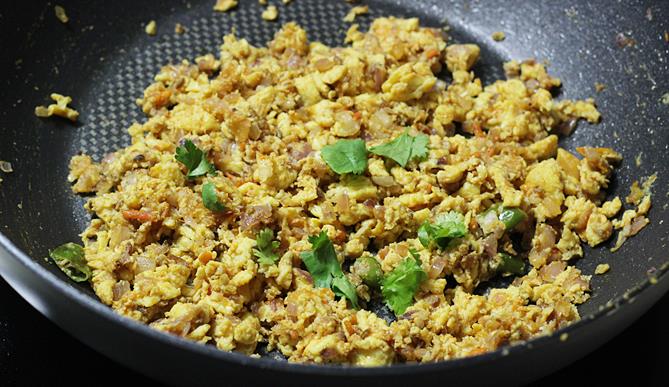 Garnish with coriander leaves. Serve anda bhurji with pav, bread or rice.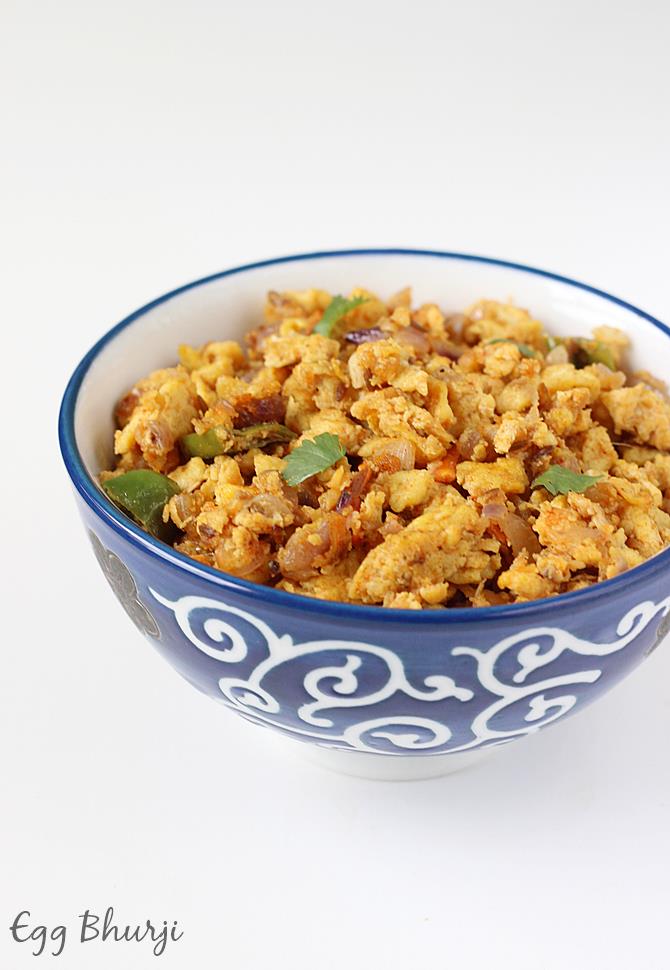 Method 2 of making egg bhurji or egg porutu without tomato
After frying onions and capsicum, break the eggs in a bowl and check for shells.  Pour the egg in the pan and lightly scramble it.Repeat scrambling every now and then, to prevent burning and to cook egg evenly. You can scramble it as much as you like to make it look like a paneer bhurji.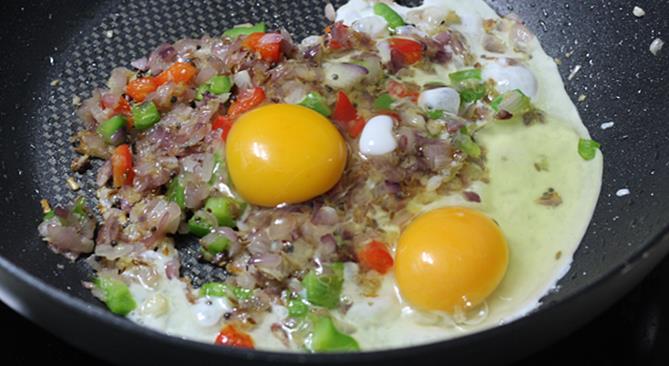 Add curry leaves or coriander leaves.Sprinkle red chili powder, garam masala or pav bhaji masala and turmeric. mix well. fry egg bhurji until cooked.