Egg biryani recipe – The most easiest, delicious and flavorful biryani that one can make at home with very few ingredients. Best to prepare when running short of time and desiring to have a special meal. Any raita varieties like onion raita or mint raita with some papads will go well with this.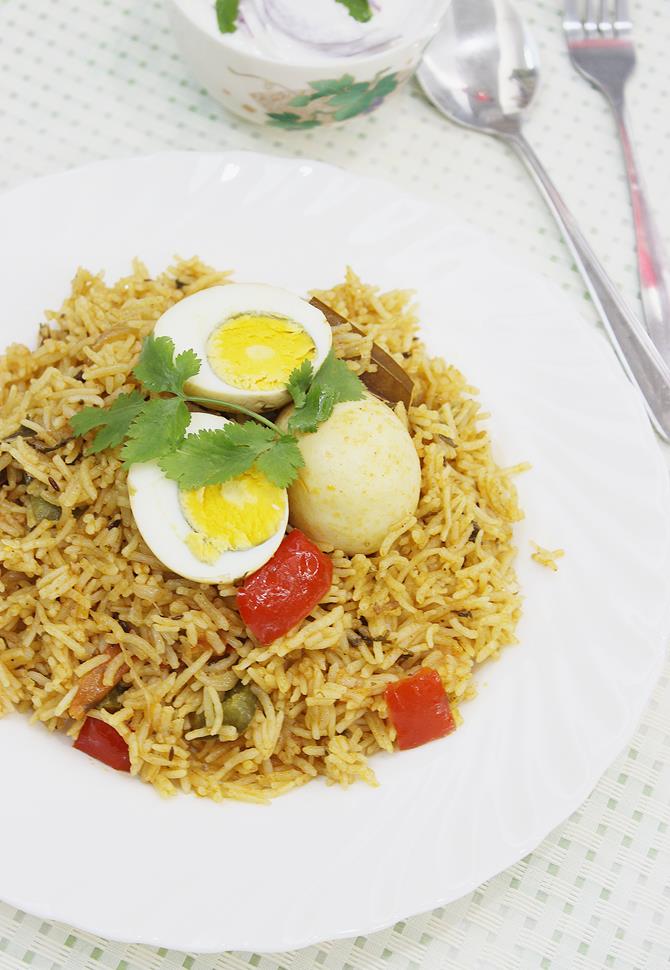 Let us Learn to make easy egg biryani recipe with step by step photos – fragrant rice cooked in aromatic biryani spices and boiled eggs to yield a delicious one pot egg biryani.
You can find more egg biryani recipes on the blog,
Hyderabadi style egg dum biryani
Egg roast biryani
Egg biryani with scrambled eggs or bhurji
The taste of those is very distinct from the egg biryani recipe shared today.The one iam sharing today is not a dum biryani, but tastes great with good flavors and can be prepared in a pot or in a pressure cooker.
To prepare this easy egg biryani potatoes or capsicum can also be used and are optional. But I prefer to include potatoes. They do add a unique flavor, care must be taken not to make the capsicum mushy.
To make a best egg biryani, the use of best quality fresh spices and masala powder is very important. I have used the same homemade biryani masala powder that my SNC blogger friends liked when they tried my Hyderabadi vegetable dum biryani. But you can use any shop bought ready made biryani masala powder too.
I suggest trying this egg biryani recipe, with some potatoes as well to double the taste. This time I had no potatoes in hand, so I just went ahead to make it only with capsicum. As always you cannot find green chili in my pan, I did not add since my kids cannot tolerate the heat and spice. But do not miss it for the biryani to taste perfect.
Find delicious egg biryani recipe below
Egg biryani recipe | How to make easy egg biryani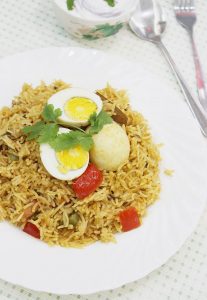 Flavorful one pot biryani made with boiled eggs. This can be cooked in pressure cooker or a pot.
Ingredients (240 ml cup used)
3 tbsp Oil
1.5 cups of basmathi rice or any aged rice
1.5 tsp. Ginger garlic paste
½ cubed capsicums or 1 large potato cubed (optional)
1 large onion thinly sliced
2 green chilies slit or minced
4 to 5 boiled eggs (prick with a fork randomly)
1 medium tomato chopped
⅛ tsp. ground turmeric
½ tsp. red chili powder
1 to 1 ½ tsp. Biryani masala powder (adjust)
Fistful of mint and coriander leaves chopped
Salt to taste
45 ml or 3 tbsp. fresh yogurt / curd (do not use sour one)
2 ½ cups water
Dry spices for egg biryani recipe
1 star anise
1 bay leaf
½ tsp. shahi jeera / black cumin
4 green cardamoms
4 to 5 cloves
1 inch cinnamon stick
1 strand of mace
How to make the recipe
Soak rice for at least 20 to 30 mins. Drain water and set the rice aside in a colander.
Boil eggs and remove the shells and wash them. Prick randomly with a fork a couple of times and Set aside.
Heat a pressure pan or a biryani handi with oil, add capsicums if using and fry on high for 2 to 3 mins. Set these aside.
Add the dry spices and allow them to sizzle. Add onions and fry till golden brown.
Add ginger garlic paste and fry till the raw smell goes off.
Add tomatoes, mint, red chili powder, turmeric, salt and yogurt. Cook until the tomatoes turn mushy.
Add eggs, potatoes (if using) and biryani masala powder and fry till the mixture thickens.
Pour water and add salt as needed. Bring it to a boil
Add rice, capsicums and cook rice in open pan till very little water is left. Refer the pic
Lower the flame, cover and cook till the rice is done. If using pressure cooker, close the lid and cook on a very low flame for about 5 minutes. Switch off before it whistles to prevent it from becoming mushy. Set this aside, don't leave on the hot burner.
Fluff up the egg biryani and serve with raita.
Nutrition Information
Calories:
500
Carbohydrates:
90g
How to make egg biryani recipe with step by step photos
1. Boil eggs, shell them and wash. I prick them with a fork randomly. Set aside.
2. Heat a pan with oil, fry capsicums for 2 minutes if using and set them aside. Time to add dry spices cinnamon, star anise, shahi jeera, cloves, bay leaf and cardamom.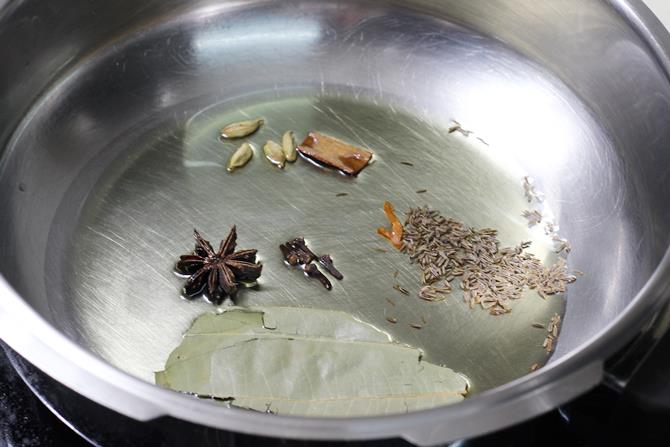 3. When they begin to sizzle, add onions, green chilies and fry till lightly golden.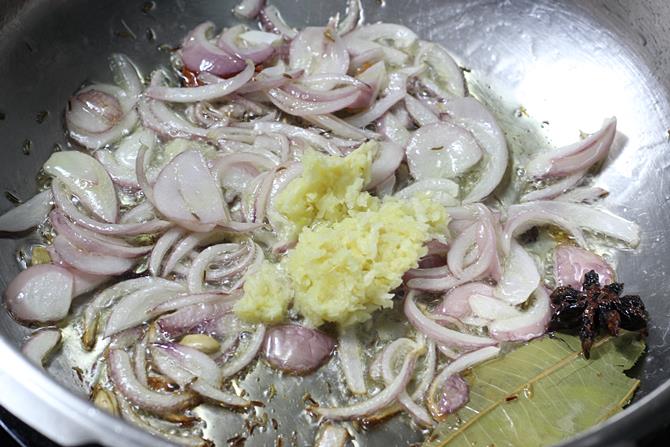 4. Add ginger garlic paste and fry until the raw smell goes away.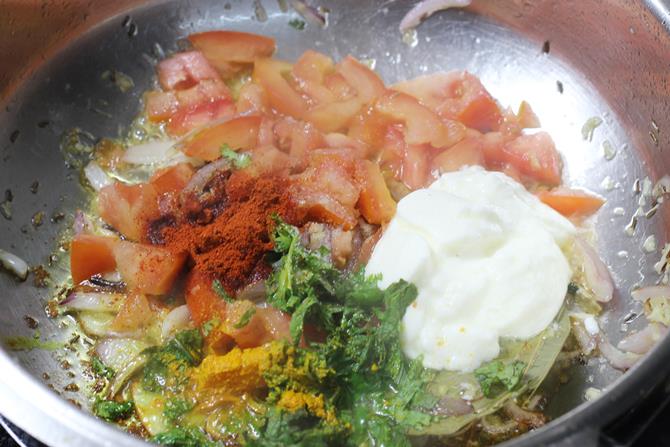 5. Add tomatoes, turmeric, red chili powder, salt, yogurt and coriander, mint leaves. Mix and cook till the tomatoes become mushy.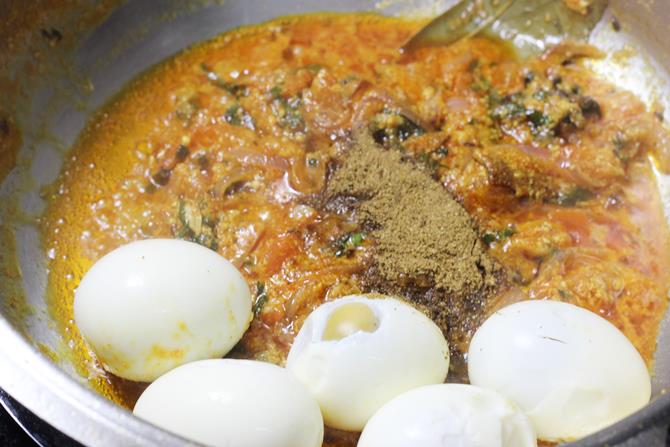 6. Add the eggs and the biryani masala powder. If you wish to use potato, you can use at this stage. Mix well and cook until the mixture thickens and begins to leave the sides of the pan.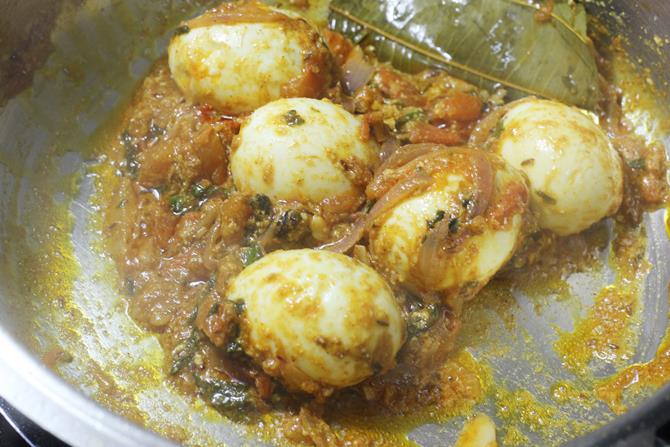 7. Pour water and adjust salt if needed. Bring the water to a boil.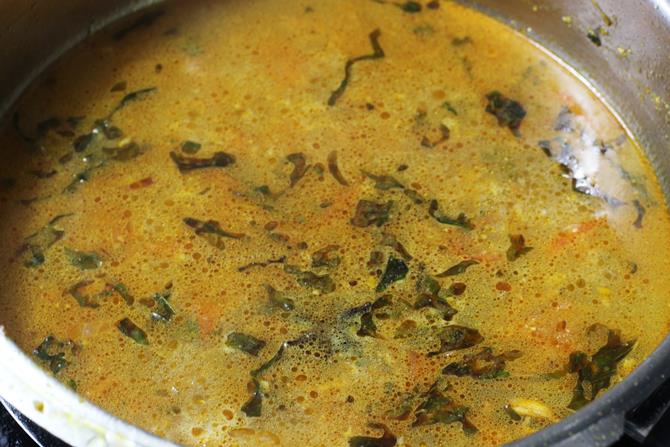 8. Add rice, fried capsicums (if using) and cook till the rice is cooked fully.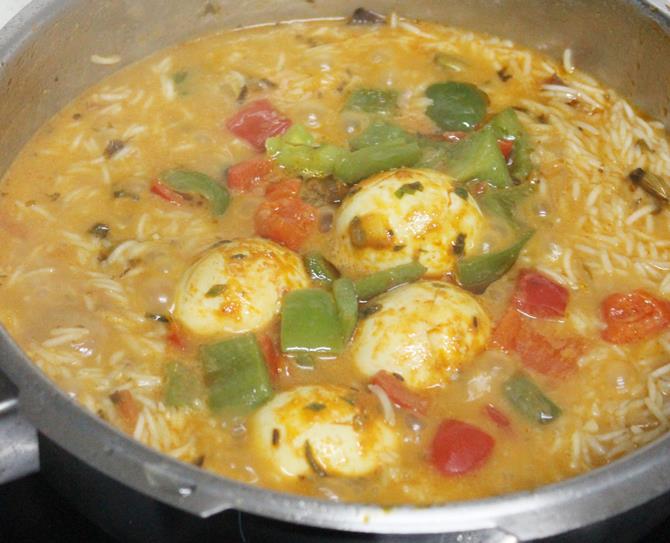 9. If using the pressure cooker, when the rice is half cooked, very little water is left as you see in the picture above, close the lid and cook on a low flame for 5 minutes. Switch off before it whistles. Set aside to cool. If you wish to have a mushy and soft biryani, allow to whistle. If you are using normal rice, let it whistle once.


9. Fluff up biryani when you open the lid.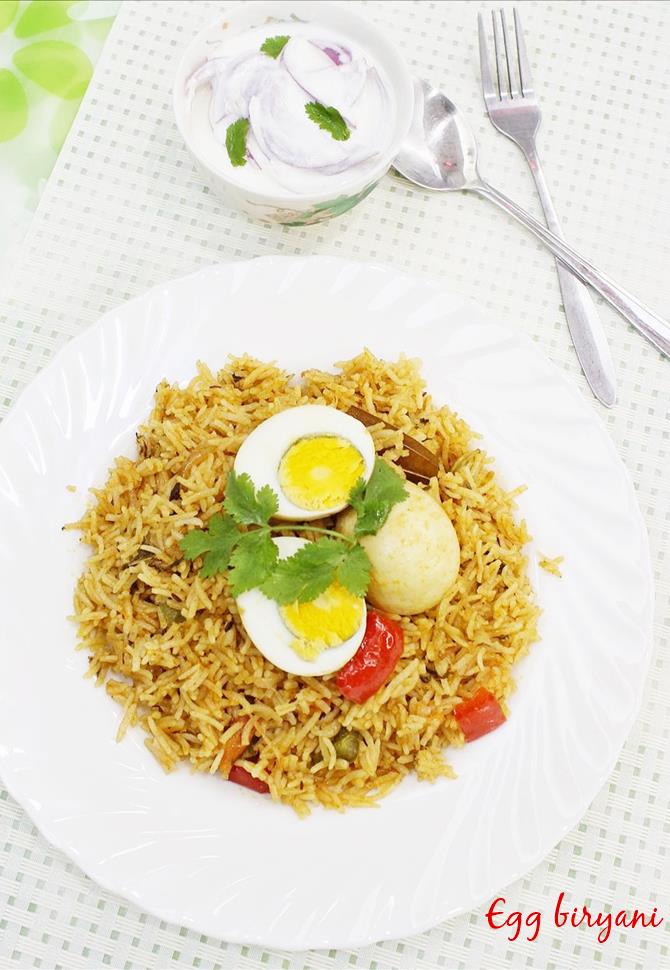 Serve egg biryani with onion raita or a mint raita.