Egg fry recipe – Learn to make easy egg fry recipe, a quick and easy side dish that goes great with any rice including plain rice. It is not a very dry fry, can even be had with a one pot rice or even with roti accompanied by a bowl of salad. You end up having a complete balanced meal that's super easy to make. You can also check this recipe on garlic egg roast which is super simple and yet delicious.
I make egg fry in so many ways, onions or tomatoes alone and sometimes with an addition of thinly sliced capsicum. I find it appropriate to use vegetables like ridge gourd, capsicum, cucumber, tomatoes, spring onions or onions. All go well with the eggs.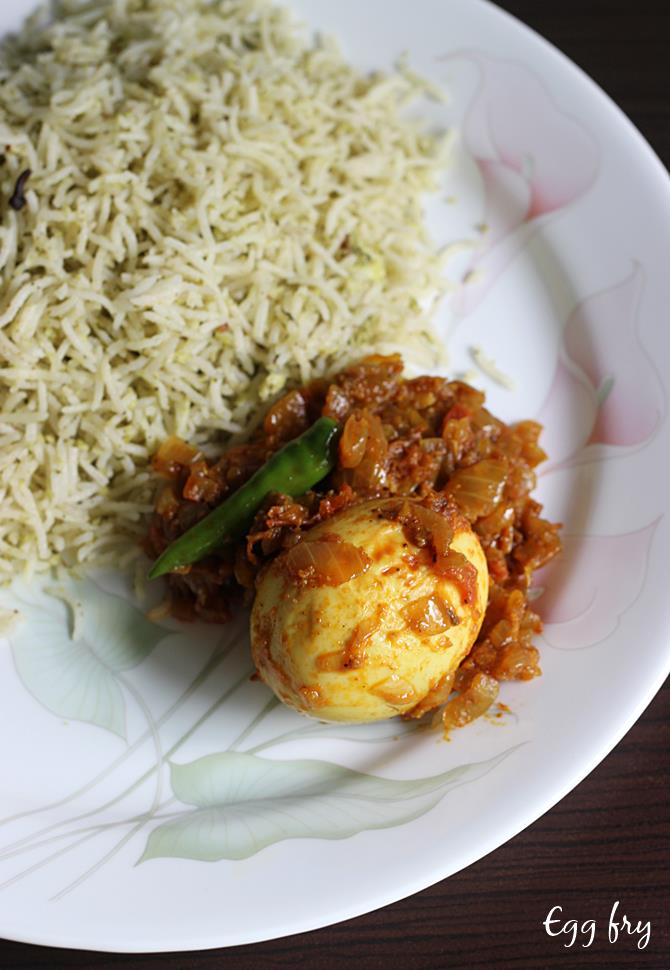 To make egg fry, I use capsicum, this time i did not since i wanted to keep it very very simple, with minimum ingredients, the way bachelors can make, use freely whatever you have in hand, and it still yields great tasting eggs to accompany your meal on a busy day. But I suggest using capsicums if you are looking for ways to include it in your diet. It adds great flavor to the egg fry.
 
For more easy Egg recipes, You may like to check
Egg curry
Tomato egg curry
Egg vindaloo
Easy egg masala
Egg bhurji

Egg fry recipe below
Egg fry recipe | How to make easy egg fry recipe | Simple egg fry recipes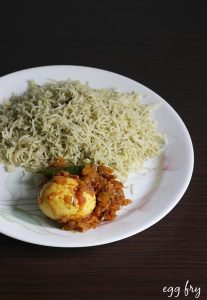 Ingredients (240 ml cup used)
2 Boiled eggs
One large or two medium onions
One large or two medium tomatoes
1 to 2 green chilies slit
½ tsp. cumin
Oil as desired
1 large garlic clove minced
Small piece of ginger crushed or grated
Salt to taste
¼ tsp Red chili powder
½ tsp. garam masala or coriander powder (or any spice powder whatever you have, adjust to suit your taste)
Few pinches of pepper powder (optional)
Pinch of turmeric
optional
½ thinly sliced capsicum
1 sprig curry leaves (if using add at step 2)
How to make the recipe
Add oil to a pan and heat it. Add cumin, ginger and garlic, allow to sizzle.
Add onions, fry until they turn golden, add eggs, tomatoes, turmeric , salt and chili.
Fry everything together till the tomatoes turn soft and mushy, if needed sprinkle little water.
Add garam masala, chili powder and pepper. fry everything together until the mixture is nicely roasted for about 2 to 3 minutes.
Serve egg fry with rice, chapathi or even with bread or buns
How to make egg fry with easy step by step pictures
1. Add water to a pot and bring the eggs to a boil on a medium flame. Cover the pot and switch off the stove. Leave it for about ten minutes. Drain the water and peel off the shells. For first born eggs you need to boil a little longer, until you see cracks over the eggs. Rinse and prick them randomly with a fork.
2. Heat a pan with oil, add cumin, garlic and ginger, when they begin to sizzle, add onions and fry them till they turn lightly brown.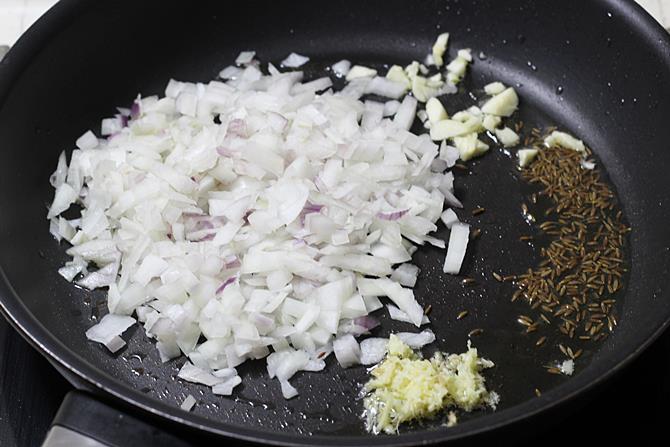 3. Add eggs, green chili, tomatoes, salt and turmeric. Fry till the tomatoes turn mushy. If tomatoes are not juicy, you can sprinkle little water to soften them, do not pour lot of water.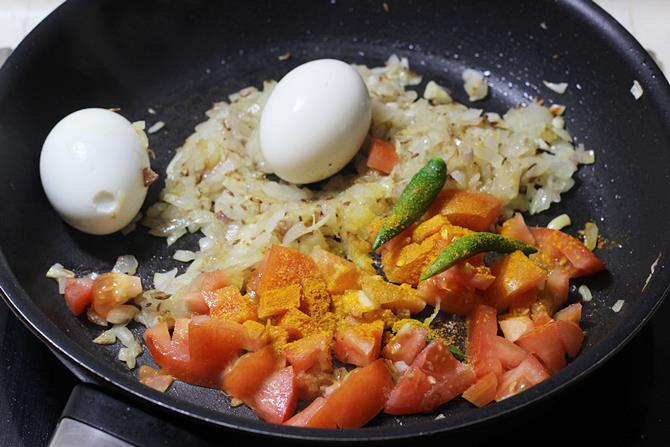 4. Add red chili powder, pepper powder and whatever spice powder you have. I used coriander powder and a bit of biryani masala powder.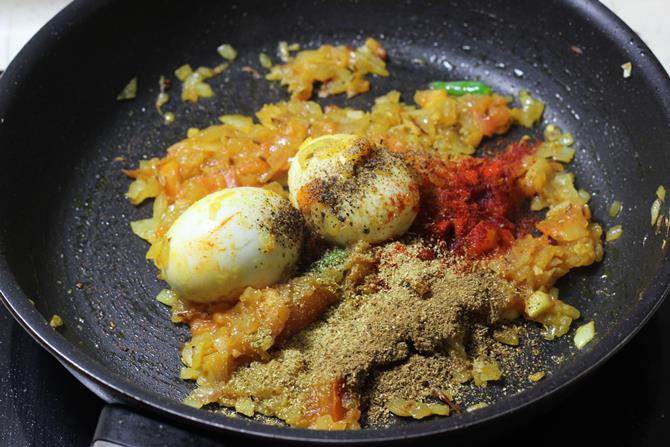 5. Continue to fry for 3 to 4 minutes till the mixture smells roasted and good.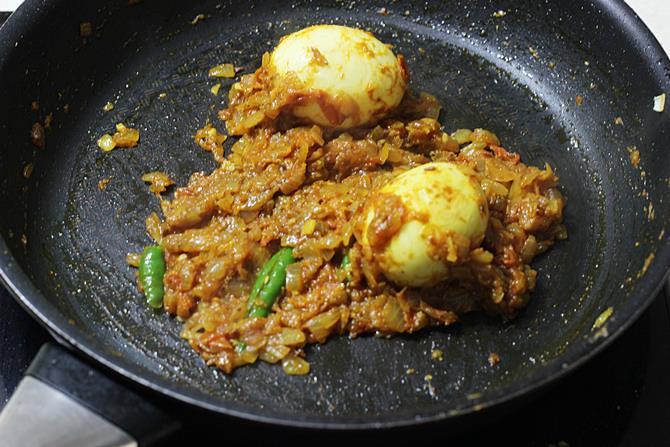 Serve with plain rice,
tawa pulao
fried rice
ghee rice
cashew pulao or chapathi or bread.