Egg pulusu recipe – An easy egg stew known as kodi guddu pulusu in telugu. It is made without tomatoes but tastes tangy, spicy and hot and pairs well with rice or chapathi. Indian Egg recipes are a real stand by when you do not have much time and patience to cook an elaborate meal. Eggs can be used to prepare a variety of dishes like egg bhurji, hot and spicy egg curry, egg masala, egg biryani, egg fried rice, and egg fried noodles and even an Egg Pulusu.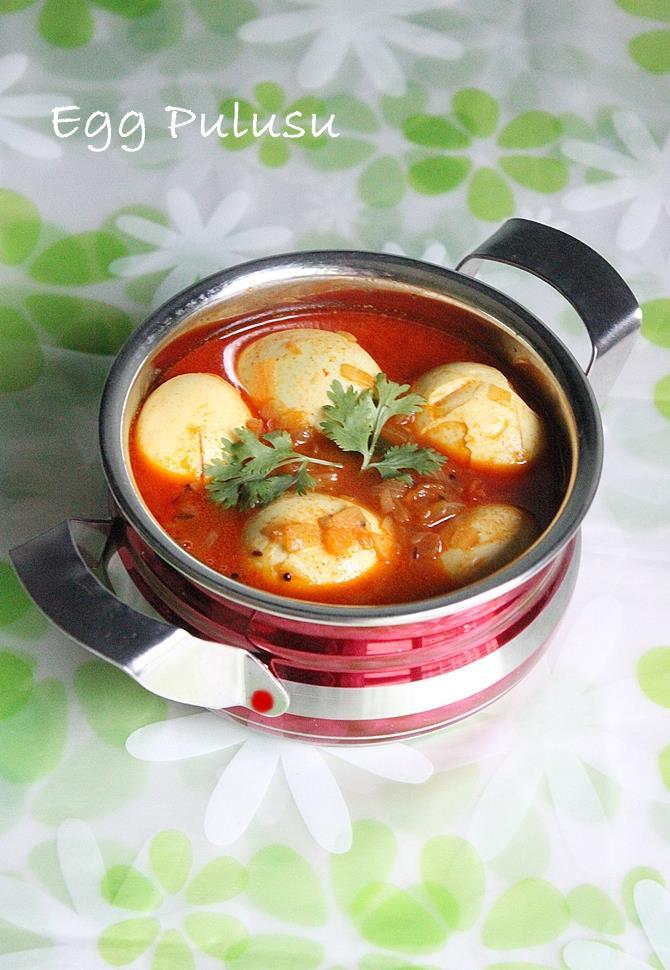 Egg pulusu can even be paired up with some vegetables like potato or drumsticks. Today's pulusu can be prepared just as it is only with egg or can be paired with drumsticks or potatoes. They are cooked in a spicy and tangy stew which is popularly called as andhra egg pulusu. I have not used any sweetener, if you wish you can.
Pulusu can be prepared even with vegetables like okra, bottle gourd, potatoes, drumsticks etc. Pulusu do not need any garam masala or ginger garlic paste, while some folks add crushed garlic while the pulusu is boiling.
I have seen some kodi guddu pulusu recipes call for rice flour for thickening. We do not like a pulusu that way, so we just add coriander, cumin powder sometimes.To get a bright color pulusu like you see in the picture, do not use coriander or cumin powder.
Egg pulusu or kodi guddu pulusu recipe below
Egg pulusu recipe | Kodi guddu pulusu recipe under 30 mins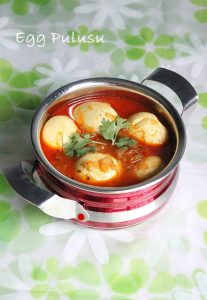 Egg pulusu recipe also known as kodi guddu pulusu is a onion tamarind based stew in which boiled eggs are simmered
Ingredients (240 ml cup used)
5 hard boiled eggs
1 cup of chopped onions
2 green chilies
1 sprig of curry leaves
¼ tsp. cumin
⅛ tsp. mustard
Pinch of fenugreek seeds (methi) (optional)
Fistful of coriander leaves chopped
Generous Pinch of turmeric
Oil as needed
jaggery or sugar as needed (optional)
Salt to taste
½ to ¾ tsp. red chili powder
Small lemon sized ball of tamarind
½ to ¾ tsp. Coriander powder + ⅛ tsp. cumin powder (optional)
How to make the recipe
Soak tamarind in hot water and filter the pulp to remove impurities
Heat a deep pan with oil.
Making egg pulusu or kodi guddu pulusu
Add mustard,methi and cumin, when they splutter add curry leaves and sauté until crisp.
Add onions and green chili, sprinkle salt and fry till they turn pink
Add eggs, coriander and cumin powder,red chili powder, turmeric, salt. Fry for 2 mins on medium. Pour the tamarind pulp. Mix well. Cover and cook on low heat for 3 to 4 mins. If you wish you can add a tbsp. jaggery or sugar now.
Pour enough water to partially cover the eggs .
Mix and simmer for atleast 5 to 8 mins. Adjust the salt and tamarind.
Off the heat and add coriander leaves. Serve egg pulusu with rice or chapathi.
If you are looking for more egg recipes, you could check
egg bhurji
egg tomato curry
egg biryani in 30 minutes
egg pulao
egg roast
boiled egg noodles