Egg roast recipe – Egg roast or egg fry is a great accompaniment to roti, bread, steamed plain rice. It can be made in so many ways. I am sharing 2 recipes here an egg roast and an egg fry recipe.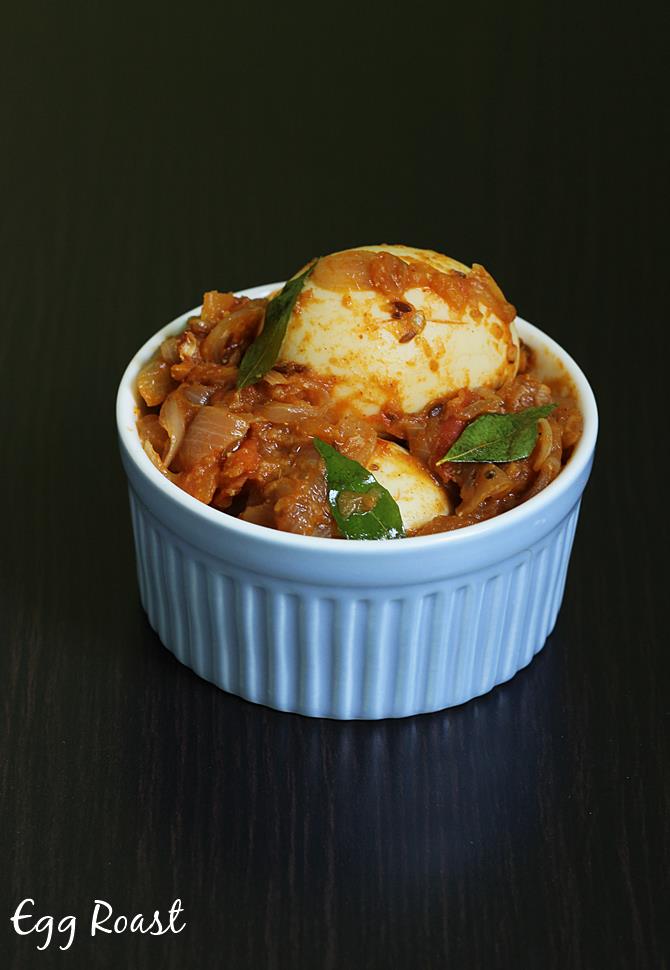 You can play around with the spice powders you have in hand. Any spice powder like garam masala, meat masala or biryani masala works fine with these recipes. But make sure you use very good spice powder that has a good aroma.
You can also check these egg recipes
Egg bhurji
Egg curry
Egg biryani
Egg fried rice
Scroll down to find the recipe of easy egg fry.
Recipe 1 – How to make egg roast recipe
1. add oil to a hot pan and fry cumin until it begins to sizzle.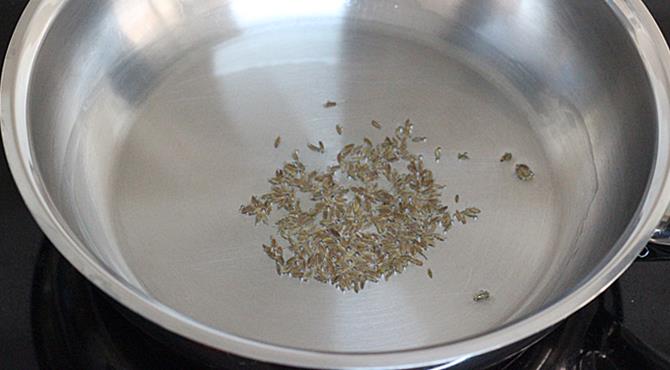 2. Add onions and salt. Fry till golden.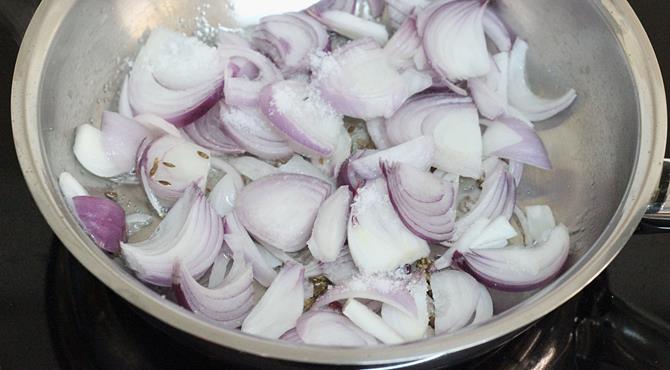 3. Add ginger garlic paste and fry till the raw smell disappears.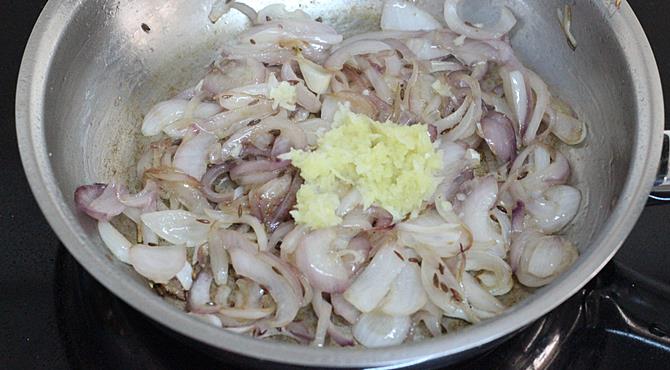 4. Time to add in chopped tomatoes and fry until softened completely.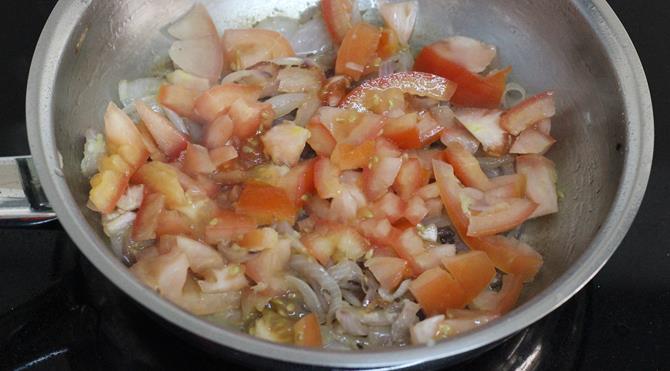 5. Pierce each boiled egg few times with a knife or fork. Add them to the pan along with chili powder, garam masala, curry leaves or mint and turmeric.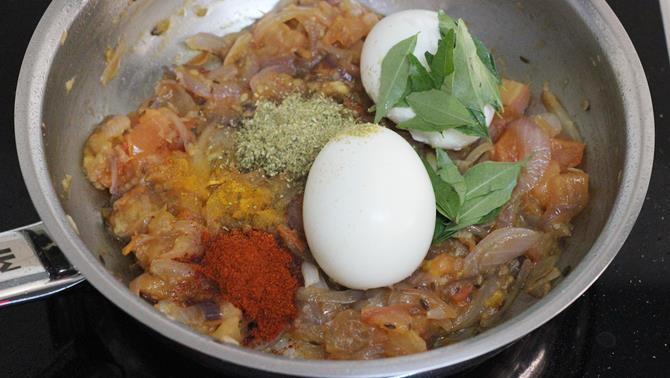 6. Fry until the powders blend well. If the mixture looks dry, sprinkle little water and fry till you begin to smell the mixture good. Make sure the raw smell of tomatoes goes off.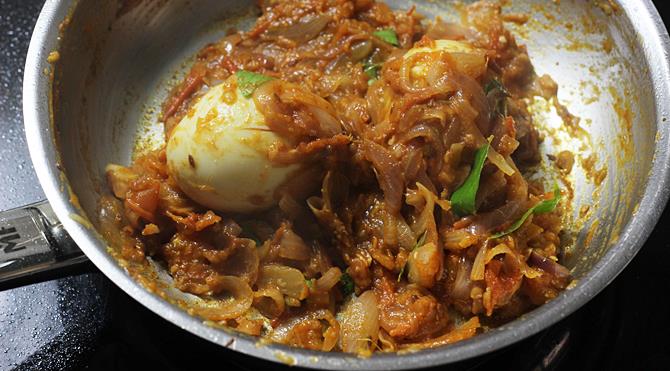 Serve with rice, roti or appam.
 
Eegg roast recipe below
Egg roast recipe | Egg fry recipe | How to make egg roast or egg fry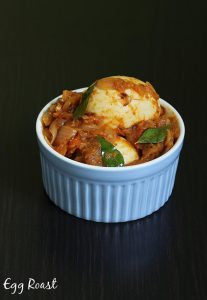 Easy egg recipe to pair with rice, appam or bread
Ingredients (240 ml cup used)
1 tbsp. oil (adjust as needed)
½ tsp cumin/jeera
¾ thinly sliced onions
salt as needed
1 tsp ginger garlic paste or grated ginger
1 medium tomatoes (adjust more or less to suit your liking)
2 hard boiled eggs
1 sprig curry leaves
¼ to ½ tsp garam masala
¼ tsp red chilli powder
pinch of turmeric (optional)
How to make the recipe
Boil eggs, shell them. Pierce them randomly with a fork or knife and keep aside.
Add oil to a pan and heat it. Add cumin and allow to crackle.
Add onions, sprinkle salt and fry until golden.
Add ginger garlic paste and fry till the raw smell goes off.
Add tomatoes and fry until they turn mushy.
Add eggs, curry leaves, red chili powder, garam masala, turmeric and fry for about 3 to 5 minutes or till the spice powders blend well. If needed sprinkle 1 to 2 tbsp. water to prevent the roast looking dry. The raw smell of tomatoes should also disappear. Serve egg roast with rice, bread or chapathi.
Recipe 2 – easy egg fry below
to make this, all we need is few sprigs of curry leaves, garlic and ghee or oil. The aroma of ghee fried curry leaves and lot of crushed garlic is just too good. This is a must try during the winters as this keeps the body warm due to garlic. If ghee doesn't fit into your diet, replace it with oil or half oil and half ghee works fine too. This pairs well with plain rice, rasam or sambar.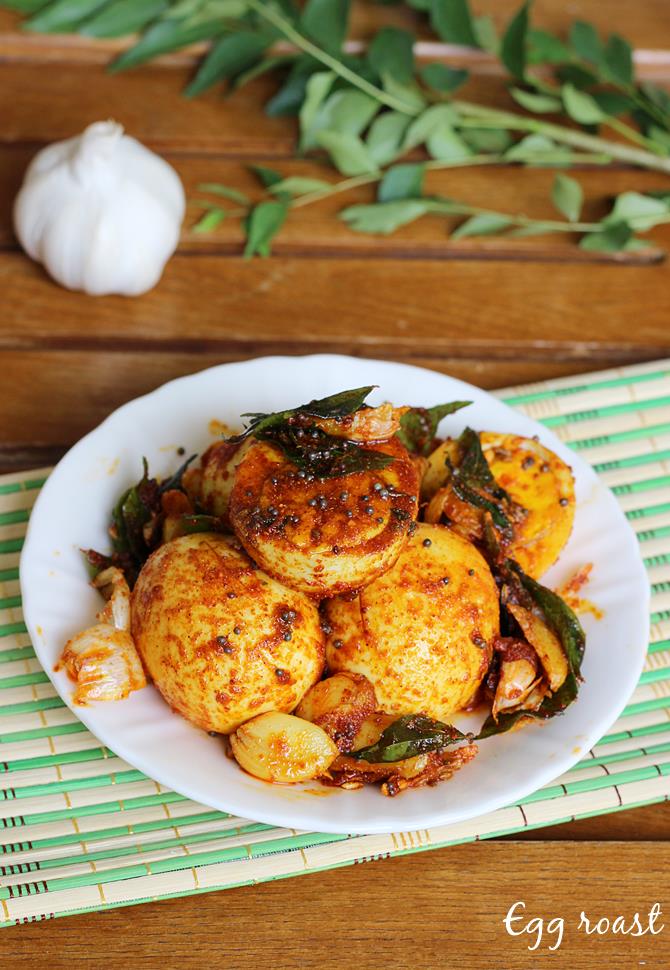 This recipe is just too simple to make, you don't have to chop onions or tomatoes.
 
1. Add ghee or oil to a pan, add mustard,cumin, garlic, curry leaves. fry until the curry leaves are crisp.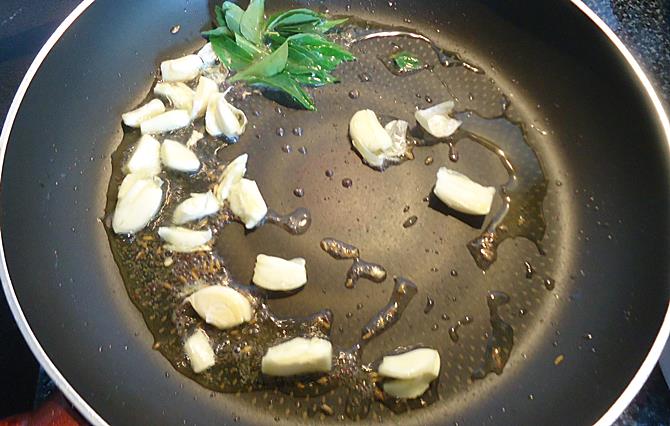 2. Pierce the eggs with knife. or cut them to half. add them. sprinkle salt, turmeric and fry until golden.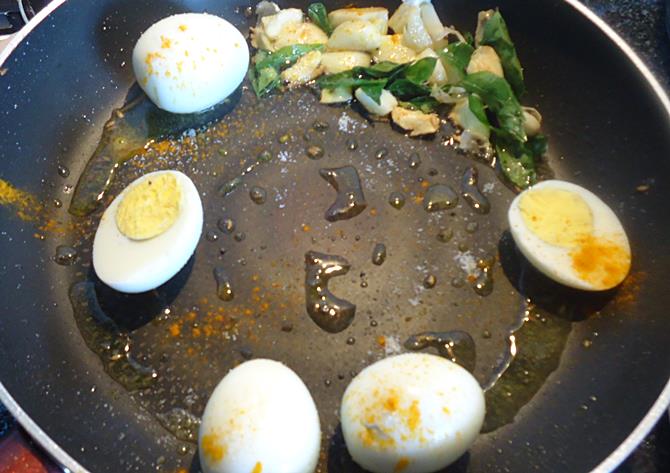 3. Add chili powder and masala powder, lemon juice. off the stove and stir well. egg fry is ready.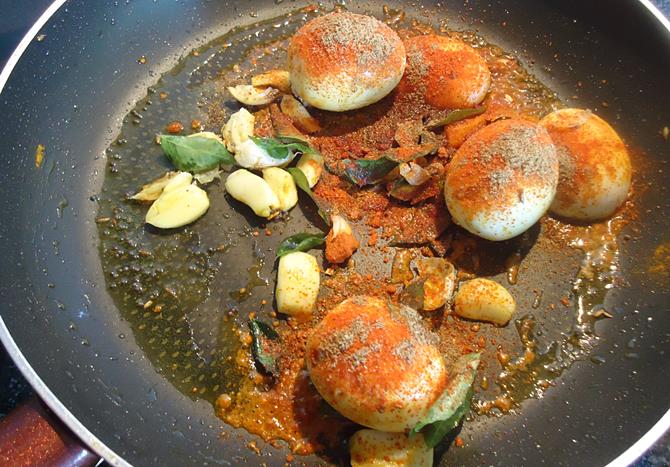 Serve with rice and rasam.