Egg salad recipe – an easy and healthy breakfast idea. This salad involves no cooking except for boiling eggs. It is a very good one for those who have a busy morning schedule and unable to make their breakfast. This can be enjoyed by any including kids. I suggest making the salad and eat it up right away. Eggs do not keep good in the lunch box and are best when consumed within 2 hours of cooking.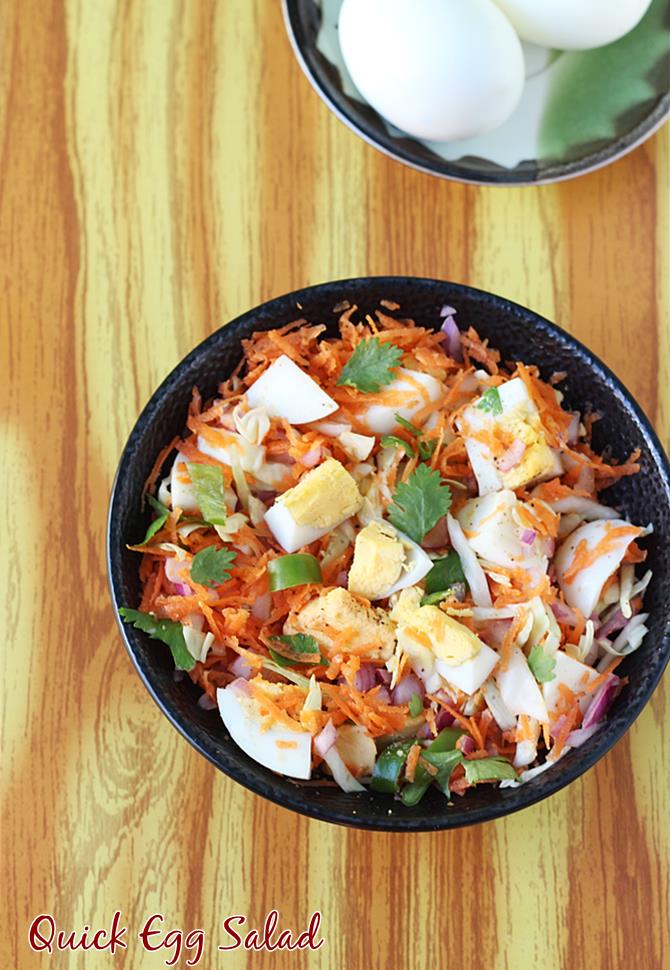 This egg salad is made without using mayo or yogurt. If you are comfortable eating eggs with combinations like yogurt or mayo, you may try it. I prefer not to use them, as i believe that simple foods are more healthy and light on the tummy.
 
To make egg salad, you can use your favorite veggies, i have used carrot, onions and cabbage. Purple cabbage, fresh spring onions, radish or beets too go very well in this.
 
You can find more egg recipes for breakfast on the blog,
egg paratha
Scrambled egg sandwich
boiled egg sandwich
vegetable omelette
vegetable frittata
 
How to make quick egg salad recipe
1. While the eggs boil. Wash and chop or slice onions and cabbage. Add lemon juice and set aside. An addition of lemon juice removes the pungency of onions and strong smell from cabbage.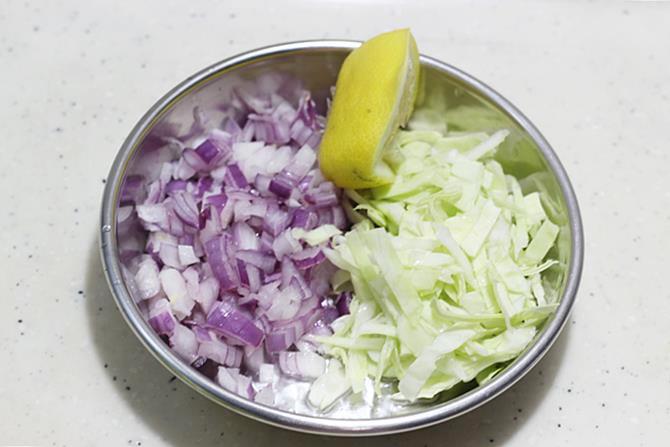 2. Add grated carrots, chili to a bowl along with onions and cabbage. Toss well.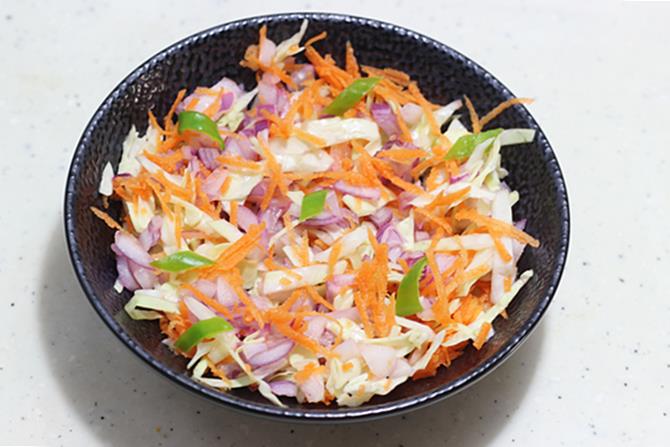 3. When the eggs are done, Remove the shells. Cube them to desired sizes. Do not chop very small, the yolk turns mushy. Add half of the eggs, sprinkle pepper powder, salt and chaat masala.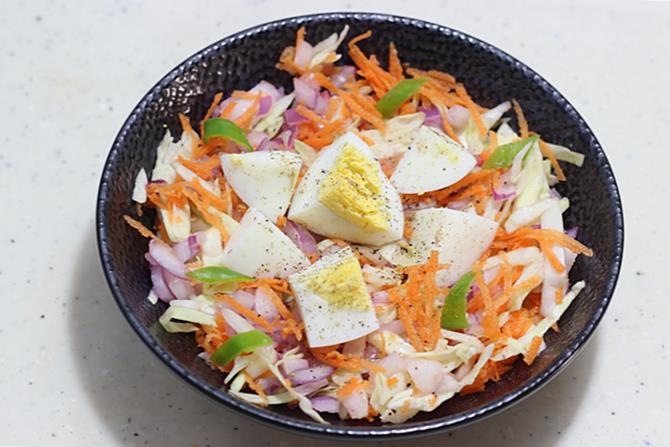 4. Layer rest of the veggies and the eggs. Add few coriander leaves or parsley. Sprinkle a bit more of pepper powder and extra virgin olive oil or virgin coconut oil.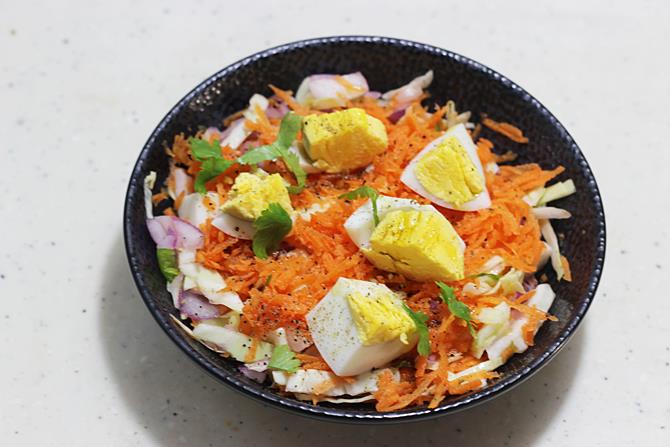 Cover the bowl and gently toss the salad. Delicious and healthy egg salad is ready. You can also use this as a filling to make open sandwich or to make wraps. Best served immediately.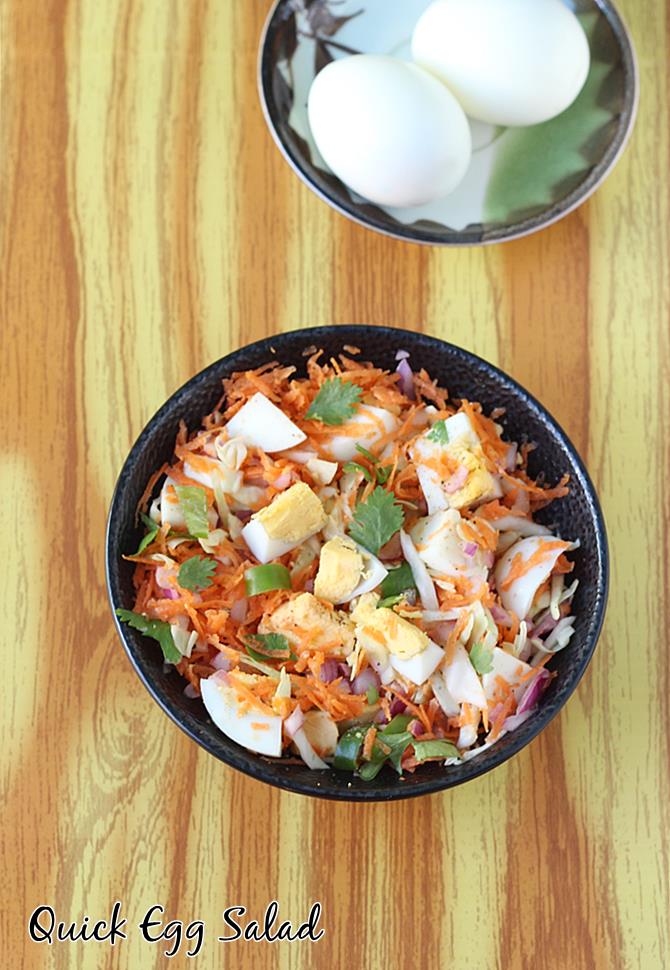 Egg salad recipe | easy egg recipes for breakfast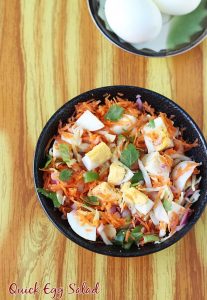 Ingredients (240 ml cup used)
1 to 2 boiled eggs cubed
salt as needed (optional)
lemon juice as needed
pepper powder as needed
chaat masala as needed
¾ to 1 tbsp. extra virgin olive oil or virgin coconut oil
1 cup shredded or sliced or chopped veggies
carrots
cabbage
onions
parsley or coriander leaves as needed
1 green chili deseeded and chopped
How to make the recipe
Hard boil eggs and remove the shells.
Prepare the veggies while the eggs boil.
Add onions and cabbage to a bowl, add lemon juice and set aside till the eggs are done.
Cube the eggs. Add all the ingredients and toss lightly.
Serve immediately.