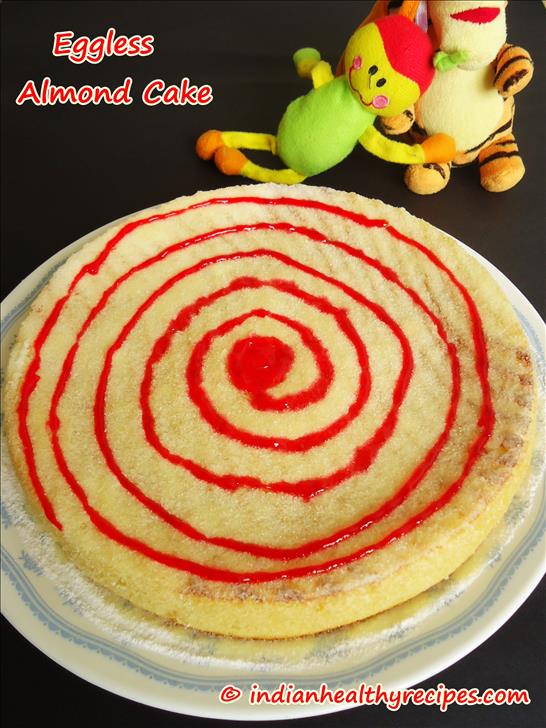 Almonds are my favorite nuts, love to include them in my family's diet in any form. There are days when my kids do not prefer to have their almond milk, I think of alternates like almond burfi , almond butter, nutella with almonds and sometimes minced Cauliflower with almond milk. At last when they are bored, they declare an almond break (a break from almonds in their diet) then I resort to this Eggless almond cake recipe.
 
A moist and soft cake that is wholesome and nutritious especially for kids. This cake tastes buttery with a subtle aroma of almonds and is dense. If you are an almond lover or a health nut like me, then this eggless almond cake recipe is surely meant for you. A perfect one for celebrations & special occasions. But remember this is a high calorie cake of course with all the goodness of almonds in it and the cake sinks in the centre, but no matter it tastes awesome.
 
step by step photos on eggless almond cake recipe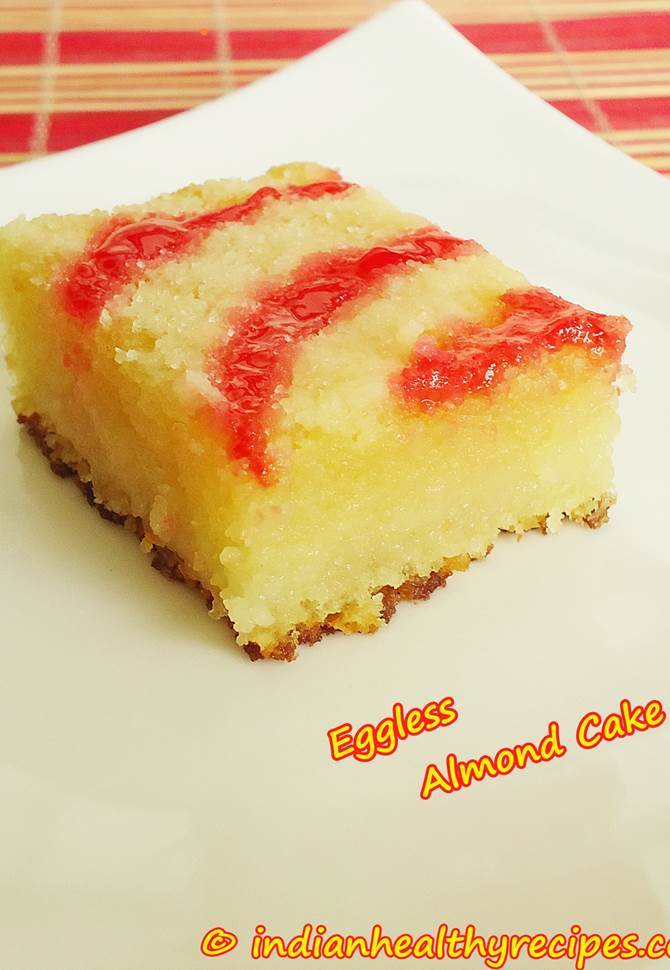 Related recipe: eggless chocolate cake
 
find eggless almond cake recipe below
eggless almond cake recipe | eggless cake recipes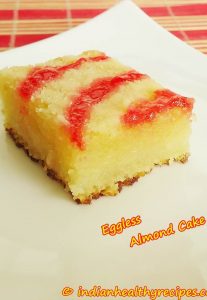 Ingredients (240 ml cup used)
¾ cup plain flour
¾ cup almond meal
1 ½ tsp. Baking powder
80 ml butter milk (or 2 small eggs)
Pinch of salt (to add to the buttermilk)
200 ml milk
125 grams unsalted soft butter
1 ½ cups of powdered sugar
2 tsp. Almond extract (optional)
1 tsp vanilla extract
How to make the recipe
Mix the plain flour and baking powder and sieve twice, add almond meal to this and mix well. Set aside.
Add salt to buttermilk and set aside.
Preheat the oven to 180 C, grease your baking tray and flour it lightly.
Cream sugar and butter until fluffy (if in a mixer do it for 2 to 3 mins on 5). Add buttermilk, almond and vanilla extract.
Add 1 cup of the flour and mix for thorough mixing.
Add ½ of the milk and ½ cup of flour and mix well.
Add the rest of the flour and mix.
Transfer this to the greased tray and bake exactly for 30 mins (for a 9 inch pan). Tooth pick inserted does not come out clean for this cake. As it is slightly gooey in the centre, slight almond meal with oil sticks to the tooth pick. When you see the cake in dark golden color, you can put it out of the oven.
Notes
If your pan is not a 9 inch one, adjust the baking time accordingly.
To make it more buttery you can add another 25gms.
i used 1 tbsp. of powdered sugar to sprinkle on top of the cake as it looks very moist.