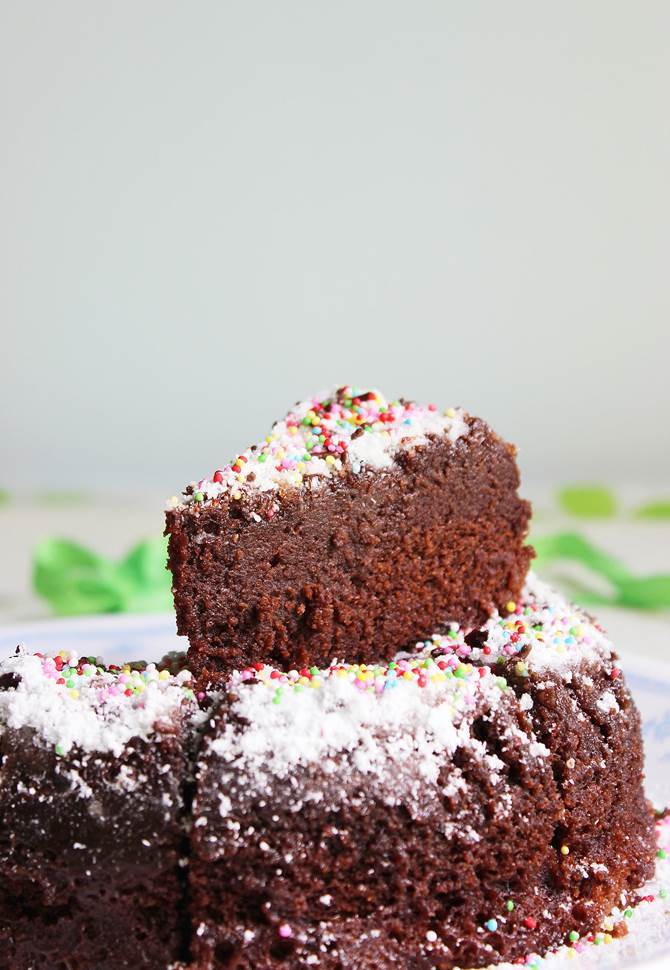 eggless chocolate cake in microwave
This cakes tastes chocolaty with no flavor of banana and has a fudgy texture that tastes great and will make you long for more. After several trails, I have arrived at this best eggless chocolate cake recipe in microwave that makes multiple servings .Some time back I made this for some guests at home. The cake was blown up in minutes and had to make the second one since I did not get to enjoy it. This has become my favorite cake since it gets done so fast and we all love the fudgy cakes. The original recipe is with eggs from an Indo magazine which I got translated by my helper. I tried the egg version twice, though the cake rises well, it sinks down once it is out of the oven and definitely smells like egg. So I made it eggless, after few trials this worked out fine and tasted good.

This eggless chocolate cake in microwave can be made in just 3 steps. Sieve the dry ingredients (except sugar), mix the wet ingredients along with sugar and lastly mix wet and dry. That's all. I have posted a similar recipe that can be made in a mug that makes a single serving, today's recipe is for those who find it difficult to make mug cakes, in case you have around 6 to 8 people to enjoy the cake. This cake needs no frosting since it is heavy on its own and can be accompanied with an ice cream. I use a simple desiccated coconut sugar powder and some colorful balls to make it look good for the kids. I have used choco chips for the recipe, but they settle down and stick slightly to the bottom of the pan. It doesn't alter the taste though so I prefer to use, since they make the cake porous as you can see in the pic. Though it can be consumed immediately, I prefer to leave it overnight in the fridge, but serve warm the next day. The taste of this cake enhances the next morning.

The quantity of banana used is very less in this eggless chocolate cake recipe, when compared to usual banana cakes and muffins. In an attempt to make it eggless, I used the banana as a substitute to egg along with other modifications. Hope you will enjoy this as much as we do.

eggless chocolate cake recipe in microwave
Ingredients (all the ingredients at room temperature except warm water)
1 ½ cups plain flour (maida)
½ cup warm water (just Luke warm)
½ cup oil or softened butter (I use coconut oil)
¾ cup fine sugar or powdered molasses (if using molasses reduce 1 tbsp. cocoa and replace it with plain flour)
2 tsps. Vanilla extract or vanilla powder as needed
1 ½ tbsps. Semi sweet Choco chips
How to make an eggless chocolate cake in microwave
1.

  
Grease a deep microwave safe bowl, casserole or pan thoroughly. Make sure you choose a deep bowl to prevent overflowing. Do not flour it.
2.

  
Sieve flour, cocoa, baking soda and baking powder. Mix well and set aside
3.

  
Mash banana and measure it
4.   Filter the banana puree to a mixing bowl. This step is optional. My kids hate even very small chunks of the banana in the cake so I filter.
5.

  
To the banana, add oil, yogurt, vanilla, sugar and warm water. Mix well till all the ingredients blend well. Just for a minute or so.
6.

  
Pour this to the sieved flour. Mix well till just combined. Do not over do the mixing. Transfer this to the greased bowl. I pass the sieve thru a colander to make sure no lumps exist. I have no pic of this. Passing thru the sieve is recommended if you are new to making cakes. Knock the pan few times to the counter top to reduce the bubbles on the batter. 
*Add choco chips and mix lightly with a fork (updated)
7.   Set the microwave power to 850 watts and microwave for 8 mins. Iam not sure how it would turn out with other power settings. Some trails yielded rubbery cakes when cooked at higher or lower settings. So I suppose this is right for this cake. 
8.

  
After 8 mins, a skewer inserted must come out clean. For me, it is done perfectly after 8 mins but it is slightly moist with chocolate oozing out in the center on top of the cake as seen in the picture. This is due to the chocolate chips and it dries up once cool.
Refrigerate. Enjoy the next morning.
Make a frosting just before you serve.