Fish biryani recipe – A simple Hyderabadi style fish dum biryani with step by step pictures. I made this quite long time ago for a weekend dinner. I don't prefer to cook elaborate meals during the weekends so choose to prepare one of the delicious simple fish recipes. It was this simple fish biryani I preferred to make.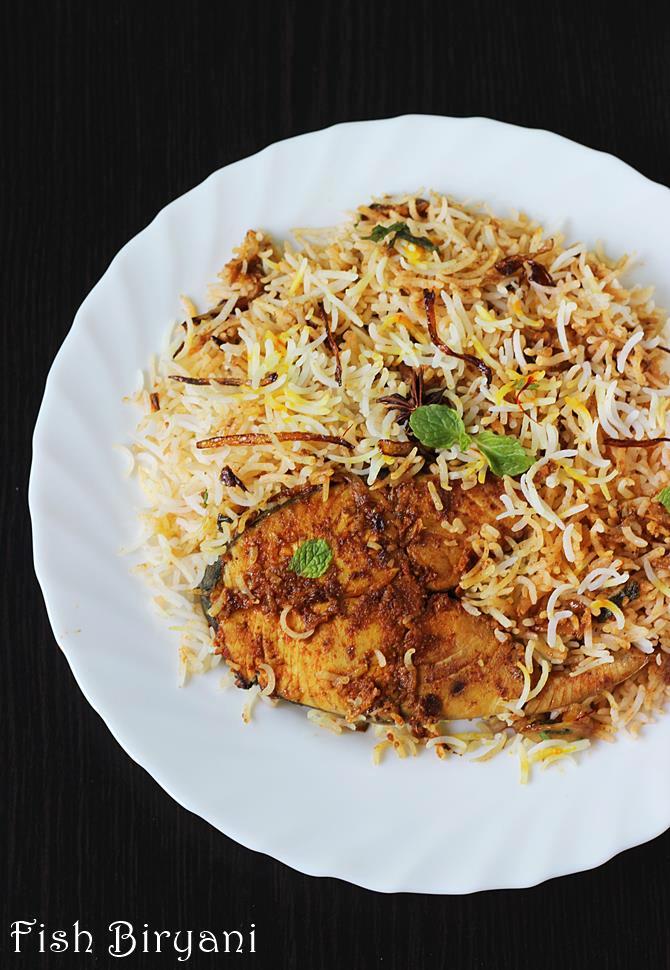 Like chicken, fish doesn't need much resting time after the marination. All the steps just go sequentially without any waiting time and fish gets cooked quickly, so it an express recipe that just takes about 45 minutes. This fish dum biryani recipe is an easy one and even beginners can try it.
To make a kerala style fish biriyani, use coconut milk as a substitute to yogurt. You can also add tomato, details in the recipe card below. I have felt that only an onion raita goes well with this fish biryani and is best when served hot or warm. I have also included how to make onion raita in the same post.
To make this fish biryani recipe, i used 2 large fish pieces that weighed above 220 grams each. You can use small ones too or even a fillet can be used. If using small ones, you may need to increase slightly the quantity of ingredients for marinade. Take care not to use too much masala or ginger garlic paste since it may make the fish bitter.
I used batang fish called as seer fish or vanjaram. Any variety fresh fish should be fine.
You may also like to check these 35 Biryani recipes
Egg roast biryani
Prawn biryani
Malabar chicken biryani
Hyderabadi fish biryani recipe below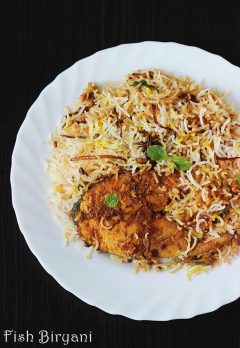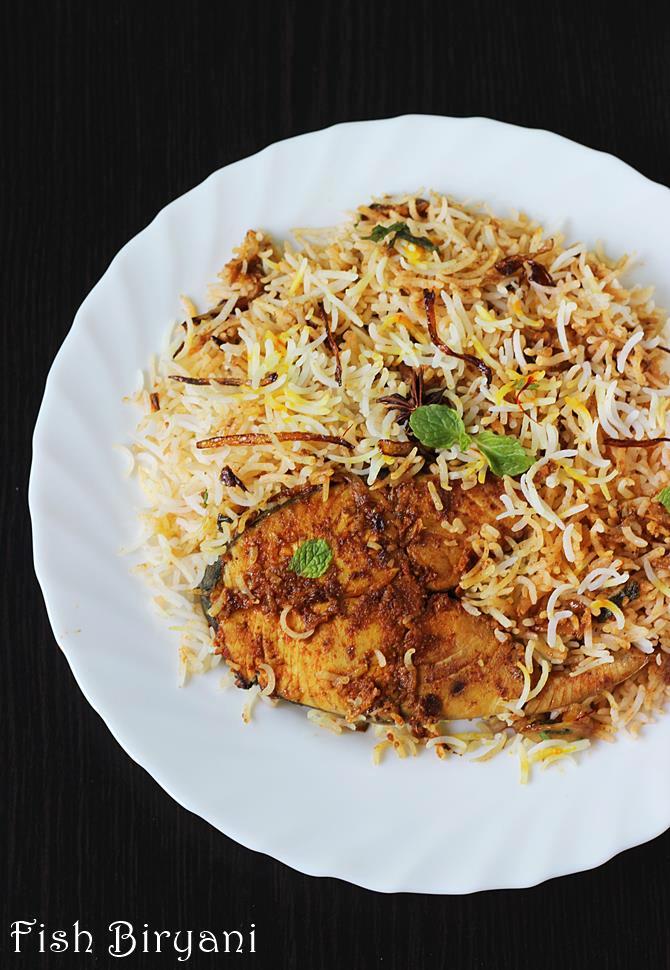 Fish biryani recipe | How to make fish biryani | Fish dum biryani recipe
Ingredients (240 ml cup used)
ingredients for marinade
400 to 500

grams

or 1 lb fish

¾

tsp

ginger garlic paste (1 tsp if using many small pieces)

1

small tomato chopped finely(optional)

½

tsp

red chili powder

¼ to ½

tsp

biryani masala or garam masala

1/8

tsp

turmeric

1 ½

tbsp.

lemon juice

Salt as needed
Biriyani gravy ingredients
2.5 to 3

tbsp.

oil

3/4

cup

onions thinly sliced and layers separated

1

bay leaf

1

star anise/ biryani flower

3

green cardamoms / elaichi

1

small cinnamon stick

4 to 6

cloves

½

tsp

shahi jeera

1

small strand of mace

1 ¼

tsp

ginger garlic paste

3/4 to 1

tsp

biryani masala powder

½

tsp

coriander powder

½

tsp

red chili powder

¾

cup

yogurt/curd(semi thick) or coconut milk

1

tsp

kewra water

handful of mint/pudina, coriander leaves

pinch

of saffrom

2

tbsp.

milk

salt as needed
for biryani rice
1 ½

cups

basmathi rice

salt as needed
How to make the recipe
Soak saffron in warm milk. set aside.

Soak rice for at least 20 minutes and cook till al dente. Do not make the rice mushy but it must be cooked fully.

Mix together all the marination ingredients except fish. Taste the marinade to check the spice and salt. Marinate the fish and set aside till the rice gets cooked.

Fry the fish in little oil on both the sides till the fish gets cooked and the masala turns golden. Set this aside along with any stock or oil.

Add more oil to the pan and fry onions till lightly golden, set aside a few for garnish.

to the same pan, add spices and fry them.

add ginger garlic paste and fry until the raw smell goes off. If using tomato, add it now and cook until it turns soft. Add biryani or garam masala and coriander powder, red chili powder and fry quickly.

Pour yogurt or coconut milk and stir. Cook till the mixture thickens. Set this aside.

Add half of the rice to the biryani pot or handi, layer the gravy, add some chopped mint and coriander leaves. layer the fried fish along with oily stock if any.

Layer the rice again and then sprinkle coriander leaves, mint leaves and fried onions. pour the saffron milk. Sprinkle kewra water.

Seal it with a foil and put it on a hot tawa. Cook on high flame for 2 minutes and very low flame for 10 minutes.

Allow fish biryani to rest for about 15 minutes before serving.
how to make onion raita for biryani
Slice thinly 1 large onion, chop chilies and coriander leaves. You can deseed the chilies. Whisk one cup curd/ yogurt/dahi with salt, add the chopped ingredients and mix. You can add more or less curd as desired. Cumin powder can also be used. It aids in digestion.
Recipe Notes
½ tsp shahi jeera, 1 bay leaf, 3 green cardamoms, 4 cloves,1 cinnamon stick can be added to cooking rice.
If using frozen fish, after marination do not leave it for longer than 10 to 15 minutes. I have found that the ginger garlic makes the fish break quickly while getting cooked.
How to make fish biryani recipe
1. Wash and soak 1.5 cups basmathi rice for about 20 to 30 minutes. Cook in 4.5 to 5 cups water till al dente. For this fish biryani, rice should be just done and you should be able to feel the bite when you eat it. It gives a perfect biriyani grain after the dum. You can also cook the rice with half tsp shahi jeera, few cardamoms, bay leaf. But they are not really needed since strong flavors and spices don't go well in a fish biryani otherwise the flavor of fish is lost.
2. While the rice soaks, make a paste of the marination ingredients. Taste it to check the salt and spice levels. Set aside. Wash fish with salt. To remove fishy smell, you can also use vinegar to wash. Drain water completely. Marinate and set aside till the rice gets cooked. Also slice the onions thinly and separate the layers. When the rice is done, drain it off to a colander.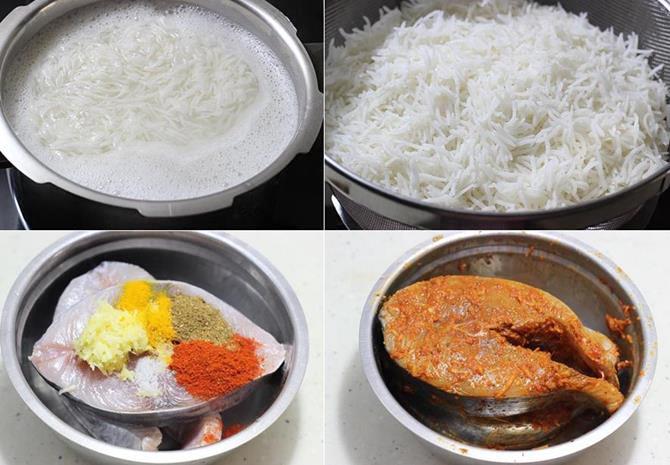 3. Heat a pan with one tbsp oil, add the fish and fry on both the sides till the fish gets cooked well. By then the masala also gets roasted well. This takes around 7 to 9 minutes depending on the thickness and the type of fish used. Take care not to burn the fish or masala. Set this aside along with any oil or stock left in the pan. You can use a well seasoned cast iron or iron tawa to fry fish. A non stick may get scratches while flipping.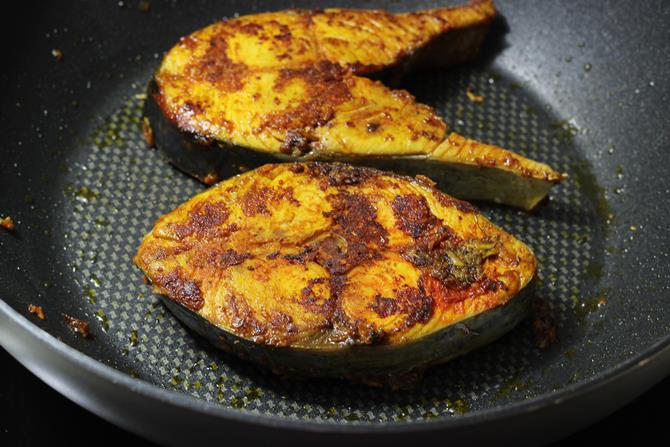 4. If you like to use cashews, you can fry them now and set aside. Add the rest of the oil and fry onions. Keep stirring often to fry them evenly.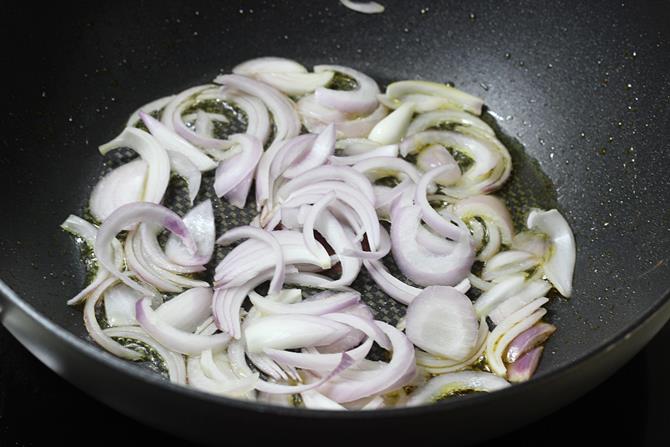 5. We need to brown them lightly. Not completely browned as they get fried further. Set aside few onions for garnishing.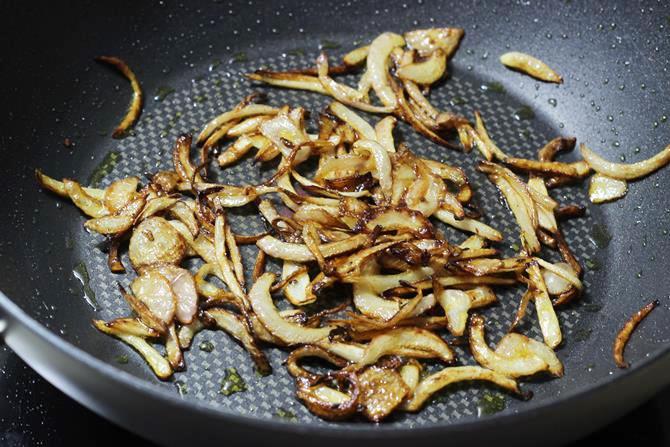 6. Move the onions aside. Add spices and saute them till they begin to sizzle.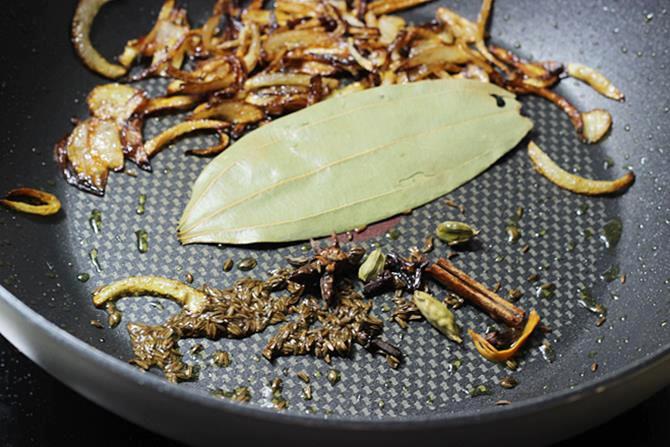 7. Add ginger garlic paste, take care not to burn it as the pan is very hot. I switched off the stove for a while when i fried it. Make sure the raw smell of ginger garlic disappears.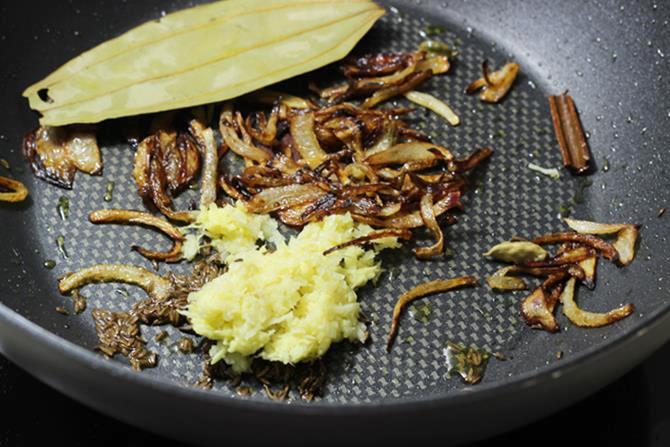 8. This time I have not used tomato, but if you like to use, add it now and saute until it turns mushy completely. Add the spice powders, salt and give a quick stir. I switched on the stove after this step. I used biryani masala and coriander powder as well, since the biryani powder alone was strong.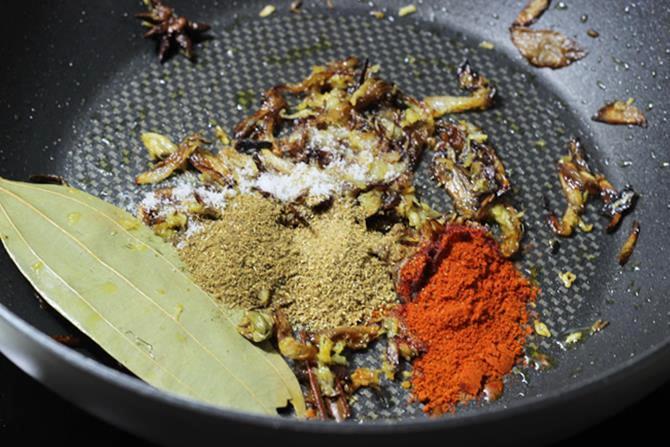 9. Pour yogurt or coconut milk, stir it. Do not add very thick coconut milk since the gravy may look curdled.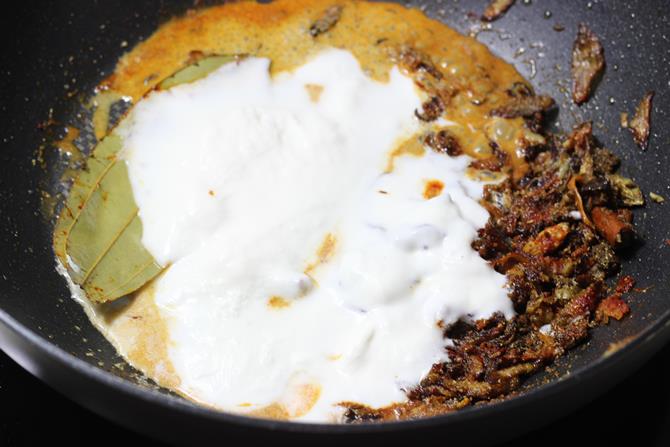 10. Cook on a medium flame till the mixture thickens. Set this aside when it is done, do not leave it on the stove as the gravy gets cooked further and the quantity reduces. If you like to add fish and coat it in the masala you can do it. But it makes the fish quite moist and dunked in gravy. We prefer fish with gravy on one side and roasted masala on the other side. So i do not add them now.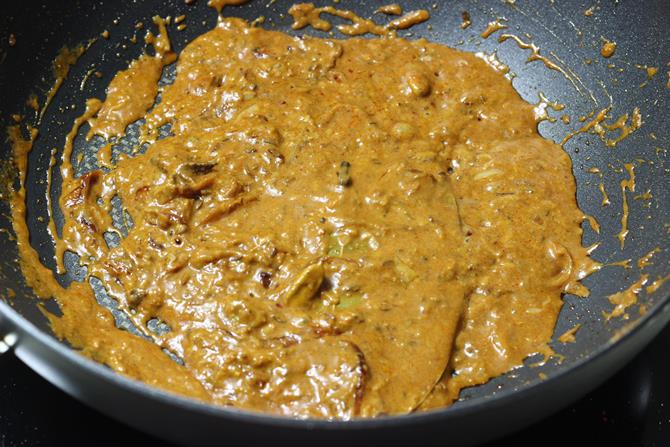 11. This step is optional. While the mixture cooks, heat milk and add saffron. Set this aside.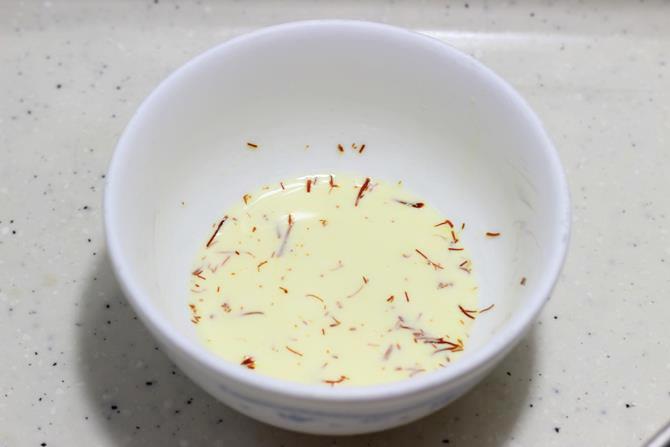 12. Layer 1/2 of the cooked rice in a heavy bottom pot. I used the same pot which i used to cook rice. Do not use a wide pot for dum process since the quantity is less.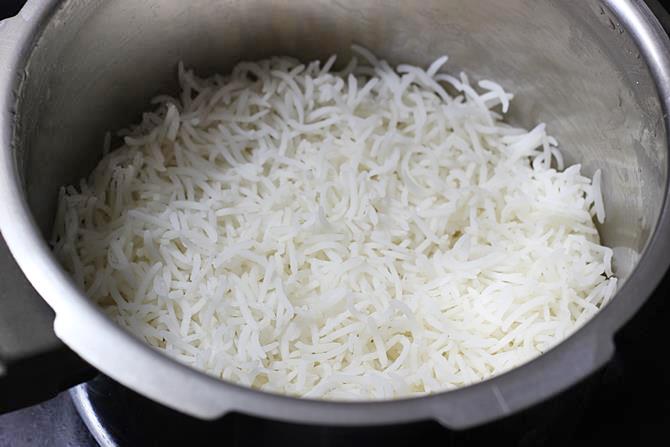 13. Layer the gravy and then sprinkle some mint and coriander leaves.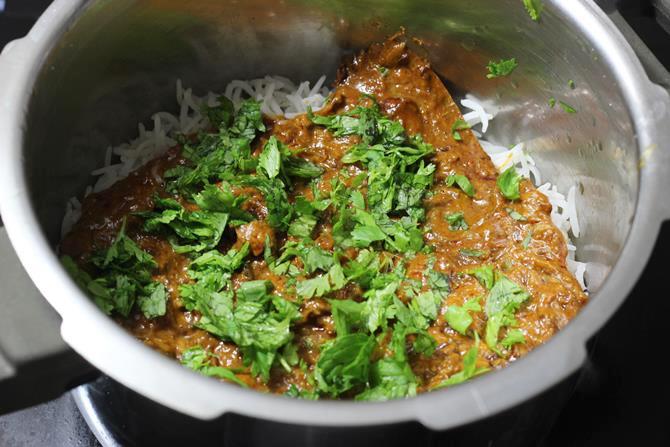 14. Layer the fried fish. Also pour the left over stock from the fried fish if any.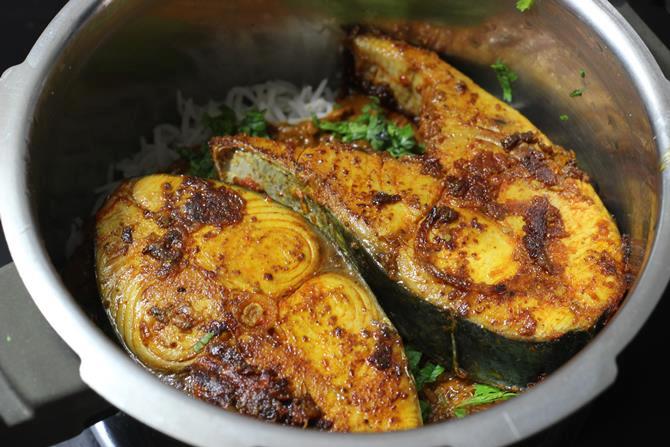 15. Layer the left over rice again. Layer fried onions, mint and coriander leaves and pour the saffron milk. If you like to add fried nuts you can. Sprinkle kewra water.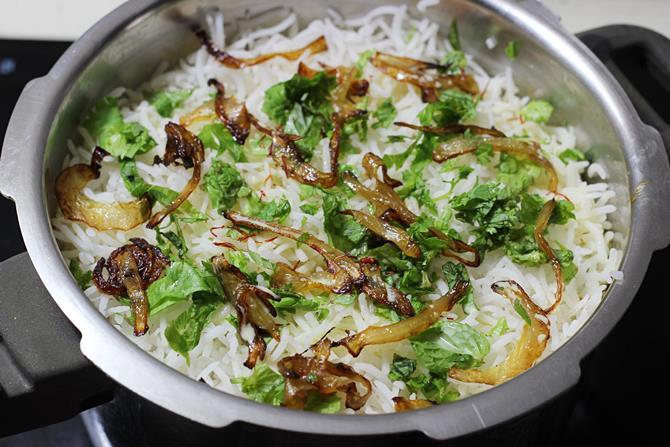 16. Cover it with a tight lid or foil. The day i made this dum biryani, i did not have foil. so just went ahead with a lid. As such a dum fish biryani doesn't generate much steam to trap like a chicken or mutton biryani. So it is just fine to go ahead with a well placed lid or a moist cloth with a lid. Heat a pan or tawa until hot, place the biryani pot on the tawa and cook on a high flame for 2 minutes and then on a very low flame for just 10 minutes. Allow it to rest for about 15 minutes, before you serve. For the dum process, any heavy bottom iron pan or steel pan can be used.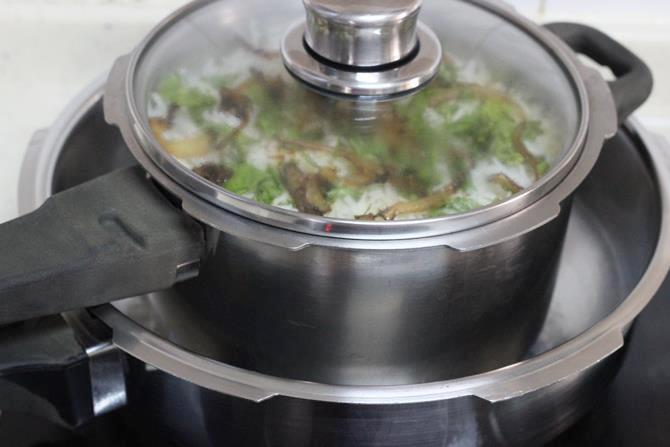 Serve fish biryani with onion raita.