Fish fry recipe – This makes a great appetizer or a side to a meal. A simple vegetable salad or onion wedges compliment the fish fry. It can be served as a side with any variety rice like Ghee rice, cumin or Jeera rice, simple coconut rice. However it also goes great with plain rice and simple rasam or this tamarind rasam. This recipe is very easy to follow, a bachelor's recipe and yields a tasty crispy fish.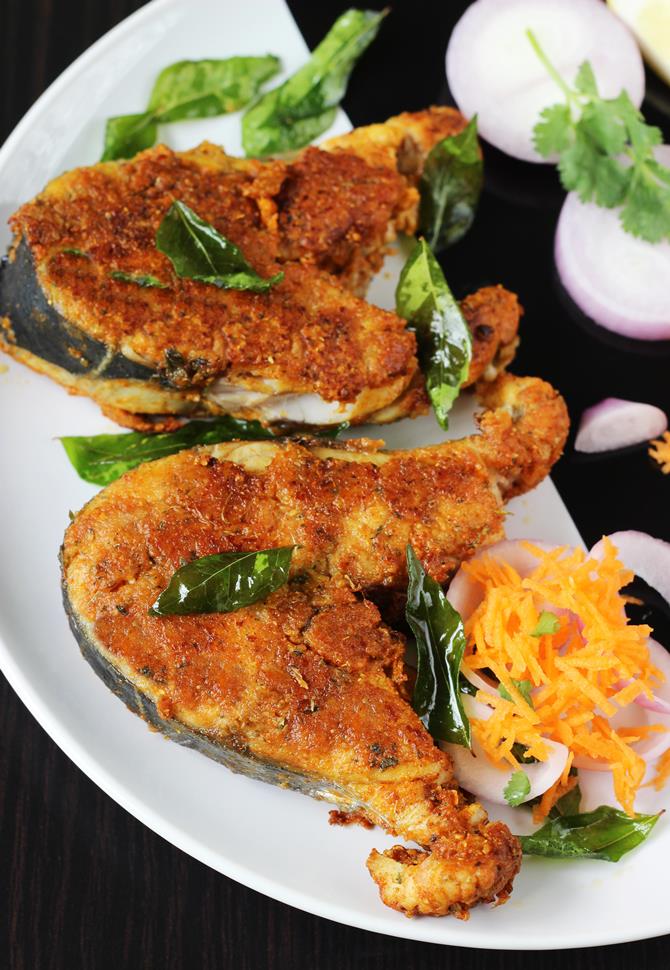 To make this easy fish fry, fish needs double marination. First marination for the fish to absorb all the flavors and spice. Second marination to give a crust to the fish.
This simple fish fry recipe can be used to grill or shallow fry or tawa fry the fish. All methods yield crusty fish and is best served immediately. Besan, ajwain and saunf bring in a great aroma to the fish. If you do not have these, you can substitute with rice flour and a mild garam masala. But using besan and ajwain gives the flavor of a pakora.
You can find more fish recipes on the blog,
Amritsari fish
Grilled fish
Andhra fish fry
vanjaram vepudu
fish fingers
Find complete fish fry recipe below
Easy fish fry recipe | How to make fish fry | Fried fish recipe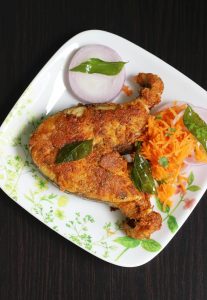 Fish fry recipe made in a simple way using basic ingredients. It can be served as a starter or as a side.
Ingredients (240 ml cup used)
½ kg fish fillets
Oil as needed
First marination
1 tbsp. ginger garlic paste or coarsely crushed
Lemon juice as needed
Salt as needed
⅛ tsp turmeric
¾ tsp garam masala
½ tsp coriander powder (if garam masala is very strong)
½ tsp red chili powder
Second marination
1 ½ tbsp. rice flour
1 ½ tbsp. besan / chickpea flour / gram flour
Salt as needed
¼ to ½ tsp red chilli powder or paprika (adjust to suit your taste)
½ tsp saunf
½ tsp ajwain
¼ tsp Kasuri methi or 1 sprig curry leaves chopped finely
How to make the recipe
Mix all the ingredients mentioned under first marination. Taste the marinade and adjust salt or spice as needed.
Powder ajwain and saunf together or crush them coarsely. Mix all the ingredients mentioned under second marination. Repeat tasting this a bit. Adjust whatever is needed.
Wash fish fillets thoroughly. If using a fish like salmon, make slits in the fillet.
Drain off the water completely. Marinate with marinade prepared in step one. Set this aside for about 15 minutes.
Place the fish in flour mixture we prepared in step 2. Make sure flour coats well on to the fish on both the sides. Fish looks floury at this stage. Set this aside till the dry flour turns moist. The moisture in the fish makes the flour damp and it sticks well to the fish. This takes around 10 to 15 minutes
Heat a tawa. Add oil and spread it well. Heat it on a low flame. Fry till crusty on both the sides. Be gentle while flipping the fish otherwise the masala comes out. Fish can be pan fried or shallow fried both yield almost the same result.
Garnish with onion wedges and grated carrot. Serve with a meal or as an appetizer.
For grilling the fish.
After the second marination, Gently brush a generous amount of oil over the fillet. heat the oven at 170 C for 15 minutes and grill for about 25 minutes. You may need to grill for more or long depending on the thickness of the fillet or the variety of fish.
Nutrition Information
Calories:
200
Fat:
4g
Carbohydrates:
7g
Sodium:
320mg
Protein:
30g
Cholesterol:
133mg
How to make easy fish fry recipe
1. Mix all the ingredients under first marination i.e ginger garlic paste, lemon juice, salt,garam masala, turmeric and chilli powder. Taste the marinade and adjust salt if needed.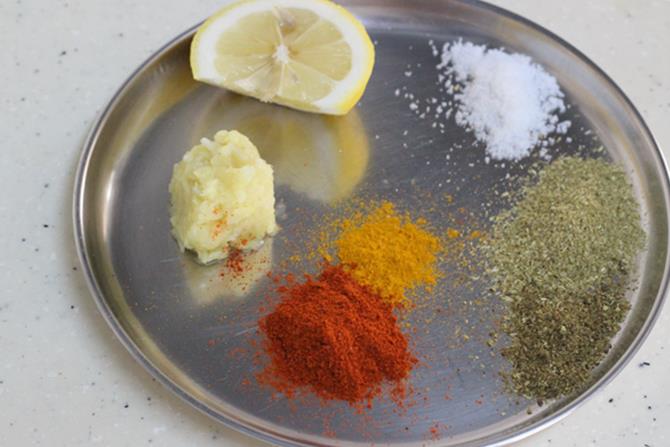 2. Powder saunf and ajwain . If you cannot powder, at least a coarsely crushed powder would be OK. Add it to the second marination ingredients. Mix well and taste it. Adjust salt if needed.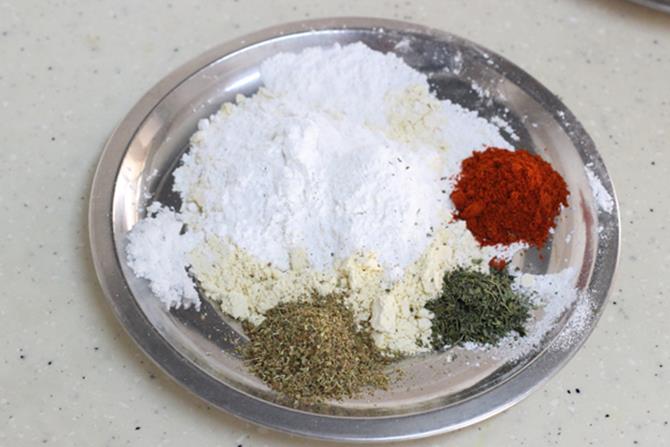 3. Marinate the fish with wet marinade from step one and set aside for 15 minutes. Coat the fish in the dry flour mix on both the sides. Set aside in a plate. Leave it for about 15 minutes for the dry flour to become moist and cling well to the fish.
4. It can be tawa fried till crusty. For tawa fry add 3/4 tbsp oil to a hot pan and spread it well. Fry on both the sides, take care while you flip the fillet otherwise it may break. Fry few curry leaves along with the fish to garnish.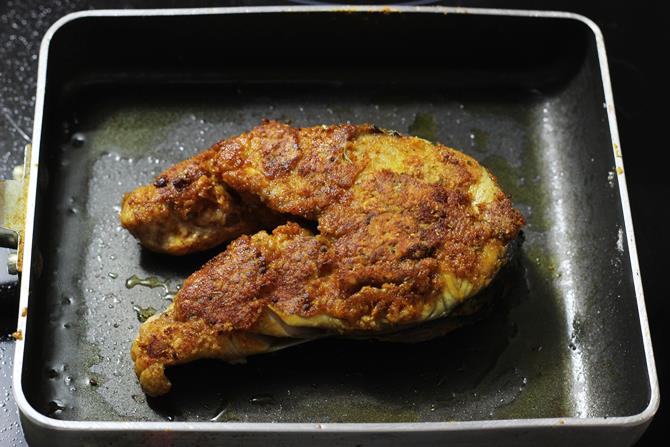 5. For shallow fry, use oil as needed. I suggest using a small pan if shallow frying, the amount of oil needed will be less.
6. Fry till golden. Flip carefully otherwise the crust will come out.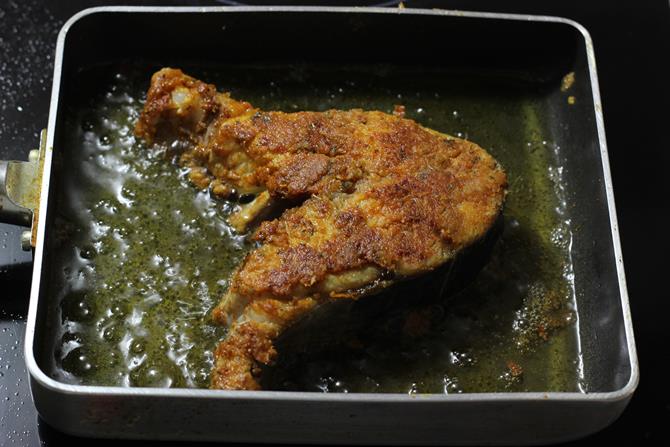 Garnish and serve fish fry.