Fruit custard recipe with video & step by step photos. Similar to popular Indian desserts gulab jamun and carrot halwa, a chilled fruit custard makes its presence in most special meals & parties. It can be a great summer treat to your friends, family & guests. Custard is a saucy dish that was traditionally prepared with cream, milk and eggs. Today one can find so many ways of making a custard. The simplest way is to use a store bought custard powder like i have done for this post.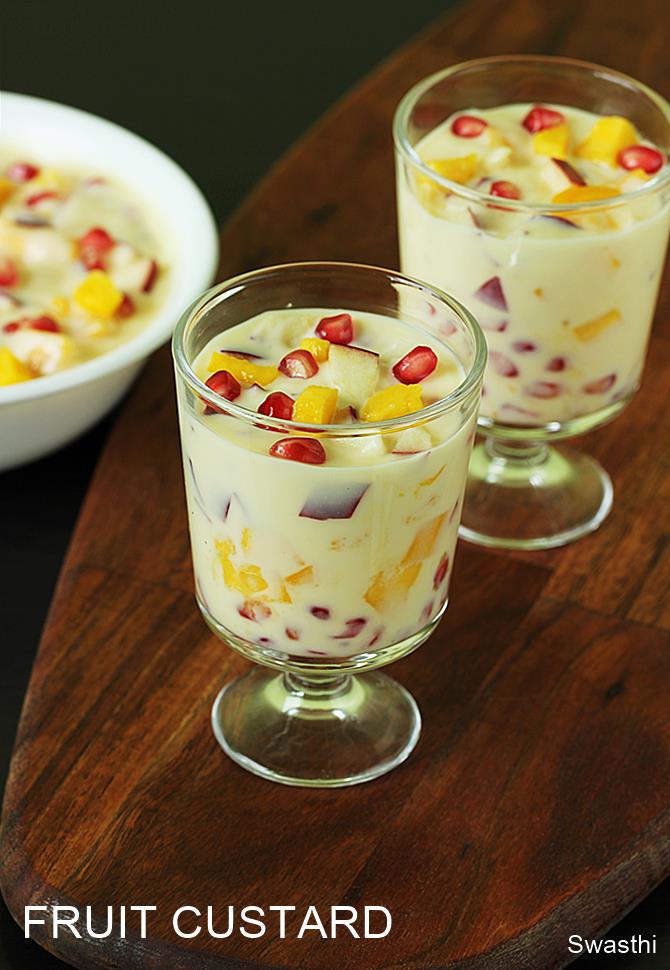 I have used a eggless custard powder that has no artificial colors and flavors. I have used banana. pomegranate, mango and apples that were all sweet and not sour. You can use fruits of your choice but mostly sweet fruits go well.
For more summer desserts, you can check
Kulfi
Rabri
Basundi
Falooda
Ice cream recipes
Video of Fruit custard recipe
Fruit custard recipe below
Fruit custard recipe | How to make fruit custard | Fruit salad with custard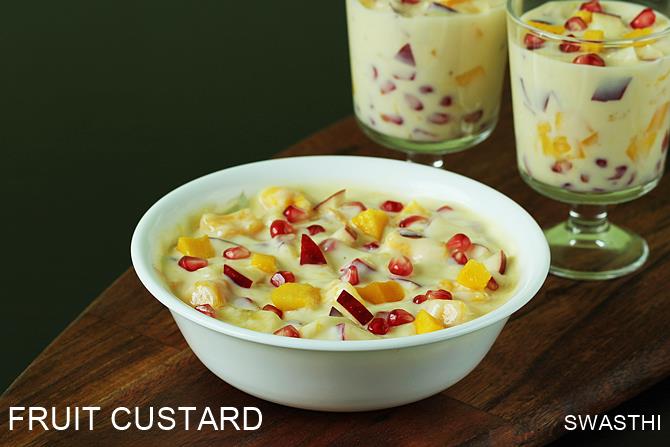 Fruit custard is a dessert made with custard sauce and fresh fruits. Any sweet tasting fresh fruits go well in this.
Recipe type:
Dessert / Sweet
Ingredients (240 ml cup used)
2 cups milk (can use almond milk or soya milk)
2 to 2 ½ tbsp custard powder
2 to 2 ½ tbsp organic sugar
Fruits of your choice (about 2 cups, use as desired)
1 medium sized apple
½ large mango
1 medium banana
½ pomegranate
How to make the recipe
Wash the fruits thoroughly and chill them in the fridge.
Heat milk in a wide pan or sauce pot.
Add sugar and stir until it dissolves.
Meanwhile add custard powder to a small cup and add 3 to 4 tbsp of milk to it. Stir well. Make sure it is free from any lumps.
When the milk turns hot, pour 2 tbsp of the mix to the hot milk. Stir it.
Repeat adding little more and stir well. Pour the rest of the mix and stir well to prevent lumps.
Keep stirring and cook on a low to medium heat until the custard turns thick.
Switch off the stove and whisk it well to make it smooth. Cover immediately.
Cool this completely and chill it.
Serving fruit custard.
Whisk the custard well before serving. This ensures even and smooth custard.
Peel and chop the fruits to bite size. Add them to serving bowl or individual serving cups.
Pour the custard over the fruits and gently mix.
Serve fruit custard immediately.