Gobi masala recipe – North Indian style cauliflower curry with step by step photos. This is a wonderful and healthy accompaniment to roti, plain paratha, jeera rice or even plain basmathi rice. To make the cauliflower gravy, no yogurt or cream is used and is kept simple.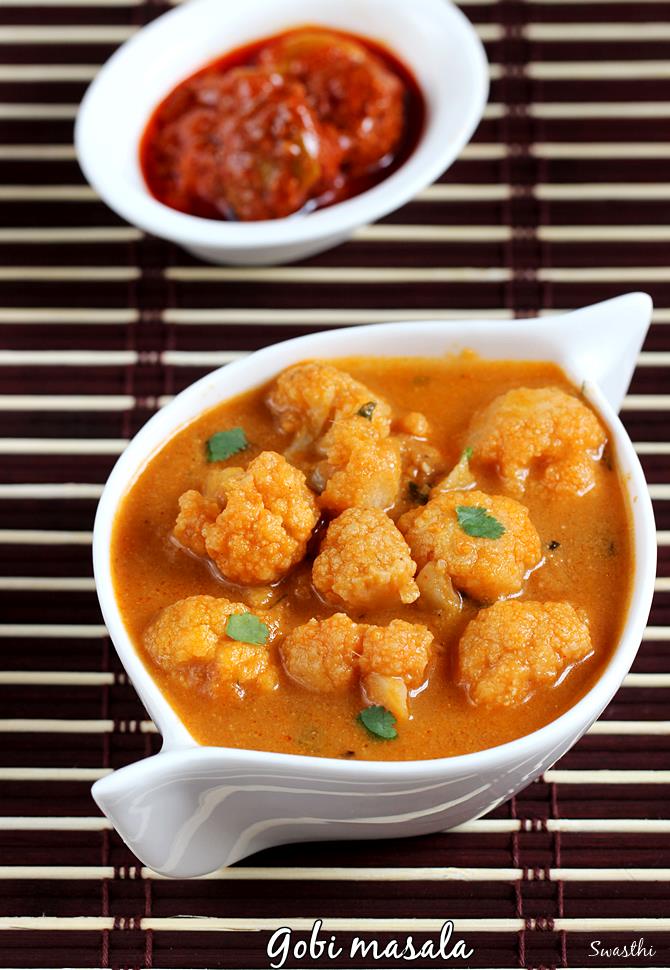 The gravy tastes very delicious just with the addition of few almonds which is optional. You can also replace it with roasted magaz seeds / melon seeds or cashews.
You may also like these simple cauliflower recipes
Cauliflower curry
Aloo gobi recipe
Gobi 65
Gobi manchurian
Gobi kheema

Gobi masala or cauliflower masala recipe below
Gobi masala recipe | Cauliflower masala curry | Cauliflower recipes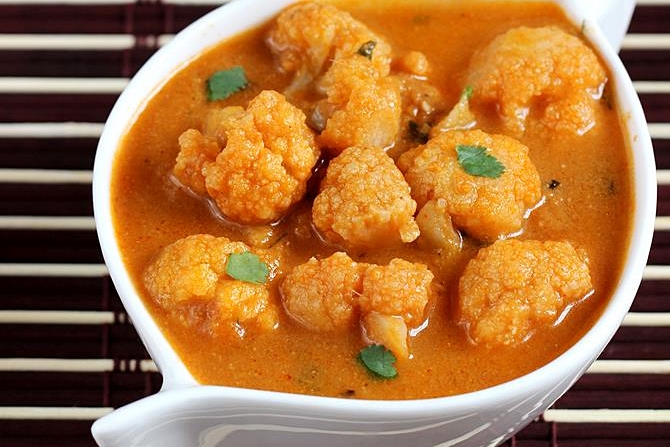 Gobi masala is a simple north indian style cauliflower gravy.
Ingredients (240 ml cup used)
250 grams of gobi or cauliflower
1 cup of cubed onions (discard the basal plate of onion)
1 inch ginger piece
2 to 3 garlic cloves
6 to 8 almonds or cashews or 1.5 tbsp magaz (optional)
1 green chill (optional)
¾ cup tomato deseeded chopped
2 tbsp oil
1 small piece of bay leaf
1 small cinnamon stick
1 cardamom
2 cloves
½ to ¾ tsp red chili powder
¼ to ½ tsp garam masala. (Adjust as needed)
1 tsp coriander powder
½ tsp kasuri methi
salt as needed
How to make the recipe
Boil onions in 2 cups of water for 2 to 3 mins. Cool them completely. Separate cauliflower florets and soak them in enough warm salted water for 5 to 10 mins. This way any worms inside the florets, will let them come out. Do not boil cauliflower.
Throw off the water and rinse thoroughly under running water, set aside to drain.
Puree onions, tomatoes, ginger, garlic and almonds to a smooth mixture without adding water. Keep this aside.
Heat a pan with oil, fry bay leaf, cinnamon, cloves and cardamom.
Add the onion tomato puree and saute until the raw smell goes off.
Add chili powder, salt, garam masala and coriander powder. Saute until it begins to smell good.
Add cauliflower and saute for 2 to 3 mins.
Add ¾ cup water and mix. Cover and cook on a medium flame.
When the gobi is cooked al dente, add kasuri methi.
Off the stove. Add coriander leaves. Keep covered until served.
Serve gobi masala with plain rice, jeera rice, roti, paratha.
How to make gobi masala or cauliflower gravy
1. Bring 2 cups of water to a boil and add 1 cup cubed onions. Allow to boil for 2 to 3 mins. Drain them and cool. Heat 2 to 3 cups of water to slightly hot temperature. Switch off the stove. Add 1 tsp crystal salt and cleaned cut florets of gobi. For this recipe i used 250 grams of cauliflower. Leave it for a while. Then drain them and rinse well. Drain in a colander.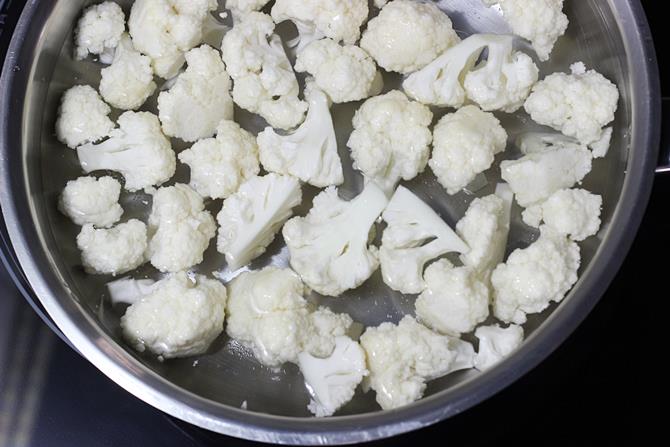 2. While the gobi is resting in water, add onions, ¾ cup cubed deseeded ripe tomatoes, 6 to 8 almonds (optional), 1 inch ginger piece and 2 to 3 cloves of garlic.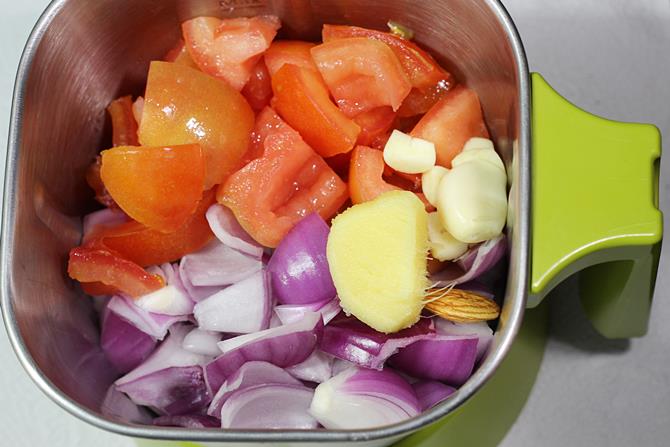 3. Blend them without adding water until smooth.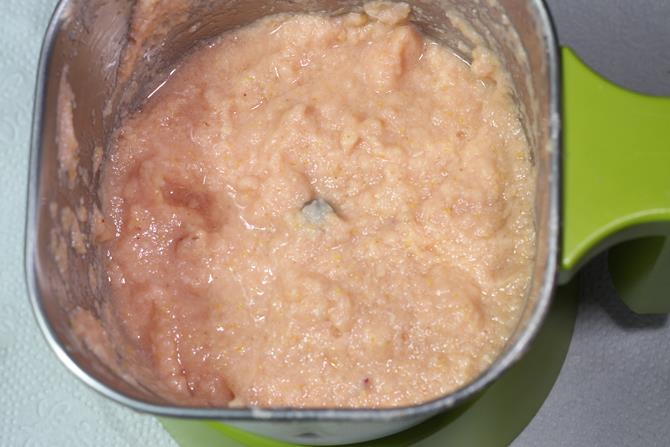 4. Heat a pan with oil. Add 1 cardamom, small cinnamon and piece of bay leaf and 2 cloves. You can also skip all these spices and just use bay leaf and cinnamon.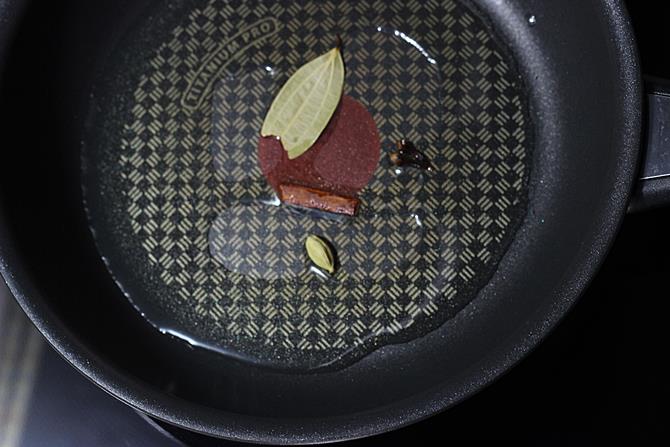 5. Add the pureed onion tomato mix.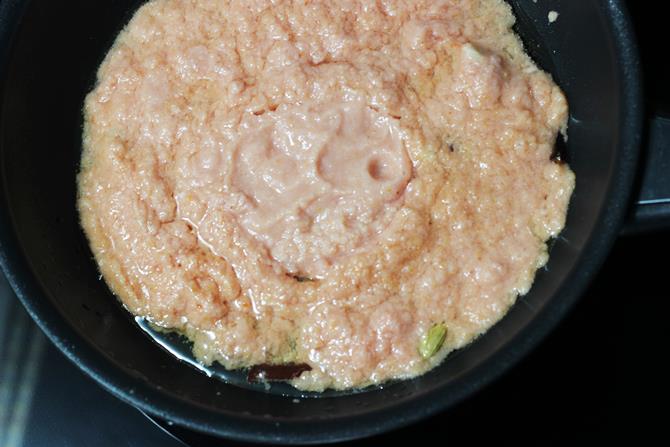 6. Cover partially and cook until the mixture cooks thickens and leaves the sides of the pan. Add ½ to ¾ tsp red chili powder, ¼ tsp garam masala, 1 tsp coriander powder and salt..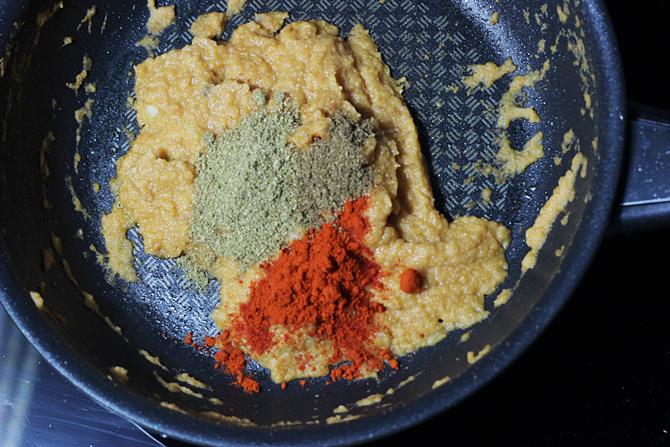 7. Saute until the mixture turns thick and begins to leave oil. The raw smell of all the ingredients should away by now.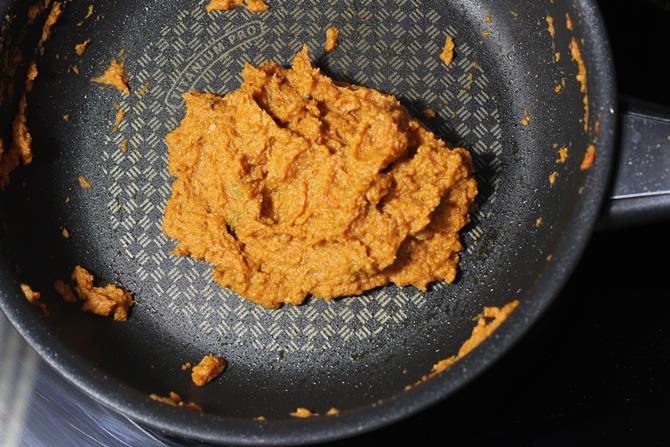 8. Add cauliflower and saute for 2 to 3 mins.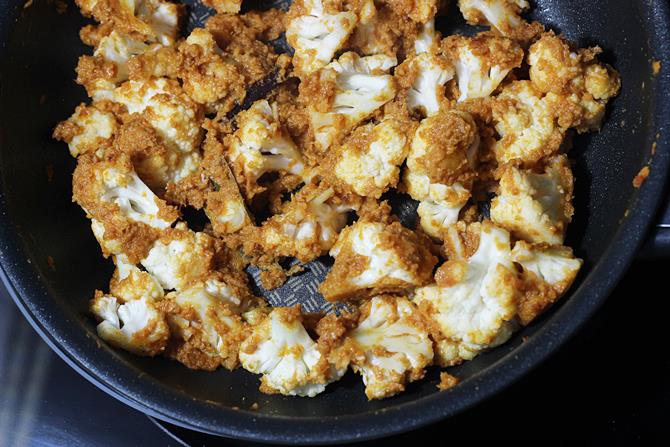 9. Add ¾ cup water and stir well. Cook covered on a medium heat until the gobi is done. I just cook to al dente.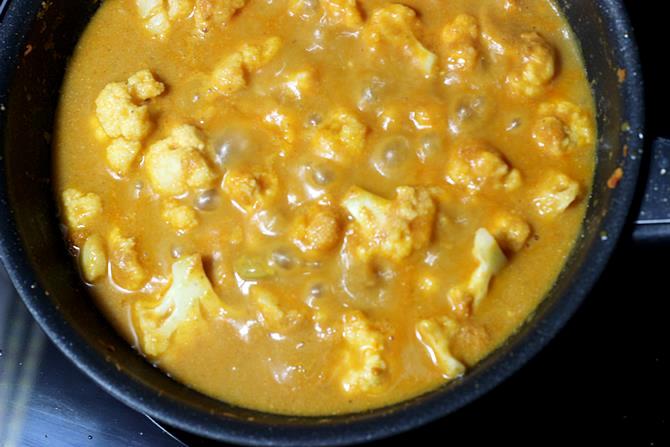 10. Sprinkle kasuri methi. Cook for a min. Off the stove and keep covered. You can sprinkle coriander leaves. Adjust salt if needed. You can also cook until the gravy reaches a thick consistency.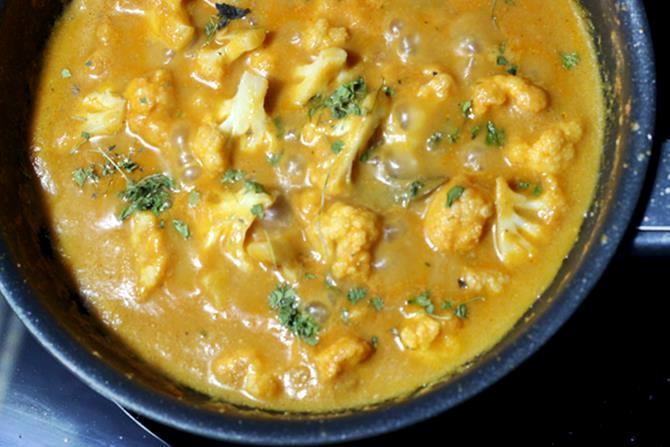 Serve cauliflower curry with roti, chapati or paratha