Gobi 65 recipe with step by step photos. – 65 recipes are quite popular in South Indian restaurants. They originated from chicken 65 and there are many varieties made like paneer 65, aloo 65. They are served as a evening snack or starter along with other South Indian food.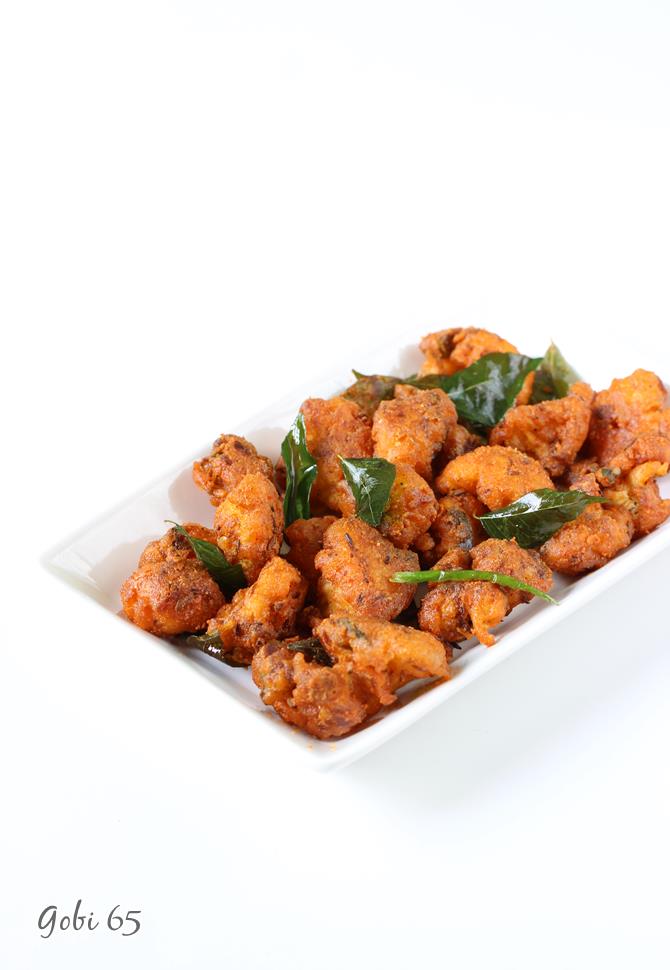 Sharing 2 recipes of gobi 65 – one is the restaurant style and the second one is a baked recipe.
More gobi recipes or cauliflower recipes
Gobi masala
Gobi pakoda
Cauliflower kurma
Easy gobi curry
Cauliflower pickle
Gobi keema
Restaurant style gobi 65 recipe below
Gobi 65 recipe | Cauliflower 65 recipe | Gobi recipes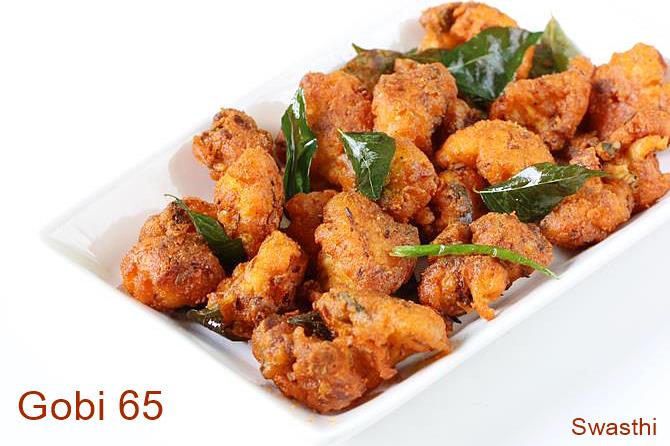 Gobi 65 is a south Indian snack made of fried cauliflower, spices and herbs. It can also be served as a starter
Recipe type:
Appetizer, snack
Ingredients (240 ml cup used)
1 large cauliflower florets
4 tbsp plain flour (can use organic)
3 tbsp. corn flour
1.5 tsp ginger garlic paste
½ tsp garam masala
¼ pepper powder
1 tsp red chili powder (can use more)
2 sprigs curry leaves finely chopped
salt and water as needed
oil for deep frying
seasoning (optional)
2 green chilies slit deseeded
2 garlic cloves
½ tsp cumin
1 sprig curry leaves
1 tbsp. oil
½ tsp red chili powder
¼ tsp garam masala
2 to 3 tbsp. curd
salt as needed
How to make the recipe
Preparation
Heat water in a bowl and blanch cauliflower. Drain them completely. Make red chili paste using red chili powder, few drops oil and little water.
Make a batter using flour, garam masala, salt, red chili paste, ginger garlic, chopped coriander leaves. Add water as needed.
Deep fry the florets till golden. Set aside to a kitchen towel.
Making gobi 65
Heat oil in a pan, fry garlic, chili, curry leaves and cumin.
Add yogurt , chili powder , garam masala.
Stir and let the mixture cook till it thickens.
Add fried cauliflower and saute for 2 to 3 minutes.
Serve gobi 65 as a starter.
Method 1- restaurant style gobi 65 recipe with step by step photos
1. Clean cauliflower florets and add them to hot water. Allow to sit for a while and drain them off and rinse them well in a colander. Set aside. Add flour, salt, ginger garlic paste, garam masala and pepper powder to a bowl.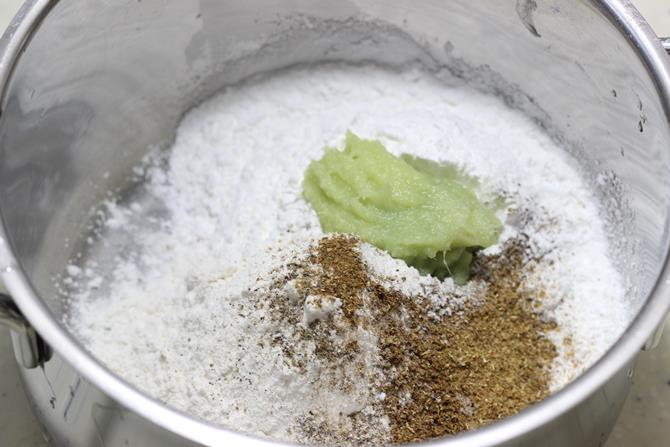 2. Mix 1 tsp red chili powder with few drops oil and little water. Make a fine paste and add it to the flour. This helps gobi 65 to get a good color. Also add chopped curry leaves.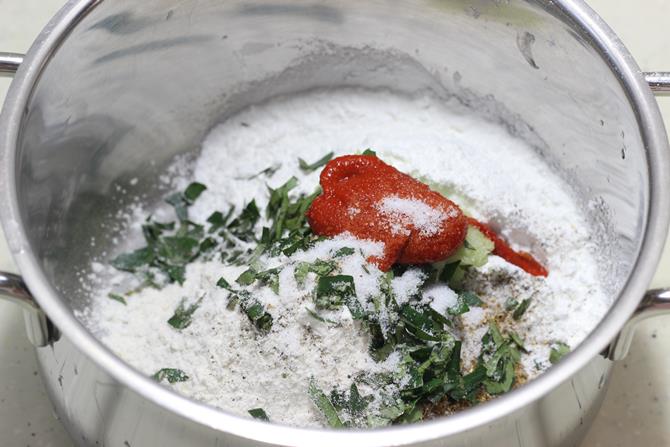 3. Add little water.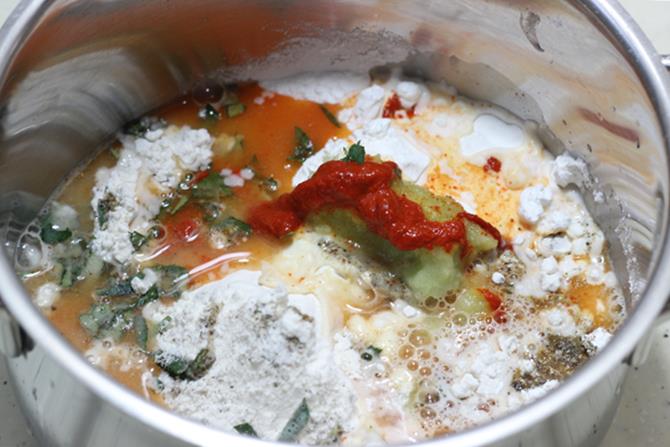 4. Mix everything well to make a thick batter.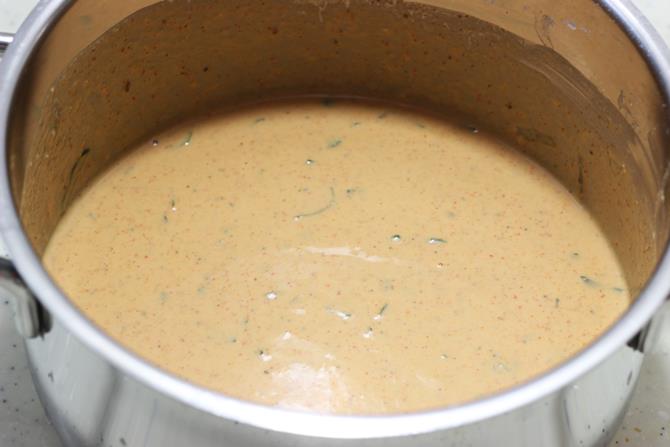 5. Add cauliflower to the bowl.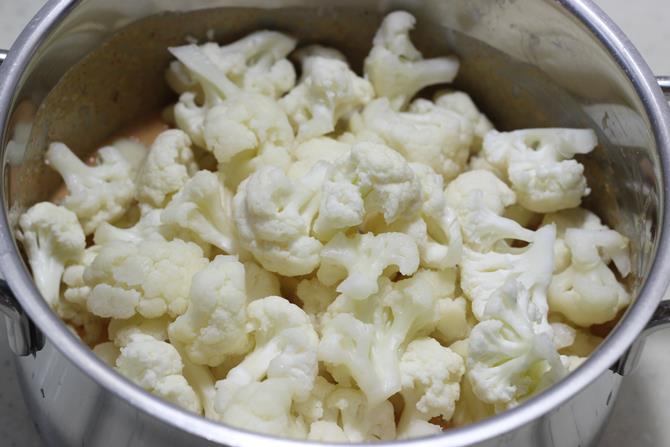 6. Toss and coat the florets well with batter.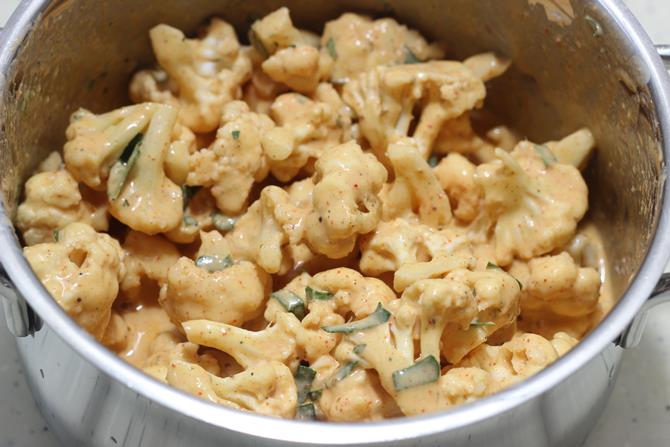 7. Heat oil and deep fry until golden. You can also fry some curry leaves and slit deseeded green chilies for garnishing.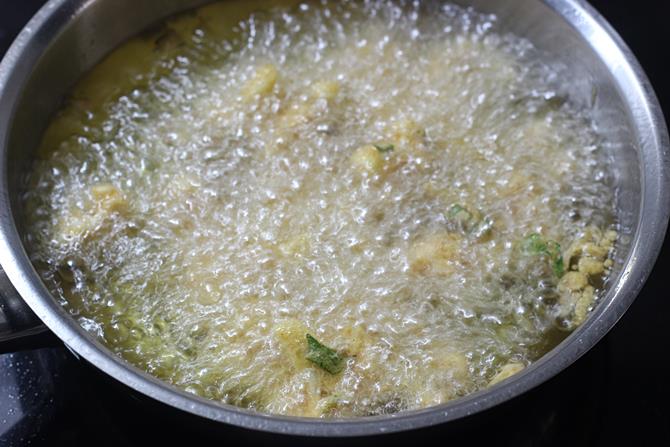 8. Drain gobi 65 on a kitchen tissue.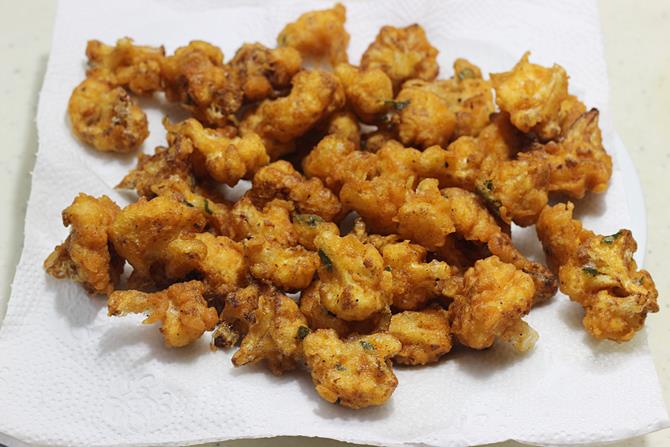 9. If you do not like to use yogurt for this recipe you can serve after this step after garnishing with curry leaves and green chiles.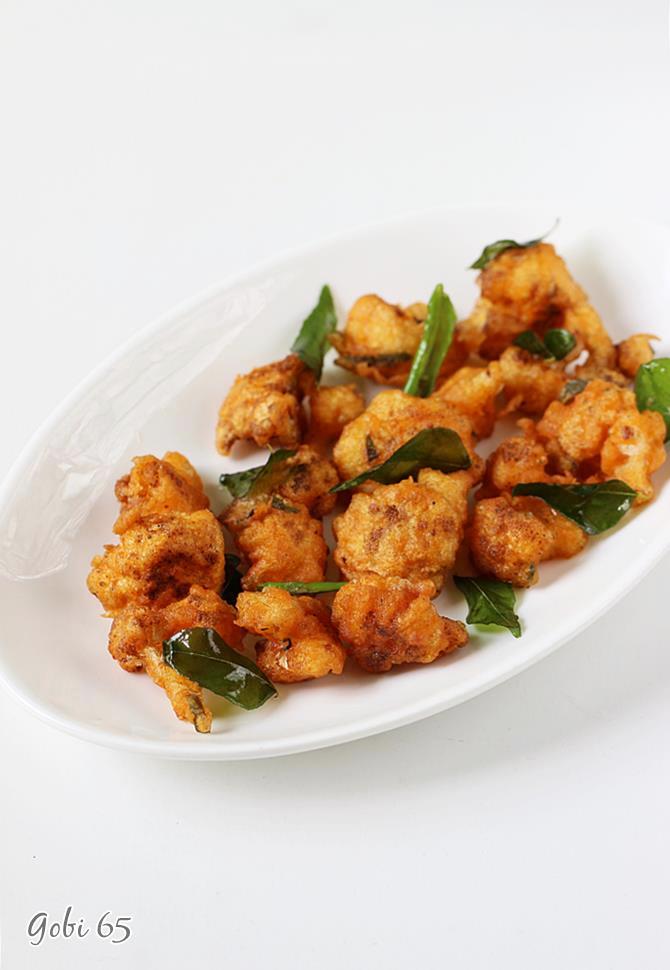 10. To make a restaurant style cauliflower 65, heat oil in a pan. Add cumin to hot oil, when it begins to splutter add curry leaves, slit green chilies and garlic.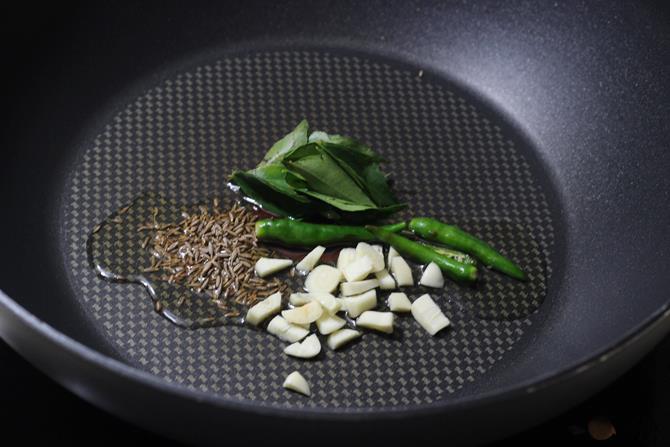 11. When the garlic begins to smell good, add yogurt, red chili powder and garam masala.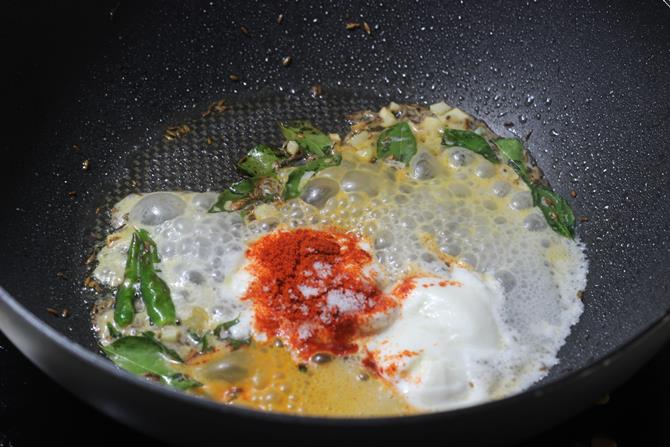 12. Stir and saute until the mixture thickens.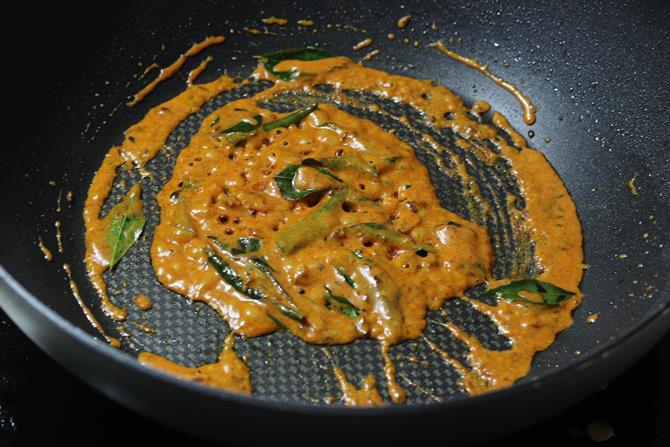 13. Add fried cauliflower and saute well for 2 minutes.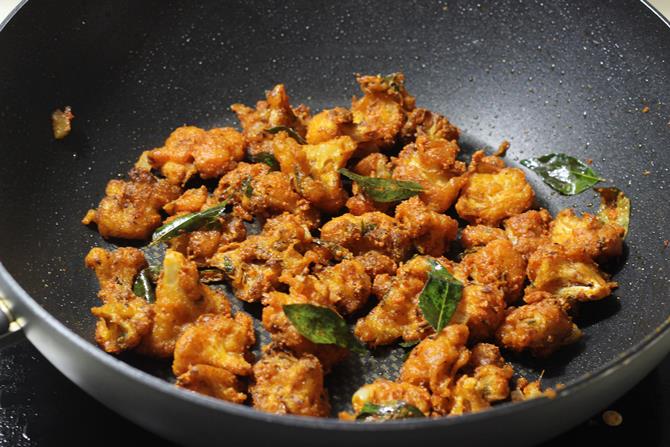 Restaurant style cauliflower 65 is ready.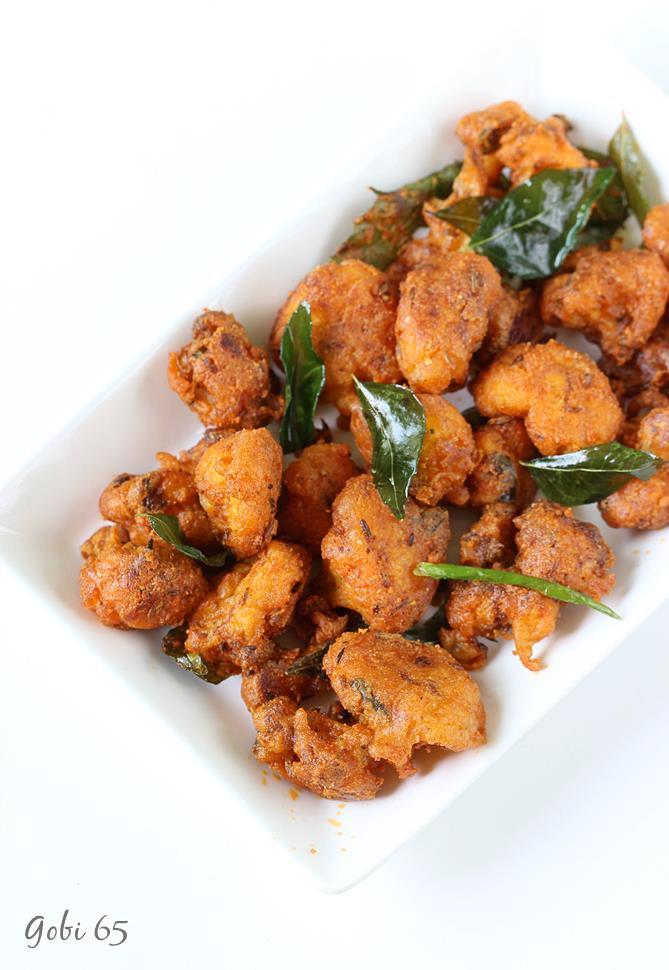 Method 2
Gobi 65 recipe with step by step photos – baked cauliflower 65, an healthy kids after school snack recipe.
There are so many ways a 65 recipe can be prepared. Few recipes use soya sauce or yogurt, the recipe shared here is a simple gobi 65 without using yogurt or sauce. If you desire you can add it while seasoning.
 
Ingredients
 
1 ½ cups of cauliflower florets
1 tbsp. Olive oil
2 ½ tbsps. Corn flour
1 tbsp. plain flour
1 tsp oil for seasoning
1 tbsp. shredded ginger
1 tbsp. shredded garlic
1 onion chopped to cubes
Green and red bell peppers (1/2 each, optional)
1 green chili
2 sprigs curry leaves
2 tbsp. Yogurt optional
Marination
Pinch of turmeric
1 tsp garam masala
1 tbsp. ginger garlic paste
½ tsp red chili powder
Salt to taste
Lemon juice as per your taste
Instructions
Add cauliflower florets to salted warm water and set aside for 15 minutes. Drain off.
Wash and pat dry the cauliflower florets.
Marinate them with marination ingredients and set aside for at least 30 mins to 2 hours.
Heat oil for deep frying or Grease a baking tray and preheat the oven to 240 C.
Sprinkle the dry flour on the gobi, mix well.
Add in the olive oil, mix well.
Place these on a baking tray and bake for 20 to 30 mins, time depends on the size of your florets.
Heat oil in a tawa, add curry leaves and green leaves. Fry till they turn crisp, remove and set aside.
Add shredded ginger garlic and fry to get an aroma.
Add onions, capsicum and salt
Fry on a high flame for 2 to 3 mins or till the capsicum is done. If using yogurt add now, mix and fry for 2 to 3 minutes.
Add in baked gobi , curry leaves, chili and mix well and fry for 2 mins on high flame.
Gobi 65 is ready to serve as starter.