Gongura chicken fry is a simple recipe made using chicken and red sorrel leaves known as gongura in telugu. Unlike the gongura chicken curry, this is a dry chicken recipe that can be prepared quickly. It pairs wonderfully well with plain steamed rice and a bowl of rasam.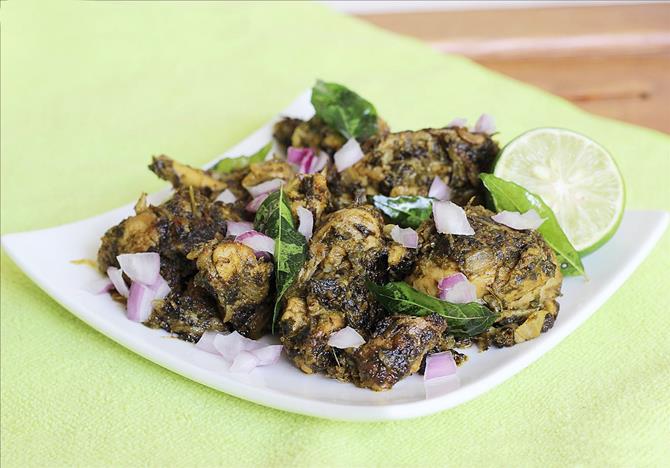 Gongura chicken fry tastes slight hot, spicy and tangy. Some variety of gongura is very sour, so adjust the quantity of leaves to be used.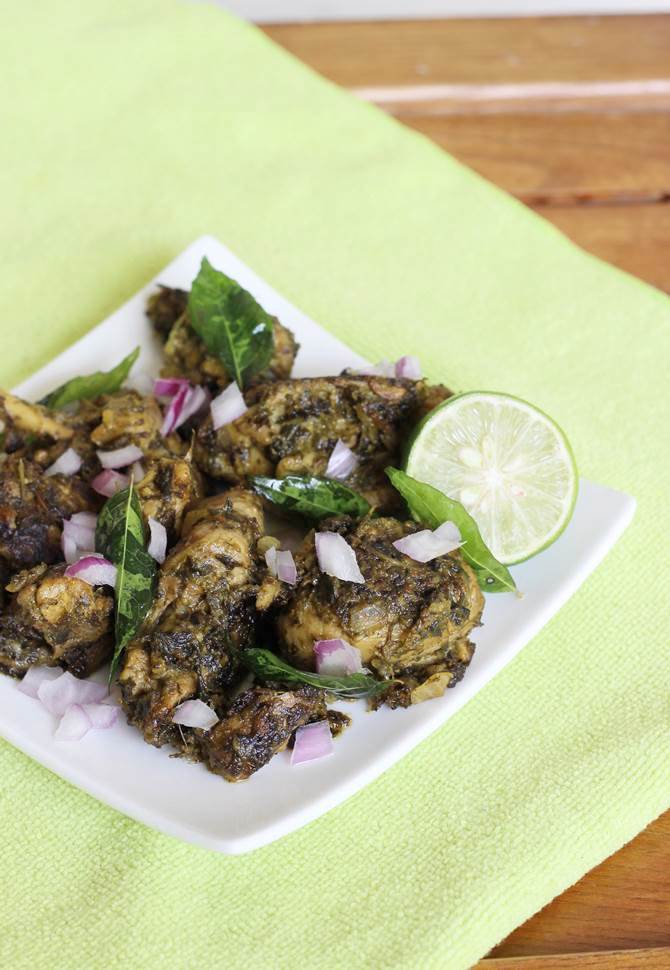 More Andhra chicken recipes on the blog
Andhra chicken curry
kodi kura iguru
Andhra chicken fry
Andhra chilli chicken
Guntur chicken vepudu
Recipe of gongura chicken fry below
Gongura chicken fry recipe | How to make dry gongura chicken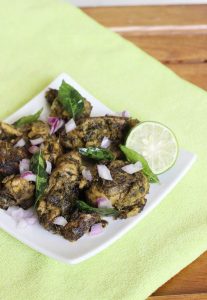 Gongura chicken fry is a andhra style dry chicken recipe made with gongura or red sorrel leaves.
Ingredients (240 ml cup used)
2 sprigs of curry leaves
¼ tsp garam masala (adjust as needed)
pinch of cumin
1 cup of gongura leaves
2 to 3 green chilies
1 tsp oil
few tbsp. of ghee for frying chicken
Marination
300 gram of chicken
1 medium sized onion coarsely ground
½ tbsp. lemon juice
1 tsp ghee
¼ tsp red chili powder
¼ tsp coriander powder or garam masala powder
1 tsp ginger garlic paste
How to make the recipe
preparation
Marinate the chicken with the marination ingredients and set aside for 10 mins
Heat a pan with 1 tsp oil, sauté gongura leaves well till they wilt off fully. set aside to cool.
Once cool, add green chilies and grind coarsely
Cook the chicken till tender. if needed add few tsp. of water. But at the end no water should be left. if left, evaporate
Making gongura chicken fry
Heat a pan with ghee, add curry leaves and cumin, sauté till they crackle
Add chicken, garam masala and fry till almost dry.
Add gongura paste and fry till no moisture is left in the leaves and gongura must cling on to the chicken.
Serve gongura chicken fry with plain rice and rasam.